VPN or Virtual Private Network is a service that is used by millions of internet users around the world for different purposes. They include but are not limited to protecting personal information such as browsing history; safe browsing on Public Wi-Fi networks; accessing geo-restricted content on NETFLIX, HBO MAX; anonymizing actual location to avoid being tracked and much more.
Most of the affordable  VPN services are available in the form of a software, mobile app or personal credentials that can be used on Windows, Mac, Android and iOS devices. For application-based VPNs, you need to install the respective application and sign up by selecting the package which best suits you. Once the signup process is completed, you can connect to any of the available secure servers just by clicking the "Connect" button. However, for applying VPN in large organizations, a configuration in the router or server is required by Network Professional using the credentials provided by the VPN provider.
So, which is the best VPN service to get? How much does it cost? Can I try the VPN before buying it? We have got all the answers to your questions for selecting the best VPN which suits your needs. Keep reading till further to find out more.
Best VPN Services: Unexpected Results for 2023
In-Detail Comparison of Best VPNs for 2023
There are thousands of VPN services available right now on the internet with different offers and plans which can make your choice difficult. But, we have taken this burden to our shoulders for helping you out in choosing the right and pocket friendly service. See the Comparison below of the best VPNs available in the market.
| VPN Provider | Best Known for | No. of Servers | Max. Devices Supported | Speed Result (Wireguard) | Live Chat Support | Lowest Price/ month |
| --- | --- | --- | --- | --- | --- | --- |
| Surfshark | Security | 3200+ | Unlimited | 720-790 Mbps | 24/7 | $3.49/month |
| NordVPN | Privacy | 5500+ | 6 | 730-760 Mbps | 24/7 | $3.99/month |
| PureVPN | Encryption | 6,500+ | 10 | 420-630 Mbps | 24/7 | $3.99/month |
| IPVanish | Customer Support | 2000+ | Unlimited | 880-890 Mbps | 24/7 | |
| Private Internet Access | Windows Environment | 10,000+ | 10 | 320 Mbps | 24/7 | $2.03/month |
Surfshark: Best Low Price Service with Premium Features

If you are tight on a budget and still want to use one of the fastest VPN service, close your eyes and sign up for the Surfshark VPN. It costs less than $2.50/month and support simultaneous unlimited connections individually or through a VPN enabled router.
To overcome this, Surfshark has included a Camouflage Mode (referred to as obfuscation in VPN terms) which makes your traffic look like you are not using a VPN, which is a great feature if you want to access geo-restricted content.
The reasons why we have kept this VPN on top every time, due to its price and wide availability of the servers. If you are from the US, then Surfshark offers more than 30 servers from different locations in the US, so you don't have to compromise on speed by selecting a server from another country.
So, what are you waiting for? Grab the offer here before it vanishes.
NordVPN: Stay Safe Online With the Leading Service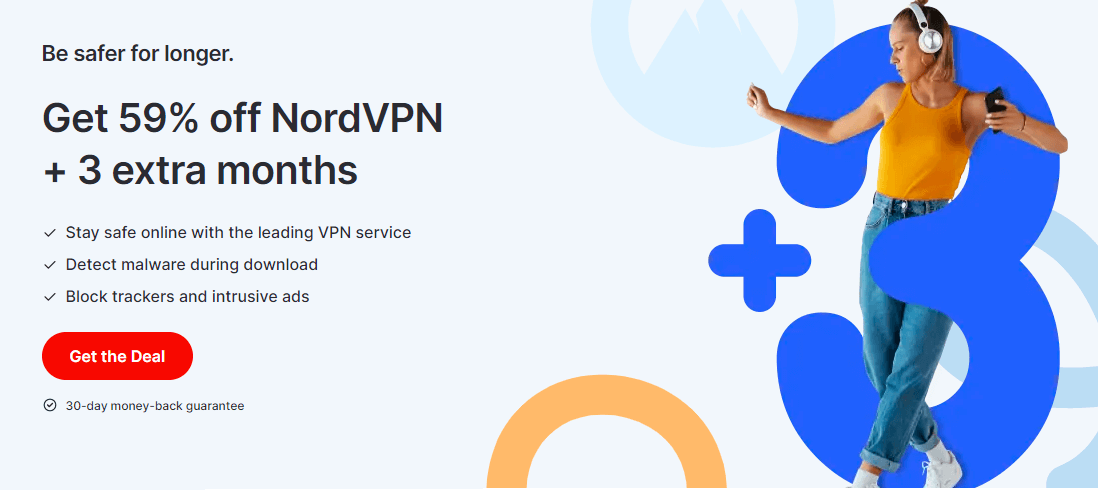 NordVPN is a premium VPN which has its server in over 50+ countries and has an excellent encryption algorithms. Unlike other VPNs, NordVPN has a built-in multi-hop feature which can double the security by connecting you to the multiple VPN servers which encrypts your traffic twice.
VPNs aren't used just for privacy, they are also used to unlock the geo-restricted content in your country such as the content on Netflix in the U.K is different from the U.S. So, if you want to watch some British Action in the US like BBC IPlayer, you can use the NordVPN to experience the content with the same speed as you get on the local content.
Additionally, NordVPN is also working on built-in malware protection to save you from online malwares. Though it's in the development stage but looks promising.
Since, NordVPN is not very budget friendly as compared to other VPNs in the Top 10 list, but the services they are offering makes the price tolerable and affordable. Check out the latest pricing of different packages of NordVPN below.
| Features and Price | Complete | Plus | Standard |
| --- | --- | --- | --- |
| Monthly plan | $15.69 | $14.19 | $12.99 |
| One-year plan | $7.29 | $5.79 | $4.59 |
| Two-year plan (3 Extra Months) | $6.69 | $5.19 | $3.99 |
So, which plan suits you the best? We recommend you go for Plus Plan if you don't require cloud storage or opt for complete plan if you are short on Cloud Storage on your Gmail or OneDrive. So, rush to the Nord VPN website now to grab the discount offers.
How We Finalized The Best VPNs Services?
When it came to selecting 10 Best VPNs, we had to consider all the basic but critical parameters that all VPN services should have. Starting in order from first to last, we have considered the cost per month, encryption methods, speed test results, maximum device support, customer service, number of servers, money back guarantee and customer reviews.
In future, we will be testing all best VPNs individually on Windows, Mac, Android and IOS devices including the operation of kill switch, data and IP leaks and will confirm everything that is advertised. Keep visiting our website for hands-on review of all best VPN services in 2023.
How to Subscribe For The Best VPN Online?
There are several methods to buy premium VPNs at a cheap price by using their weekly offers or 3rd party coupons. Just make sure you buy the VPN service through their official website or official app downloaded from the App Store or Play Store. In any case you would need a valid payment method such as credit cards, Google Pay, Apple Pay, Gift Voucher, etc.
Buying from Website: To buy from a website, visit the official website and follow the steps of your selected VPN provider. There will be several payment options available which you can select as per your convenience.
Buying from App Store or Google Play: Download the App from your respective store and create an account on VPN app. Fill the payment information to get the premium service. Some of the VPN will also give you a premium trial by entering your payment info while some of them don't need payment info but trial will be limited in terms of speed and data.
Can I Get Best VPNs For Free?
Yes, you can. Most of the best VPN provides a 30-day free trial and money back guarantee. If you need a VPN for short duration such as work assignment, then you can use a trial by entering credit card info and opting out just before trial end or just can use free VPN services like:
SuperVPN
HotSpot Shield
TurboVPN
Browsec (Chrome Extension)
Disclaimer: Use Free VPN at your own risk. We are not responsible for your data privacy as it is not guaranteed using Free VPN. The primary purpose of Free VPN is to access the restricted information where user anonymity and data privacy is not essential.
Time to Use the Best VPN Service
Now, finally you have selected which is the best VPN service that suits your needs. It's time to get to know how to use the VPN service.
Normally, all the top VPN providers have easy to use applications. For power users, some initial configurations are required which varies from different service providers. However, basic use is similar i.e. just by pressing the "Connect" Button and that's it.
To make sure VPN is functional, go to the browser on your PC or Mobile and search what is my IP and go to the first result to see your current IP and location. If the location is different from your actual location it assures that your VPN is working as it should and you would be able to hide your identity and protect your data. If it is the same as your actual location, then you need to restart the VPN application and try again. For iPhone and Android users, they will see a VPN or Key Sign respectively in their status bar.