Have you ever tried to watch a movie or TV show off of Netflix but couldn't because it was blocked in your country? Well, don't worry anymore! You can unblock specific regions now with PureVPN. American Netflix has tons of TV shows and movies that are specific to America.
This article will show you how you can use a VPN to access it all and will also give you some important considerations about using PureVPN for watching Netflix on your PC or mobile device. Therefore, make sure to read it till the very end!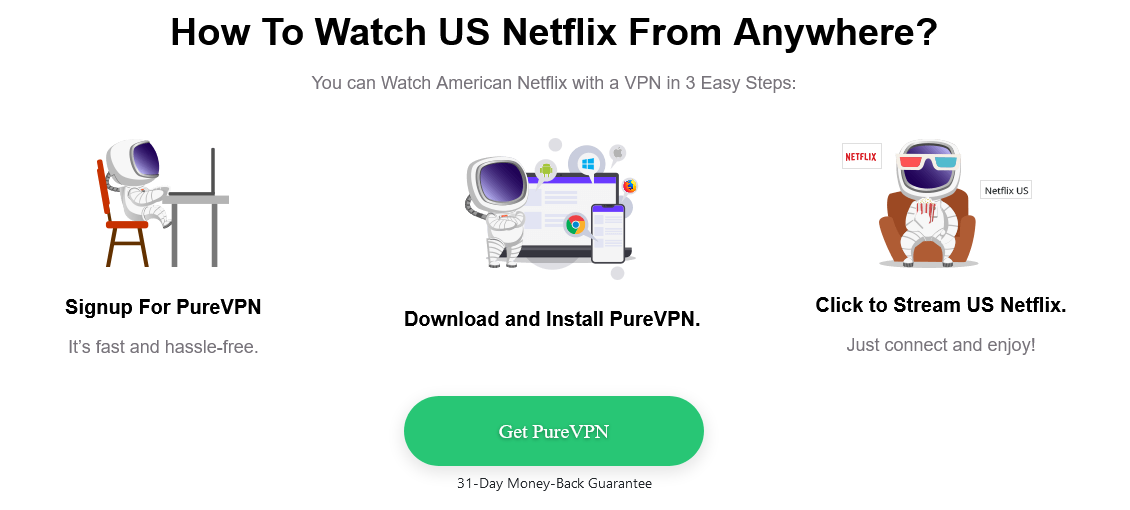 Why Do You Need a VPN to Access Netflix?
Netflix has different libraries for different regions. This is due to content licensing and distribution laws. It means there might be some shows that may be available in one country but might not be available in another. Similarly, some shows may stay for years and years, while some may disappear in just months.
Yes, you read this right! So American content such as The Office is strictly restricted to U.S. audiences only.
They also have high Geo-restricting filters that can easily detect if you are from another country. This is why you need an extremely high-quality VPN. A good VPN will hide your IP address and make it seem like you are in the USA. this way Netflix will never be able to detect your region.
Does PureVPN Work with Netflix?
If you are unsure about whether you should be using PureVPN for Netflix, you are at the right place. Having doubts that the VPN will be able to unblock Netflix is something most people think about as the Geo-restricting filters of Netflix are extremely powerful.
However, after doing research we have found out that PureVPN is one of those few VPNs that have a success rate when it comes to bypassing Netflix's Geo-restriction filters.
How to Use PureVPN on Netflix: Browser Extensions and Apps
There are two ways to use PureVPN for American Netflix. One of them is through having extensions and the other one is through its app.
Learn, How To Watch Netflix with PureVPN Chrome Extension

Begin by creating your account on PureVPN.
Now you will be directed to a screen that will have connection options.
Since you want to watch Netflix, click on the Stream box.
Then select your preferred way of streaming. For instance, you can pick the Google Chrome extension.
After that, you will be directed to the Chrome Web Store. There you will get to see the app for PureVPN.
Add that to Chrome
Click the green PureVPN icon that is now visible in the Chrome browser's top right corner.
Type in your username and password and hit the login button.
You'll notice a Connect button once you log in. To connect to the PureVPN server, click it.
Choose Netflix U.S. from the Popular Websites menu after connecting.
You will be directed to the Netflix login page. Enter your Netflix login information.
Start watching your favorite shows from the American Netflix Library.
2. Watch US Netflix through PureVPN Apps

Subscribe to PureVPN by going to PureVPN's website.
Download and install the application on your device.
Use your login information to access the app, then connect to the server of your choice. For instance, to access American Netflix, connect to the US server.
You can access Netflix and view the collection for the American region.
Does PureVPN Work for Other Streaming Platforms?

According to the results of our tests, PureVPN can be used to safely access other streaming services. Note that this is only a list of things we've recently tested and is not an exhaustive one. There are many other sites that it can securely access.
BBC iPlayer
HBO Max
Hulu
Sling TV
PureVPN Netflix Proxy Error and Its Quick Fixes
Previously, Netflix would display a Netflix proxy error if it identified that you were accessing the service from a different country or using a VPN. It no longer does that. Currently, it merely conceals the titles that are restricted to your nation while displaying the shows and films that are accessible to you in the search results.
However, this doesn't mean you will never face any problems while using PureVPN. With PureVPN, you could run into a few issues when streaming Netflix. The quick remedies are as follows:
Clean up your DNS: To make your IP and DNS match, you must flush your DNS. The steps are as follows:
Select the button for Windows on your Keyboard.
Write "cmd" in your search bar.
Open the command window.
Type in ipconfig/flushdns and then click Enter.
Your DNS will be flushed as a result of this, and now you will be able to access US Netflix.
Change to a Streaming-Specific Protocol: You can manually try to change your security protocols and choose IKEv2 or PPTP, whichever is best for streaming, to resolve Netflix's issue with PureVPN.
By launching the client and selecting "Advanced options," you can modify the protocol settings. Restart your browser after making the necessary changes to access Netflix once more.
Restart Your Router: You can try restarting your router if you want to use PureVPN to access Netflix. The steps are as follows:
Begin by restarting your router.
Delete the cache.
Now, set up a VPN connection from the desired location. In this case, select any American Server.
Open the browser and go to Netflix. You will be able to access it now!
The Only PureVPN Alternative for Netflix
While PureVPN is an excellent VPN service provider, if you are not satisfied with it you can try its alternatives. There are some excellent VPNs out there that we have tested. Some of them are as follows:
The best alternative for PureVPN is the leading VPN in the market, SurfShark. It has more than 3000 plus servers all around the world. With its exceptional service and high security, this is a VPN that users always come back to.
It has lightning-fast speeds, making it the best VPN for Netflix. It also offers unlimited streaming bandwidth which means you can watch your favorite shows lag-free.
PureVPN Netflix USA FAQs
You must sign into your PureVPN account and initiate a cancellation or refund request through live chat in order to cancel your PureVPN subscription. As an alternative, you can fill out their cancellation form, and a member of their staff will further help you through the process.
Yes, PureVPN is a reliable VPN. It comes with AES 256-bit data encryption, unblocking functionality, and allows 10 connections. Furthermore, a kill switch, a money-back guarantee, and no logs policy are just a few of the features that make it a premium VPN.
Conclusion
A dependable method for unblocking Netflix is without a doubt using PureVPN. It enables you to simply switch your Netflix region, giving you access to the libraries of all nations.