Are you struggling with browsing on your chrome because of Geo-restrictions? Don't worry, A VPN extension that lets you hide information, access restricted content, and surf the internet at high speed can solve your problem. If you are looking for VPN extension that can unblock your chrome, PureVPN for chrome is the right option for you. This is because, with its various features, you can unblock chrome so that you can continue browsing.
The PureVPN uses an encrypted proxy. This is a great combination of security and high speed which hides your information from hackers or third-party eyes while browsing. You can access your favorite content from anywhere in the world, and stream movies and shows at blazing speeds with PureVPN for chrome. If you are looking to unblock chrome read the article below and find out how you can use pure VPN for chrome with just one click.
Want To Know More about PureVPN for Chrome Browser?
If you are new to VPN and curious to know about PureVPN for chrome, PureVPN is one of the quickest simplest methods which helps to connect your required web browser like Chrome, Firefox, Edge, etc. to a proxy server. You can also turn plug-ins on and off while browsing the web with the touch of a button. However, you might face an issue while using PureVPN, you can only protect your web browser. This means other apps on your device will continue to use your direct information.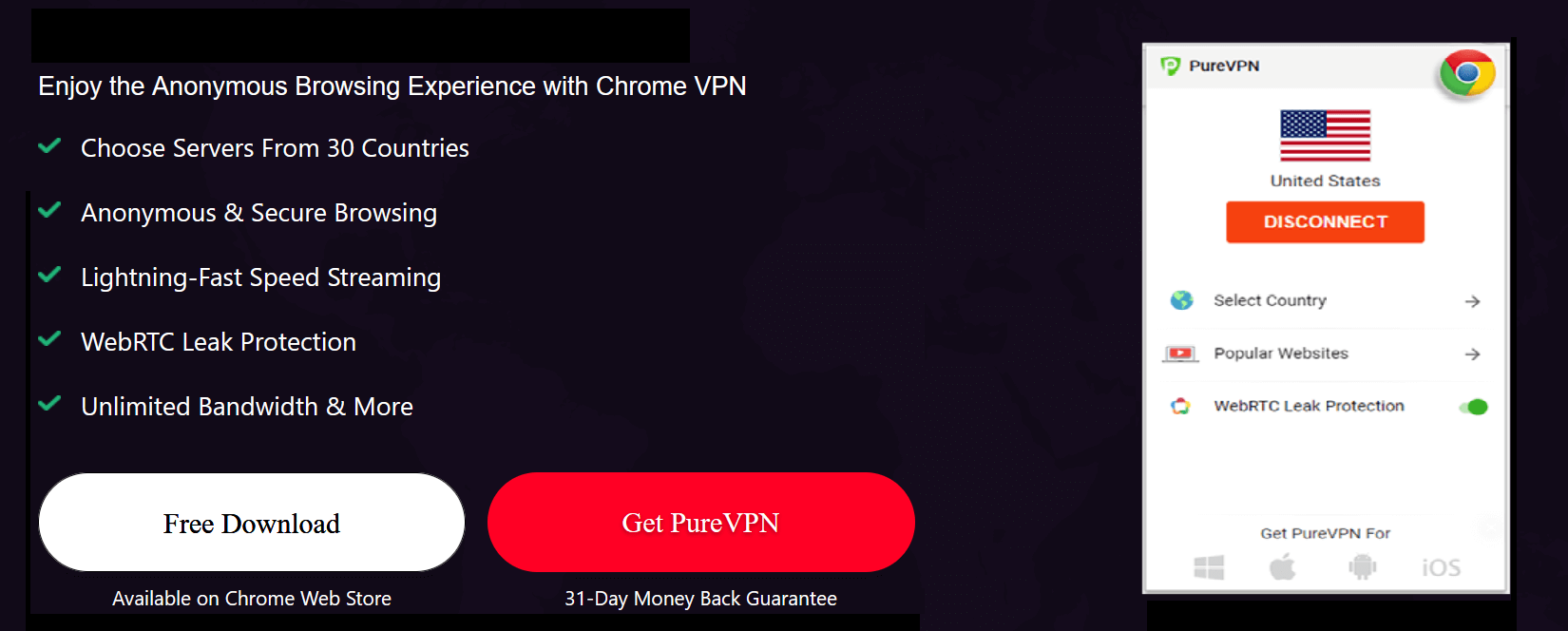 Why Do You Need PureVPN Chrome?
If you are confused while picking the right VPN to unblock chrome don't worry, we'll help you to find the right one for you. Despite this fact, PureVPN is the best VPN for unblocking chrome. Read below to find out the reasons why you should use Pure VPN chrome.
Access To Geo-Restricted Content: If you get angry after seeing a notice "this content is not available in your country", then Pure VPN extension is absolutely the way to overcome these restrictions and help you enjoy your favorite content from anywhere in the world.
Surf Anonymously: It's frustrating to know that ISPs, government agencies, website owners, and many other entities track your information as you surf the web. If you want to surf the web completely anonymously, PureVPN chrome extension will help you surf anonymously and without being caught.
Unblock Websites And Social Media: If you frequently encounter government restrictions when visiting social media and news sites, PureVPN's VPN Chrome can help you bypass these restrictions.
Encrypt Internet Traffic: If you enjoy browsing the internet with complete freedom and anonymity, but still want to stay safe, PureVPN's VPN Chrome is a perfect choice. This is because it makes sure your data used on the internet is secure and safe from hackers and third parties.
How To Setup a PureVPN Chrome Extension
Missing browsing from chrome due to Geo-restrictions? Well, now you can unblock chrome by setting up PureVPN. If you are unaware of how to set up a pure VPN, follow the easy steps mentioned below.
Step 1: Search and Install PureVPN Application
First, you have to search for and install PureVPN on your device and add it to your Chrome browser by clicking the Add button to Chrome.
Step 2: Get Your Subscription
Once you have added pure VPN to chrome, click on the Open option to open the application to login in.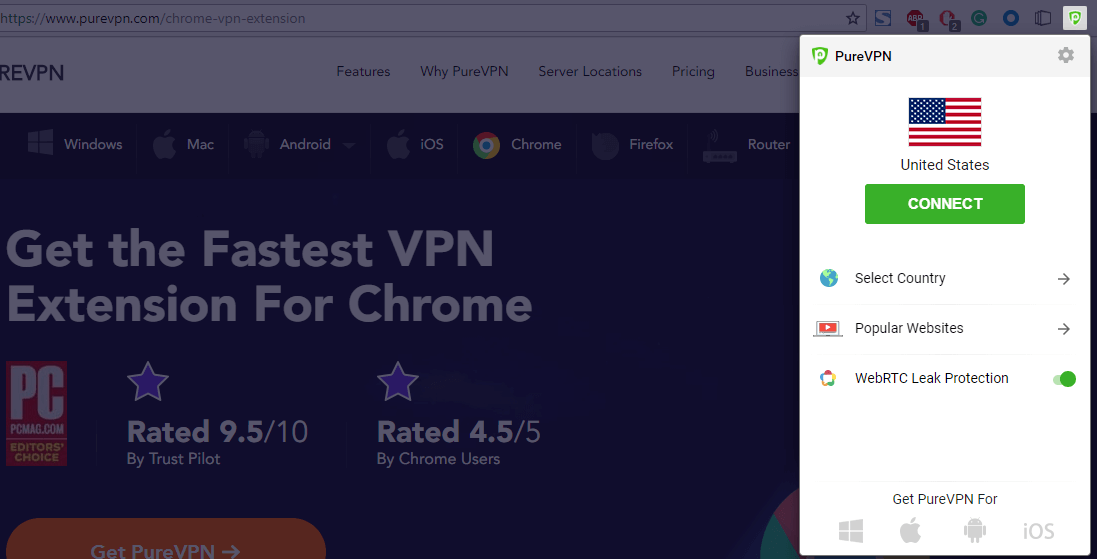 Step 3: Login Into Your Account
As soon as you subscribe to PureVPN, you'll redirect to the login screen by tapping the connect icon. Enter your information and sign in to your PureVPN account.
Step 4: Select Your Desired Region
After login in you can now select your region or country from where you'd like to unblock chrome then click on the connect option to activate the VPN connection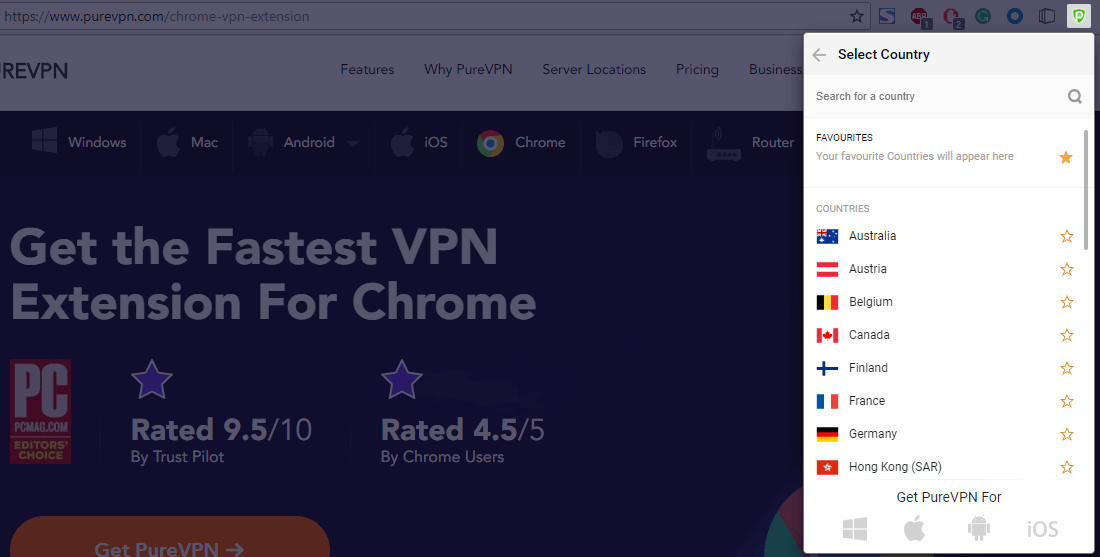 What Features Does PureVPN Provide?
• Over 40 Popular Websites
PureVPN offers a unique popular site feature that makes it stand out as the best VPN for Chrome in the market. Due to popular website features, they have also assigned dedicated servers for browsers and streaming channels such as Chrome, Firefox, Netflix, BBC iPlayer, Hulu, etc. So, if you want to browse through chrome, you just connect from our list of popular websites and you'll be able to access it at lightning speed with just one click.
• 50+ Locations Worldwide
PureVPN chrome extension lets you connect from over 50 locations. PureVPN will help you to unblock chrome from the US, UK, Australia, Canada, Singapore, Germany, India, and almost every other country. It simply connects to your desired country in one click with the PureVPN
• 3500+ Optimized VPN Servers
Simply select your preferred location and we will assign the best server for you. However, you can also choose a server for your desired location yourself with 15 different languages ​​to choose from. These languages ​​include English, Russian, French, German, Chinese, Japanese, and Spanish. You can also choose your language and customize the experience to your liking.
Other VPN Access for Chrome
SurfShark: Enjoy 24/7 Secure Browsing

SurfShark is a great option for those on a tight budget and looking for a great VPN. For $2.30/month, you'll get a secure and stable connection that makes it easy to enjoy browsing in chrome. It offers an ad and malware-blocking service and 24/7 live chat customer support. Plus, SurfShark VPN offers users a great browsing experience with over 3,200 servers in over 160 locations.
NordVPN: Get Access To a Stable and Secure VPN
If you are looking for a known VPN service that you can trust to unblock your streaming and browsing channels, NordVPN is the one. This is because another great VPN service to consider when unblocking chrome is NordVPN. It offers an extensive network of 5,400+ servers in 59 countries and 440+ servers in one UK location. For $3.49/month you get access to a stable and secure VPN connection to the browser through chrome.
Final Wordings
PureVPN is an excellent tool for Chrome. It is extremely easy and straightforward when it comes to installing it. Furthermore when using this VPN is as easy as counting 1,2,3.
Hopefully by reading this guide completely, you will now be able to install PureVPN in chrome.