CyberGhost is without a doubt one of the renowned VPNs out there. They have various advance features that help in making it users' favorite such as its top-notch torrenting skill or the fact it so effortlessly unblocks various streaming platforms such as Netflix US, SonyLiv, Roku and Hulu.
Furthermore, it offers an excellent WireGuard protocol and IP options to make your experience, unlike anything else. Further, most VPNs provide a 30-day money-back guarantee, but CyberGhost offers a 45-day money-back guarantee which gives you more time to test their service out.
With this exceptional VPN service provider, you can select from its 9758+ servers that are from 91 countries.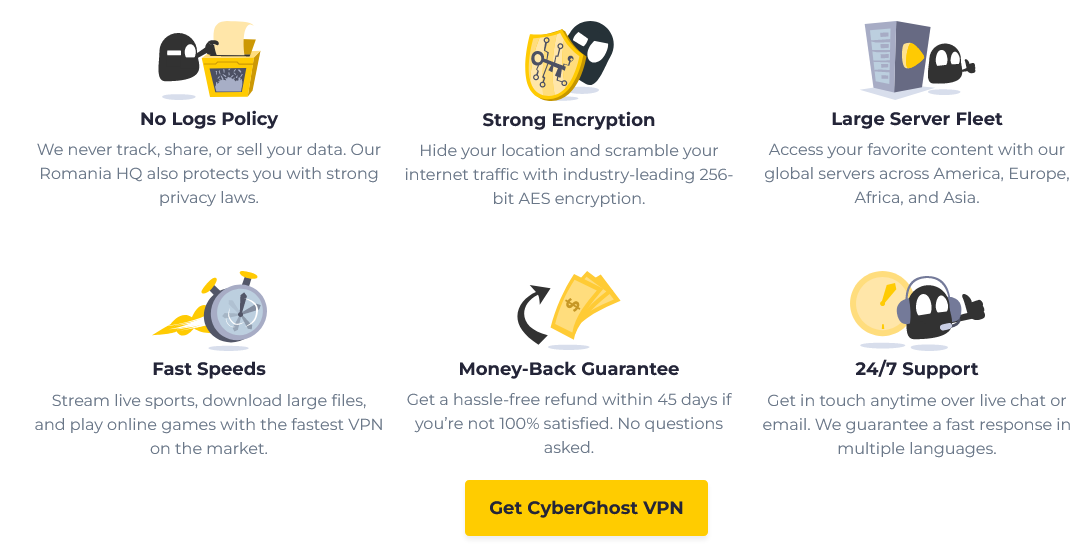 If you are wondering whether or not you should buy CyberGhost or not, you are in luck! In this article, we have tested every feature and service of CyberGhost and written a detailed review, so that you can evaluate whether or not you want to subscribe to this service or not.
CyberGhost Review to Access Netflix Outside the USA
If you loves to watch movies and TV series, then there might be times when you wish you were in other countries so that you can watch things you like. Thankfully now you can use CyberGhost for it! It will help you in unblocking Netflix, especially American Netflix. While doing our testing we ended up connecting to its New York server and the speed of amazing. It didn't lag at all despite the distance.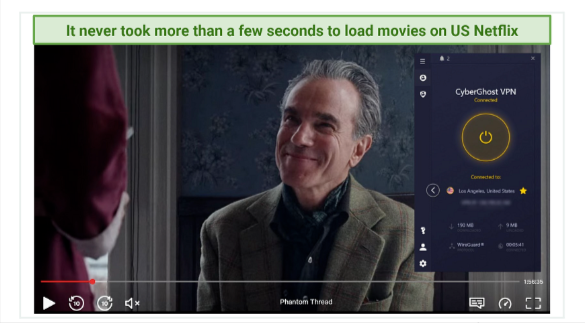 Not only American Netflix you can unblock the UK library as well. Unblocking the UK library was just as easy. There was no buffering and the show loaded in full HD right away. This was marginally more amazing than the app's US Netflix performance, but that could be due to lower traffic.
I also tested non-optimized servers in six other nations, including Tokyo, London, Paris, Mumbai, Rome, Helsinki, and Toronto. They all had no trouble unblocking local Netflix libraries. Because of this, CyberGhost is an excellent if you frequently travel and want to watch series that are just accessible on a local Netflix account.
| | CyberGhost Unblocked? | Fast Speeds for HD Streaming? | Lagging |
| --- | --- | --- | --- |
| USA | ✔️ | Yes | None |
| UK | ✔️ | Average | Minimal |
| Italy | ✔️ | Average | Minimal |
| France | ✔️ | Yes | None |
| Germany | ✔️ | Average | Minimal |
| Japan | ✔️ | Yes | None |
| Finland | ✔️ | Yes | None |
| Australia | ✔️ | Yes | None |
| Canada | ✔️ | Yes | None |
| India | ✔️ | Yes | None |
| Brazil | ✔️ | Yes | None |
CyberGhost Exclusive Deal With Extra 3 Months
CyberGhost has various prices that differ based on the duration of its subscription. One good thing about this is that you will get all the features. Similar to other VPNs shorter plans are relatively more expensive than the more extended ones. You can log in to seven accounts at the same time. While doing research we discovered that CyberGhost is currently the cheapest VPN service provider out there.
The only plan with a 14-day money-back promise has a shorter money-back guarantee. However, others have 45 days.
The possibility to select anonymous payment methods when purchasing a membership is a wonderful touch. In addition to credit cards, Amazon Pay, and PayPal, cryptocurrency can now be used to make payments.
CyberGhost For Chrome and Firefox Browsers
Having an extension helps in surfing through the browser safe and secure for you. This is much more hassle-free as it requires less space and installing process. However, you need to know that this will only encrypt your traffic on the browser.
Fortunately, CyberGhost provides an extension for both Chrome and Firefox. You can follow the method below for both browsers.
Begin by going to the CyberGhost VPN membership page by clicking here.
Next, select your preferred package, enter the necessary information.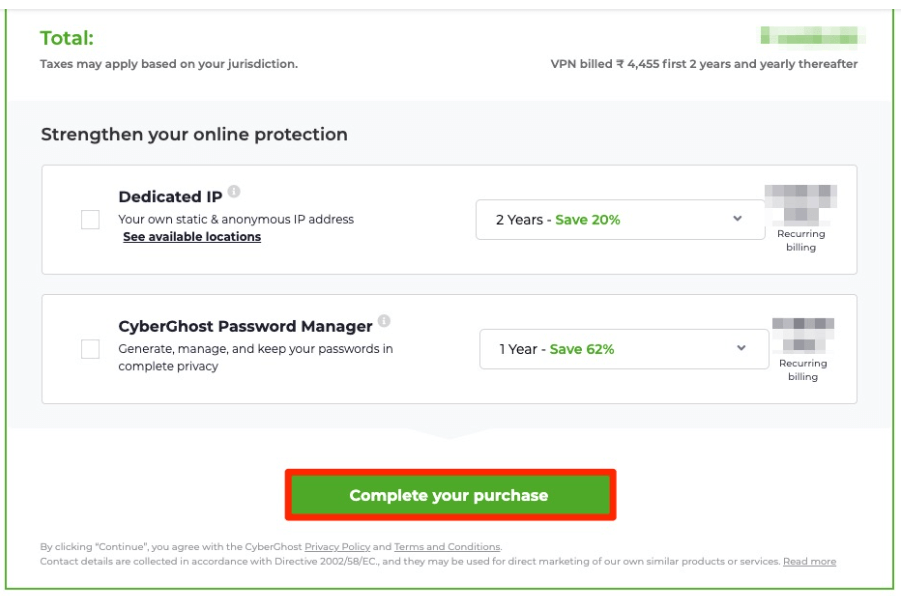 3. enter your Username and Password.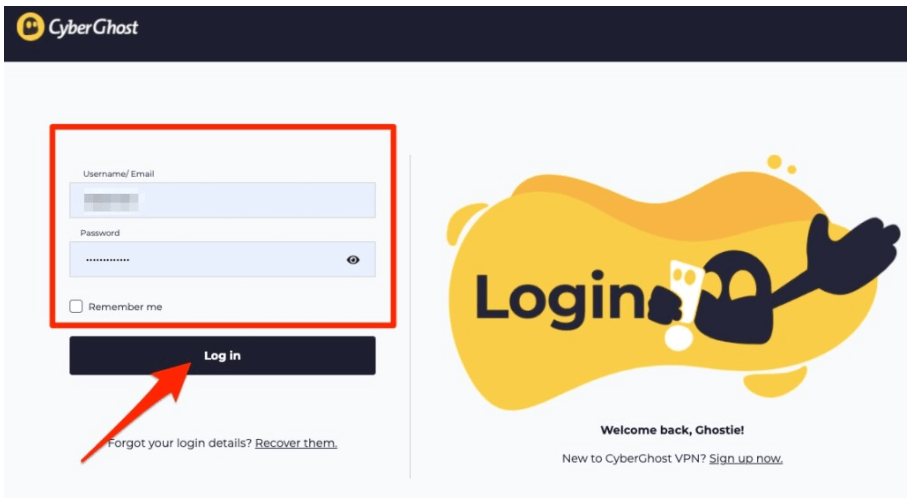 4. Once your dashboard is accessible, locate and select "CyberGhost VPN for Chrome" or "CyberGhost VPN for Firefox" from the Download Hub, depending on what browser you use.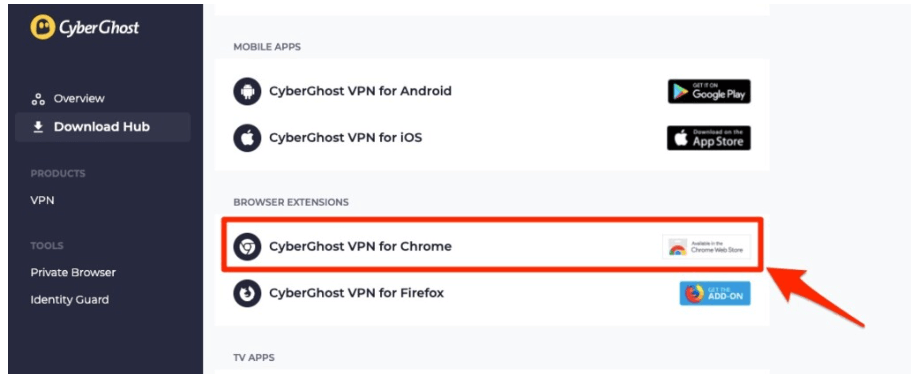 5. After being led to the Chrome Web Store, find and choose the CyberGhost VPN Proxy extension, then click the Add to Chrome option.

6. A confirmation message will appear after that; select the button that says Add extension.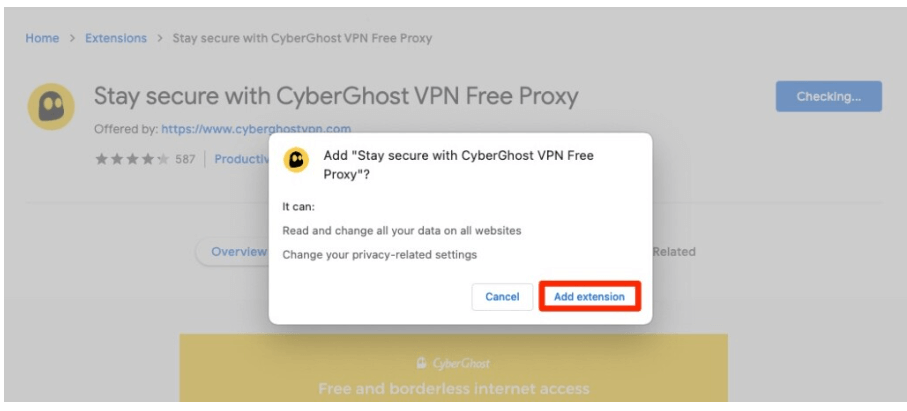 7. After the extension has been added, a confirmation message will once more show up.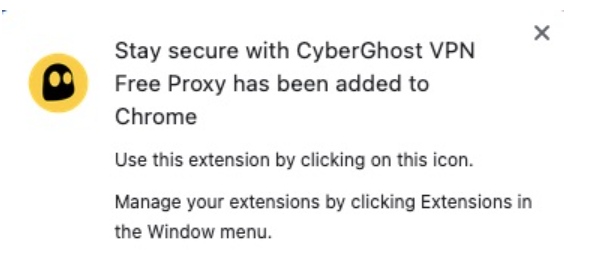 8. Next, select your Extension icon which is available in your address bar, then select "Stay secure with CyberGhost"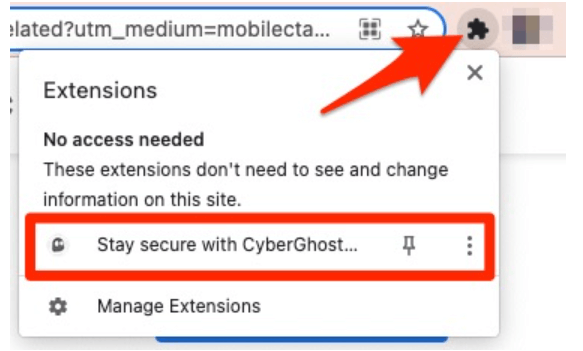 9. After that, the CyberGhost control panel will appear. To establish a VPN connection, click the ON/OFF button.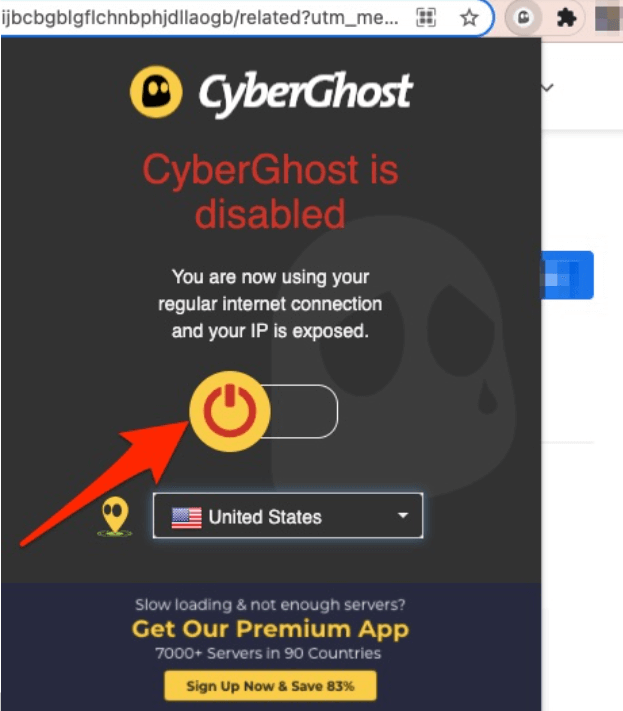 10. Your status would be connected after you see the message "CyberGhost is enabled."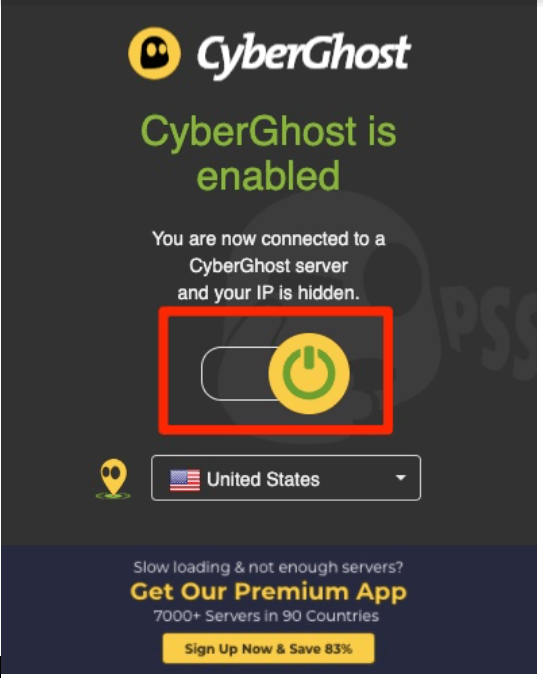 11. If you don't select a specific location, the VPN will choose the ideal location for you.
15. To examine the full list of nations and select your desired one, click the drop-down button immediately next to the country name.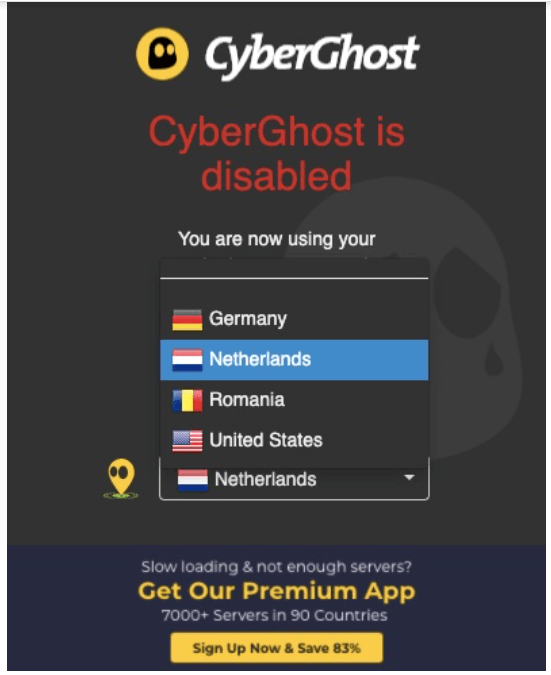 12. Once you are done, hit the ON/OFF button in order to connect to your desired location.
Easy Guide To Install CyberGhost On Windows
If you have windows and want to know how can you install CyberGhost VPN simply follow the guide below.
Login with your Username and Password and choose the "Download Hub" and hit on the button that says "Download" which is next to the version of Windows.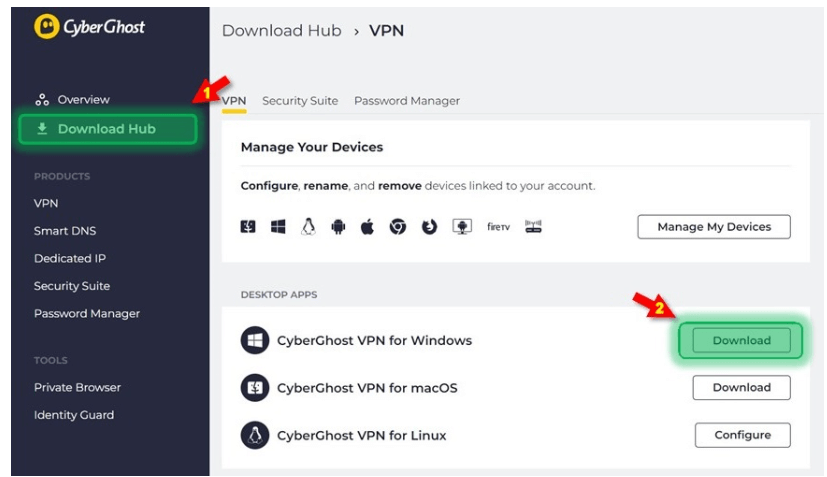 2. Then follow the instructions to set it up.
3. Select "Agree & Continue" if you allow your data to be shared. You can also choose "I want to opt out" depending on what you prefer.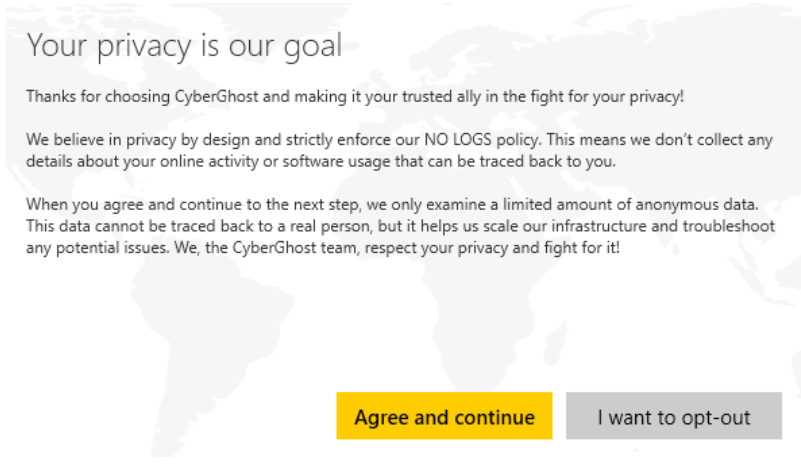 4. Wait till your entire application successfully install. After that, it will start on its own.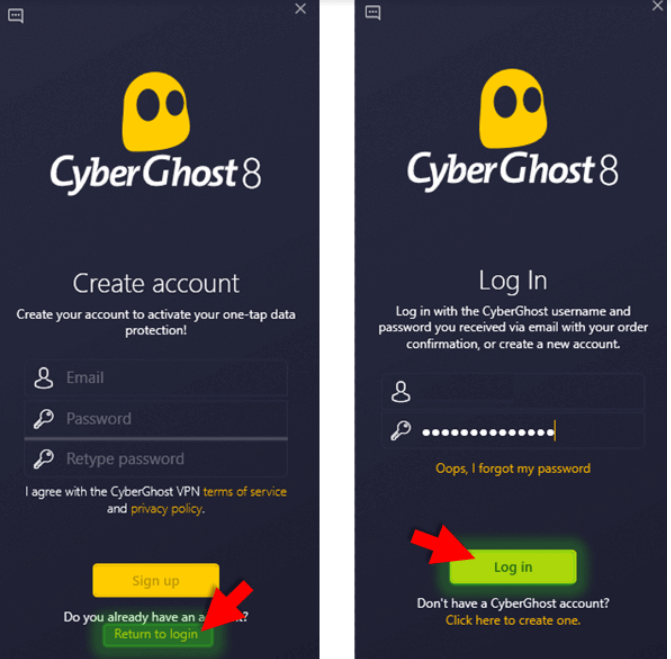 5. The application will first launch in compact mode; to view a listing of all servers and their features available, click the expand button.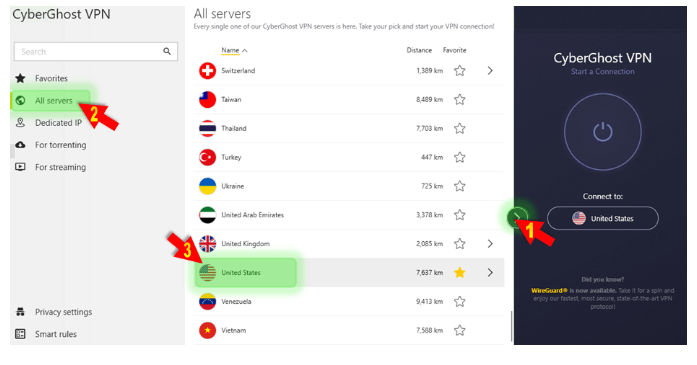 6. Additional features that let you personalize CyberGhost VPN are available in the Privacy Settings.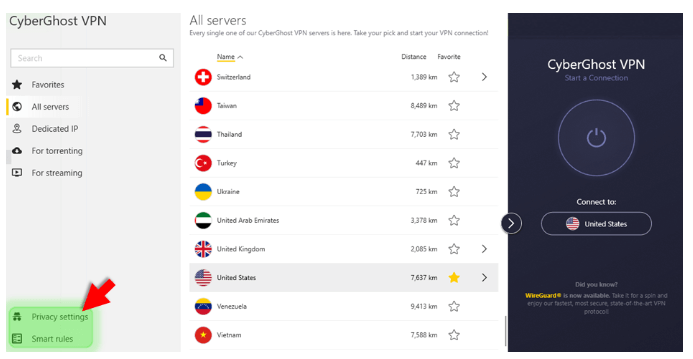 7. Click the "Power" button to establish a fast VPN connection, and the application automatically connects you to the best server based on your current location.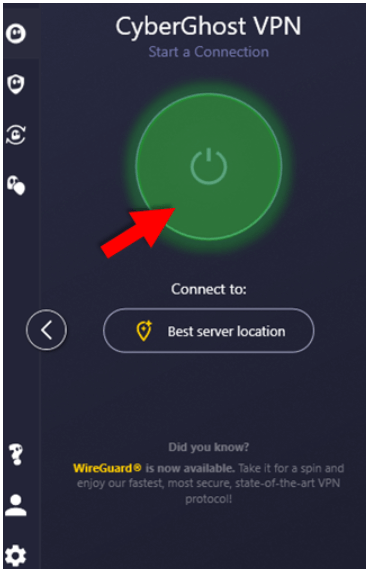 How to Install CyberGhost for Android Device
If you have android and want to know how can you install CyberGhost VPN simply follow the guide below.
1. Install the CyberGhost App from the Google Play Store.
2. Establish an account, Although, if you already have a paid membership then choose "Existing user" and follow the instructions.
3. After you click the "Power" button, the program will immediately connect you to its best server based on your current location.
4. Grant the connection request when it appears in the pop-up box when you initially connect to a VPN server. The CyberGhost application will be able to control the VPN tunnel as a result.
5. Information regarding your new IP address, the number of data/information transferred, and the protocol used to create the connection will also be shown in the lower portion of the main window.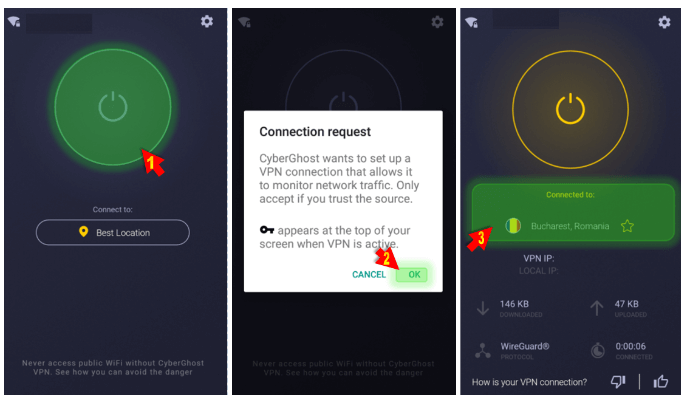 6. You only need to press the power button once more to disconnect from the server; the status will then change to disconnected.
How to Install CyberGhost to iOS (iPhone) Devices
Search CyberGhost on Apple Store and "GET" to begin the installation procedure.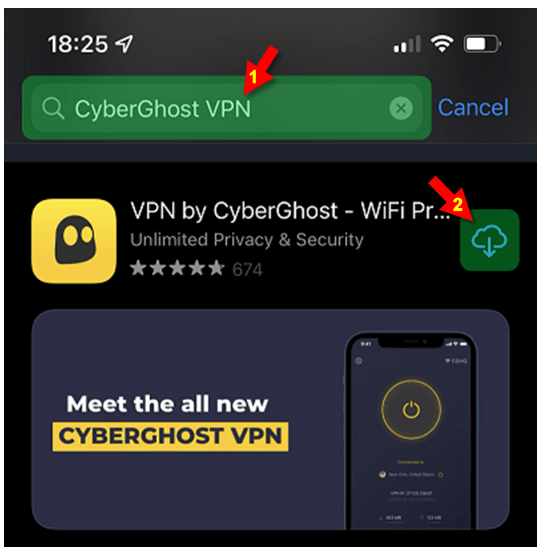 3. Either open the app immediately or return to the home screen of your phone and select the CyberGhost VPN app.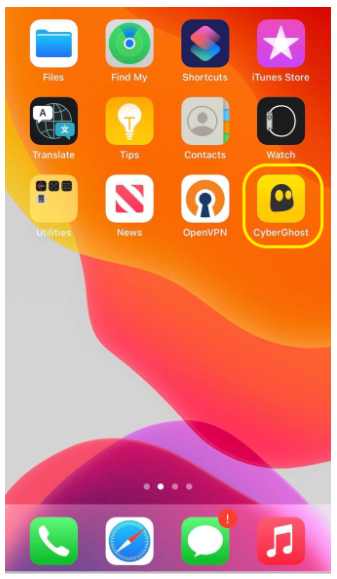 4. Please feel free to assume you want to sign up for a 7-day free trial if you don't already have the subscription by providing a valid email address and clicking "Continue."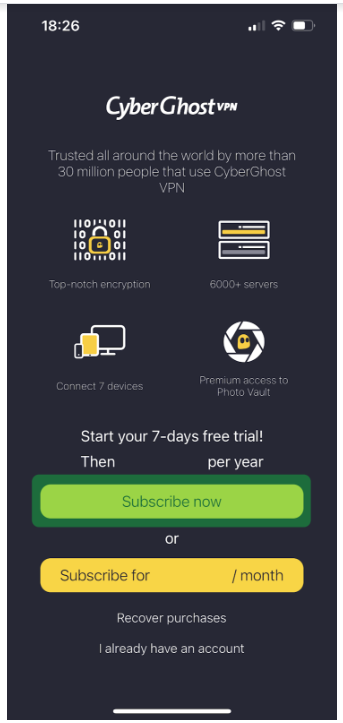 6. Select "I already have an account" and sign in using your existing credentials. Type in your password and the username or email address you use to log in.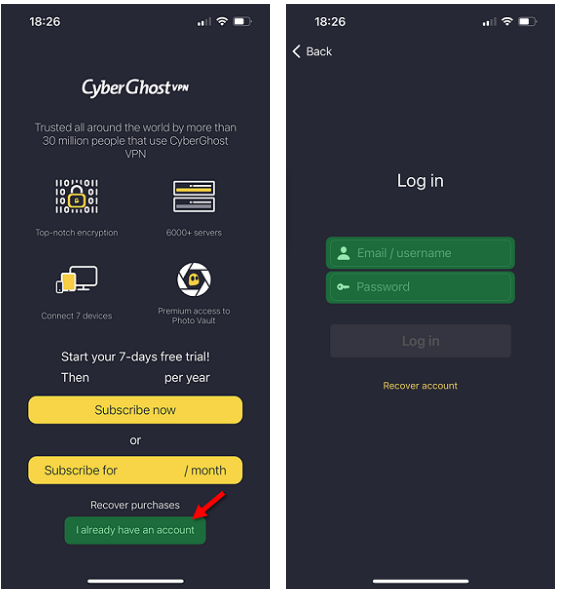 7. When you tap the "Power" button after logging in, the app will immediately connect you to its best server available according to your current location.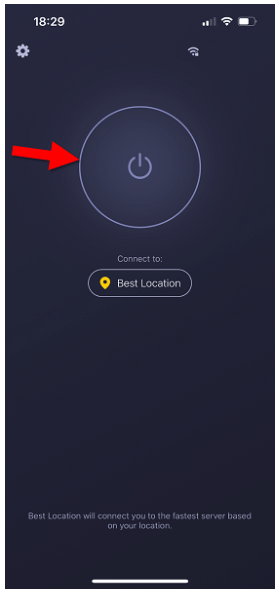 8. CyberGhost VPN will require you to add VPN configurations to your device, In order for CyberGhost VPN to build and administer a VPN tunnel, that is required.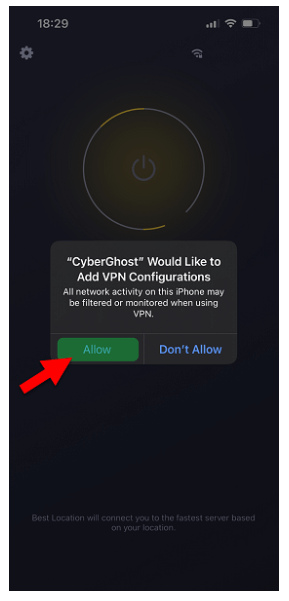 9. You should see "Connected to" as the connection status if it went perfectly all right.
Your new IP address will also be shown in the main window's lower section.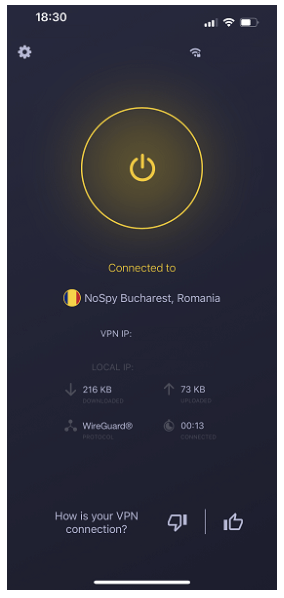 How To Use CyberGhost on macOS Device
If you have macOS and want to know how can you install CyberGhost VPN simply follow the guide below.
Begin by accessing the CyberGhost login page, here
Then log in by entering your username and password for the subscribed account
Once you are logged in, go to your "Download Hub" and then hit the button for "Download" for MacOS :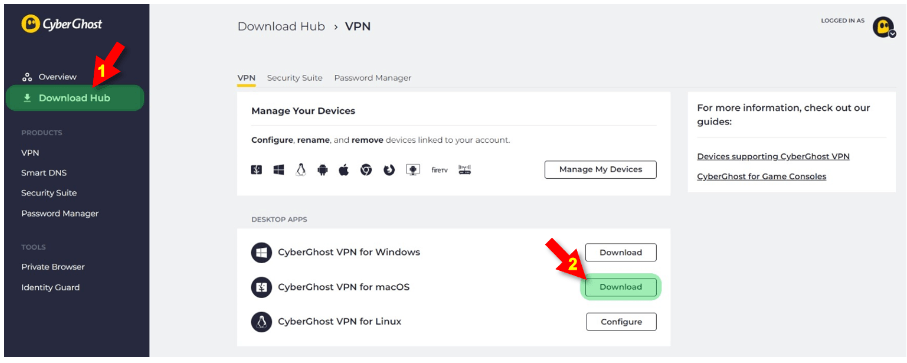 4. When prompted to allow downloads from our website in a pop-up message, click "Allow" and then wait for the files to fully download.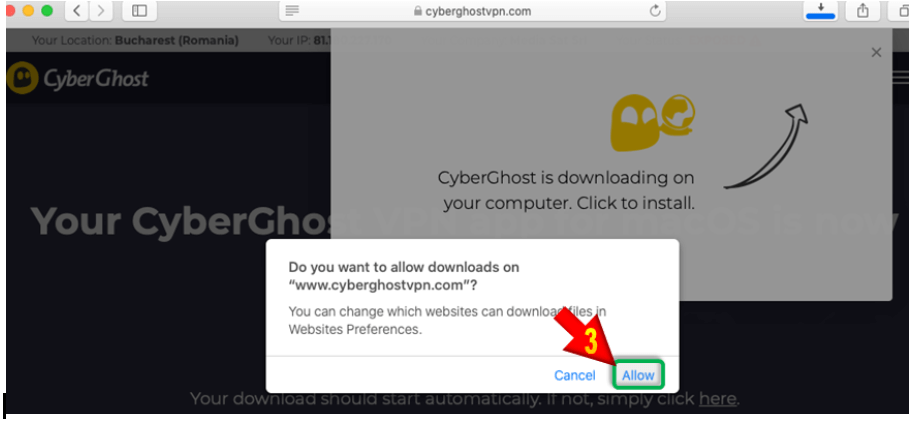 5. You'll see a new window open and be given installation instructions: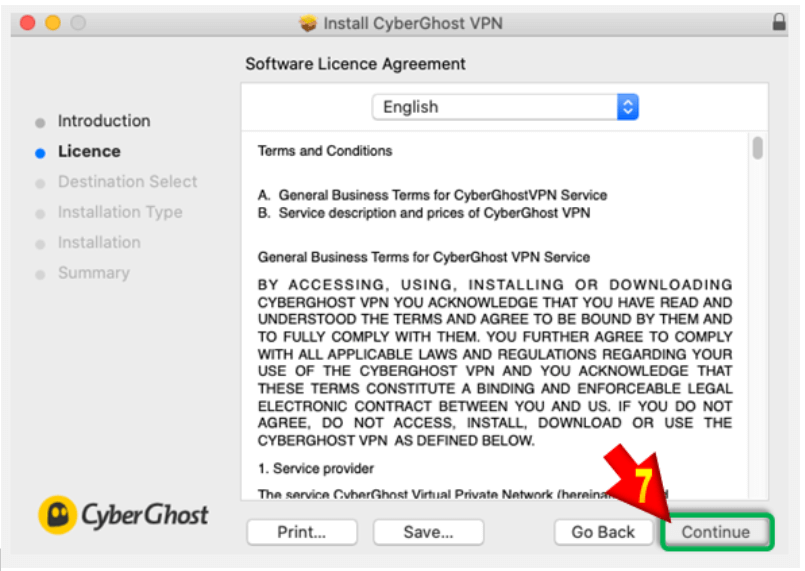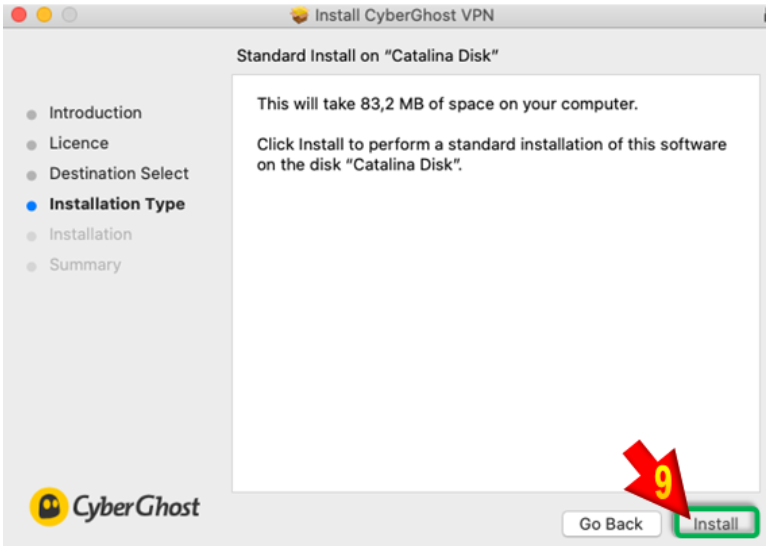 6. During installation, you will be required to enter your macOS Username and Password when requested to approve the installation of the new app.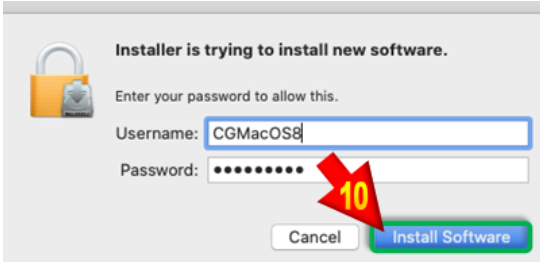 7. When the installation is finished, You will be prompted with a question if you want to delete the installer.
8. You can choose "Allow" when prompted if you want to get notifications from the CyberGhost app when the installation is complete.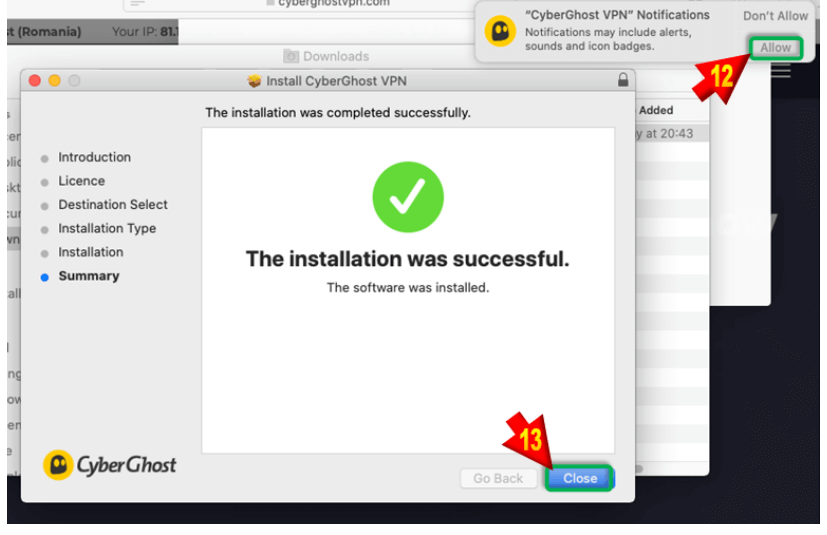 9. You will next be required to enter your paid-for CyberGhost account credentials to continue.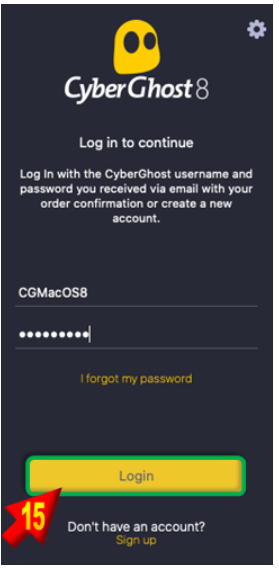 10. It will then be necessary to set up a VPN profile and grant permission for it to add VPN configurations: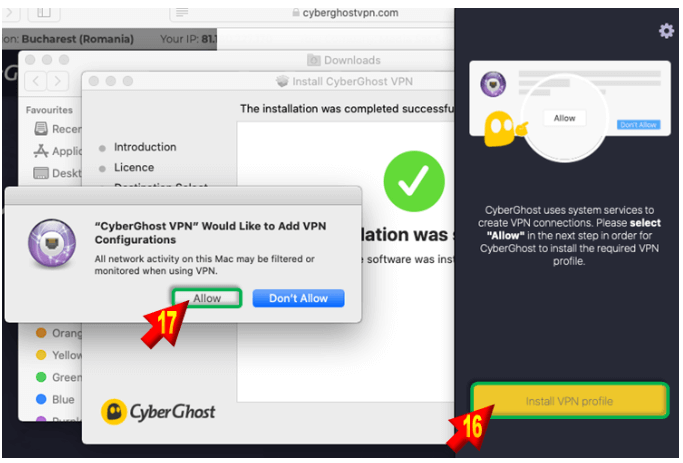 11. Finally, it is crucial to grant keychain access before connecting to any server so that the VPN program can be granted approval to encrypt the traffic on your device.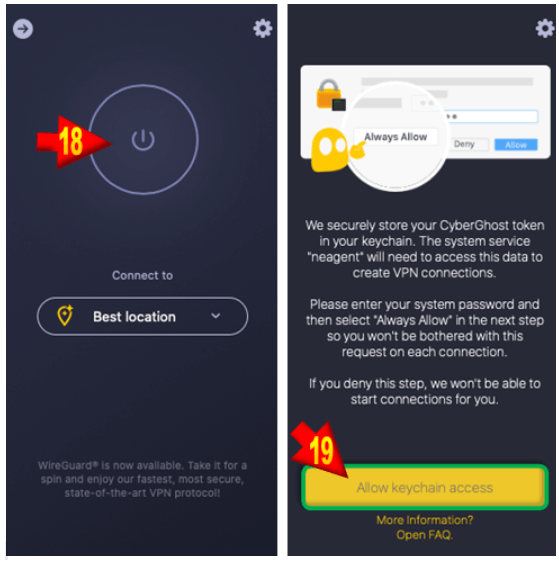 12. After selecting "Allow keychain access," you might be asked to input your macOS account password in a KeyChain dialogue box. This password is for your Local macOS account, which is the one you use to start the Mac. You must click "Always Allow" after entering your Local macOS account password!
How CyberGhost Work For Fire TV Stick
Search for CyberGhost VPN in the Amazon Store on Fire TV or Firestick, then choose their app.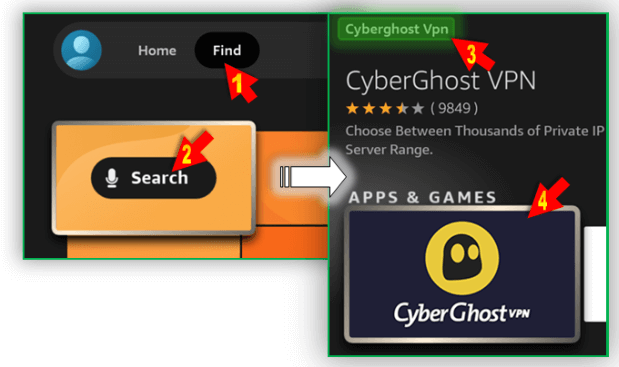 2. To begin downloading the app on your Fire TV or Firestick device, click the Get button. The download will finish with an automatic installation of the app.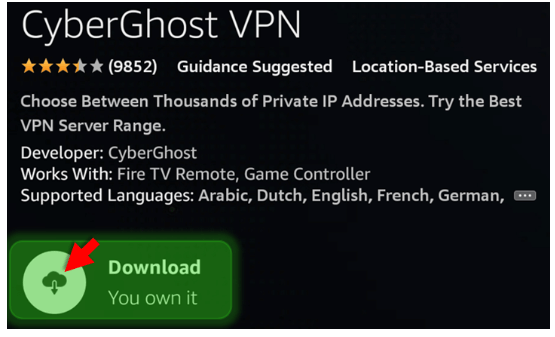 3. You may either click "Open" or hit the Burger menu icon on your remote control to run the program after installation is complete.
4. If you consent to the sharing of such data, select "Agree & Continue," or if not, select "I wish to opt-out."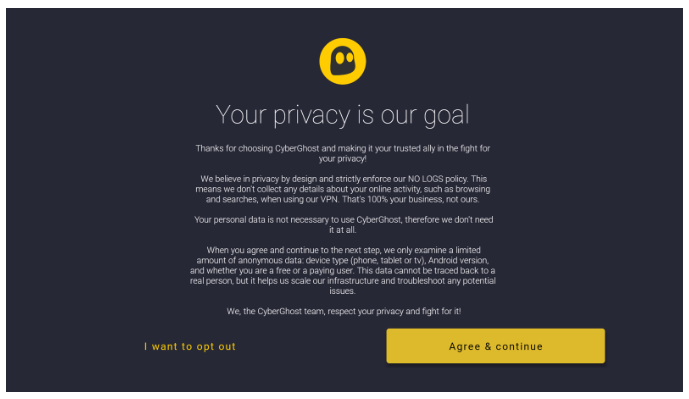 5. A PIN code is generated automatically by the application. You have two options for authenticating: either use the standard login option and enter your username and password or verify the PIN number that is shown in your online account.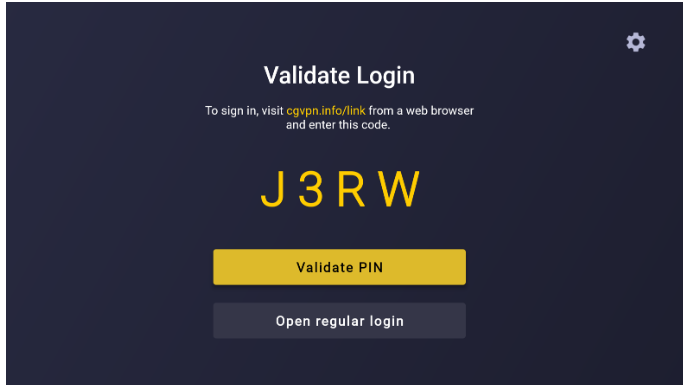 6. When you first establish a VPN connection in the app, a pop-up window will show; tap OK to allow CyberGhost VPN to encrypt all of your Internet traffic.

7. After you connect, the server's IP address, the protocol being used, and the connection status should all appear on the main page.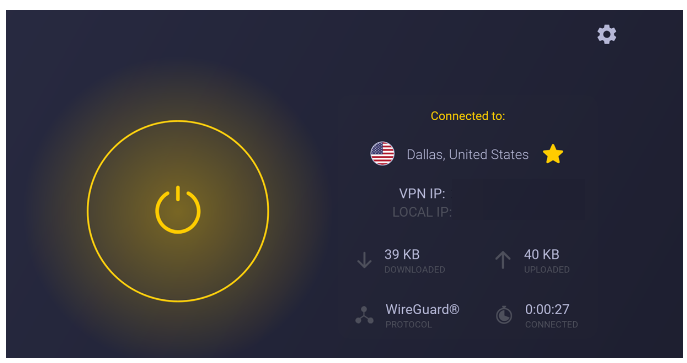 How CyberGhost Give Support To Its Customers?
CyberGhost has various customer support options. When we tried their live chat service, their responses were extremely professional and quick.
They help in solving problems right away. If some issue requires more assistance that cannot be handled instantaneously, they will make a ticket and get back with a solution soon.
You can discover FAQs and guides to help you resolve your problems on their customer service portal. They have a significant collection of diverse tutorials, including ones for Kodi and game consoles. It will be incredibly helpful for brand-new customers who have just begun utilizing VPNs.
No, CyberGhost does not offer free service. Although, it does offer a free trial that lasts for One day on the desktop, three days on any Android devices, and seven days on the iOS without requiring any financial information. This may come as a shock considering that the majority of high-end VPN providers only provide free trials with a money-back guarantee.
Of course, there is also the money-back guarantee, which may be offered for 14 or 45 days, depending on the length of the plan. This ought to be sufficient time for you to test out CyberGhost and decide for yourself if you want to sign up for the service.
All of this, simply shows how confident CyberShark is in its service.
If you are seeking for VPN that is good for torrenting, then CyberGhost is the right one for you, providing you with the protection you require. Even more, it provides dedicated P2P file-sharing servers compatible with a variety of torrent clients. This is excellent for many users out there.
However, they are relatively ordinary in terms of connection speeds. Overall, CyberGhost is a fine torrenting VPN even though the performance isn't particularly stellar.
CyberGhost goes above and above to safeguard the online privacy of its users. It is based outside the reach of surveillance alliances and has a rigorous no-logs policy. According to its transparency report, it only has "the bare minimum" information about its customers, namely their email addresses and of course payment information. Additionally, it permits cryptocurrency payments for those who want to remain anonymous.
Four encryption methods are available to users: OpenVPN, WireGuard, IKEv2, and L2TP. Each has benefits and drawbacks depending on the user's demands.
Windows has an optional Security Suite that improves virus and malware defense. Additionally, users have the option of adding a dedicated IP and a password manager, which grants access to IP-restricted networks and facilitates logging into frequently viewed websites. However, it is all up to the users.
Final Words
Now we get to whether is it worth the investment. Well in simple words we believe that it is something worth trying. It will definitely be something you will like and will change your experience over the internet.
The sleek and user-friendly desktop and mobile apps of CyberGhost, a potent VPN service, will be especially helpful to new customers. It's one of the greatest options for people trying to unblock Netflix and some other well-established streaming websites like YouTube or BBC iPlayer.
Prices are reasonable, customer service is excellent, and there are many different server locations available to you. only one substantial drawback: random speed drops.
It's an excellent option in terms of privacy and security because it features a robust AES-256 encryption system and a verified no-logs policy. However, if you're using the service for delicate activities, there are no strong added features.
Overall, despite a few minor flaws, CyberGhost is without a doubt a competitive option to take into account. It's a good VPN service for almost anything you can imagine, including torrenting and basic online safety.