Imagine a VPN having super tight security, tons of features and user-friendly apps but with poor connection speed? This is something unacceptable in the present day when technologies like OpenVPN and WireGuard are introduced that can unleash the speed of VPN without compromising on the security at an affordable price. Thanks to the top VPN providers, which kept fast speeds on priority along with the highest encryption methods which fulfill the true essence of using a VPN service.
During our tests, it was seen that all the leading VPNs had very minor differences in their top speeds due to which the additional features and pricing of the VPN will become the main factor in choosing the best fastest VPN.
Keep in mind, the VPNs cannot increase your download or upload speeds from your base internet package but can match to the speed of your internet connection as provided by your ISP. For example, if you have subscribed to a 20 Mbps package, the max speed you can get by using a VPN will always be less than 20 Mbps. Here you should wonder what will be the max speed you will get when using a VPN? That depends on the VPN service you choose and distance of the VPN server from your actual location.
To make the choice easier for all speed freaks out there, we have listed down the fastest VPNs available in the market that are tested over 100 Mbps download line, so the numbers closer to this value will be considered the fastest in terms of download speed.
Testing Speed of Top 5 Fastest VPNs
For this post, we have tested several VPNs but listed down only the top 5 which provide the fastest speed at an affordable price. Note that the accurate speed will vary in different countries on different servers. Therefore, we will only post the results from the Best and Fastest Server as recommended by the respective VPN application itself. You can see the comparison of download speeds of the fastest VPN services below that are tested in both the US and Worldwide locations including UK, Brazil, Singapore, Australia and South Africa.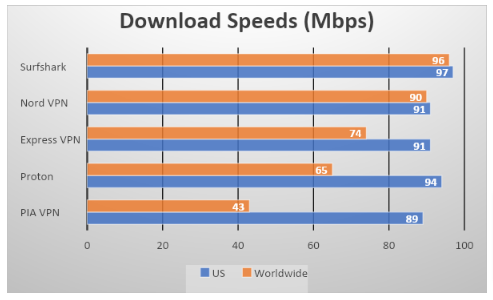 As you can see from the above chart that all of the VPNs performed well with only 10% speed loss in the US whereas the Surfshark outperformed all of them. It is also to be noted that Surfshark had the highest latency during our test which is not ideal for gamer but won't affect streamers and heavy down-loaders. On the other side, when the tests are performed in the different region of the world, the things totally changed. The most affected ones are Proton and PIA VPN whose speed dropped drastically, which implies that they will only work great when you are based in the US. While Surfshark and NordVPN are least affected and performed great, irrespective of the region. So, if you are outside the US, then consider purchasing Surfshark or NordVPN. The only decision factor between these two will be based on pricing and the features.
Likewise, if you are using VPN for video calls and sharing files over a restricted network then you might be interested in finding out the Upload Speeds over the VPN as well. For this purpose, we have performed an upload test in a similar manner but on a 10 Mbps data line and found all of the VPNs have performed great in both the US and Worldwide locations. See the chart below of our speed test results.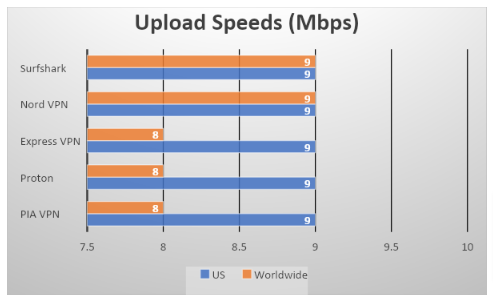 Feature Comparison of Fastest VPNs
Usually, the VPN users do not only look for the fastest speeds but the price and features they are offering with the speed as well. Let's assume, a VPN provider has the fastest speed but without any security or features or may be more costly than the competitors. Will it be useful for you? So, to find the right VPN for you, refer to the table below for basic features and latest pricing of the FastestVPN that will help you to set the direction for finding out the new VPN service.
| | | | | | |
| --- | --- | --- | --- | --- | --- |
| RANK | 1 | 2 | 3 | 4 | 5 |
| Overall Rating | 9/10 | 8.5/10 | 8/10 | 7.5/10 | 7/10 |
| USA Speed | 97 Mbps | 91 Mbps | 91 Mbps | 94 Mbps | 89 Mbps |
| Worldwide Speed | 96 Mbps | 90 Mbps | 74 Mbps | 65 Mbps | 43 Mbps |
| Fastest Protocol | WireGuard | NordLynx | WireGuard | WireGuard | OpenVPN |
| Best Price | $3.49/month | $3.99/month | $3.99/month | $4.99/mo (2-Year Plan) | $2.03/month |
Note: The ranks are assigned as per Worldwide Speed test results of each VPN under similar conditions.
1. Surfshark: World Fastest VPN for Streaming
During our tests, Surfshark came out to be the fastest VPN with the lowest price and lots of useful features. It doesn't matter in which part of the world you are living; their speeds are consistent and fast with unlimited device connections.
| | |
| --- | --- |
| Local Speed | 97 Mbps |
| International Speed | 96 Mbps |
| Fastest VPN Protocol | WireGuard |
| Best Price | $3.49/month |
The primary reason why Surfshark speeds are always consistent is that they limit their servers' load to 40% only to avoid congestion which results in reliable and faster connections than any other VPN service.
Surfshark is an excellent choice from streamers around the world due to its unmatched international speeds and power of unlocking geo-restricted content by which users can enjoy buffer-free HD video experience on all streaming services such as BBC iPlayer, Netflix, Amazon Prime Video and much more.
With fast speeds, there are some drawbacks attached to the Surfshark. It does not support IPv6 addresses which means Surfshark cannot be always trusted to protect your privacy as it may leak your location and identity to the websites. It also takes some time to connect to the best server but once connected it works very fast whatever you throw on it. Moreover, it does not block torrents and also keeps you secure by encrypting your traffic on Public WiFi Networks.
If you are looking for the World's Fastest VPN, then Surfshark is a definite choice with an exceptionally cheap price. Visit their website to get the latest seasonal offers.
2. NordVPN: Speedy VPN with Double Security
NordVPN is one of the best VPN in the industry due to its unmatched security and fast speeds. Though, its speed came out to be a bit lower than the Surfshark, but it doesn't mean it works slow. This might be due to the fact that it uses multi-hop security which puts you behind two servers that makes you double secure. Due to this feature, the NordVPN is also accepted by Tor Network. So, if you are finding a fast yet safest VPN, then NordVPN is a certain choice with just a little higher price than Surfshark.
| | |
| --- | --- |
| Local Speed | 91 Mbps |
| International Speed | 90 Mbps |
| Fastest VPN Protocol | NordLynx |
| Best Price | $3.99/month |
With NordVPN, you can connect 6 devices simultaneously and enjoy over 5500 servers that are spread around the world. The thing which makes NordVPN different from other VPN is their NordLynx protocol which gives you maximum speeds with double security. It also has a built-in Kill switch that will terminate your connection immediately if you have disconnected from the VPN server for any reason.
NordVPN is also a very good choice for Netflix streamers for accessing the geo-restricted content. Even If you want to watch HBO Max or Paramount Plus outside of the US or Canada, then NordVPN can unblock it for you within a minute.
The only thing we didn't like about NordVPN is their renewal prices as the discounted offers are available for 1st term only i.e., 2 years. After which you have to pay the full prices if you don't subscribe as a new user. Also, the malware blocking capability of NordVPN is under development, so make sure you have anti-malware installed to avoid ransomwares and malwares while you browse.
So, if you are looking for some solid security with fastest speeds, then there is nothing above than a NordVPN.
3. PureVPN: Fastest VPN for OS and iOS Especially
PureVPN is a feature-rich and one of the fastest VPN provider which works blazing fast on local connections (in the US) but struggles in some parts of the world such as Australia and South Africa. The VPN is also pricey as compared to the market, but its unmatched streaming and torrent speeds make it worth the cost. Moreover, it uses its own Lightway protocol which is safe, fast and less memory hungry.
| | |
| --- | --- |
| Local Speed | 91 Mbps |
| International Speed | 74 Mbps |
| Fastest VPN Protocol | Lightway |
| Best Price | $3.99/month |
PureVPN turns out to be the Third-fastest VPN on local connections (inside US) which can give up to 91 Mbps on a 100 Mbps connection which is far enough to stream the HD content and lag free gaming experience.
The additional cost that PureVPN is asking is due to its Smart DNS feature. It allows you to unblock geo-restricted content on any devices that do not support installation of VPN such as PS4, Apple TV and Smart TVs. Due to this functionality, the PureVPN costs double than the competitor which you can get as low as $3.99/month
If you are looking for an uninterrupted VPN service with great customer support and features like IP Leak protection, Strict-logging policy and Smart DNS, then PureVPN is a great choice which has much more to offer than just raw speed.
What Makes a VPN Speed Test Fair?
Testing VPNs and posting fair results is not an easy job as sometimes the best performing VPNs show the poor results and worst performing shows the better results. It's all about timings and load on the selected server.
So, to give you the fair results, we have set rules for checking speeds of VPNs that includes, testing all VPNs at same time every day, using same server location for all VPNs (preferably US or UK), performing speed test on same PC under similar configuration and whatever is possible to keep the testing grounds equal including the VPN protocols for each provider.
To get the best results, we tested our internet speed without VPN first, then turned on each VPN one by VPN to see and compare the results to avoid any downside from our ISP. Also, to avoid the traffic congestion, all the VPNs were tested in the morning and in the middle of night.
The local station for testing VPN was US while the results from different regions of the world are collected through our channel partners.
Is There Any Free Fast VPN?
Some of the premium Fast VPN offers trial or free version as well as a part of their marketing strategy. While the trial version is limited for a day or two and activates after entering your credit card information. On the other side, the free version allows limited data or speed which you can enjoy without entering payment info.
Proton VPN and Windscribe are two VPNs that offer a free version with uncapped speed but with limited data. The Windscribe offers 10GB traffic per month with 10 free locations worldwide including Hong Kong. If 10GB is not enough for you, then you can subscribe to a full plan @ $5.75/month for 1-year plan or you can make your own plan just for $1/month for the selected server and another $1 for unlimited data. While the Proton VPN offers medium speed with 100+ servers in US, NL and Japan with strict no-logging policy.
So, if you are looking to buy a VPN for a short office task or a college assignment, these two options are for you which will cost you nothing.
How To Make Any VPN Faster?
If you are experiencing low speeds on your existing or above listed VPNs, then following are some tips to make them faster.
1. Look for the Fastest Available Protocol
While most of the VPN services use WireGuard or OpenVPN, some of them use their proprietary protocol as well. For Example, NordVPN gives you an option to select between NordLynx or OpenVPN, which is set to automatic by default. You can switch to the NordLynx to get the faster speed in NordVPN or Lightway in ExpressVPN to achieve the same.
2. Stay Close to Your Location
If you're new to VPN, then selection of server location is the most important factor to get the top speed of a VPN connection. Therefore, always connect to the server that is nearest to your location or set it to automatically and turn on your phone GPS, so the app can locate the best server automatically. It is also best to connect to a physical server rather than a virtual server as it may appear close to you but in actuality it could be hosted on a physical server that is very far from your location.
3. Deactivate Extra Security Features
The main purpose of VPN is to provide the security but you might not need all the security features every time. For example, features like split tunneling and multi-hoping will decrease your speed as it connects to two servers at a time. You would not need these features when streaming videos on Netflix or torrenting. So just turn them off and enjoy the full speed.
4. Check System Firewall Setting
Your windows firewall might be blocking your VPN port, so make sure you add the VPN application in exception after installation is complete or go to the Firewall settings and add an exception manually if you missed it after installation.
Final Thoughts: Fastest VPN Service
There are many scams and traps floating on the internet when you search for the Fastest VPN at a cheap price. Take note, that the VPN speeds and prices are never a trade off and you should always look for Best VPNs from the authentic source. The VPNs we listed are free from these scams and have implemented the highest level of security as per best industry practices.
We have tried our best to help you in finding the Fastest VPN at an affordable price without compromising on security but due to the serious competition in the VPN industry, all of the VPN providers are getting better day by day. So, the speed tests are not the actual measure of the rankings as some will perform better than others as per the country and server load. So, it's better to get a trial first before paying for full service to check how one of our best Fast VPN performs in your country.
Our favorite is SurfShark which has impressive speed test results with low latency and available at an affordable price with lots of useful features, especially double encryption. On the other hand, if you're from the corporate world and looking for some solid performance and excellent customer support then PureVPN is a win-win situation.
What do you think about our choices and speed test results? Share in the comment below with the speed test results in your country of our Fastest VPNs. Don't forget to mention the server location.