Enhancing your online gaming experience on the Xbox One opens up a world of possibilities, but it also exposes you to security risks. As you become more prominent in the gaming community, you may become a target for malicious attacks like DDoS or SWATTING. Fortunately, you can safeguard yourself while playing by utilizing a VPN with your Xbox One.
However, it's important to note that you cannot directly install a VPN on your Xbox One console. Instead, you have two options: setting up the VPN on your Wi-Fi router or creating a virtual router using a laptop. In this article, we will guide you through both methods and recommend some of the best VPNs for the job.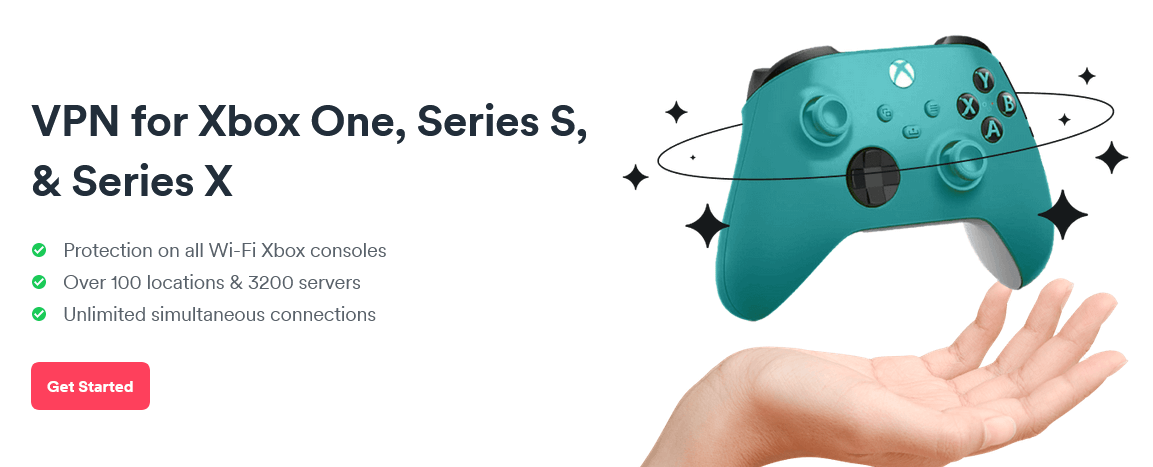 Top VPNs For Xbox One, Series S, and Series X In 2023
Here is a quick summary of the top VPNs for Xbox
In this article, we will provide a comprehensive review of each VPN recommendation, detailing its features and benefits. However, if you're short on time, this summary should help you make an informed decision.
By using a VPN with your Xbox, you can protect yourself from potential security threats, unlock region-restricted content, and enjoy a safer and more seamless gaming experience.
How To Setup A VPN On Your Router For Xbox One
To establish a VPN connection for your Xbox One, you'll need to configure the VPN on your router. This method ensures that all devices connected to your network, including your Xbox, are automatically protected. It also allows you to bypass VPN connection limits. Follow these steps to set up a VPN for your Xbox One:
Start by logging into your router's control panel. Most routers have a sticker on the underside or back of the case with an IP address. Enter this IP address into your browser's address bar and log in.
Most major VPN providers offer detailed installation instructions on their websites. Look for the instructions specific to your router brand and open them in a new tab while following the steps.
Read carefully follow each step outlined in the installation instructions. If you encounter any uncertainties, reach out to the VPN provider's support team.
Connect your Xbox to the network as you normally would.
Now, any device that connects to your network, including your Xbox One, will benefit from enhanced privacy and security provided by the VPN.
For more comprehensive information on setting up a VPN on your home router, you can refer to our Ultimate Guide to VPNs for Routers.
By configuring a VPN on your router, you can ensure that all devices in your network, including your Xbox One, are protected and enjoy the benefits of enhanced privacy and security while gaming.
What's Advance Features Provided For Xbox
Not all VPNs are created equal when it comes to Xbox, and some may even hinder your online gaming experience. It's important to consider VPNs that offer the following features :
High speeds and low latency
A large number of servers
Servers optimized for gaming
DDoS protection
Multiple connection allowances
Router compatibility
What's The Best VPNs For Xbox One
NordVPN is our top recommendation for using with Xbox One and an excellent choice for securing your router. The website provides detailed instructions for installing the VPN on 29 different router models. With NordVPN, you can have up to six simultaneous connections, and the router installation will only count as one.

The company operates servers in over 5,400 locations across 60 countries. The VPN app includes a ping test feature to help you identify the fastest server for your connection. It also offers DDoS protection and the option to get a dedicated IP address for hosting your own game server. Moreover, NordVPN boasts impressive speeds, making it suitable for data-intensive gaming.
How to Change Your Location on Xbox One
It may come as a surprise, but different Xbox Apps are available in various countries, and some services, like Netflix, offer different content based on your location. Fortunately, changing your location on Xbox One is a straightforward process with the help of a VPN. Follow these steps to change your location on Xbox One:
Sign up for a VPN: Begin by signing up for a VPN service, such as SurfShark.
Install the VPN on Your Router: Install the VPN software on your router. This process can be complex, so refer to the guidelines provided above or seek assistance from the customer support team of your chosen VPN if you encounter any difficulties.
Configure the VPN Server: During the setup process, you will be prompted to enter the server details. To change your location, simply select a server in a different country. By doing so, your IP address will be associated with that country.
Connect Your Xbox One: Now, start up your Xbox One and connect it to the router. After establishing the connection, you should be able to access new apps and enjoy previously inaccessible content.
If you're experiencing slow internet speeds while gaming, it could be due to your ISP throttling your connection. However, using a VPN with unlimited bandwidth can help bypass bandwidth throttling and potentially enhance your gaming speeds. It's important to note that the proximity of the VPN server to your location also plays a role in determining speed. Therefore, using a VPN for Xbox One may indeed boost your gaming speeds.
Absolutely, utilizing a VPN with your Xbox One ensures the protection of your identity. Firstly, VPNs employ 256-bit AES encryption, making it highly challenging for hackers to access your personal data. Secondly, reputable VPN providers follow strict no-logs policies, which means they do not collect or share your data. By using a VPN, you can hide your real IP address and location, allowing you to game anonymously on Xbox One without concerns about potential DDoS attacks.
No, using a VPN with your Xbox One will not result in a ban. There are no specific rules against using VPNs in conjunction with gaming consoles, including the Xbox One. In fact, using a VPN is a legitimate and effective method to bypass ISP throttling and safeguard your online identity. It is a perfectly acceptable and legal approach to enhance your gaming experience without the risk of being banned.
Conclusion
Using a VPN with your Xbox can significantly enhance your gaming experience by improving security, accessing region-restricted content, and reducing lag. Although Xbox consoles don't directly support VPNs, you can set up VPN functionality by configuring a VPN on your router, sharing your PC's VPN connection, or using a VPN-enabled router. When choosing a VPN service, consider factors like compatibility, speed, server locations, security, and ease of use. By following the steps outlined in this article and selecting the right VPN for your needs, you can enjoy a safer, more versatile, and optimized gaming experience on your Xbox console.