By utilizing a VPN on your Nvidia Shield TV, you can enhance your online privacy and gain access to any geo-restricted website of your choice. With this setup, you can conveniently enjoy streaming services like Netflix, BBC iPlayer, Hulu, Disney+, and more, regardless of your location. SurfShark VPN is our top recommendation due to its user-friendly Android TV VPN app and its effectiveness in bypassing restrictions. It empowers you to make the most of your VPN, allowing you to install additional features such as Kodi.
The Nvidia Shield seamlessly connects to your television and grants you access to a wide range of popular streaming services like Netflix, Disney+, and Amazon Prime. Furthermore, you can expand its functionality by installing add-ons like Kodi.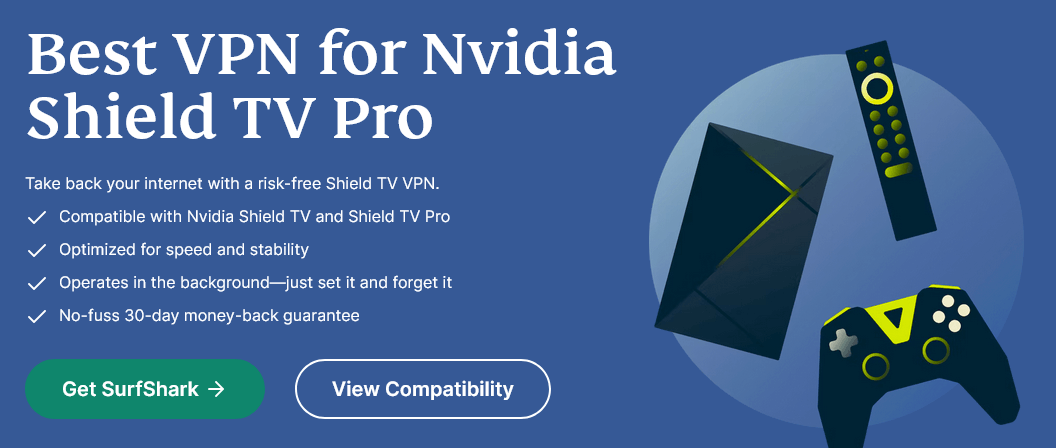 While it delivers an exceptional streaming experience, encountering Geo-blocking and content restrictions can be frustrating. To overcome these challenges, employing a VPN specifically designed for Nvidia Shield becomes essential.
You might wonder which VPN is the most suitable for this. After thorough testing of 150 VPNs, we have curated a list of the best VPN for Nvidia Shield TV that guarantee an immersive and streamlined streaming experience.
Top VPNs For Nvidia Shield TV 2023
Here's a brief summary of the best VPNs for Nvidia Shield TV in 2023:
Steps To Install A VPN App Via Google Play On Nvidia Shield TV
Here are the steps to install a VPN app via Google Play on Nvidia Shield TV:
Launch your Nvidia Shield TV and open the Google Play Store.

Use the search function to find a trusted VPN of your choice.
Select the VPN app and click on "Install" to initiate the installation process.

On the VPN's application page, make sure to choose the official version if there are multiple VPNs with the same name.
Confirm the installation by tapping on "Install."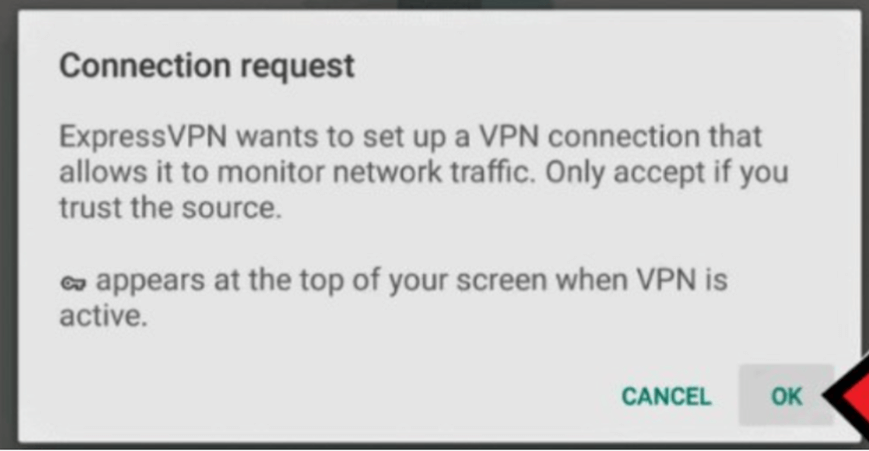 Accept the app permissions to complete the installation.
Once the VPN app is installed, launch it and follow the instructions to set up the VPN connection. You will need to have a subscription to the VPN provider beforehand.
Connect to a US server (New York is recommended) provided by your chosen VPN.
Why VPN is Necessary To Access Nvidia Shield TV?
A VPN is essential for Nvidia Shield TV because it allows you to overcome Geo-restrictions that limit your streaming options. When certain movies or shows are geo-restricted and unavailable for streaming in the United States, Nvidia Shield TV blocks access to them. However, by using a VPN for Nvidia Shield, you can bypass these restrictions and gain access to any geo-restricted content you desire. As Nvidia Shield TV is powered by Android, it requires a VPN with compatible software that has a proven track record of unblocking streaming services.
What Qualities Make Nvidia Shield TV Great?
Here are the criteria we use to select the best VPNs for Nvidia Shield:
Android TV application: A good Nvidia Shield VPN must have a dedicated application designed specifically for Android TV, ensuring a seamless streaming experience.
Unblocking capabilities: The VPN should excel in providing global access to geo-restricted streaming services and their libraries, fulfilling the primary purpose of using a VPN with Nvidia Shield.
Speed: To prevent buffering interruptions during your favorite TV series or intense action scenes, a VPN with fast and stable connection speeds is crucial.
Security: An ideal Nvidia Shield VPN offers additional security features such as ad-blockers, a kill switch, and IP leak protection. These features enhance online safety, privacy, and anonymity.
By considering these factors, you can select the best VPN for Nvidia Shield TV that will enhance your streaming experience while ensuring your online privacy and security.
Best Apps For Nvidia Shield TV
To enhance your streaming experience on the Nvidia Shield, here is a list of recommended apps that work well with it:
Netflix (Paid App)
Hulu (Paid App)
Sling TV (Paid App)
CBS (Paid App)
Showtime (Paid App)
HBO Now (Paid App)
PBS Kids (Free App)
Pluto (Free App)
Kodi (Free App)
Plex (Free App)
Fox Now (Free App)
Watch Food Network, etc. (Free App)
While it is possible to use a free VPN with Nvidia Shield TV, it is not recommended. Free VPNs often have overcrowded servers that are too slow for streaming video, resulting in frequent buffering. They may also have data limitations and sell user data to third-party advertisers, compromising privacy and security. Some free VPNs, especially on Android, may even contain viruses.
For a better user experience, faster service, improved privacy, and reliable customer support, it is advisable to use a commercial VPN. However, if you are looking for the best free VPN for Nvidia Shield, TunnelBear is a recommended option. Alternatively, you can explore the best free VPNs available for Mac, Firestick, Android, or iPhone.
Nvidia Shield TV is a smaller, updated version of the standard Nvidia Shield. Similar to the comparison between the Amazon Fire TV stick and Fire TV Cube, the Shield TV offers a smaller form factor but may have performance limitations compared to the standard version. It may struggle with data encryption and decryption when using a VPN, which can lead to increased buffering.
If your VPN is not working with Nvidia Shield, it could be because Nvidia restricts and blocks most VPNs, only allowing those that are specifically designed for this device.
Using a cheap or untrustworthy VPN may result in being detected by Nvidia Shield. Additionally, free VPNs often struggle to bypass the blocks imposed by streaming providers like Netflix and Amazon Prime due to their limited server capabilities. To successfully circumvent these VPN bans, you will need a premium VPN that has proven effectiveness with these streaming services.
Now you can start watching content on your Nvidia Shield TV with the VPN connection active.
Please note that these instructions assume you have a Google Play Store account and a subscription to the VPN service. If the VPN app you want to use is not available on the Google Play Store, you may need to sideload the app onto your Nvidia Shield TV using alternative methods.
Conclusion:
We conclude our guide on the top VPNs for Nvidia Shield. Nvidia Shield TV is an excellent Android TV box for streaming movies and TV shows from various regions. To overcome Geo-blocks and access restricted content on Shield TV, using a VPN is essential.
Among the best VPN options for Nvidia Shield TV, ExpressVPN stands out with its remarkable compatibility, extensive server network, and exceptional performance, all at affordable prices. Additionally, ExpressVPN offers a 30-day money-back guarantee, allowing you to try it out risk-free. If you're not satisfied, you can easily obtain a full refund without any hassle or questions.