Generally, no need of a VPN service for Apple TV until and unless you want to watch content that has been restricted or not available in your region. For example, Disney+ and Hulu are only available to watch in the US, whereas you are living in Brazil, so you will be requiring an Apple TV VPN to change your location from Brazil to the US to enjoy your Apple TV.
When we say "Apple TV" in this article, we mean the Apple TV streaming hardware or Apple TV device.
All Time Best VPNs to Enjoy Apple TV From Anywhere
In this part, you get the list of VPNs that work with Apple TV without getting detected by any firewall.
How To Use a VPN to Stream Securely on Apple TV
There are several methods for using a VPN for all generation of Apple TV where the simplest one is to use the respective VPN App which sets up the Smart DNS on your Apple TV while the more complex one is to set up a VPN on your router. It is suitable if you have more than one device in your network which needs a VPN Service such as laptop, mobile phone, or another Apple TV.
In this section, we are discussing all the methods that you need to know and globally used to stream content through a VPN on an Apple TV.
Method 1: Use Smart DNS on Apple TV
The best thing about Smart DNS is that it doesn't hide or change your IP, so you can bypass the Geo-restricted algorithms on almost any video streaming platform. However, there are some prerequisites for setting up the Smart DNS in your device in which the selection of VPN that offers Smart DNS comes first.
In this method, we have used NordVPN SmartPlay as a guide to set up the Smart DNS on your device. Similar steps can also be followed for setting up Smart DNS through another VPN Service which may come with another name like ExpressVPN offers a Smart DNS feature as Media Streamer.
Steps To Enable Smart DNS
To enable SmartDNS using NordVPN SmartPlay on your Apple TV, follow these steps.
Go to the NordVPN Dashboard on your PC or Mobile Browser.
Make sure your Apple TV is connected to the same Wi-Fi network which you are using to access the Dashboard.
Now, Sign-in, afterward, in the "Services" section, click on NordVPN.
In the "Smart DNS" category, press the "Activate" button. See the screenshot below.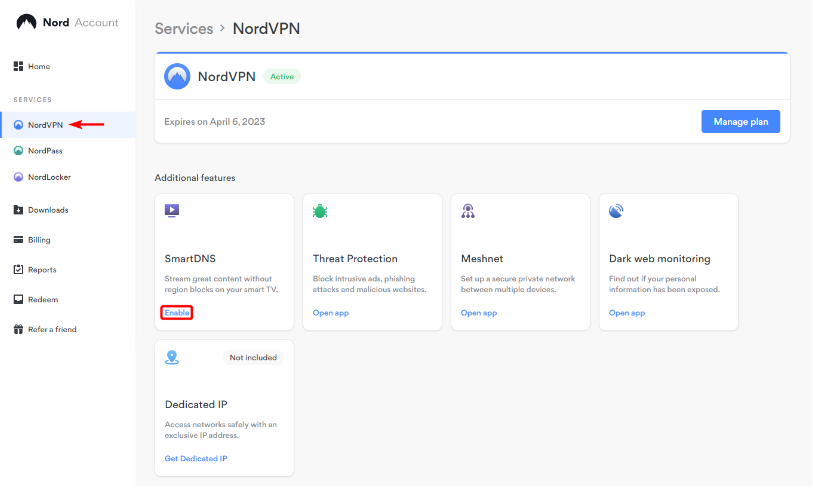 5. This will allow list your IP address and allow you to use smart DNS on the network that your Apple TV is connected to.
6. On your Apple TV, navigate to "General" and select "Network."

7. Click on "Wi-Fi" at the top and select the network you allowlist in step 3.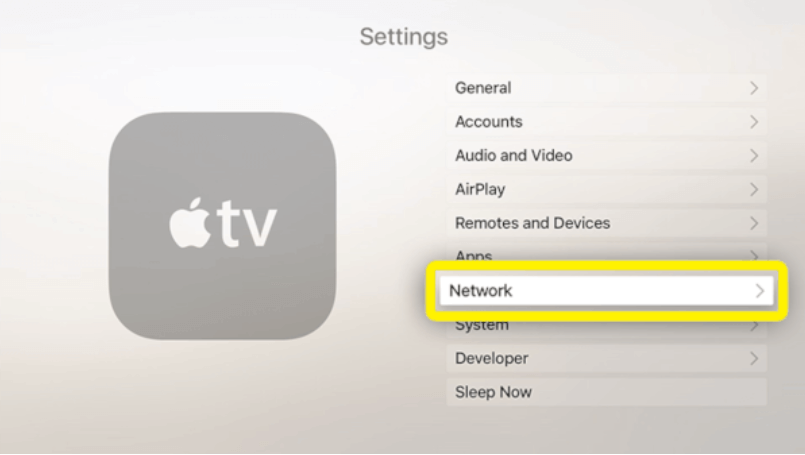 8. Select "Configure DNS" and choose "Manual."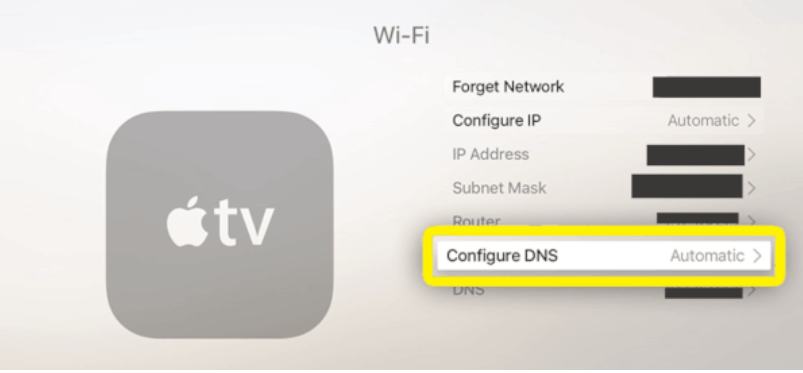 9. Enter NordVPN smart DNS server addresses as follows:
Primary DNS: 103.86.99.103
Secondary DNS (if available): 103.86.96.103
Note: If you are using Smart DNS from another VPN Service, then the DNS address will vary but the remaining steps will be the same. Also, steps 6 to 9 could vary based on the model of your Apple TV.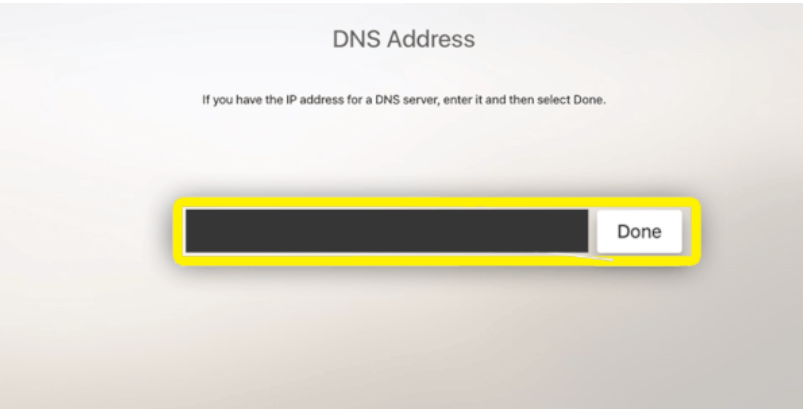 10. Restart your Apple TV
Method 2: Use AirPlay on Your Apple TV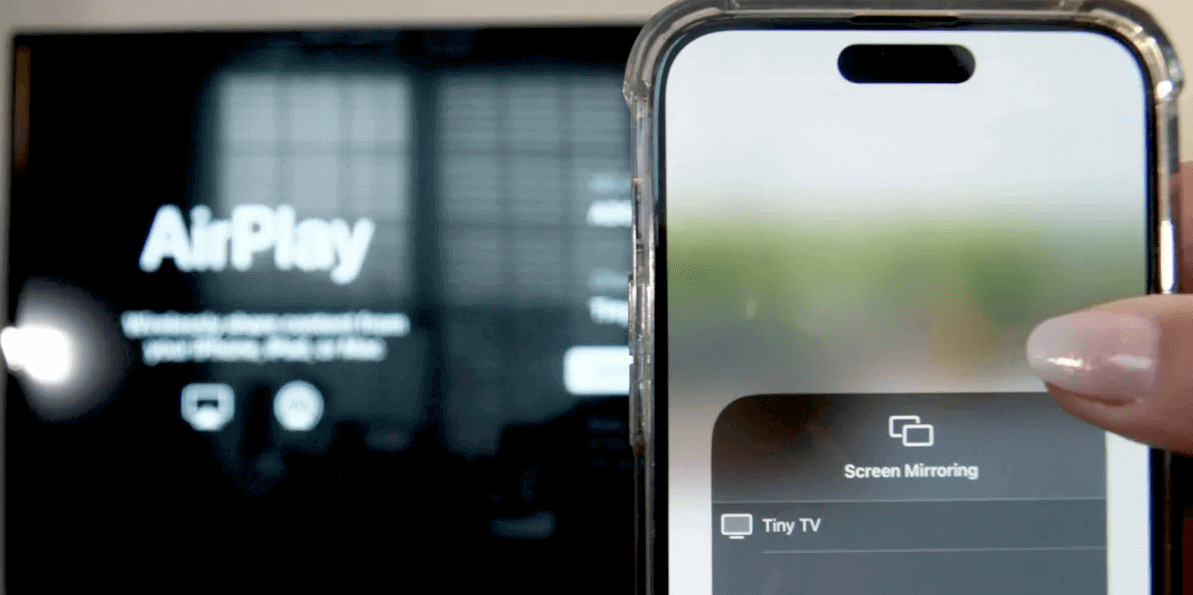 Note: This method is only for iPhone or iMac users who wish to use their Apple devices to cast the content on Apple TV.
Unlike Smart DNS, this method protects your privacy by enabling all the features of VPN on your Apple devices such as iPhone or iMac which you can use to stream the content on your Apple TV using the AirPlay feature. AirPlay allows you to cast the content from your iOS or macOS devices to any supported devices including Apple TV and AirPlay 2 compatible Smart TVs.
To use this method, follow these steps on your iOS or macOS device.
Install the VPN App from the App Store
Connect to the VPN Server.
Open the streaming app from which you want to watch the content.
Make sure to connect your device to the same Wi-Fi network as your Apple TV.
Tap AirPlay.
Choose your Apple TV from the list.
Enjoy your favorite content on the big screen!
Method 3: Use A VPN-Enabled Router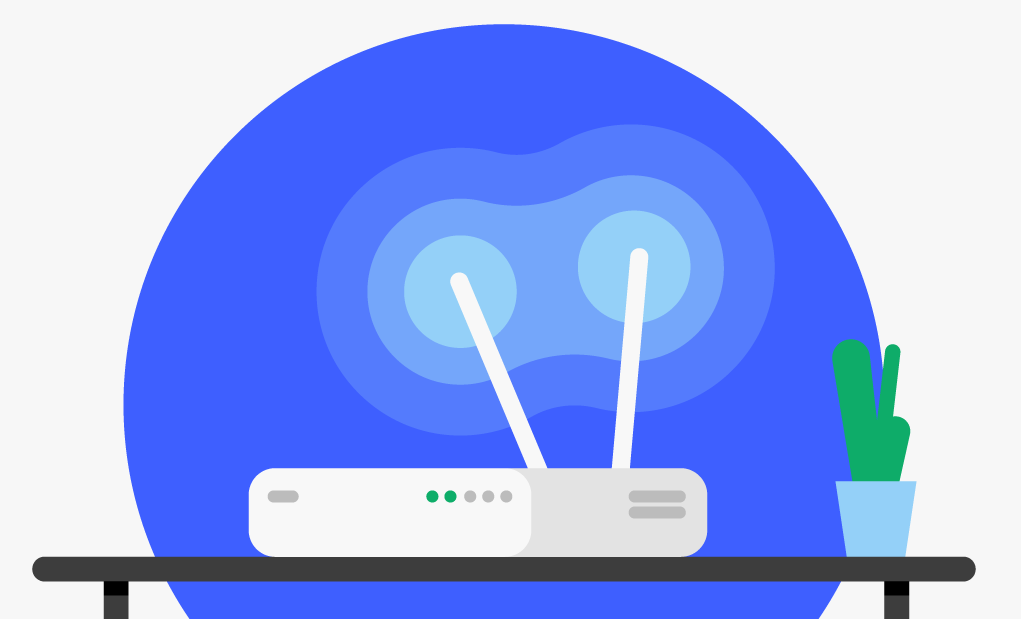 Caution: Setting up VPN on a router will route all the outgoing traffic through the VPN server and you may lose access to your local services which are allowed only on your country's IP Address.
Note: This method is useful when you have more than one device in your network for streaming worldwide content without any restrictions.
If you're looking for foolproof security with a strong stable connection, then there is no solid method other than installing VPN in your router. This method will encrypt all the incoming and outgoing traffic which will make sure your privacy is protected all the time.
This sounds very simple but not all routers support the installation of a VPN. It is always best to check with the manufacturer's specifications to make sure that your router supports VPN installation or not. Some popular router brands that allow for VPN client software are:
Even if you have a VPN-supported router, you also need to confirm with your VPN provider regarding the software support to install the VPN in your router. If it doesn't support a dedicated App for Router Installation then you might need to go through a complex process of flashing new firmware on your router.
Easy Steps For VPN Installation:
Since every router and VPN provider has different procedures for VPN installation, here are some general steps that can be followed on any router and VPN provider.
Go to your router page and log in with admin.
Flash your router firmware with the file provided by your VPN service provider or flash Open VPN-compatible firmware such as DD-WRT in the supported routers.
Configure the router with your VPN service provider's configuration files.
Connect to the VPN.
Connect your Apple TV to the VPN router's WiFi.
WARNING: Be careful before flashing the firmware and only perform these steps if you are confident about flashing the firmware as incorrect flashing will make your router permanently damaged and also void the warranty.
Method 4: Use A Virtual Router Or Mobile Hotspot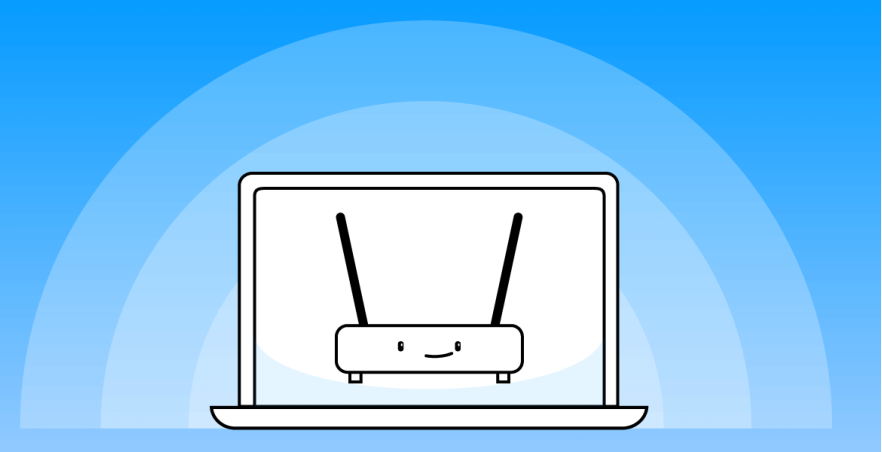 If you are not certain about flashing the firmware on your router and still want to stream the geo-restriction content on multiple Apple TV devices, then you can set up a virtual router or a mobile hotspot using your PC or Laptop that can serve the same purpose without getting your WiFi router in danger.
This method is also recommended for those users who do not have a VPN-supported router or a VPN service that does not support installation in the router.
To set up a virtual router or Mobile Hotspot, you will need the following.
A PC or Laptop with a compatible Wi-Fi Card that supports internet connection sharing.
A premium VPN subscription with its app installed on your PC.
Compatible Operating systems such as Windows 10 or higher.
Follow these steps to set up a Mobile Hotspot on Windows 10 or higher operating system.
From the start button, Go to Settings > Network & Internet > Mobile hotspot
Toggle the Mobile hotspot to On.
Now again Go to Settings > Network & Internet > Change adapter options.
Right-click on [VPN server provider name] Tap Adapter and select Properties.
Under the "Sharing" tab check the box that says "Allow other network users to connect through this computer's Internet connection".
Now select the hotspot you created from the drop-down menu labeled "Home networking connection" and click OK. See the screenshot below.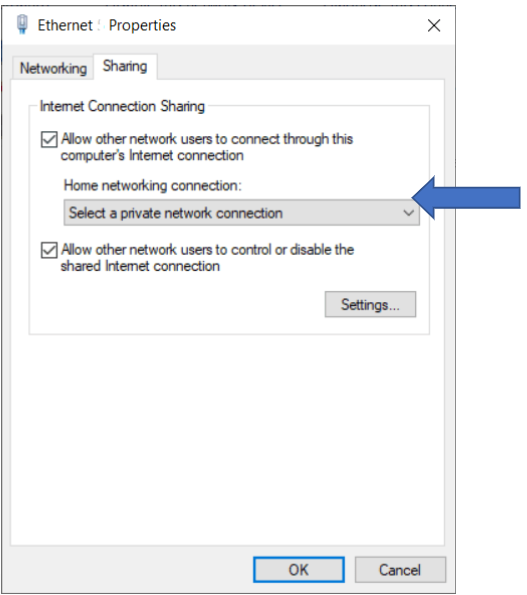 7. Connect to the VPN server location of your choice. (For better compatibility, choose OpenVPN protocol, if your VPN app allows).
8. Finally, connect your Apple TV to your new mobile hotspot and enjoy encrypted streaming without any restrictions.
VPN Apps For Apple TV 4K, HD and 1st To 3rd GEN
Since 2007, Apple has released many models of Apple TV and named them as a generation till 2013. After which they released Apple TV HD in 2015 followed by the three generations of Apple TV 4K to date. Each generation has improved hardware, larger capacity, faster speed, and high video resolution for the best viewing experience. Currently, the latest generation of Apple TV is 4K (3rd Generation) which is available in 64GB and 128GB with a streaming capacity of up to 4K HDR with the support of the latest A15 Bionic chip.
With the improvement in hardware, Apple also invested a lot in software to make the user experience secure and flawless. The recent software updates prevent users to install 3rd party apps other than the Apple Store on their device which also limits the number of VPNs that can be used with Apple TV in unblocking the geo-restricted content on various streaming platforms such as Apple TV+, Hulu, Disney+, HBO Max and so on.
For any VPN to work on Apple TV, the respective VPN and Apple TV should be compatible and its application should be officially available on the App Store or it should support alternative methods such as Smart DNS, Router Configuration, or a Proxy Server.
Some of the best Apple TV VPN apps include but are not limited to NordVPN, Surfshark, ExpressVPN, PrivateVPN, CyberGhost, and Private Internet Access VPN. Following are some highlights of the top 3 VPNs which work flawlessly with the Apple TV.
SurfShark: Highly Capable VPN For Apple TV

Surfshark is one of the cheapest and Best VPNs for Apple TV without compromising on its security and features. It also offers Smart DNS with unlimited simultaneous connections for as low as $2.30/month. If you are tight on budget and looking for the Best VPN performance, then Surfshark is a definite choice that can unblock almost all of the popular platforms.
However, it doesn't have any dedicated router app like ExpressVPN and you have to go through some complex processes for enabling Surfshark VPN at the router level.
NordVPN: Delivers a Subtle Apple TV Experience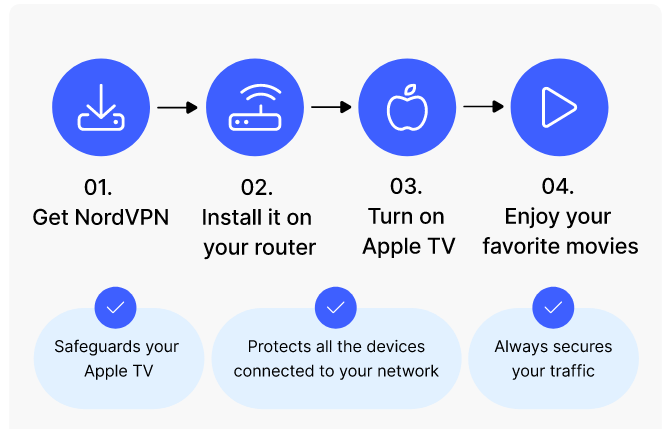 NordVPN is amongst the first choice of most people when selecting a VPN for Apple TV because of its simple setup on Apple TV and official availability on the App Store which allows you to enhance your viewing experience without any complex procedure and get a free trial for more amazing streams
The only drawback of NordVPN is that it doesn't have a dedicated router app which makes it difficult for a newbie to set up a VPN on the router. The router setup is essential when you want to secure your whole network and avoid the installation of VPN Applications on every device. If you are only purchasing NordVPN for Apple TV then we recommend you buy NordVPN due to its top-notch security and useful features at the offered price.
ExpressVPN: The Best Apple TV VPN You Can Buy

Express VPN is one of the best VPNs for Apple TV which doesn't only unblock geo-restricted content on all streaming platforms but also protects your privacy to the highest level. It is the only VPN that has a dedicated router app that can make your life easy in setting up VPN at the router level.
With these great features, ExpressVPN comes with a price tag that is above average in the VPN market. If you are looking for more than unblocking Apple TV, then ExpressVPN is the finest choice with one of the best after-sales support through 24/7 chat.
What To Watch On Apple TV +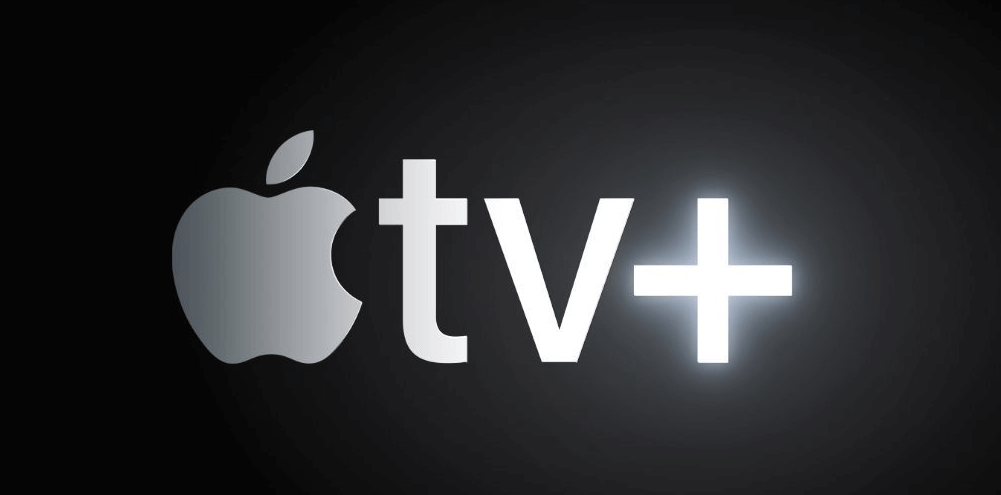 Once you get your hands on the Apple TV and are able to stream the content without any hassle with or without using a VPN, it's time to choose the best Apple TV+ series to start with your subscription. Since everyone has their own preference regarding the content they want to watch, we have gathered the list of the top 5 trending shows on Apple TV+ that most of the users liked.
Dear Edward (2023)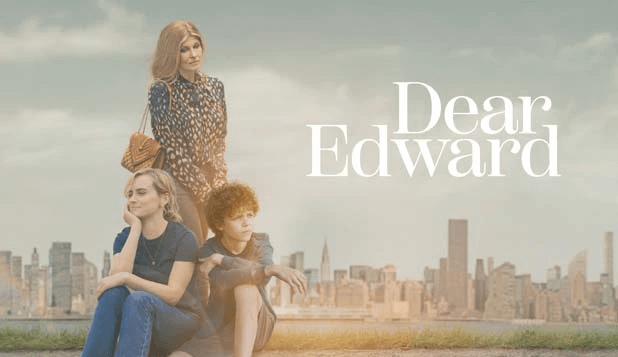 The 10-episode first season of Dear Edward is one part heartbreaking, one part uplifting. Following a tragic plane crash, 12-year-old Edward is the lone survivor. He must now live with the grief of having endured such a horrific event and the survivor's guilt that his young mind is too immature to process.
Truth Be Told (2019 – present)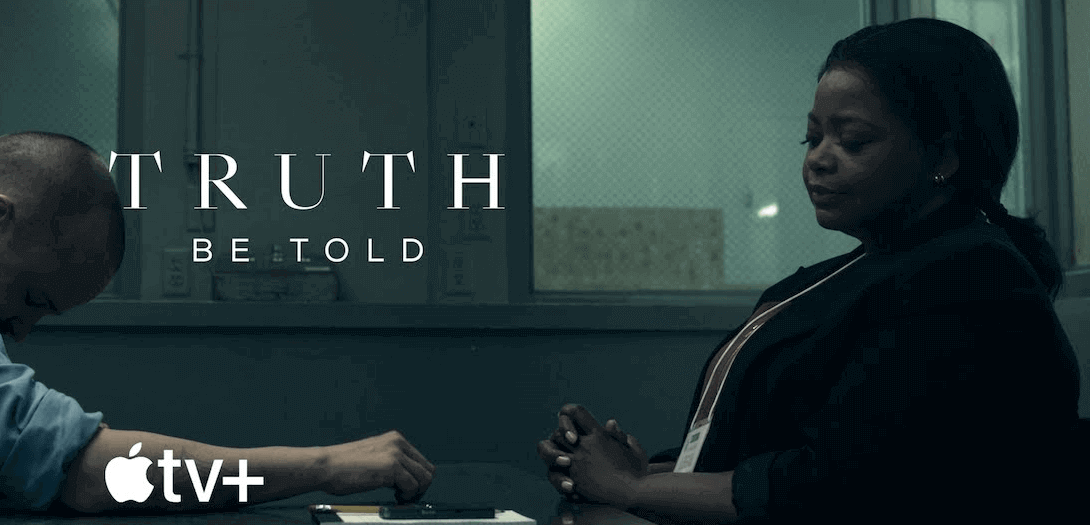 Truth Be Told was first released in 2019 and continues till the date created by Nichelle D. Tramble and the main cast includes Octavia Spencer, Ron Cephas Jones, Rico E. Anderson, and Mekhi Phifer. This star-studded drama follows a true-crime podcaster (Octavia Spencer) who has reached nationwide fame for her work on a high-profile murder case.
Ted Lasso (2020 – present)
Ted Lasso is one of the finest comedy shows spread over 3 episodes and is a must-watch on Apple TV it revolves around an American Football coach named Ted Lasso who relocates to the U.K. to coach an English association football team. But there is one problem: he doesn't have any proven experience in the UK version of football but the team had faith in him and the story goes on.
The Essex Serpent (2022 – present)
The Essex Serpent is released in 2022, written by Anna Symon and based on The Essex Serpent by Sarah Perry. The main cast includes Claire Danes, Tom Hiddleston, Frank Dillane, and Hayley Squires. The story follows newly widowed Cora, who, having been released from an abusive marriage, relocates from Victorian London to the small village of Aldwinter in Essex, intrigued by a local superstition that a mythical creature known as the Essex Serpent has returned to the area.
Slumberkins (2022)
Slumberkins is a mixed-media puppet and 2D animation series with a focus on helping kids develop healthy emotional wellness through various stories about friendship, confidence, and healthy relationships. For something fun and educational for kids that also focuses on mental health and well-being, Slumberkins fits the bill.
To connect Apple TV with VPN, you can use any of the listed methods as per your needs as described below.
Smart DNS – If you only want to unblock geo-restricted content on one Apple TV device.
AirPlay – If you want to stream content directly from your iOS Device which already has a VPN application installed and configured.
VPN-Enabled Router – if you can't afford to compromise your privacy at any cost and VPN is a must-have tool for your application including unblocking geo-restricted content on popular streaming platforms.
Virtual Router or Hotspot – If you need to protect your privacy while unblocking the worldwide content on multiple devices on your Wi-Fi network without involving flashing firmware on your router.
Turning off VPN on Apple TV depends on which method you have used to enable VPN on Apple TV. If you have used any of the 4 methods discussed in this article then you can follow these steps to turn off the VPN on your Apple TV.
Disabling VPN via Smart DNS:
If you have used the Smart DNS method to connect to VPN Server, then you have to convert the DNS setting back to Automatic by following the steps.
On your Apple TV, navigate to "General" and select "Network."
Click on "Wi-Fi" at the top and select the network you used to set up Smart DNS.
Select "Configure DNS" and choose Automatic.
Restart your Apple TV.
Disabling VPN via AirPlay:
To disable VPN through Airplay, just stop streaming the content from your Apple device to your Apple Tv or turn off VPN on the Apple device from which you are casting the content on your Apple TV.
VPN-Enabled Router:
You can turn off VPN from your router's admin panel or connect to another Wi-Fi network that doesn't have VPN configured.
Virtual Router or Mobile Hotspot:
You can just disconnect from the virtual router or Mobile Hotspot Wi-Fi network and connect to your router's Wi-Fi directly to turn off VPN on your Apple TV.
No, Apple TV is streaming hardware that can be connected to any supported TV and turn it into a smart TV. While Apple TV+ is a streaming application like Netflix, Hulu, and similar apps where you can watch different shows and movies including some original content.
There is also an Apple TV app that gives you access to the apps you subscribe to through your Apple ID, your purchased and rental library, and Apple TV plus content.