ExpressVPN appears everywhere when looking for the fastest VPN service. This is due to the fact that ExpressVPN is known for its lightning-fast VPN all over the world.
You can look up ExpressVPN Review to know more about it. However, is it really that quick?
Is ExpressVPN actually worth the extra money? If you are wondering about this all and want to do an ExpressVPN Speed Test, you are in luck as we have done it all for you!
We discovered during our in-depth testing that ExpressVPN is the fastest VPN we've ever used. We were extremely pleased with its performance after testing it across different server locations.
It is the best VPN available if money is no problem for you. For those who still live under the rock and don't know what ExpressVPN is. It is the most trusted VPN provider in the entire world, with 3000+ servers in more than 94 countries.
In this article, we will get into our results for our ExpressVPN Speed Test. If you want to know more about it, stick to the end to know if you should invest in ExpressVPN in the first place.
How Fast is ExpressVPN? Shocking Speed Test Results
Well, to sum it up in simple words it is pretty fast. If you want to check it yourself you can use a third-party website to check its speed. This is what we used in order to do ExpressVPN speed tests with different servers.
Here is the result that we found:
| Country Servers | Download Speed | Upload Speed | Pings |
| --- | --- | --- | --- |
| USA – New York | 89.26‬ Mbps | 85.12 Mbps | 307 ms |
| The Netherlands – The Hague | 85.84‬ Mbps | 86.67 Mbps | 127 ms |
| Canada – Toronto | 84.17 Mbps | 39.17 Mbps | 210 ms |
| Switzerland – 2 | 86.67 Mbps | 90.84 Mbps | 142 ms |
| Italy – Milan | 84.17 Mbps | 93.34 Mbps | 123 ms |
| UK – Docklands | 89.17‬ Mbps | 75.56 Mbps | 134 ms |
| Hong Kong – 2 | 86.67 Mbps | 95.26 Mbps | 259 ms |
| Singapore – Jurong | 78.75 Mbps | 93.83 Mbps | 86 ms |
| Australia – Melbourne | 85.84‬ Mbps | 90.11 Mbps | 168 ms |
How We Tested ExpressVPN Speed Test
We measured more than just download speed, even though it is the most important aspect of your internet experience. Let us talk about each of the four different metrics we looked at during our ExpressVPN speed test :
1. Download Speed: The time it takes for a file to download or a webpage to load is determined by the download speed. Not only this but the quality of streaming videos is also affected by the download speed, which is measured in megabits per second, short for Mbps.
A download speed greater than 10 Mbps is known to be high and guarantees a buffer-free high-definition streaming experience. Consequently, a faster download will enhance your experience.
2. The Upload Speed: Upload speed is what determines how long it takes in order to send data to people through the internet. If the upload speed is higher, for instance, your attached file will upload to the email much quicker. Therefore, the quicker you are able to transmit data online, the faster the upload speed.
3. Ping: Ping, also known as latency, measures the amount of time it takes for a website to respond in milliseconds (ms). Your internet connection is better if the ping is low. For minimal game-play lags, an internet connection with a low ping is necessary.
4. Jitter: Ping's variability is measured using Jitter. Ideally, there should be little variation in ping, but this is only possible with a strong connection. You can anticipate trouble-free online gaming and streaming experience with lower jitter.
ExpressVPN Speed Test Results with Proof
Now that you know about the general term, let us get into some of the ExpressVPN speed test results and proofs.
United States

To begin, we connected to the USA New York server of ExpressVPN to evaluate the speeds.We experienced a speed reduction of only 1% on our download speeds, which were 89.26 Mbps, and only 3% on our upload speeds when compared to the base connection speeds because it was a local server.But the pings were a little too high.
United Kingdom

We evaluated the UK's Docklands server. This time, we experienced a download speed of 89.17 Mbps, which was only 5% slower than our speeds without a VPN. Our pings were also improved by the server.
Australia

ExpressVPN performed admirably on its server in Melbourne, Australia. ExpressVPN reduced our upload and download speeds by 2% and 10% respectively after the test was run.However, in general, the connection was quick and stable.Keep in mind that we also received low pings of 168 milliseconds.
Canada

Next, we evaluated ExpressVPN's performance on the Canadian servers. The Toronto server we tested had a download speed of 84.17 Mbps and an upload speed of 39.17 Mbps with a ping of only 210 milliseconds.We experienced a decent speed drop of 16% on our 100 Mbps connection.However, the upload speeds were quite slow.
The Netherlands – The Hague

We connected to ExpressVPN's server in The Hague to see how fast it was.We received a download speed of 85.84 Mbps from this server.That amounts to a speed reduction of almost 15% on our 100 Mbps connection alone! We also experienced a 127 ms decrease in ping time.
Switzerland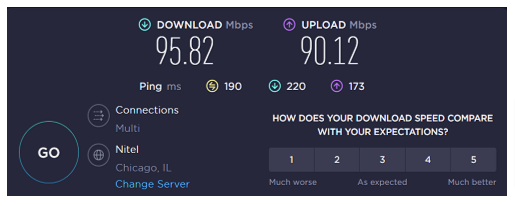 In our ExpressVPN speed test, we connected to its Switzerland – 2 server. Our download speed was only 9% slower with ExpressVPN than it would have been without the VPN.We experienced fewer pings and slightly faster upload speeds when we connected to this server.
Italy

Following that, we did an ExpressVPN speed test in the Italian region. When we connected to the Milan server, our download speed dropped by 12% to 84.17 Mbps.Our pings decreased to 123 milliseconds, but our upload speeds remained the same as they had been.
Hong Kong

For Hong Kong – 2 servers, we got 86.67 Mbps for the download speed. The best part about this server was it really improved our upload speeds, which makes it an ideal choice for gaming.
Singapore

We also tried the Singapore – Jurong server. Our upload speeds only dropped by 1%. Not only this but also the pings were really low.
Yes, you can run ExpressVPN Speed Test while the app is connected. However, to get the best and most accurate result, we recommend doing it another way.
One of the best VPNs to increase internet speed is ExpressVPN. However, if it is out of your budget, you can also use SurfShark, PureVPN, CyberGhost, and NordVPN.
Yes, it can increase your internet speed, its average download speed is 89 Mbps. If your Internet Service Provider (ISP) intentionally throttles certain types of network traffic, ExpressVPN easily restores your internet speeds.