Recently PureVPN has been really getting popular due to its amazing features. However, many are still unaware of it. If you are someone who is sleeping under the rock and does not know about its AES 256-bit Encryption, lightning-speed servers, and extremely affordable rates, you need to check it out right away.
If you have Amazon Firestick and want to know about how PureVPN works with it. You are at the right place! In this article, we will get into how you can set up PureVPN on Amazon Firestick devices. Therefore, read it till the very end!

Does PureVPN Work on Amazon Firestick?
Yes, PureVPN performs admirably with Firestick gadgets. You simply need to visit the Amazon app store and then download PureVPN like any other application without side-loading or jail-breaking your Firestick device. Fortunately, you can set everything up in just a few minutes because it is so convenient and simple.
Once PureVPN is installed on Firestick, you can start watching anything from any part of the world without worrying about security and Geo-restricting blockers.
Easy Steps to Setup PureVPN on Firestick
Earlier, people who use Firestick needed to jailbreak into their devices in order to allow root access so that it can side-load apps. Luckily, you no longer need to do this! Now, it is much easier to set up VPNs on Fire TV devices.
Here is how you can setup PureVPN on Firestick:
Begin by subscribing to PureVPN.
Go to your Go to Firestick's Home, and then Select the Search Menu which is at the top.
Enter 'PureVPN' and then choose the very first result that you see.
After that select the 'Download' button in order to get the PureVPN app.
Once installed, click on the PureVPN app in order to open it.
Type in your Username and Password.
After that, connect to the server of your choice and enjoy streaming safely, and securely.
How to Use PureVPN On Your Firestick

Begin by going to your PureVPN Firestick app.
Select the server of your choice.
Then, wait till the app connects and establish a secure connection.
Once that is done, you will see a new IP address with that country's flag.
How Can You Change PureVPN's Protocols on Firestick App
If you wish to change any of your protocols, simply follow the steps mentioned below:
Begin by opening the PureVPN app.
Then select the icon for Settings which is present in the top-right corner.
Then go to Advanced after that select Connection Protocol.
After that, you can choose the VPN protocols of your liking and try connecting to your preferred server again.
Smart Features Of PureVPN Firestick
The PureVPN Firestick app's intuitive design makes it extremely easy to use. Its features and options are all quite accessible. One of PureVPN's key features is Smart Connect, which instantly connects you to the fastest server nearby.
It's really easy to locate servers. Any location you want to connect to can be found using PureVPN on your Firestick device. You may find optimal servers for YouTube, Disney Plus, Netflix, Hulu, HBO, BBC iPlayer, and many other networks and streaming services by using the category of popular apps.
Another amazing feature in PureVPN's Firestick app is called Split Tunneling. When you turn it on, you can easily specify and decide which app you would like to pass through the encrypted VPN tunnel.
Benefits of Using PureVPN for Amazon Fire TV Stick
As was already said, PureVPN offers 256-bit encryption, which allows users to conceal everything they do on their Fire Stick devices. This is an excellent benefit as there are prying eyes always looking to spy. Additionally, PureVPN has a sizable pool of 300,000 IPs and more than 6,500 servers spread throughout 78+ nations and 96+ cities, allowing users to unblock a tonne of well-known streaming services.
A potent Kill Switch is provided by PureVPN for security and privacy. Your online identity is protected by this function. Additionally, it provides leak protection. We think this is a great tool to have.
According to its Privacy Policy, PureVPN does not collect any activity logs, which is even another fantastic feature. As a result, your data cannot be disclosed to outside parties. Because of this, torrenting is a great option for those who want to maintain their anonymity. Oftentimes many VPNs sell your data to third parties which is something PureVPN is against.
If you are wondering whether PureVPN works with any other platforms other than Firestick, the answer is yes! It fortunately does. For instance, you can use it on Roku, Kodi, and many other platforms.
However, customers may use PureVPN to their advantage by configuring the VPN directly on their network and using it with any device thanks to PureVPN's compatibility with routers.
However, if you experience any problems or connection issues, you may reach out to PureVPN's live chat support team. They are available around the clock.
Another great thing about PureVPN is that you can cancel your PureVPN membership and receive a complete refund within 31 days.
PureVPN Reviews on Amazon App Store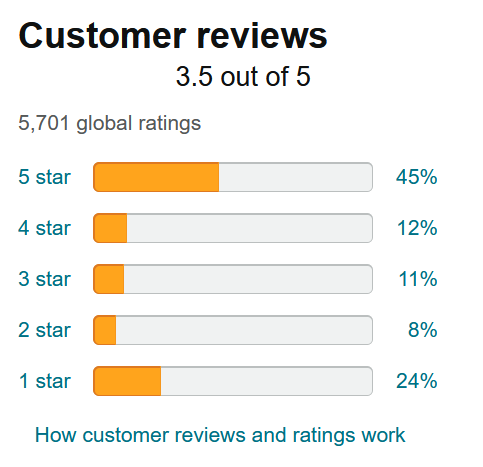 If you are wondering what users think about PureVPN, you can always check its rating on the Amazon App Store. Fortunately, it has 3.5 stars out of 5 with 5703 customer reviews. By just looking at the image below, one can see about 45% of its users have given it a 5-star rating, which shows it is an excellent VPN.
Now just the ratings, if you also look at reviews given by some of the top users, you will see most people have great things to say about their experience with PureVPN on Firestick. This should help you in understanding that PureVPN is indeed excellent and popular among users of Firestick.
Other Alternatives VPN Solution For Fast and Secure Access
If you still are hundred percent sold on PureVPN and want to test other VPNs before making your final decision, here are a few Firestick VPNs that you can try which are perfect alternatives for PureVPN.