You might get confused while choosing the correct VPN for yourself. SurfShark Vs ExpressVPN both are excellent VPN services that offer top-notch security and privacy features, as well as fast and reliable connections. If you are in doubt about both VPNs you can compare their features and can figure out which VPN you should choose.
| | |
| --- | --- |
| 🏆 Winner: | SurfShark |
| ⭐ Rating: | |
| 🥇 Overall Rank: | #1 out of #150 |
| 📖 Logs Policy: | Stringent No activity logs |
| 💵 Price: | $3.35/month |
| 🖥️ Servers: | 3200+ Servers in 100 Countries |
| 🍿 Streaming Services: | Netflix, Amazon Prime, HBO Max, BBC iPlayer, and more |
| 🔥 Special Deal: | Get 81% + 1 Free Month |
Despite this fact, both of the VPNs offers advanced security features, has an excellent speed scores, and is a great option for streaming. If you want to make sure to select the right one among both, compare the VPNs to figure out the top one.
SurfShark vs ExpressVPN: Which One Is The Top-Rated In 2023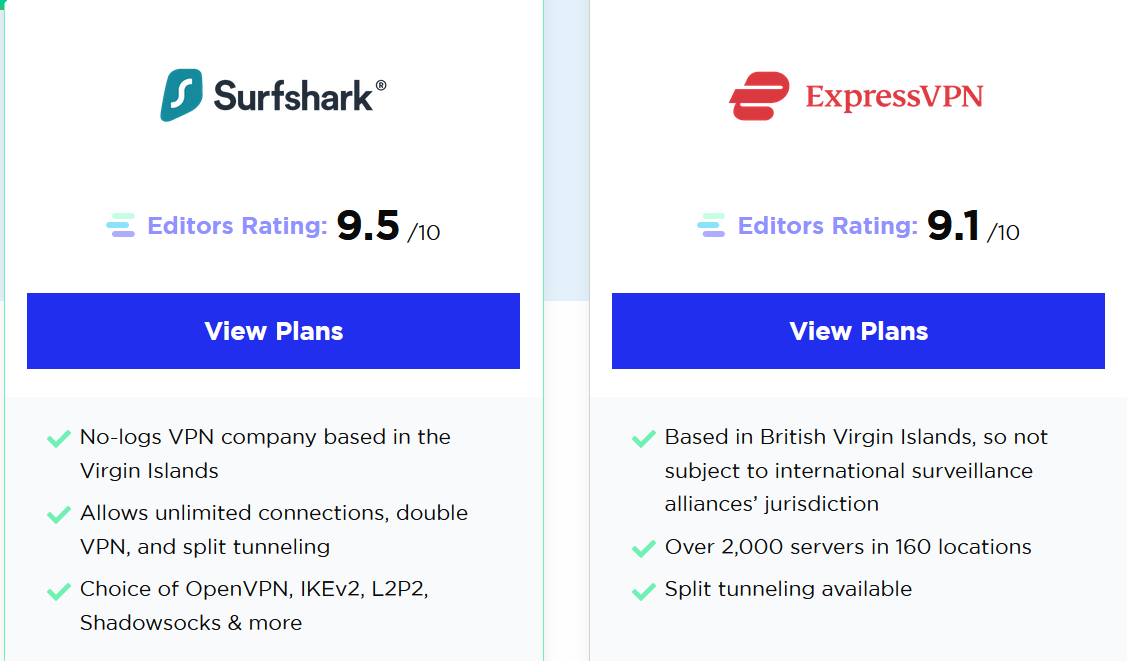 If you look into Surfshark it is a relatively new VPN provider due to its affordable prices and unique features such as the ability to connect an unlimited number of devices simultaneously quickly became popular. It offers strong encryption, a kill switch, and a variety of protocols to choose from. However, Surfshark's server network is smaller than ExpressVPN, so speed and performance may be impacted depending on your location.
ExpressVPN, on the other hand, is one of the most well-known VPN providers in the industry, with a massive network of servers in over 90 countries. It offers strong encryption, a kill switch, split tunneling, and excellent customer support. However, it's more expensive than Surf Shark, and that app can be a little more complicated to use.
Overall, Surf Shark and ExpressVPN are both great choices, and the better option depends on your specific needs and preferences. If you're on a tight budget or need to connect multiple devices simultaneously, Surf Shark may be a better choice. However, if you need a larger server network and advanced features, ExpressVPN may be a better choice. To know more about it you can even read the ExpressVPN review and compare it with SurfShark.
But based on current stats, Surf Shark is the winner in terms of price, privacy, and overall performance, but ExpressVPN is a close second and offers better networking. If you need to know more about the comparison between SurfShark vs ExpressVPN, read the article below which compares Surf Shark vs ExpressVPN to see which one offers the better service, security, performance, ease of use, and more.
Surfshark vs ExpressVPN: Which VPN Are Fast Connection Speed For HD Stream
For a speed comparison between Surf Shark vs ExpressVPN, all you need to know is the features of the fastest tunneling protocols which are WireGuard and Lightway. Through these two factors, you can figure out in comparison between Surf Shark vs ExpressVPN which one has a faster connection and who is the winner.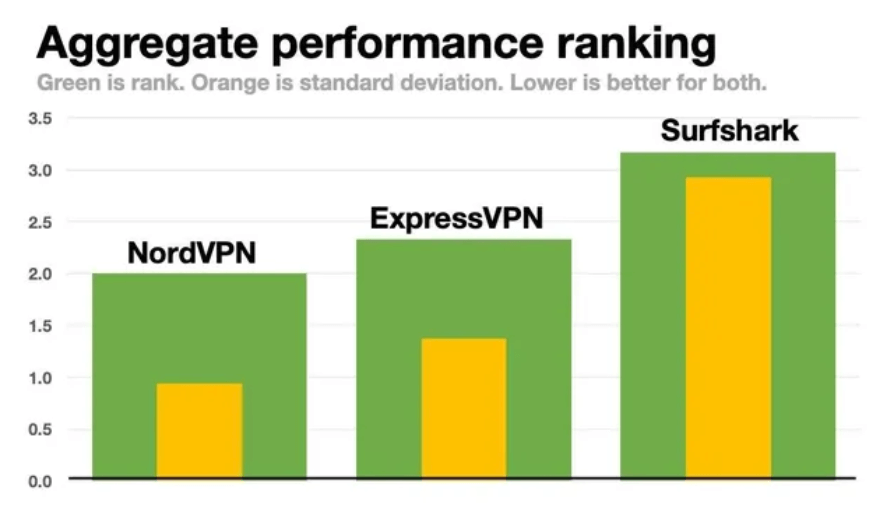 Surfshark's WireGuard and ExpressVPN's Lightway tunneling protocol are different protocols, but we're comparing the two because they represent the best each provider has to offer. Here is the chart which represents the speed of both of the VPNs.
| | | |
| --- | --- | --- |
| | Surfshark (WireGuard) | ExpressVPN (Lightway) |
| The US | 364 Mbps/ 379 Mbps | 237 Mbps/ 222 Mbps |
| The UK | 409 Mbps/ 463 Mbps | 251 Mbps/ 225 Mbps |
| Canada | 420 Mbps / 428 Mbps | 227 Mbps/ 215 Mbps |
| Germany | 396 Mbps/ 466 Mbps | 257 Mbps/ 265 Mbps |
| France | 410 Mbps/ 454 Mbps | 250 Mbps/ 240 Mbps |
| Japan | 241 Mbps/ 329 Mbps | 112 Mbps/ 52 Mbps |
The data in the table makes it clear why Surf Shark is currently one of the fastest VPNs on the market. ExpressVPN couldn't keep up with Surf Shark in terms of download and upload speeds, and faster speeds were achieved with Surf Shark in all server locations tested.
In addition, if you are still in doubt about the Surf Shark upload and download speeds, here is another test of providers' ping in three different locations, it was once again found that Surf Shark is the winner.
| | | |
| --- | --- | --- |
| Countries | Surfshark | ExpressVPN |
| The US | ~ 103 ms | ~ 104 ms |
| The UK | ~ 36 ms | ~ 44 ms |
| Japan | ~ 271 ms | ~ 307 ms |
The results here were tighter, and ExpressVPN didn't slack off as much. In the end, though, Surfshark had noticeably lower pings, resulting in less lag and a smoother browsing experience.
Surfshark vs ExpressVPN: Which VPN Offers Significantly Reduced Prices
At first glance, it's clear that Surfshark is a more budget-friendly choice when compared to ExpressVPN subscription plans. Moreover, both providers offer different rates. Despite the fact that VPN with the longest duration subscription always being the cheapest. Here, Surf Shark is significantly cheaper in the long run.
On the other hand, ExpressVPN is the more expensive service, even with the shortest plan. Here is the pricing plan of both VPNs for a better comparison:
| | | |
| --- | --- | --- |
| Plan | Surfshark | ExpressVPN |
| 1 Month | $12.95/month | $12.95/month |
| 6 Months | – | $9.99/month |
| 1 Year | $3.99/month | $6.67/month |
| 2 Years | $2.30/month | – |
This shows that ExpressVPN is a pricier service even though the shortest plans' monthly subscriptions have the same amount between the two ($12.95/month). For longer subscriptions, ExpressVPN outperforms Surf Shark. ExpressVPN has a 6-month subscription for $9.99/month and a 1-year subscription that's priced at $6.67/month which is still more than double the price of Surf Shark.
Apart from that, Surfshark also offers a one-year subscription for just $3.99/month, and the cheapest option is a two-year subscription for just $2.30/month. Apart from the prices if that's not enough, Surf Shark allows unlimited simultaneous connections, while Expressvpn allows up to five, which pretty much limits your options for staying secure 24/7.
If you subscribe to Surf Shark or ExpressVPN, you can choose from a variety of payment methods. This includes credit cards, PayPal, Google Pay, Amazon Pay, Cryptocurrencies, and other payment methods such as WebMoney and UnionPay. It's worth noting that both providers offer a 7-day free trial available for his Android and iOS devices.
Finally, Surf Shark got another point when we compared the prices of both the VPNs
Surfshark vs ExpressVPN: Which VPN Protect User Data And Identities
Despite this fact, security is the foundation of any VPN. VPN apps handle your data, so the wrong service can do more harm. Luckily, both Surfshark and ExpressVPN implement excellent security measures. However, there are some things to consider when choosing between these two providers. If we talk about Surf Shark vs ExpressVPN in terms of privacy comparison you should know that Surf Shark is based in the Netherlands, part of the 5-Eyes Intelligence Alliance. However, the data protection declaration has been checked by the audit firm Deloitte. Additionally, Surfshark runs on its RAM-only servers, so there is no way to store user data.
On the other hand, Expressvpn has been independently audited, but users might have other concerns about the security of this VPN. This is because once ExpressVPN was acquired by Kape Technologies, after which certain concerns were reported affecting the privacy concerns but now the VPN has worked on its loopholes and made sure to offer privacy.
Some Privacy Policies For Surfshark vs ExpressVPN
If you are still looking to know which VPN wins in privacy here are some key features to consider when comparing Surf Shark vs ExpressVPN from a privacy standpoint:
Logging Policy:
Both Surfshark and ExpressVPN have strict no-logging policies. This means that no information about your online activity is stored. This protects your online privacy and ensures that your data is not used for any purpose.
Encryption:
You must be aware of the feature that both Surfshark and ExpressVPN use strong encryption methods to protect your data. Surfshark uses AES-256 encryption, while ExpressVPN uses AES-256 GCM encryption. Both are considered top-tier cryptographic standards.
Kill Switch:
Both services have a kill switch feature that cuts your internet connection if your VPN connection drops, keeping your IP address from being exposed.
DNS Leak Protection:
If we look into the comparison of Surf Shark vs ExpressVPN we'll get to know that both of the VPNs have DNS leak protection, preventing your DNS requests from leaking to your ISP or other third parties.
Obfuscation:
One of the best features when it comes to privacy is obfuscation. Both of the VPNs have the capability to hide the fact that you're using a VPN, making it harder for ISPs and other third parties to detect and block your VPN traffic.
Overall, when it comes to privacy, Surf Shark and ExpressVPN are both great choices, and it's hard to say which one is better, as they both offer robust privacy features. depends on your specific needs and preferences like which server Network, Speed, and price you are looking for.
Additional Features Of Surfshark vs ExpressVPN
While traffic encryption and location spoofing are the main features of a VPN, other features can greatly benefit your daily life and Surf Shark VPN is ahead here, offering many features like CleanWeb and GPS spoofing as compared to ExpressVPN
Split Tunneling
When you connect to a VPN, all your traffic is encrypted and redirected. But what if your browser or a specific app requires a VPN? This is where split tunneling comes into play. This feature expands the choice of applications and websites that use VPN traffic.
Surf Shark calls this feature Bypass. You can choose which apps should go through the VPN tunnel and which should not. During our testing, this feature worked quite well, successfully adjusting the list of apps that required a VPN tunnel. This feature is currently available for Windows and Android devices.
ExpressVPN, on the other hand, doesn't give this feature a fancy name which is known as the "Split Tunneling tab". Although the split tunneling feature works here as well, the Surf Shark Bypass feature still competes with the Split Tunneling tab of Expressvpn Additionally, this feature is available in ExpressVPN's Windows, Mac, and Android apps.
Smart DNS
If you are a streamer you must be happy to know that smart DNS is a feature that allows you to stream all your favorite geo-blocked video content on devices that don't support VPN connectivity. With the help of this feature, you can finally watch your favorite Netflix shows on your PlayStation or Smart TV. Whether you use Surf Shark or ExpressVPN, you can enable this feature from your account dashboard. Remember ExpressVPN calls it MediaStreamer.
Surfshark vs ExpressVPN: Which Is Better For Torrenting and P2P
Whether you torrent daily or once a month, you need a good VPN for that. If you want to know about the comparison between Surf Shark vs ExpressVPN? Luckily, both VPNs support P2P connections and Torrenting, so they can consider any of them for torrenting and P2P connection.
As both VPN providers support torrenting on all of their servers, finding the best server with good speeds shouldn't be a problem. Surf Shark and ExpressVPN allow P2P traffic on all their servers, which makes them good for torrenting. However, Surf Shark has a feature called "Camouflage mode" that hides all your activities and the fact that you're using a VPN, making it harder for your ISP to detect and throttle your P2P traffic.
Apart from hiding your activities both of the VPNs offer strong security and privacy features like AES-256 encryption and a no-logs policy. Surshark also offers additional security features like a built-in ad blocker, ExpressVPN has a network lock feature to prevent data leaks if your connection drops.
While if we look into the scale we can't deny the fact that both of the VPNs offer fast and reliable connections, Surf Shark may have a slight edge in speed and performance due to its extensive server network and servers optimized for P2P traffic.
Surfshark vs ExpressVPN: Which VPN Works For Netflix and China
If you are a Netflix lover and live in China then you must make sure to choose the VPN which can unblock your favorite Netflix content and always work in China. Despite the fact Netflix and China are two different subjects when it comes to VPN services, we'll cover each separately.
Netflix
If you're looking for a reliable VPN for unblocking many streaming sites, both Surfshark and ExpressVPN are good choices. Additionally, Surf Shark is one of the top providers on our list of the best VPNs for Netflix. So, with Surf Shark VPN, you can rest assured that you will have trouble-free access to various Netflix libraries around the world.
When it comes to unblocking various streaming sites, both providers' results are pretty impressive in this comparison.
Surf Shark and ExpressVPN both give you easy access to all the popular streaming sites. Both VPN providers support streaming on all of their servers. It's important to add that the ability to bypass geo-restrictions is not the only criterion when evaluating a VPN's streaming performance.
As you know, there is a feature called SmartDNS that can be very useful if you want to view blocked content on devices that don't support VPN connections. These include smart TVs and game consoles. Both Surfshark and ExpressVPN offer this feature with the help of it. Both VPNs work perfectly with Netflix and will allow you to access Netflix and other streaming platforms on your smart TVs without issue.
China
A good VPN can be invaluable when traveling to countries with strict censorship and internet restrictions (such as China). Luckily, both Surfshark and ExpressVPN implement their means of bypassing internet censorship in China.
As for China, Surf Shark is a better choice as it has a feature called "NoBorders mode" that is specifically designed to bypass China's Great Firewall. Surfshark uses obfuscated servers and its algorithm hides the fact that you are using a VPN in the first place. Here's how Surf Shark helps you to bypass internet censorship and VPN restrictions in China.
Like Surfshark, ExpressVPN uses stealth servers to bypass China's Great Firewall and other online barriers. This technology automatically activates as soon as it recognizes that you need a VPN.
So, if you are living in China and looking for a VPN, always choose Surf Shark.
Surfshark vs ExpressVPN Reddit
People often use Reddit to share their feedback and opinions on various topics. You can communicate and learn from the experience of people's reviews. Reading the comments on Surf Shark and ExpressVPN makes it clear that SurfShark is the better choice. Here are some key points Redditors have mentioned when comparing both VPNs.
BOT_V
"Surfshark is the way to go. Nice and cheap. Works like a charm. Take to test 24 months deal. It's fully refundable for 30 days"
Chemicalrefugee
"Express is one of the worst. They eat HALF of my speed, from 24.41/3.4 with no VPN down to 9.74/1.44 (the best test), and with the Adelaide connection the VPN can't even find the OOKLA speed test."
Conclusion
Despite the fact, Surf Shark vs ExpressVPN, it's a very close comparison. Both ExpressVPN and Surf Shark are excellent VPN service providers. Both options offer comprehensive knowledge guides, blogs, and YouTube videos. Both providers offer a wide range of useful tools and extras to protect you online. So no matter what you choose, you can rest assured that it is safe and under control.
Overall, Surf Shark is a better VPN service than ExpressVPN. Not only is it incredibly fast, but it also offers next-gen security features, more server choices, more intuitive apps, and significantly cheaper subscriptions.
Undoubtedly, ExpressVPN had moments when it surpassed Surf Shark. There are several reasons why Surf Shark won this comparison.
ExpressVPN is available in more countries, while Surfshark has more and faster servers to choose from.
The verification process was more transparent to Surf Shark. Also, you don't need to be logged into your account to see the results.
Enjoying unlimited simultaneous connections is great for families and tech-heavy homes.
If you need to provide the same IP address but want to stay safe online, Surf Shark allows you to continue connecting to the same secure VPN server.
Various additional features like CleanWeb and Smart DNS make it more cost-effective.