Although iPhones are renowned for offering the highest levels of privacy and security, they are also not completely secure. Your personal data is at risk every time when you use a public WiFi network or browse unprotected websites. Additionally, your location affects the content you may access. As a result, you cannot access Geo-blocked platforms. However, there is a simple solution — obtaining the best iPhone VPNs just because your traffic will be encrypted and the IP address will remain hidden from the websites you browse. Additionally, it can shield you from hackers and help with unblocking streaming services from anywhere.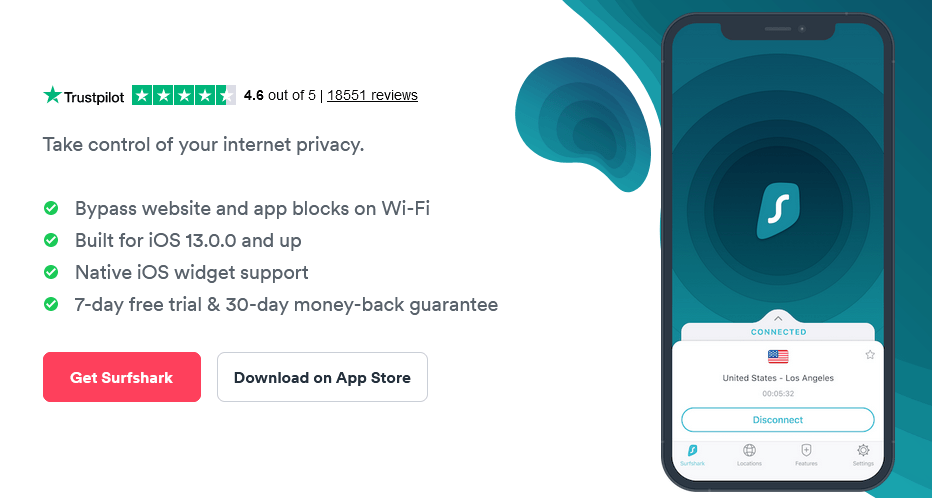 Due to the highly encrypted operating system of the iPhone and the fact that many VPN providers are unable to deliver that subtle performance on iOS, we have thoroughly analyzed the latest models of the iPhone with the most recent version of iOS to ensure that we can offer you with the best options and fully supported VPN on your iPhones.
The Best iPhone VPNs with Discounts and Deals
How to Download and Set up an iPhone VPN App
As with any other program, setting up a VPN on an iPhone is simple. Here is a short, step-by-step guide to assist you:
Search "SurfShark VPN" on Apple Store and Download the App.
Subscribe for the best deal "Get 82% OFF + Free Months".
Connect to the default server or choose your own from the list.
Enjoy secure surfing or experience the best streaming on iPhone and iPad.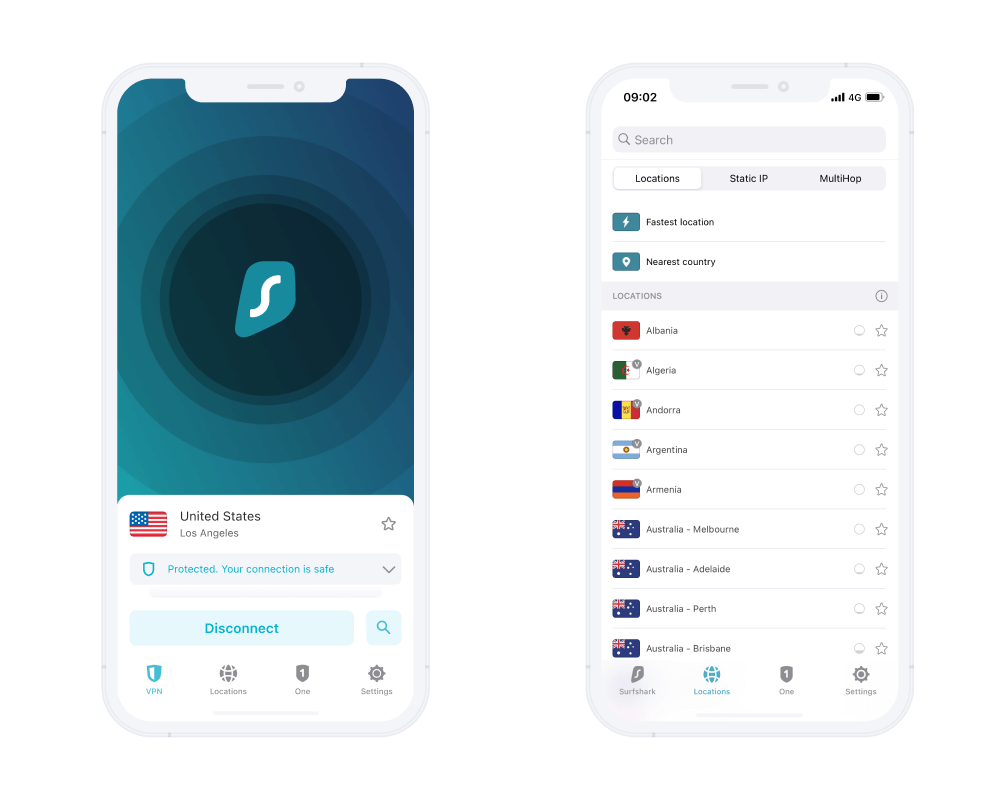 Surfshark VPN: With Native iOS Widget Support
Whether you have an iPhone 14 Pro Max, iPhone 13, or an earlier model, Surfshark offers excellent performance while allowing you to connect an unlimited number of devices simultaneously. Additionally, it boosts iPhone security because of its advanced functions and security features.
Although Surfshark is headquartered in a country that is a part of the 9-Eyes alliance, we discovered that Surfshark does not independently collect any of your data. It only collected data to enhance its website and app with your permission, which you can deny as well. Wanna know more about the features and security parameters of SurfSharkVPN? then here is the detailed review.
It's an excellent choice if you want to stream geo-restricted videos on your iOS devices. You can use it to unlock and access the libraries of several platforms, like American Netflix, Hulu Premium, Disney Plus, Voot, Hotstar, and others.
Pros
Unlimited Simultaneous Logins
No-Logs Policy Audited by Cure53
30-Day Moneyback Guarantee
7-Day Free Trial on iOS/Android
3200+ Servers in 100 Countries
Cons
No Split Tunneling on iOS
Slow speeds on a few server locations
NordVPN: Access Anything with the Fastest iOS VPN App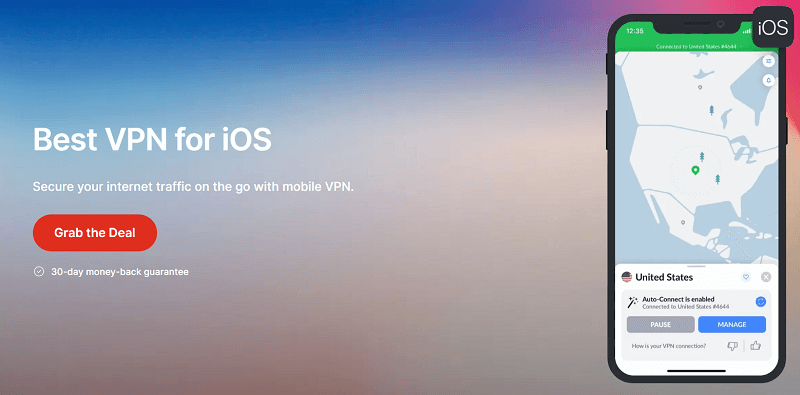 NordVPN is the best VPN for iOS devices due to its super useful features of iOS at a very budget-friendly price. The ability to unblock streaming services is one of these features, along with robust security measures and a privacy guarantee.
Just because of the kill switch feature, you also get threat protection that ensures your iPhone is protected against malware, advertisements, and trackers. However, this function is in the testing stage but still does a fine job. NordVPN also features a Double VPN, Dark Web Monitoring, and SmartDNS feature that can be useful for streaming players which does not natively support the installation of the VPN.
The iOS interface of NordVPN is very user-friendly and incredibly functional. Having easy-to-use navigation provides a fantastic user experience. As a result, NordVPN is undoubtedly among the best VPNs for iOS currently available.
So, what are you waiting for, grab the best deal now before it runs out and if you want to know more about NordVPN then you should read the full review.
Pros
6 Simultaneous Connections
Audited by PwC Switzerland
30-Day Refund Guarantee
5,000+ Servers in 60+ Countries
Cons
Downtime Issues on Some Servers
PureVPN for iPhone: Experience The All New App for iOS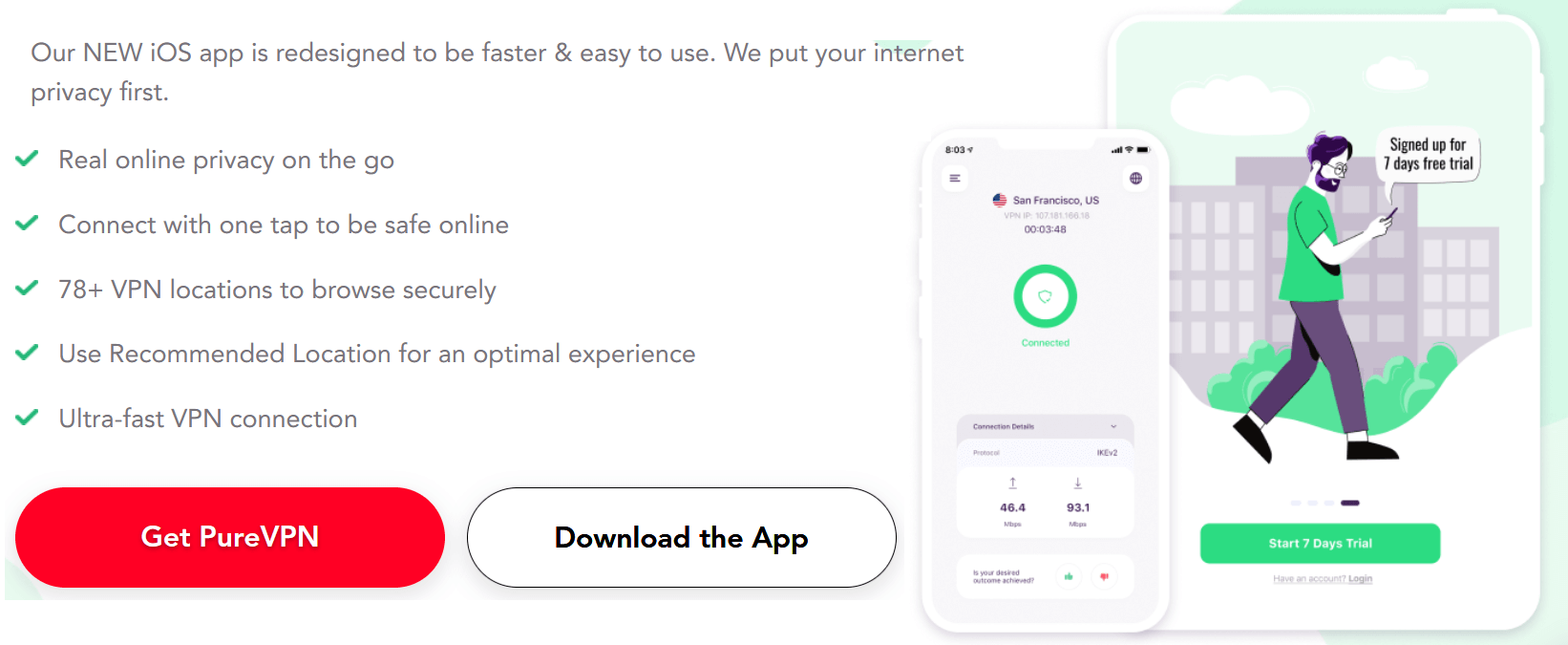 iPhones and PureVPN make for a terrific combination. PureVPN not only enhances the security of your device but also ensures complete privacy and offers top-notch streaming and surfing capabilities.
With PureVPN, traffic of your iOS Device is encrypted using AES-256 encryption which is currently the best cipher available. Obfuscated servers can help you if you need to mask your VPN connection. It also features a Threat Manager, which eliminates trackers and dangerous websites to give your iPhone comprehensive protection.
PureVPN definitely knows its strength to provide you with a swift user experience on iOS devices. The iPhone app's new design is very user-friendly and contemporary.
Pros
10 Simultaneous Connections
6,500+ servers in 78+ countries
Budget-Friendly Yearly Plan
30-Day Refund Guarantee
Cons
No Free Trial
Linux app is limited
WireGuard protocol Isn't working
Private Internet Access VPN: Get Military-grade Encryption for iOS

Private Internet Access is a very cost-effective iPhone VPN if you're looking for highly effective options for your Apple device. Additionally, it has a 4.6 rating on the App Store, making it the only other iPhone VPN (along with Surfshark) on this list to have such a higher rating from Apple users.
A great choice for Apple enthusiasts who are fully indulged in Apple's ecosystem due to its ability to integrate with the Siri shortcuts. Additionally, it also offers an InBrowser which is a private browser with tabs and the capability for playing video that is exclusively available for iOS users.
Even though its unblocking power has decreased and during recent speed tests the result has been below average, its performance will likely still be enough for most users. Furthermore, some of its multi-year plans have made it an even greater value for the money.
Pros
10 Simultaneous Connections
6,500+ servers in 78+ countries
Budget-Friendly Yearly Plan
30-Day Refund Guarantee
Cons
No Free Trial
Linux app is limited
WireGuard protocol Isn't working
Is There any Free iPhone VPN Available? Or These are Good
There is no denying that free VPNs or trials have their own place but if we talk about the paid ones then we admit that they have an additional layer of protection when utilizing public Wi-Fi is absolutely fine, especially if you're shopping or participating in private conversations.
But caution is required while using a Free iPhone VPN as their primary concern is not to secure you but to make money out of your data and by showing unwanted advertisements during your VPN sessions. You can also generally forget about utilizing many free VPNs for streaming and torrenting because they have data usage restrictions that apply to each day or month. We recommend you avoid these free VPNs, especially when the top iPhone VPNs on this list are already available at reasonable prices.
If you really don't want to spend a penny on a VPN due to very limited usage, then you can give it a try to ProtonVPN which doesn't limit your bandwidth, spy on you, show you privacy-invading ads, or sell your data.
What Makes The Best iPhone VPN?
Developers put a lot of effort into creating applications for iPhone or other iOS devices because of its strict application screening before it is available in Apple Store to protect the user's privacy, in contrast to Android OS, which supports open-source software development and apps that relatively easier to publish on Play Store. Therefore, an iPhone VPN must have at least the following attributes in order to qualify for the list of the best VPNs and availability in the Apple Store.
AES-256 bit Encryption: One of the most essential functions of any VPN is encryption. It is what protects your data from being seen by your ISP or attackers. AES-256 and other top-tier encryption must be key features that the best iPhone VPNs should have.
Fast Tunneling Protocols: Nobody wants slow internet, fast VPN tunneling protocols make sure that your original internet speed isn't effective when using a VPN. Tunneling protocols like WireGuard make sure that you get 99% of your original internet speed when browsing over a VPN connection.
Kill Switch Feature: The main purpose of using a VPN is to make sure that your data is protected all the time when using a VPN connection. Sometimes, your VPN connection may lose connection for any reason. In that situation, the kill switch function will immediately turn off the internet and protect the data on your data from leakage. This is a must-have feature for top iPhone VPNs.
Obfuscated Servers: Some websites and apps make a lot of effort to monitor and block VPN connections. You may hide the fact that you're using a VPN by selecting the obfuscated server option in the VPN app on your iPhone. This will allow you to surf the internet uninterrupted and stress-free. This option is also a must for those regions where the use of VPN is blocked.
Threat Protection – Some of the top VPNs for iPhone have started investing in providing additional measures to improve security and browsing experience. This includes protection against threats and blocking intrusive advertisements, pop-up windows, and harmful websites from interfering with your browsing. Not many VPN providers are successful in implementing all of these features but some top iPhone VPNs like ExpressVPN are trying to win this race.
Streaming Ability – There are two types of VPN users, one who wants to protect their privacy while browsing and the other one are streamers who want to access the content from the streaming platforms that are blocked in their country. For example, Disney+ and Hulu are only available in the US and Canada. To access it outside of the US, you need a VPN that supports unblocking the most popular streaming platforms. Only the best VPNs are able to achieve this on iPhones and iOS devices.
Yes, as both iPhone and iPad use the same operating system with minor changes in app layout and icon sizes. This means the applications available on iPhone are also compatible with the iPad. If you have multiple Apple devices at your home then opt for a VPN which supports multiple simultaneous connections to one account so you can get the most out of your subscription.