Since Samsung Smart TVs uses its proprietary Tizen OS instead of Android based operating system, which implies that currently it is not possible to install any VPN software directly on the Samsung Smart TV. no longer support native VPNs due to the move to Tizen OS. Due to this, it has become nearly impossible to watch Geo-restricted entertainment on a big screen, including hit movies but don't worry, we have got you covered. Keep scrolling to know more about how to download, install and use Samsung Smart TV VPN.
Out of all those in this article, SurfShark VPN has been rated as the best VPN for Samsung Smart TV, thanks to its dedicated router application, excellent customer support, and lightning-fast servers that will provide you a seamless viewing experience. It also comes with a 30-day money back guarantee, so you can claim your refund if it doesn't fulfill your expectations without any question asked.

Best Samsung Smart TV VPNs: Quick Overview
How to Pick the Best VPN for Samsung Smart TV
Find a Compatible VPN: We recommend using SurfShark as it features quick speeds, built-in router firmware, and a Smart DNS option, which makes it easier to set up on Samsung Smart TV.
Select your Preferred Installation Method: You may set up your router, share your WiFi connection, or use Smart DNS to install a VPN on your Samsung Smart TV.
Variety of Servers: A Reliable VPN should have a large number of servers around the world. This enables you to access different streaming services and regional content.
User Friendly VPN Service: Pick a VPN that is simple to use, quick to install on your router, and has responsive customer support. As an added benefit, look for a VPN which offers a dedicated router app such as Surfshark and NordVPN, the only VPN with a dedicated router app.
Risk-free Subscription: Subscribe for a VPN that has the best deals and a simple refund policy in case you are not satisfied with the service.
How Can I Enable VPN on Samsung Smart TV?
As we have already mentioned that Samsung Smart TV doesn't support native installation of any VPN app therefore you need to follow one of three working methods to enable VPN on your Samsung TV. These methods include installation of VPN on your router, setting up a Mobile Hotspot from your PC/Laptop and using a Smart DNS as provided by your VPN service. Alternatively, you can also use DNS proxies but they typically get blocked by streaming providers and have the potential to capture your personal information.
Here are the steps for each of the 3 ways to set up a VPN on your Samsung smart TV
1. Installing a VPN on Supported Router
Before getting any VPN service with a plan to install it on your router, make sure that the dedicated firmware is available for your existing router, otherwise the VPN provider might not accept your claim. Otherwise, you need to download custom firmware like Tomato or DD-WRT which is quite tricky and will void the warranty of your router. Alternatively, per-configured routers are also available for purchase on Apps, but they can be fairly expensive.
Once you get hold of your router's firmware, you can follow the steps below to configure your Router with a VPN.
Note: Different routers may have slight differences in their configuration process but the basic method to configure a router remains similar.
Flash your router with the dedicated firmware by following the guidelines.
Go to your router's admin page from your browser and login with the system password. (If you don't know the router's IP address, go to the Window Command Prompt and type IPCONFIG, where you can see your router's IP address in front of the default gateway. Mac users can find it under System Preferences > Network > Advanced > TCP/IP).
Now configure the VPN using the guide provided by your VPN service.
Once configured, use the dedicated router App to connect with the VPN server.
Start streaming TV and movies on your Samsung Smart TV!
WARNING! Your router could become unusable if custom firmware is installed incorrectly. To prevent any loss, be sure to carefully follow the firmware procedure for installation provided by your VPN service.
2. Set up a Mobile Hotspot from your PC or Laptop
Flashing router firmware will be too difficult for you if you are a full-time streamer rather than a tech guru. Therefore, we advise using this technique because it is much easier (and quicker) to set up a virtual VPN network on your Windows PC or laptop and share that connection with your TV. To do this, the following are the basic requirements.
A PC or Laptop that has a WiFi adapter and latest driver with Windows 10 or above.
A VPN subscription that uses OpenVPN protocol such as NordVPN.
You must be an administrator of this PC/Laptop.
Follow these steps to set up a Mobile Hotspot using your Windows PC or Laptop.
Download and install the VPN client on your PC.
Log-in with the credentials as provided.
From start button, Go to Settings > Network & Internet > Mobile hotspot
Toggle Mobile hotspot to On. (Note the Hotspot Name and Password)
Now again Go to Settings > Network & Internet > Change adapter options.
Right-click on [VPN server provider name] Tap Adapter and select Properties.
Under the "Sharing" tab check the box that says "Allow other network users to connect through this computer's Internet connection".
Now select the hotspot you created from the drop-down menu labeled as "Home networking connection" and click OK. See screenshot below.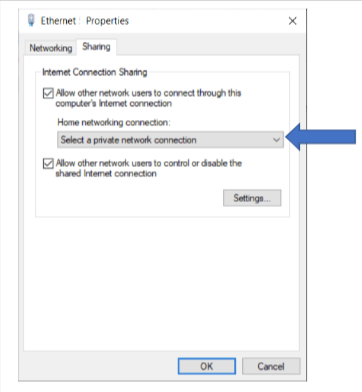 Connect to the VPN server location (For better compatibility, choose OpenVPN protocol, if your VPN app allows).
Finally, connect the Mobile Hotspot on your Samsung Smart TV with the SSID & Password set during step 4.
Enjoy content from all over the world without any restrictions.
3. Use SmartDNS Feature Provided by your VPN Service
If your PC or Laptop doesn't support creating Mobile Hotspot then Smart DNS is the last resort. However, it doesn't provide any encryption to protect your privacy from your ISP. It works by changing the DNS server of your internet connection which makes the streaming platforms and website think that you are accessing the content from different locations.
It's very simple to set up, especially if you use a VPN that has a built-in Smart DNS feature which is marketed by different names by each of the VPN providers in our list. For example, ExpressVPN calls it MediaStreamer while NordVPN offers this feature as SmartPlay. In any case, the method is identical for setting up SmartDNS on your Samsung Smart TV while some configuration is needed on a VPN account which may slightly differ.
Following is the generic process as mentioned by almost every VPN Provider
Register your WAN IP address on NordVPN.
Get your SmartPlay IP address
Access network status on your Samsung Smart TV
Modify IP settings of your network connection
Configure the DNS servers on your Samsung Smart TV
Check if your connection is successful Click OK, restart your TV, and start streaming from anywhere!
Best VPNs for Samsung Smart TV that Works in 2023
All of the VPNs on our list are router compatible and may be used with all Samsung Smart TV versions. Thanks to the fast servers stationed all over the world, you may watch whatever you love on the big screen without any buffering. Even if you're a novice, using these VPNs on your Samsung Smart TV is simple. In addition, you may try them out risk-free because they all feature an industry standard 30-day money-back guarantee.
SurfShark: Fully Packaged VPN for Samsung TV
Out of all the high-end VPN services available, Surfshark provides the most value for the money. With a single subscription, you may connect an unlimited number of devices, allowing you to access Surfshark across all of them without having to log out on your Samsung Smart TV.
You can use Surfshark on your Samsung Smart TV by setting up Mobile Hotspot from your PC or by using its SmartDNS feature. For better protection, it also allows you to configure the VPN on your router by flashing the DD-WRT Open firmware.
Pros
Unlimited Simultaneous Logins
No-Logs Policy Audited by Cure53
30-Day Moneyback Guarantee
7-Day Free Trial on iOS/Android
3200+ Servers in 100 Countries
Cons
No Split Tunneling on iOS
Slow speeds on a few server locations
NordVPN: All-rounder VPN for Samsung Smart TV

NordVPN is one of the most talked VPN in the industry due to its super-fast speed, excellent security features and unbelievably affordable price for long term plans. However, it should be noted that prices do rise considerably when it comes to renewing your subscription.
Thanks to the fleet of NordVPN's servers in the US and UK, we had no trouble unblocking Netflix, Disney+, Hulu, Amazon Prime Video, BBC iPlayer, and HBO Max using different methods to connect VPN on Samsung Smart TV such as configuring Mobile Hotspot and SmartPlay feature. If you want a VPN that can do more than just unblock streams on your Samsung Smart TV, NordVPN is an excellent choice.
Pros
6 Simultaneous Connections
Audited by PwC Switzerland
30-Day Refund Guarantee
5,000+ Servers in 60+ Countries
Cons
Downtime Issues on Some Servers
CyberGhost: Fastest Servers for Samsung Smart TV

Watching your favorite streams on your Samsung Smart TV has become very easy thanks to CyberGhost's streaming-optimized servers. The CyberGhost team routinely tests these servers to guarantee instant access to popular platforms and to guarantee lag-free streaming.
Similar to ExpressVPN, CyberGhost also provides a Smart DNS function to quickly set it up on your Samsung Smart TV. It can also be used on other devices, such as your Apple TV or PlayStation, that don't come with native VPN support.
Pros
DNS and IP leak protection
OpenVPN, IKEv2, WireGuard® protocols
Automatic Kill Switch
45-Day Refund Guarantee
Cons
No Free Trial
Linux app is limited
What to Do If I Get an IP Error on Samsung Smart TV?
Try switching to a different VPN server if your Samsung Smart TV displays an IP error. Because of concerns over copyright violations, streaming applications aggressively block certain VPNs (especially free VPNs). It's possible that the server you're using is among those blocked ones. Use one of the top-tier VPNs mentioned earlier to assure you won't encounter any proxy issues; these have been shown to provide a reliable connection to your favorite streaming services.
Another choice is to use the Smart DNS feature from your VPN provider, which enables you to stream content from any location without encrypting your internet data. Your speeds won't be impacted, and streaming apps will continue to get around proxy issues. However, many well-known streaming providers also restrict DNS proxies, and unlike conventional VPN connection, SmartDNS don't encrypt your data and protect your privacy from your ISP.
Is DNS Proxy a Better Alternative than Using a VPN?
It's not advised, but you can do it. You're better off using a tried-and-tested VPN to swiftly stream TV shows and movies from numerous platforms on your Samsung Smart TV.
DNS Proxies are not the ideal solution for a few reasons. It has fewer server locations, which reduces the variety of content available. Furthermore, the majority of streaming services can quickly identify and block most DNS proxies. Additionally, since the majority of proxies are incompatible with Smart TVs, it will be challenging to find one that works with your Samsung TV.
Why Do I Need a VPN for My Samsung Smart TV?
While a VPN isn't often necessary for Samsung Smart TV, it can be helpful if you want to bypass geo-restricted streaming services like Disney plus, Hulu and access different region's content from your country. To get around Geo-restrictions, you'll need a premium VPN that works with your Samsung smart TV. Additionally, while using internet services, VPNs employ the highest encryption and strong security measures to shield your data from prying eyes and hackers.
Is There Any Free VPN that Works on Samsung Smart TV?
Certainly not, as it's unlikely that a Samsung Smart TV could support the installation of a free VPN. Additionally, they frequently place restrictions on bandwidth, server networks, and performance in an attempt that you'll upgrade to a paid plan. A better option is a reputable VPN that supports Samsung Smart TVs and comes with a money-back guarantee.
Additionally, they are inefficient for accessing geo-restricted content because most streaming services ban free VPNs. Some can infect your device with malware, while others can log your browsing history and sell it to third parties. It is also supported by unwanted advertisements that you may see during your stream.
Can I Watch Different-region Content on Netflix Using a VPN?
Yes, that is the main idea of using VPN on your Samsung Smart TV. Simply follow these steps to use a TO unblock geo-restricted content on your Netflix App:
Set up any of the above listed VPN on your Samsung Smart TV
Install Netflix App on your Smart TV by Samsung App Store
Sign in or subscribe to the new plan.
Turn on the VPN through any of the three methods as described in this article.
Open Netflix App from Samsung Smart Hub
You're ready to start watching your favorite shows and movies!