Hulu is a well-known video streaming service owned by the Walt Disney, specifically tailored for teenagers and adults in comparison to Disney+ which mostly contains kids-friendly and family-oriented content. Hulu offers a wide range of TV shows, movies, and documentaries from various networks, including ABC, HBO, NBC, Fox, and several others.
It also offers original content such as Under the banner of Heaven and Extraordinary which is trending lately on social media. Besides the standard content, Hulu also offers live and on-demand content with its premium packages.
However, to enjoy the content on Hulu you need to be physically in the US or use a Hulu VPN. If you are already residing in the US, then you just have to sign up on Hulu with these simple steps, i.e.
Go to https://www.hulu.com/start and click on try up-to 1-month free plan.
Select the suitable package (if you are willing to continue) and submit the required information.
Enter your billing details and enjoy unlimited access for 30 days before you decide to actually pay.
On the other hand, if you are not residing in the US, you need a best-price VPN service that can virtually take you to the US from anywhere in the world.
While most of the quality VPN services are paid, there are also some free VPN providers which allow you to avail of their service with limited capabilities such as slow speed, limited bandwidth, in-app ads, and stealing your data.
So, if you are living outside the US and interested in subscribing to Hulu, then you must select a paid VPN for Hulu which is safe, reliable, and fast so you won't face any lag in your stream, and your privacy is also protected.
Tested VPNs to Stream Hulu From Anywhere
In this section, we provide you with a list of VPNs that work with Hulu flawlessly without getting detected by Hulu's firewall.
There are thousands of VPN services available on the internet, but only some support streaming content on Hulu without any difficulty as Hulu is popularly known to blacklist certain VPNs. We have tried our best to gather a list of VPNs that work with Hulu.
Note: Keep in mind, currently no free VPN for Hulu is available.
Surfshark: Premium VPN at Half Price

If you are buying a VPN for more than unblocking Hulu or have different devices to stream the content, then Surfshark is a definite choice. It allows unlimited simultaneous connections with a Smart Proxy feature that can be used on any device like Xbox, PlayStation, Apple TV, etc. Surprisingly, at such an affordable price, Surfshark also works in China where most streaming services are banned.
NordVPN: The Best Service To Unblock Hulu

NordVPN is one of the best VPNs that can unblock Hulu without getting your account suspended. It also works on several other popular streaming platforms like Netflix, iPlayer, and Amazon Prime. The SmartPlay feature of NordVPN allows you to stream any video content flawlessly from the tiny screen of your Mobile Phone to the largest TV screen you have. It also supports streaming devices like Apple TV, Fire Stick, and Roku.
CyberGhost: Unblock Hulu from Anywhere

CyberGhost VPN has recently topped the list for unblocking Hulu and several other streaming platforms at a very cheap price. One of the best features of CyberGhost is that you can select the different streaming services in its application which will automatically select the best server according to your location for a lag-free streaming experience. The only drawback of CyberGhost is that it doesn't perform well in China & UAE, so make your choice accordingly.
PureVPN: The Top VPN To Stream Hulu On any Device

PureVPN is one of the top VPNs that can unblock almost any website or app without revealing your identity. It comes with a lot of useful features like MediaStreamer which is a Smart Proxy that allows you to mask your IP on any device. In return for the offered price, PureVPN provides extremely stable connections and bandwidth is more than enough to stream Hulu shows in 4K HDR quality on any device. If price isn't a concern for you, then PureVPN is an all-rounder for unblocking any streaming platform from any part of the world.
Private Internet Access VPN: Undetected Service By Hulu

Private Internet Access (PIA) VPN is one of the oldest VPNs in the market which has proved its commitment and excellence by keeping its security features and user experience on par with the VPN providers of today. PIA has a large number of servers spread over 80+ countries which gives you more freedom to unblock Hulu in case some of its servers are detected by Hulu's firewall.
Hulu Says I'm Using A VPN
Hulu has taken some serious measures to ban VPNs to avoid misuse of their service. Like several other VPN services, Hulu now blocks connection from all the known VPN Servers stored in their huge database. The IP Address on these VPN servers is shared between many users at one time for providing anonymity to VPN users which is now detectable by Hulu's strong algorithms. So, if you try to watch Hulu on any normal or free VPN, the following message will appear on your device.
"Based on your IP address, we noticed you are trying to access Hulu through an anonymous proxy tool. Hulu is not currently available outside the US. If you're in the US, you'll need to disable your anonymizer to access videos on Hulu."
Due to this, you can't just buy any VPN for Hulu as most of the cheap or free VPNs cannot bypass Hulu's firewall. Therefore, consider using the VPNs as discussed above in this post to watch the content on Hulu flawlessly.
How To Fix Hulu VPN Error
If Hulu detects you are using a tool that is hiding your actual IP address like a VPN or a proxy, it might show you an error code BYA-403-011 on your device. It tells you to disable your proxy tool to access Hulu.

This message is shown when Hulu believes you are violating their terms of service and will also block your IP address to be used on Hulu. This will generally happen when,
You try to access content that is not allowed outside the US
You are using a free VPN whose IP address is shared between many users.
The IP address assigned to you has been previously blacklisted for abusive behavior or spamming.
The cookies stored on your device showed that you have once committed any of the above factors.
This implies that most of the common proxy and VPN servers that are not explicitly designed for Hulu won't work and the BYA-403-011 error code will appear.
To solve this error, you can try clearing your browser cache and cookies if you believe you haven't violated Hulu's terms of service. If you are trying to access Hulu from outside the US, then you need to subscribe to a premium VPN service (like NordVPN) which is specially designed and known for unblocking streaming services including Hulu.
Why Can't I watch Hulu with VPN?
Like many other streaming platforms, Hulu also implemented strict measures to prevent users from accessing content from outside the US using a VPN or a proxy server. Hulu signed a license agreement with the content providers that dictate where the content can be streamed.
When you use a VPN to access the content on Hulu, your original IP is masked with an IP provided by the VPN service that makes Hulu believe that you are accessing the content from the US. While some of the VPNs succeed in bypassing Hulu's firewall while others fail and get detected and banned by Hulu's firewall. There are some paid VPN services that explicitly support Hulu streaming and come with a premium price tag but be careful using them as it may suspend or terminate your account if Hulu's terms of service are violated by any means.
In our opinion, the best VPN for Hulu is SurfShark due to its cost-effective pricing in comparison to the features it is providing in addition to unblocking Hulu which might be useful to most internet users.
Is Hulu Better Than Netflix and Amazon Prime?
Apart from Hulu, there are many other popular streaming platforms available and Netflix is at the top along with Amazon Prime. Each of these streaming platforms shares some 3rd party content but what makes them different is their Original content which is not available on any other platform. It is very hard to compare these platforms regarding which is better than the other as each of the platforms has its own specialty and audience for which personal opinion matters.
However, to make you decide which platform suits you the best, we are briefly discussing the highlights of each platform for your perusal. Hulu is known for its extensive collection of current and classic TV shows, including popular network shows like Grey's Anatomy, This Is Us, and The Handmaid's Tale. It also offers a live TV option, which includes access to over 60 channels, including sports and news channels. The only weak point of Hulu is that its movie selection is not as extensive as Netflix or Amazon Prime Video.
What Shows You Can Enjoy in These Days
On the other hand, Netflix is known for its large library of movies and TV shows, including a growing number of original series and movies such as Money Heist, Breaking Bad, Narcos, etc. It also offers a feature that allows you to download content for offline viewing.
One of the major advantages of Netflix is that it is available in all parts of the world (except China & North Korea) and the content on Netflix is tailored as per the user's location. The only limiting factor of Netflix is its increasing price in recent years but you can always share your account with up to 5 users.
Finally, one of the best alternatives to Hulu and Netflix is Amazon Prime Video which offers a wide collection of movies and TV shows, including lots of trending original content. It also includes additional benefits, such as free shipping on Amazon purchases and access to Amazon Music.
To summarize, all these 3 streaming platforms have their own unique features and ultimately it's the personal choice of the user.
The good news is that all of these 3 offers a 30-day free trial, so you have enough time to make your choice as per your preferences.
Table For The Price Comparison
The following table shows the general price comparison of Hulu, Netflix, and Amazon Prime.
| | | | |
| --- | --- | --- | --- |
| Platform | Hulu | Netflix | Amazon Prime |
| Lowest Cost/month | $7.99 | $9.99 | $5.99 |
| No. of titles | 3000 | 17,000 | 30,000+ |
| Available in | US only | Worldwide except China. Crimea and North Korea. | Worldwide except China. Crimea and North Korea. |
| VPN Supported? | Yes | Yes | Yes |
| Best known for | Hulu bundle with Disney+ and ESPN including Hotstar | Variety of TV series and movies in various languages | Original content from different regions |
How Much Is Hulu Subscription?
Hulu is available in the US with two plans, i.e. base plan (with or without ads) and a bundled plan which includes access to Disney+ and/or ESPN shows at a discount price. You can subscribe to Hulu for as low as $7.99/mo. including the Hotstar content or choose from the packages below.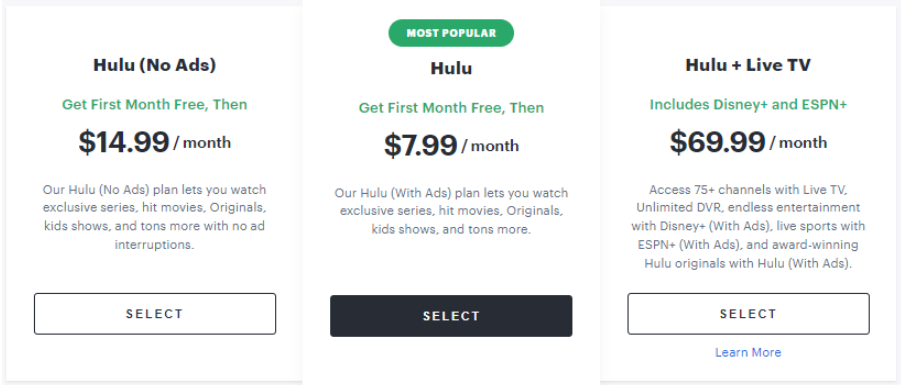 For bundled packages with Disney+ and ESPN,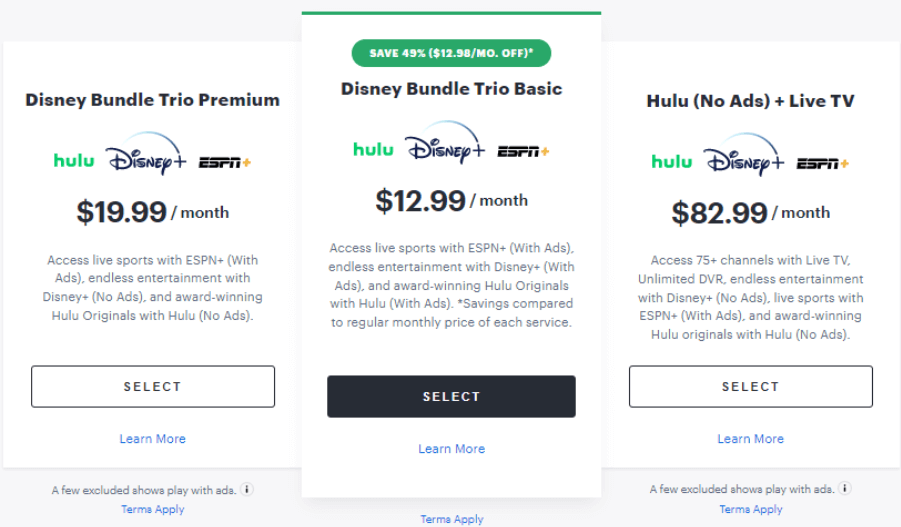 I Need to Know About The Most Demanding Movies and Shows
Some of the most demanding movies and shows that have been lately trending on social media such as,
Good Luck To You, Leo Grande (2022) – IMDB 7.2
Reservation Dogs (2021) – IMDB – 8.1
Alaska Daily (2022) – IMDB (7.5)
Teen Wolf (2011) – IMDB (7.7)
Riotsville, U.S.A. (2022) – IMDB (6.7)
Minding the Gap (2018) – IMDB (8.0)
Using VPN to access Hulu is not illegal itself but it does violate Hulu's terms of service which may result in the suspension or termination of your account. It is recommended that you always use a VPN that supports streaming on Hulu which should be confirmed through the VPN service provider's official website or customer service before buying the subscription.