Since the arrival of Covid-19, streaming services have experienced a significant uptick in popularity as more people feel comfortable watching movies at home rather than going to theaters and paying for a single show when they can stream an entire month at the same price.
In addition, streaming services offer a vast selection of content, including TV programs, movies, documentaries, sports channels, and much more. However, some services blocked and only available in specific regions due to license regulations. The good news is that the best streaming VPN makes it simple to get around Geo-restrictions on streaming services.

However, not all VPNs can unblock streaming websites; in fact, it's a challenging task that only the best can complete. Because of this, we've personally gone through all the top VPN providers and compiled a list of the top streaming VPNs in this guide.
Before choosing the best VPN for streaming, we have taken three factors into account i.e., variety of servers in different locations, portfolio of unblocking top streaming platforms and fast speeds while streaming in highest 4K HDR resolution. As a result, we have found that the SurfShark VPN is the no.1 contender for streaming VPN with easy-to-use cross platform applications and unbreakable encryption methods.
How to Access Streaming Services by Using VPNs?
To view international streaming services or content, you must set up a VPN on your favorite device including PC, Laptop, Smart TV, Roku, PlayStation, Xbox and so on. Once you've chosen best VPN for Streaming, use it as follows from any location to view different streaming services:
Subscribe to the best streaming VPN, we recommend SurfShark.
Download and install the App on your device or use SmartDNS feature.
Use your credentials to log in and selecting a suitable server.
Open the streaming app and enjoy your favorite TV show or movie.
Best Streaming VPNs in 2023 at a Glance
Use the chart below to compare the fastest and most solid streaming VPNs based on download speed, Smart DNS availability, and access to streaming platforms.
| VPN | SurfShark | NordVPN | PureVPN | CyberGhost | IPVanish |
| --- | --- | --- | --- | --- | --- |
| Score | 9.8/10 | 9.6/10 | 9.5/10 | 9.1/10 | 9.2/10 |
| No. of Servers | 3200+ | 5500+ | 6500+ | 9000+ | 2200+ |
| Max Connections | Unlimited | 6 | 5 | 10 | 10 |
| Streaming Capability | Netflix, BBC iPlayer, Amazon Prime, Hulu | Netflix, BBC iPlayer, Amazon Prime, Hulu | Netflix, BBC iPlayer, Amazon Prime, Hulu | Netflix, BBC iPlayer, Amazon Prime, Hulu | Netflix, BBC iPlayer, Amazon Prime, Hulu, Disney+ |
| Best Deals | $2.39/mo | $4.49/mo | $2.08/mo | $2.11/mo | $3.33/mo |
Which VPN is Best for Streaming [Full Analysis]
We have tested each of 15 most recommended VPNs for all the common factors as listed above and filtered out top 3 VPNs that fulfills the requirement to access and watch best content with the best features you can unblocked from anywhere. Additionally they have more advance level features such as SmartDNS, Multi-hop, split tunneling and so on.
1. Surfshark: Best Streaming VPN at Lowest Price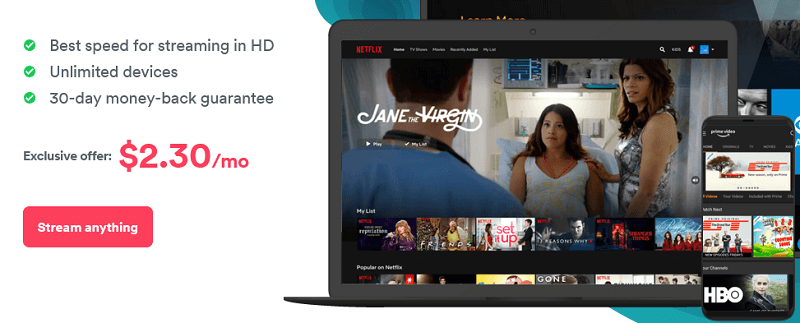 An excellent option for streaming is Surfshark, purely because of its unblocking abilities and fast speeds. In fact, one of its major using points is the lightning-fast speeds, which eliminates buffering and allows unlimited number of devices to use its VPN service simultaneously.
It has a network of 3200+ servers spread across 65+ countries, including 600+ US servers spread across 23+ locations. Surfshark uses the WireGuard tunneling protocol to keep its speed consistent, ensuring a quick and lag-free streaming experience. To verify their claim, we tested its download speed on a 100 Mbps connection and were surprised to see that only 14% drop was observed from the base internet connection speed.
The outstanding features of Surfshark VPN, such as the anti-tracking, anti-malware, and ad-blocking tools, make it an even better value. It also provides excellent applications that work with streaming devices like Windows, iOS, Mac OS, iOS, Smart TVs, Apple TVs, Fire TVs, and even on compatible routers.
2. NordVPN: Best value for Streaming at Anytime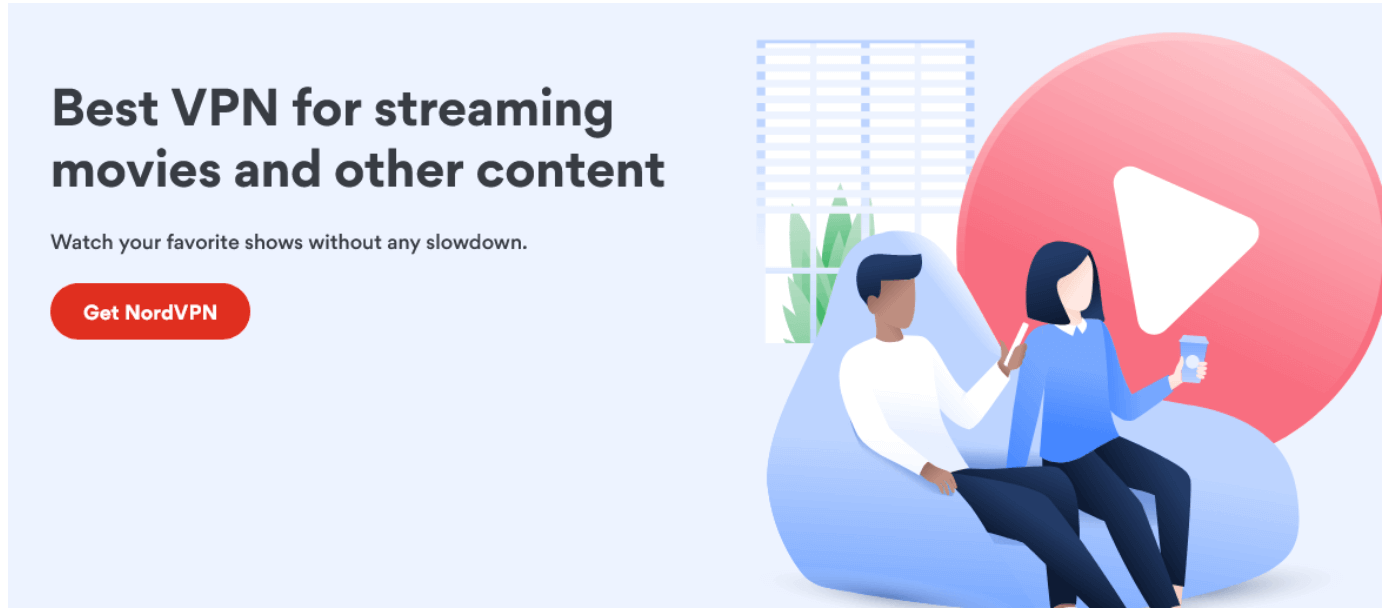 NordVPN is another most downloaded VPN in the town due to its excellent security features, user-friendly applications for Windows, iOS, Mac OS, iOS, Samsung Smart TV, Apple TV, and Fire TV and ability to unblock almost all of the popular streaming platforms. Thanks to its 5500+ servers across 60 countries, this ensures that you'll have the best VPN location for streaming. It instantly connects you to the fastest server in the region when you use NordVPN to establish a connection.
Speaking of security features, it has incredible offerings like AES encryption, Threat Protection, and DNS leak protection with a proven no-log policy and incredibly effective kill switch.
It's possible that not all of your home's media devices can use VPN applications. Fortunately, NordVPN has no issues there because of its SmartDNS feature. It can be set up even on devices like Apple TVs, Smart TVs, gaming consoles, or specific media players that don't support VPN apps natively.
3. IPVanish: Cross-platform Streaming VPN

Even though it doesn't enable as many streaming platforms, IPVanish is a solid VPN for streaming. And since the provider competes with some of the fastest VPNs available, it's a fantastic bargain to stream in 4K on your big screens.
With a fleet of 2000+ servers in over 50 locations, you'll be easily able to access content libraries from different regions on most of the popular streaming platforms, greatly simplifying the process of accessing geo-restricted content without going into complex methods.
One of IPVanish's prominent features is its AES-256 military-grade encryption, which guards your VPN connection from hackers so they can never decrypt your online data when using home or public Wi-Fi networks. Additionally, each plan allows for an unlimited number of simultaneous connections, enabling you to share the VPN with all of your family or friends for access to streaming services.
4. CyberGhost VPN: Specialized Streaming Servers

CyberGhost is offering a number of unique features. While libraries and media loaded a bit slow, specialized streaming servers were able to unblock every streaming platform due to its extensive network of 7700+ servers in 90+ countries, you have many options to change your local IP address for viewing geo-restricted content in your region.
The unique features of CyberGhost includes 256-bit encryption, dedicated IP, Wi-Fi protection, and NoSpy servers, which provide more privacy and faster total performance. Additionally, Smart Rules will allow you to automatically set up this VPN to connect to specific servers according to specific scenarios; this function can be beneficial when used in conjunction with your streaming platform.
Best TV Streaming Services you Can Stream with a VPN?
With so many streaming platforms available these days, you have plenty of options to watch from. But to access them, you'll have to rely on a VPN service because not all of them will be accessible everywhere. Here are a few of the most well-known streaming sites that you can use a VPN to access:
| Streaming service | Category | Popular movies and TV shows | Price | Free trial | Best VPNs to unblock |
| --- | --- | --- | --- | --- | --- |
| Disney+ | TV series and movies | The Princess and the Frog, The Low Tone Club, Black Panther: Wakanda Forever, Chasing Waves | From $7.99/month | NO | SurfShark |
| HBO Max | TV series and movies | Shazam, Mortal Kombat, Black Adam, The Suicide Squad, Wonder Woman | From $9.99/month | YES | PureVPN |
| Hotstar | Bollywood TV series and movies | John Wick: Chapter 2, Interstellar, Titanic, Goodfellas | From $6.99/month | YES | NordVPN |
| Netflix | Multilingual and multi-nation TV series and movies | Stranger Things, Peaky Blinders, Money Heist, DAHMER | From $8.99/month | NO | Surfshark |
| Peacock TV | TV series and movies | A Friend of the Family, One of Us Is Lying, Dr. Death, Vampire Academy | From $4.99/month | YES | Surfshark |
| Sling TV | Sports | Yellowjackets, Killing Eve, Snowpiercer, Better Call Saul | From $35/month | NO | IPVanish |
Why Do you Need a Best Streaming VPNs?
You may need VPN for Streaming for several reasons, out of which following are the most common.
Access Geo-restricted Content: Most of the streaming services including Netflix US, ViuTV, Hotstar and other offer different content in different regions. By using a best and cheap VPN, you can change your virtual location and access content that may not be available in your region.
Avoid ISP Throttling: Some internet service providers (ISPs) may intentionally slow down your internet connection when streaming content. By using a VPN, you can encrypt your connection and prevent your ISP from throttling your internet speed.
Protect your Privacy: When you stream content online, your internet activity is visible to your ISP and other third parties. By using a VPN, you can encrypt your connection and protect your online privacy.
Improve Security: Some streaming services may not use secure connections, which can leave you vulnerable to cyber attacks. By using a VPN, you can add an extra layer of security and protect yourself from potential threats.
Overall, using a VPN for streaming can enhance your online binge watching experience by providing you with more privacy, security, and access to content.
Streaming VPN Not Working: Try These Fixes
Most streaming services try to discourage users from accessing their material through a VPN. This frequently happens when multiple users try to reach the service using the same IP address. When your VPN's IP address has been banned, you'll see a proxy error message:
These limitations often come in waves and are unpredictably enforced. However, a decent streaming VPN will try their best to get around these limitations. You can try these fast fixes if your streaming VPN isn't functioning:
After flushing your DNS cache and erasing your cache and cookies, restart the streaming application.
Change your VPN location. Contact the customer support team of your VPN provider to find out which VPN servers are presently compatible with it if your chosen streaming service doesn't have any dedicated servers.
Access the streaming site using a different web browser. When Firefox isn't able to reach a certain service, for instance, you might be able to do so using Google Chrome.
Another way, a streaming app can detect your location by your smartphone's GPS feature. Turn the location off through the settings menu.
If none of this is successful, try a different VPN service and make use of the 30-day money-back guarantee.
Does Free VPN Work to Access Streaming Services?
NO, using a free VPN to access and watch streaming won't work. This is due to the complex algorithm that streaming platforms use to prevent VPN from unblocking their content. After a free VPN's IP addresses are blacklisted, they must obtain new ones because Netflix continues to block IP ranges connected to VPN users. This task makes the VPN service expensive, which is one of the main factors for preventing you from using a cheap VPN to get around these limitations.
Also, free VPNs put your privacy at risk by infecting your device or putting ad-trackers in your PC and selling it to 3rd party companies to earn money.