Private Internet Access Vs NordVPN, both service providers set an examples of such VPNs that really focus on to secure their customer's privacy at every stage. At first glance, these two VPNs may look pretty similar, but once you delve deeper into their features, you'll find some key differences.
| | |
| --- | --- |
| 🏆 Winner: | NordVPN |
| ⭐ Rating: | |
| 🥇 Overall Rank: | #2 out of #150 |
| 📖 Logs Policy: | Stringent zero-logs policy |
| 💵 Price: | $4.99/mo |
| 🖥️ Servers: | 5797+ Servers in 60 Countries |
| 🍿 Streaming Services: | Netflix, Amazon Prime, HBO Max, BBC iPlayer, and more |
| 🔥 Special Deal: | Get 63% OFF NordVPN's 2-year plan |
There are a just few key differences between the two VPNs that help us to decide the winner at the end. NordVPN is based in Panama, which is outside the jurisdiction of any intelligence-sharing agencies. This gives it an advantage over PIA, which is based in the US and therefore subject to US laws and regulations.
Both PIA and NordVPN offer multiple simultaneous connections, allowing you to protect multiple devices at once. This may come as a surprise to you but, PIA offers unlimited simultaneous connections, while NordVPN allows up to 6 devices to be connected at the same time.
If you are confused about which VPN to go for, read this article which will compare both VPNs side by side in every feature in order to determine one winner in Private Internet Access Vs NordVPN.
Private Internet Access vs NordVPN: Which Is Better For Customers
If we have to pick a winner out of both of the VPNs we will definitely give it to NordVPN. After all, it is a superior choice to PIA because of its excellent performance and streaming capabilities. The VPN offers an ultra-fast NordLynx protocol that can unblock virtually any platform tested. While one might say that PIA has a much larger server fleet and offers simultaneous connections, it is still not as great as NordVPN.
Overall, NordVPN's impressive feature list, including the NordLynx protocol and strong unblocking capabilities, makes it the top choice for users who prioritize streaming and performance. NordVPN's combination of features and privacy makes it the winner.
PIA vs NordVPN: Who Has Fastest Connection Speed
When it comes to using a VPN, the speed of your connection will depend on your baseline internet connection. It's important to keep in mind that if your internet connection was initially quite slow, you can expect to become super fast with a VPN. This is because when you use a VPN, your data is encrypted and thus the data takes a little detour and goes to a VPN before it reaches your device.
While a good VPN will not necessarily slow down your internet connection by a noticeable amount, it's important to take into consideration that there may be a slight decrease in speed.
Both NordVPN and PIA use the renowned WireGuard, which is by far one of the fastest tunneling protocols to this date. However, NordVPN goes a step further and uses a modified version of WireGuard called NordLynx, which performs even better.
In order to give you some concrete data, we put both VPNs to the test.
| | | |
| --- | --- | --- |
| | NordVPN (NordLynx) | Private Internet Access (WireGuard) |
| USA | 277 Mbps / 178 Mbps | 248 Mbps / 269 Mbps |
| UK | 336 Mbps / 340 Mbps | 310 Mbps / 301 Mbps |
| Canada | 327 Mbps / 270 Mbps | 333 Mbps / 226 Mbps |
| Germany | 358 Mbps / 350 Mbps | 354 Mbps / 298 Mbps |
| France | 343 Mbps / 322 Mbps | 299 Mbps / 305 Mbps |
| France | 250 Mbps / 212 Mbps | 217 Mbps / 198 Mbps |
Interestingly, NordVPN's NordLynx protocol was much faster than in most cases. NordVPN was able to retain up to 70% of initial download speeds and 65% of upload speeds, while PIA managed to retain 65% and 59% of download and upload speeds.
In summary, while both VPNs are great at connection speed, NordVPN may be the better choice, as it has been shown to perform better in most cases. It's important to choose one that doesn't compromise on speed.
NordVPN Vs PIA: Get Your Friendly-Budget Package
When considering the pricing of Private Internet Access VPN vs NordVPN, it's pretty evident that PIA is much cheaper than NordVPN. However, the price difference between the two isn't much.
| | | |
| --- | --- | --- |
| Plan | NordVPN | Private Internet Access |
| Monthly | $12.99 | $11.99 |
| Six Months | – | $7.50/month |
| One Year | $4.59/month | – |
| Two Years | $3.29/month | $2.19/month |
It's worth noting that the monthly plans offered by both VPN providers are not at all cost-efficient, and it's advisable to opt for a longer-term plan. By doing so, you can take advantage of the 30-day money-back guarantee before the first-month ends, which is ideal if you're not satisfied with the service.
NordVPN Subscription Plans: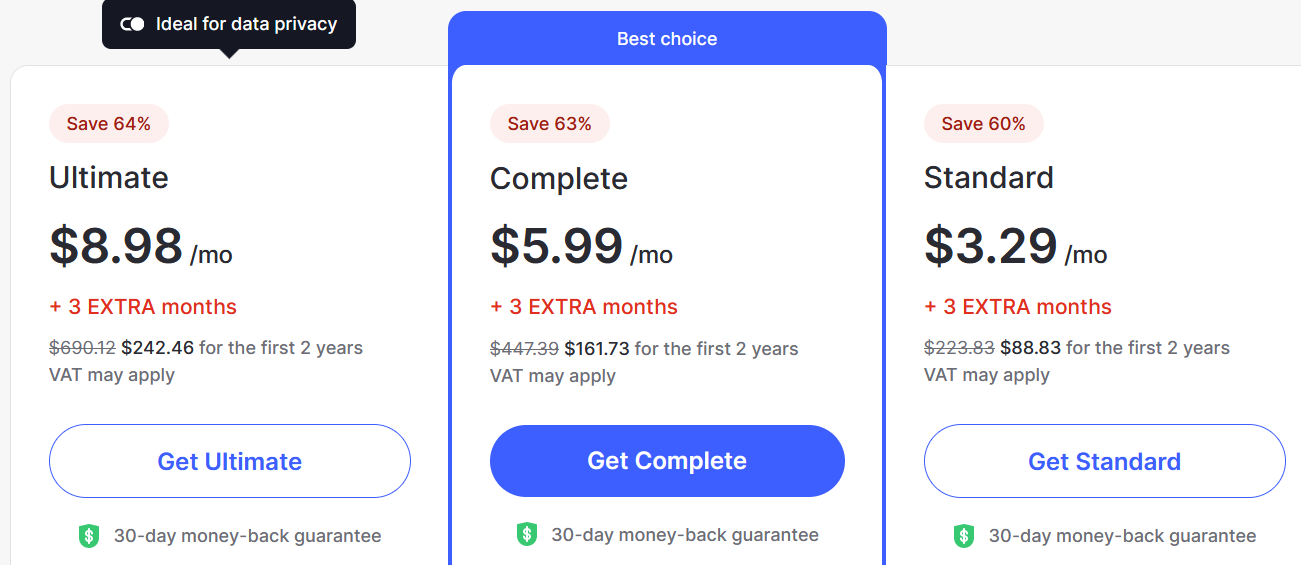 Yearly subscriptions, on the other hand, are much better priced, and this is where the major savings come in. NordVPN offers a 2-year plan for $3.29/month, while PIA offers a 2-year plan for $2.19/month. There is only a dollar difference in their price which is a lot in our opinion.
PIA Subscription Plans:

Both accept different payment methods such as credit cards, Amazon Pay, PayPal, and various cryptocurrency options. NordVPN, however, extends its payment options list by including prepaid cards, Sofort, Google Play, and Google Play.
Overall, PIA wins this round, but NordVPN isn't that far,
PIA vs NordVPN: Which Is Privacy-Focused VPN
| | | |
| --- | --- | --- |
| | NordVPN | Private Internet Access |
| Encryption | AES-256 or ChaCha20Poly1305 | AES-128 or AES-256 |
| Hash | SHA-512 | SHA1 and SHA2 |
| RAM Servers | Yes | Yes |
| Member of the Five Eyes Alliance? | No | Yes |
| No-logs Policy | Audited | Audited and court-proven |
NordVPN and Private Internet Access (PIA) provide a high level of security by using the AES cipher. NordVPN uses the AES-256-CBC cipher along with the SHA-512 hash function, which is an extremely powerful combination that makes sure that your information is protected from any hacker. While PIA also offers some, it is recommended to avoid PIA's default setting because SHA-1 is not ideal for security. This hash function has been around for over 26 years and is now considered outdated because it is vulnerable to attacks.
Although both VPN providers offer high-level security, NordVPN is without a doubt more proficient than PIA, not only in terms of location but also in terms of encryption. It is based in a country that is not under any surveillance which is not the case for PIA.
PIA Vs NordVPN: Security Features You Can Trust
| | | |
| --- | --- | --- |
| | NordVPN | Private Internet Access |
| Split tunneling | Yes | Yes |
| Smart DNS | Yes | Yes |
| RAM-only servers | Yes | Yes |
| Meshnet | Yes | No |
| Traffic obfuscation | Yes | Yes |
| Specialty servers | Yes | No |
| Web filters | Yes | Yes |
VPNs are getting popular day by day, and as a result, there are numerous options to choose from in the market. This makes it quite difficult to separate one VPN from another and figure out which works best for us. One way you can do so is by looking at what features are they offering.
Both NordVPN and Private Internet Access (PIA) provides all the important features that users expect from a VPN service. However, NordVPN does indeed take one step further and offers more advanced options like specialty servers and Meshnet. There is no doubt in admitting that these features are not that commonly found among VPN service providers and can set NordVPN apart from the competition.
Private Internet Access vs NordVPN: Torrenting and P2P
| | | |
| --- | --- | --- |
| Torrenting Features | NordVPN | PIA VPN |
| No Logs | Yes | Yes |
| Fast Speeds | Yes | Yes |
| Unlimited Bandwidth | Yes | Yes |
| Obfuscation | Yes | No |
| Safe Jurisdiction | Yes | No |
| Leak-Proof | Yes | Yes |
Both NordVPN and PIA VPN let their users do P2P networking and torrenting on their servers. NordVPN has an incredibly extensive range of P2P-enabled servers that allows you to access and at the same time download any torrent file you wish. Additionally, it also has obfuscation technology through which you can get more protection.
Furthermore, its system-wide kill switch makes sure that your IP address doesn't leak while you are torrenting. While PIA offers all of this as well, it is from the USA which means they need to follow any Digital Millennium Copyright Act (DMCA) notices if they receive it. As a result, NordVPN is considered to be a safer option than PIA VPN since it is from Panama.
Private Internet Access vs NordVPN: How It Work In China
Fortunately, both are excellent service providers when it comes to China, as they easily bypass the Great Firewall of China. You can easily stream not only apps like YouTube and Instagram, but you can also use this to watch various streaming platforms.
Furthermore, both also work amazingly in other censored countries. For this round, it is difficult to pick a winner as both VPNs are getting the job done.
PIA Vs NordVPN: Which Servers Work With Netflix
Both NordVPN and PIA offer various features to their users when it comes to streaming. While both can unblock Netflix in some countries, NordVPN definitely unblocks significantly more libraries than PIA. Shockingly, unblocking Netflix is not a big hassle for NordVPN. It can easily stream from 11 popular Netflix libraries.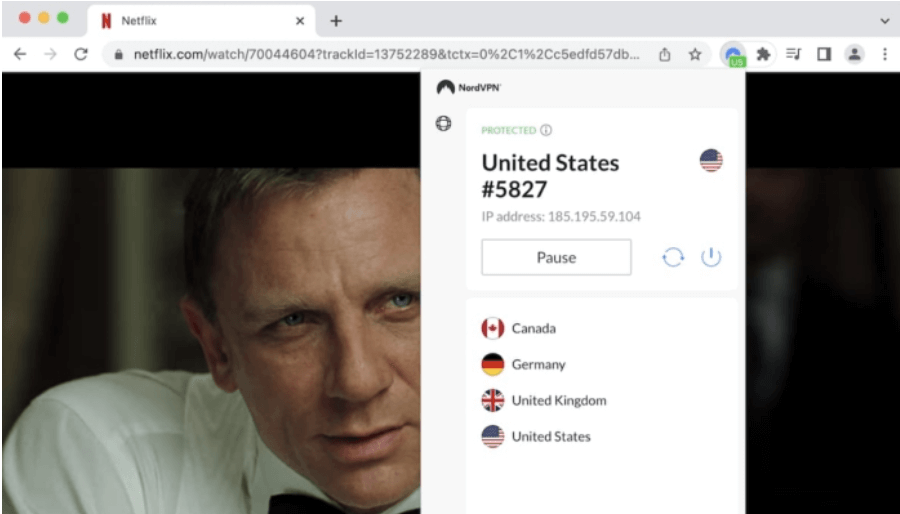 While PIA has more dedicated servers they aren't always reliable as we found through our tests. Out of all, only the US and Italy servers were working. What this means is that their users will have to try out various different servers to ding the right one.
| | | |
| --- | --- | --- |
| Netflix Libraries | NordVPN | PIA |
| Australia | Yes | No |
| Brazil | Yes | No |
| France | Yes | No |
| Germany | Yes | No |
| Japan | Yes | No |
| UK | Yes | No |
| US | Yes | Yes |
In conclusion, while both VPNs offer some streaming options for Netflix users, NordVPN is the better choice for users who want to stream from a wide range of Netflix libraries. Furthermore, NordVPN's SmartPlay feature ensures that users can easily unblock Netflix using any US server, making it a more reliable choice overall.
PIA vs NordVPN Reddit
Reddit is the place where people often come to express their feelings about products. If you go to Reddit, you will see how people prefer NordVPN over Private Internet Access. As you can see:
Another person stated that how PIA is not the same.
So, after going through this you can see that NordVPN wins again.
Conclusion
It is very obvious that NordVPN is the clear winner as it does so much more than PIA. while both are excellent VPNs, if you have to pick one we will advise you to go for NordVPN. This is because it is relatively faster and comes with much more features. Furthermore, it has a very strict no-log policy and is based in a country that respects privacy.
Latest VPN Deals and Coupon Codes