Buying the low cost VPN doesn't mean you can't keep any expectations with the quality and performance of the service. Since you have paid a price, you deserve what has been claimed by the VPN provider. In this article, we have selected some of the best cheap VPNs for you to consider that can fulfill your expectations and deliver what they claim.
If we talk about 2 -3 years ago, the buy cheap VPN was not able to compete with the top VPNs which cost a hefty amount. Their speeds were slow, customer service was poor, frequent complaints of unstable connections and on top of all, they had privacy leak issues which left users with no choice but buying a premium VPN service.
However, things have changed now. Thanks to the massive boost in the Information Technology industry which made VPN service affordable without compromising on data privacy, which is basic for any VPN service.
Since, we can't expect cheap VPNs to provide all the features of best VPNs such as tons of servers, unlimited device support, 24/7 customer service, multi-hop, etc., but their encryption methods and privacy algorithms should be on par with the best VPN services.
Currently, there are thousands of Cheap VPN providers in the market in which some of them outperform even the most expensive services but it's worth being cautious to avoid being scammed by the dodgy apps which can steal your data in the name of cheap VPN. Therefore, we have put this guide together which will help you in choosing the best Cheap VPN service directly from their official website or app store.
Quick Overview: Best Cheap VPNs that Work Flawlessly in 2023
What makes a VPN, "Best and Cheap"?
There are hundreds of VPN available on the internet which cost less than $1/month making them seriously cheap. While most of them lack basic security features, there are some serious competitions as well which can compete with the pricey Best VPNs. But, for these Cheap VPNs to secure the position in the list of "Most Affordable VPNs", we have created a strict criteria which does not only include the cost but the features they are providing, particularly the security and data privacy.
To start with the list, we have filtered hundreds of VPNs which does not mention anything about their security or encryption methods but only emphasis on the cheap price. These VPNs are very harmful for both the user and their devices. After these filtered out VPNs satisfied our security and data leak checks, we considered their features in the offered price and left with only few VPNs to further consider.
Still to get in the list of best Cheap VPNs, the user-friendly VPN app and their cross-platform availability is a must. Also, if you are looking to stream the geo-restricted content, then the number of streaming services they are able to unblock without affecting the speed is also a main factor.
Considering everything, we have found out that PureVPN scored 10/10 points in all areas. It is affordable, has various servers in different countries, provides all modern features of VPNs such as kill switch and has a very user-friendly cross-platform app for both Android and iOS users including Windows and Mac. However, if PureVPN is not supported in your country and does not fulfill your purpose, there are also some alternatives which passed our test and were included in the list of Best Cheap VPNs.
Best Cheapest VPNs: Comparison Table for 2023
Detailed Analysis for the Low-Cost VPNs
1. PureVPN: The Cheapest VPN money can buy @ only $1.33/mo
PureVPN is one of the best and cheapest VPNs in the industry. You can get all the premium features for as low as $1.33/month. Can you get anything better than this for a month at this price? See their current pricing below right from their website and grab the offer before it's gone.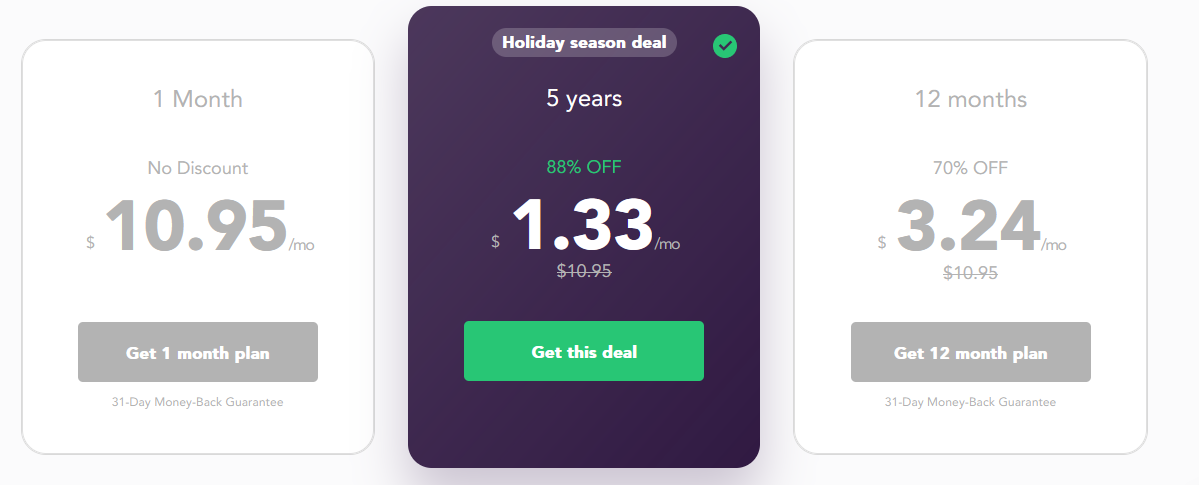 Why PureVPN?
PureVPN is the best budget VPN service provider, but it is not very often featured in the list of best VPNs as it is meant to be cheap, not the best. Usually, cheap VPNs cannot match the performance of the top tier VPNs like NordVPN, Surfshark and ExpressVPN. But if we talk about "Best & Cheap" together, it won't be fair to PureVPN if we don't put it at No. 1 for being priced at extremely cheap rates without compromising on the basic security and privacy features.
While we emphasize the cheap price, it doesn't mean we haven't considered the basic factors that any good VPN should have. Off course, PureVPN is quite capable, it unblocks BBC iPlayer outside the US, works fine with Netflix, has decent speed and also passed a no-logging audit test which means if you have selected this VPN for protecting your privacy while browsing, you are getting a bang for your buck!
Some of the downsides of PureVPN include weak support, apps are not very optimized as competitors and occasionally connection problems. But for this price it's worth considering them if you are currently using Free VPN service which may leak your data and personal information.
Pros
10 Simultaneous Connections
6,500+ servers in 78+ countries
Budget-Friendly Yearly Plan
30-Day Refund Guarantee
Cons
No Free Trial
Linux app is limited
WireGuard protocol Isn't working
2. Private Internet Access: Cheap and Reliable @ $2.03/mo
Private Internet Access or PIA is called as a best priced VPN in the industry. It has been there since when the other VPN providers were not even in the business. Despite being one of the oldest VPNs, their services, reliability, and security didn't get rusted and are still considered in the top VPNs due to their huge database of servers and all-rounder performance. It is also one of the cheapest VPN available in the market at only $2.03/month with a 30-day money back guarantee. Currently they are offering 82% off on their 2 years subscription plan with 2 months of free service. Check the recent screenshot of their pricing below straight through the official website of PIA VPN.

Why Private Internet Access (PIA) VPN?
Compared with the cheapest VPN per month, you just have to pay an additional $0.20/month to get 5 times more servers spread all over the world and a bunch of extra features. These features include kill switch, IP Leak protection, advanced split tunneling, and also a very efficient ad blocker called MACE. PIA VPN also works great with the P2P services including torrents, so you can download large files within minutes if your ISP or organization doesn't allow you to use the torrents.
To further reduce the cost, you can share the VPN with up to 10 friends or family as PIA VPN allows up to 10 simultaneous devices on just one account. Just make sure, they use VPN for good purpose, else you would be held accountable.
Overall, the features of PIA VPN are impressive in the price they are offering but there are some shortcomings when we compare it to some best VPNs in similar price range. PIA isn't the fastest VPN and has relatively low WireGuard speeds but performs well with OpenVPN protocol. It also hasn't gone through an independent audit of its servers which doesn't guarantee tested privacy of each server but conforms to the no-log policy, so stands in list of Best Cheap VPNs.
3. CyberGhost VPN: Stream in the Cheapest Price Only $2.03/mo
CyberGhost is the lowest cost VPN for those who are looking for a secure VPN for watching popular streams and breaking the Geo-restrictions on them. Previously, they were offering a whooping 82% discount on a 3 years subscription plan but now the same is available on 2 years subscription with 45-day money back guarantee. CyberGhost is the best choice for those who like to watch Netflix, Disney+, Hulu, download torrents or just want to gather information from the internet without revealing their identity. Here is the latest pricing of CyberGhost VPN snipped from their website.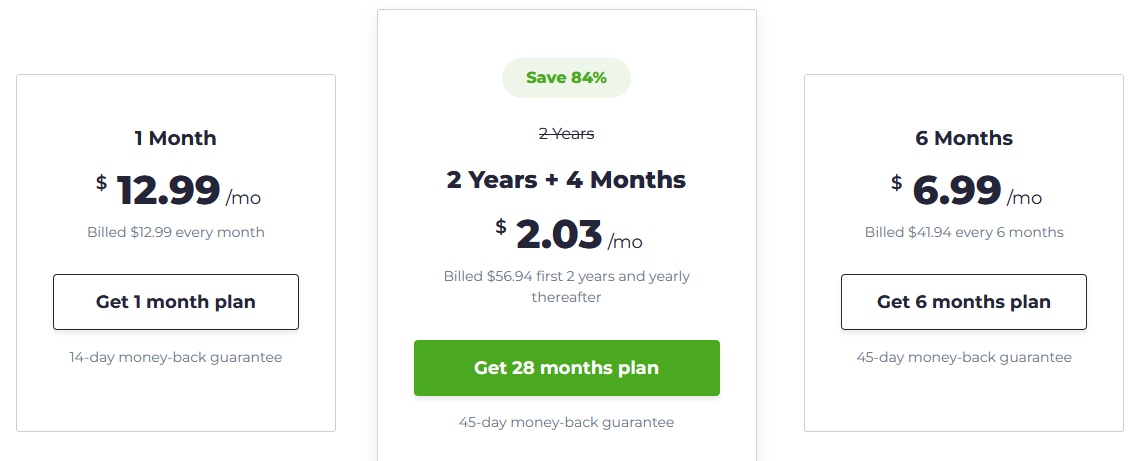 Why CyberGhost VPN?
Because CyberGhost does not monitor and record your online activities due to its strict no-logging policy. It also allows you to connect up to 7 devices simultaneously, so you can install and connect CyberGhost on your iPhone, Android, Smart TV, Firestick, Windows, Mac or any other device.
If you are not sure about claims of CyberGhost, you can get a 1-day free trial with all the premium features such as split tunneling, kill switch, DNS leak protection and much more to be certain about buying the full subscription. They also offer an excellent filtering system in the app, which can help you in identifying which activity will work best on which server.
While the speed and security of CyberGhost is improving in comparison to the past, they are still struggling to implement an effective ad blocker and obfuscation methods – a method which can make your encrypted traffic as if you are not using any VPN. This could be a drawback to some users who frequently visit the sites which do not allow VPNs. However, it is still a great deal at $2.19/mo. if you have your own Ad-blocker and does not require an obfuscation feature.
4. Surfshark VPN: The Affordable VPN with Unlimited Connections under $2.05/mo
Surfshark would have been on #1 on the list of best Cheap VPNs without any doubt if they have just kept their price under $2.05/month. but that is where PureVPN has won. Still, it is not a loss for Surfshark because it is amongst the popular choice of best VPNs in many countries due to their great speeds, security and unlimited device support. If you are looking for one of the best VPN in the industry then we would recommend you spare $0.3/mo. more and grab the following deal now before it ends. Use the coupon code "surfsharkdeal" to get this offer.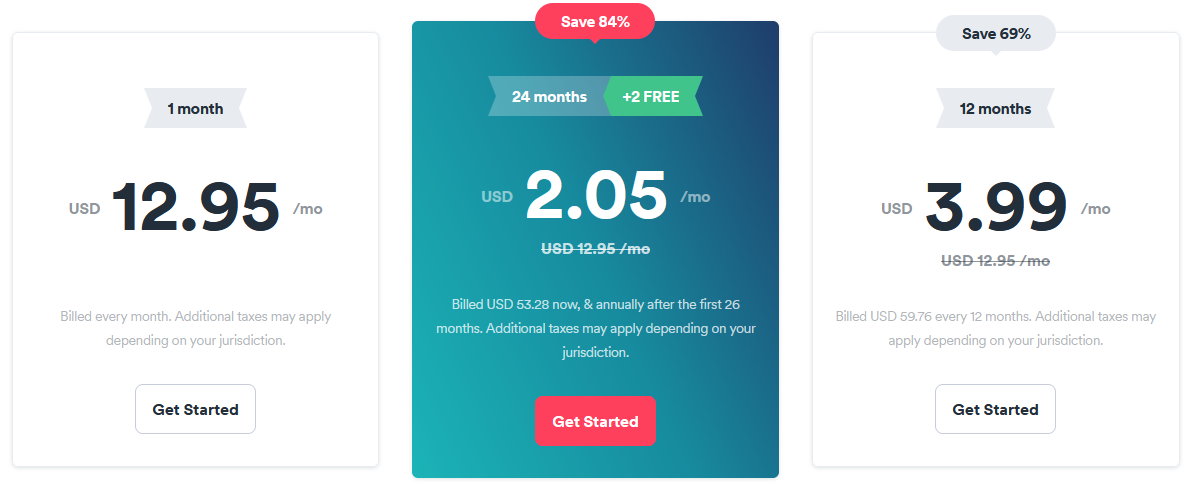 Why Surfshark VPN?
Surfshark has over 3200+ servers which are spread over 100+ countries. Its performance is un-matchable to any other VPNs available in this price category as they haven't compromised on even a single department, be it security, features or policies. If you are looking for the best VPN at the lowest price, then Surfshark is a 100% sure choice.
Surfshark can block any streaming service like Netflix, Disney+, Amazon Prime, Hulu and even allows you to watch HBO Max outside the US with super-fast speed. It is also suitable for downloading large files over the torrent client without compromising on the security. The AES-256 encryption along with multi-hop feature and strict no-logging policy will triple-sure that your data is in safe hands. Additionally, Surfshark is the only VPN service which has a true inbuilt GPS spoofed to trick apps and games.
With so many features, the Surfshark is suitable for small to medium organization as they support unlimited simultaneous connection. So, if you are a hardware loader with lots of VPN hungry users then Surfshark is the best choice at this price.
The Surfshark apps has a user-friendly design with lots of useful feature such as kill switch and camouflage mode which can make your encrypted traffic look like regular internet traffic. The app is available for almost every platform and popular devices like Roku and VPN-enabled routers as well.
The only thing we dislike about Surfshark it that their offered prices are valid for 1st term only. But to trick that you can buy a new subscription every time rather than renewing the same to stay in the offer.
Finally, we would say that if you are looking for the best Cheapest VPN, then stop here and buy the Surfshark now to enjoy the seamless VPN service which has strict no-logging policy as audited by Cure53 and comes with 30-day money back guarantee and 7-day free trial (for mobile users) for as low as $2.05/mo.
Pros
Unlimited Simultaneous Logins
No-Logs Policy Audited by Cure53
30-Day Moneyback Guarantee
7-Day Free Trial on iOS/Android
3200+ Servers in 100 Countries
Cons
No Split Tunneling on iOS
Slow speeds on a few server locations
Still looking for more? See the remaining two VPNs which qualify for our best Cheap VPN List.
Is Cheap VPN Better Than a Free VPN?
As the wise man once wiseman said, there is nothing free in this world so the VPN.
When any company is offering a free VPN, it means you are the product. How? They will steal your data and sell it to the advertising agency to generate revenue or inject ads while you browse. So, isn't it a good idea to invest a dollar or two to save your data and avoid unnecessary and annoying ads?
The Cheap VPNs will also offer you best features and customer support without compromising on quality and privacy. However, the price-to-feature comparison will be the main factor in selecting the best Cheap VPN.
Surprisingly, you will be able to get the cheapest VPN for as low as $1.99/month if you subscribe for long term plans or even less than the price of coke (in some countries) during the sale period.
Things to Consider Before Buying Cheap VPNs
If you are looking to buy and use a Cheap VPN which is not included in our list, make sure to avoid the factors which are commonly associated with the Cheap VPNs.
IP Leaks: Protecting your IP is the most critical and basic task of any VPN. Some of the Cheap VPNs lose connection in between your browsing session which led to exposing your IP with the website and hackers sitting in between you and the server. This is commonly known as IP leak in the VPN industry and should be avoided at any cost. The VPNs we have listed are free from IP leak and tested beforehand.
Malware: Some of the free or very Cheap VPNs have malwares attached to them. They work great on the front but keep stealing your data on the back-end. It is recommended to buy VPN from their official websites or app store and use the latest antivirus to avoid these malwares. Our listed VPNs are free from any malware if downloaded from the official website as mentioned in the post.
Logging: When selecting the cheapest or even best VPN service, make sure you read all the terms and conditions before clicking on the "I Agree" button. Many VPNs out there can put you and your data at risk if they do not have a no-logging policy. Therefore, don't let them log your data and choose the VPN wisely from the above list as we have only included those cheap VPN which has a strict no-logging policy.
No Basic Features: To save the cost, some cheap VPN providers omit the basic VPN features and use low standard encryption methods. This does not only make it difficult for you to use their application but also puts your data privacy at risk. So, it is always recommended to look for the basic features that every VPN should have. The VPNs we have listed follow the best industry practice and offer tons of useful features at a cheap price.
Conclusion
If you were using free VPN services before or looking for a VPN service for the first time to unblock geo-restricted streams and websites, protect your privacy and for any other purpose, we would recommend you to start using these cheap VPN services. They have all the premium features with the highest level of security and promises to protect your privacy at any cost. They also don't share your data with advertisement agencies or inject ads in your browsing sessions like Free VPN does.
We hope you have got what you are looking for, but if you are still not sure which cheap VPN to buy, then we would suggest you go for Surfshark by paying extra $0.5/mo. and enjoy a fully featured VPN at only @2.49/month.