TunnelBear can be the one who is one of McAfee's popular VPN services. You can check TunnelBear review to find out the pros and cons, which can help you to make a right decision.
TunnelBear VPN offers both free and premium versions. Both use secure AES-256 encryption, allow unlimited torrenting, and have privacy-friendly no-logs policies. However, the free version of TunnelBear has a data cap of 500MB per month. This is too restrictive even for a free VPN service.
If you are worried about security, don't worry TunnelBear promises to offer protection as it uses OpenVPN and IKEv2, two highly secure VPN protocols. TunnelBear's app also includes key security features such as a VPN kill switch and an obfuscate.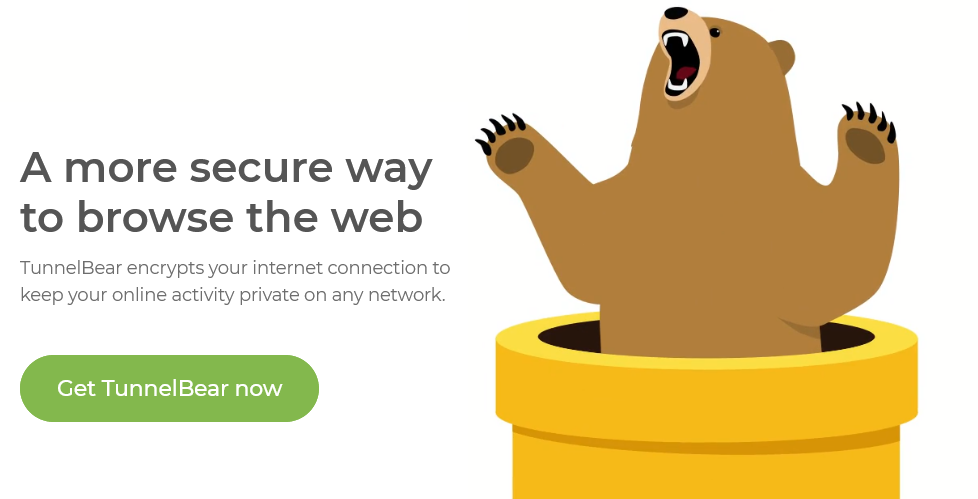 Unfortunately, this is not a great solution to bypass streaming Geo-blocks. Plus, there are servers in just 47 countries to choose from. In short, if you are looking to unblock geo-restricted streaming sites, your TunnelBear isn't the reliable VPN, but it's good enough to mask your IP address and protect your public WiFi connection.
The Most Recommended Alternate To TunnelBear
Let's Discuss The Latest Features Of TunnelBear
TunnelBear has some amazing features which can assure you that you and your data is in safe hands. The list below is the features of TunnelBear VPN.
IP, DNS, Or WebRTC Leaks: You must know that IP and DNS leaks can reveal personal information such as your IP address, physical location, and browsing activity. You can use TunnelBear IP and DNS leak test tool to confirm that TunnelBear passed all VPN leak tests. Moreover, it operates zero-log DNS servers and prevents your ISP from monitoring your web browsing activity.
Full Disk Encryption and Private DNS Server: The research report of the Center for Democracy and Technology also shows that all TunnelBear servers are protected with full-disk encryption, malware scanning, and intrusion prevention software. TunnelBear VPN also uses private DNS servers, perfect forward secrecy, and secure Diffie-Hellman key exchange.
Vigilant Bear (Kill Switch): Have you heard that the VPN kill Switch for TunnelBear is called "VigilantBear"? This is because it helps web traffic be blocked when the VPN connection drops. This prevents your real IP address from being exposed and is an essential feature of any top VPN. VigilantBear is available for Windows, Mac, and Android devices but not for iOS devices.
Split Bear: One of the latest and famous features is called SplitBear, which is currently working on Android devices and is a split tunneling feature. This feature allows users to control which apps can pass through tunnel bear's secure and encrypted tunnel.
How To Download and Use TunnelBear VPN
Looking to get TunnelBear VPN but don't know how to install and use it on different devices? All you need to do is follow the steps listed below:

Visit and subscribe the TunnelBear for the best package they offer.
Download the TunnelBear VPN App to your device so that you can get access to it.
Sign in to your account with your email address.
Connect to a server of your choice and unblock the Geo-restricted sites.
TunnelBear VPN Deals: Including 2 GB Free Account
Suppose you are looking for the best and inexpensive VPN to unblock your favorite websites. TunnelBear offers a variety of subscription plans (from Free to unlimited). The paid version has three subscription plans. In which there are no data limits or money-back guaranteed free trials. TunnelBear removed the monthly plan but reintroduced it. Here are the other two plans: An annual plan for $4.99/month and a 3-year plan for $3.33/month.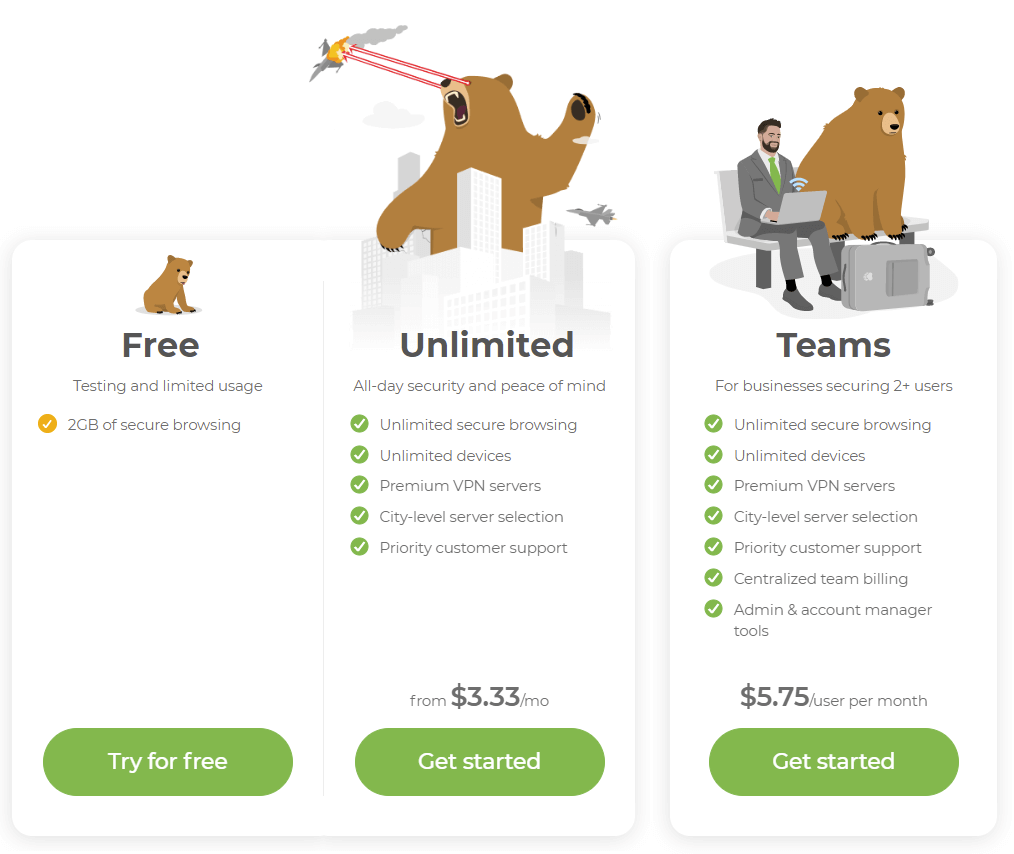 These prices are at the lower end of the popular VPN price range. However, there are student discounts that very few VPN services offer. It is one of the pocket-friendly VPNs, but it doesn't offer any policy which states a money-back guarantee, which is common with top VPNs.The terms and conditions clearly state that "all amounts paid are non-refundable."
How To Access US Netflix by Using TunnelBear VPN
If you are a Netflix lover, you might get upset after knowing that TunnelBear does not have secure access to the Netflix catalog. However, it has been known to work occasionally with Netflix US, UK, and a few other libraries. If you want to get back to your regular Netflix library while traveling, consider NordVPN.
This is a fast, security-first choice that works with over a dozen Netflix libraries, including Netflix in the US, UK, Canada, Australia, and Japan. Moreover, if you still wish to use TunnelBear to unblock Netflix, the following are steps you should follow to install TunnelBear on your device.
Firstly, signup and subscribe for TunnelBear's best package.
Once you have subscribed, download the App and install it on your device
Connect to a server listed in TunnelBear as per your country.
Now, you can go to Netflix and start watching your favorite content.
TunnelBear Browser (Chrome and Firefox) Extension Review
TunnelBear works with both browsers perfectly, Its add-ons are easy to use without manual configuration. Unfortunately, TunnelBear's browser extension does not include additional features such as an ad blocker. However, the company operates a standalone ad-blocking extension called Blocker.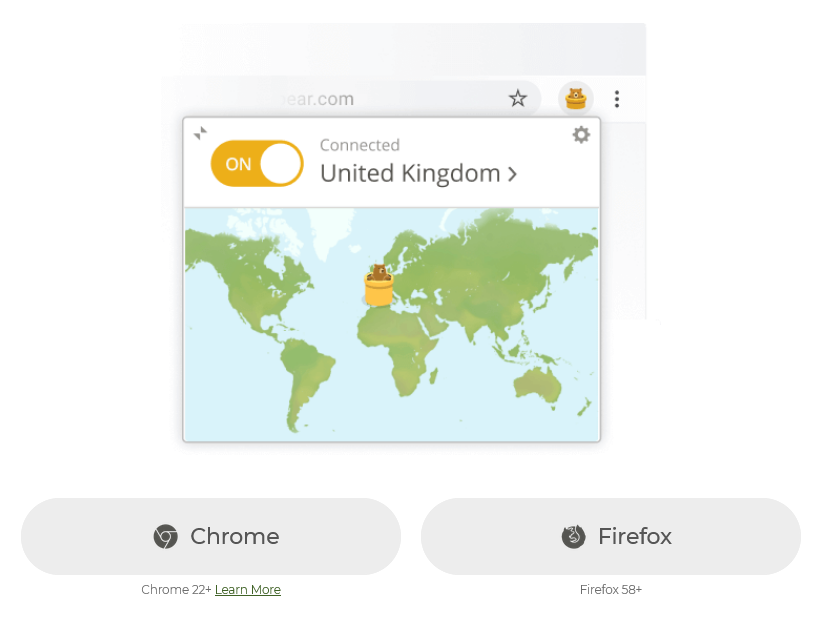 TunnelBear's browser extension available for Chrome, Opera, or Firefox, It's a very simple app that just protects your browsing traffic. Just open the extension and select the server you want to connect to. To give it a try, you can download Chrome and Firefox extensions and try them out by connecting to servers in the US, UK, and Sweden.
How To Download and Use TunnelBear VPN Firefox Extension?
Simply install the add-on above from the Firefox Add-ons Library. After installation, connect to the desired location or go to the desired purpose tab and select the desired purpose. Follow the steps to install TunnelBear VPN for Firefox.
Subscribe for a TunnelBear account (You can't download the desktop app without an account).
Download and install the client. The process is incredibly easy, just like any other software.
Just open your TunnelBear VPN and find a server!
Now you can access restricted content, enjoy smooth streaming and stay safe.
How To Download and Use TunnelBear VPN Chrome Extension?
If you are unable to browse through Chrome, this is because it is blocked in your region. If you are looking for a VPN for Chrome, all you need to do is follow the steps below:
First, you need to create a TunnelBear account.
As soon as you have created the account, download and install it.
Connect to the server! Just open your VPN and find a server!
Once you are connected to the server, you can now easily browse anything from Chrome.
How To Download, Install and Use TunnelBear For Windows
Below is a step-by-step guide on how to download and install TunnelBear VPN on your Windows operating system. Before you start, make sure that:
Your internet connection is working properly.
Have a premium TunnelBear VPN subscription.
Step 1: Download TunnelBear VPN
First, you need to download the TunnelBear app from our website. Visit their site or go to tunnelbear.com/download and wait for the Download to complete.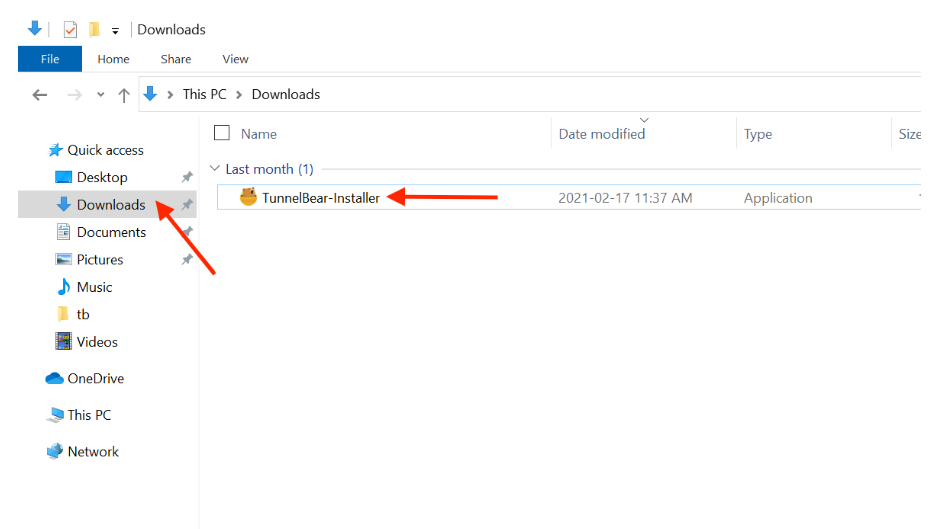 Step 2: Open Download Folder
Open your Downloads folder and double-click the TunnelBear installer file.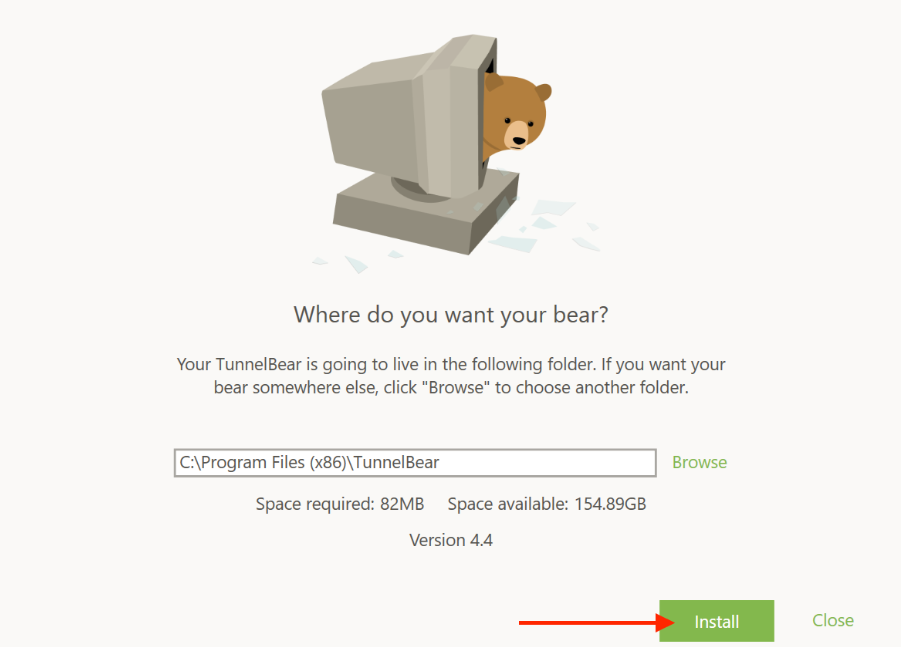 Step 3: Click The Install Button
When asked, "Where would you like the bear?" click the "Install" button.
Step 4: Enjoy TunnelBear VPN
Wait for the installation to complete. Once it is complete, you can now enjoy browsing through tunnel bear VPN.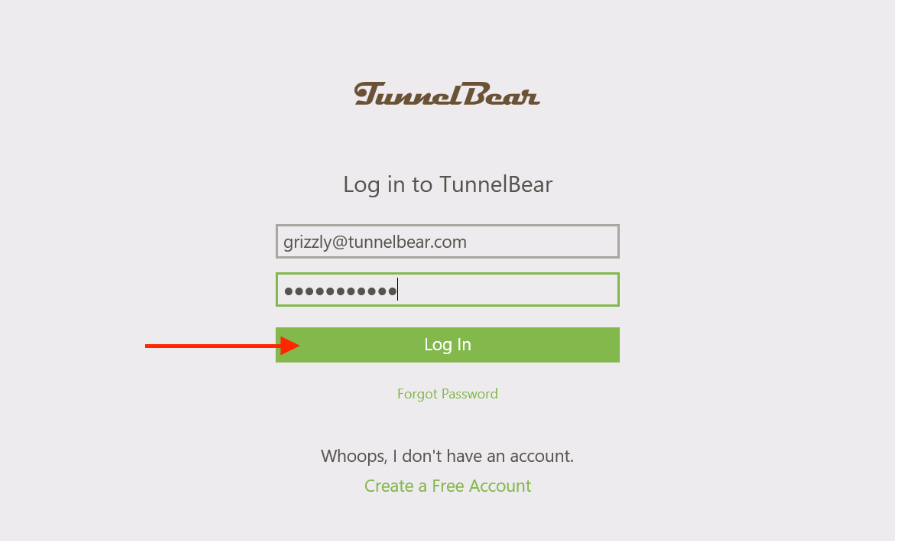 How To Download TunnelBear VPN On Android
For Android users installing TunnelBear VPN is not a big challenge. If you want to know how? The following steps can guide you. Setting up the best VPN for Android is very easy.
Step 1: Download TunnelBear VPN App from Play Store
First, you need to download the TunnelBear app from the Google Play store.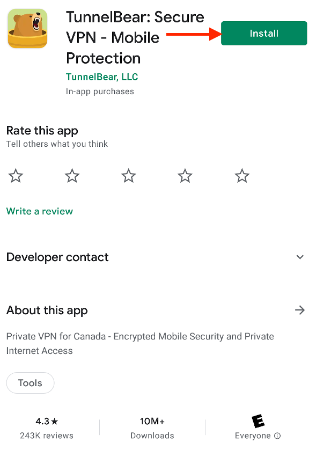 Step 2: Open PlayStore
Tap the Android Play Store icon to open the Play Store.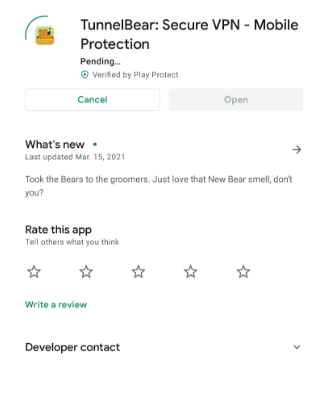 Step 3: Search TunnelBear VPN
Once you have an open play store now, search for TunnelBear in the searching tab.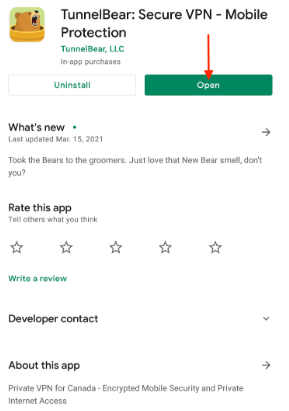 Step 4: Install TunnelBear VPN
To download the TunnelBear app, tap the Install button in the upper right.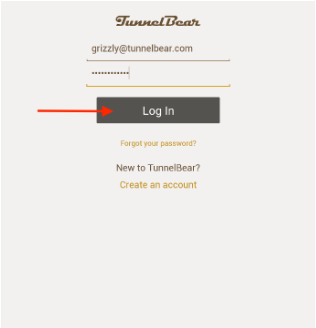 Step 5: Click Open
To open the TunnelBear app after downloading, tap the Open button.
Easy Steps To Install TunnelBear VPN On iPhone
Installing the TunnelBear VPN on your iPhone is very simple, like other VPNs. The steps mentioned below will guide you on how you can install TunnelBear VPN if you are an iPhone user. Set up the TunnelBear VPN iOS app in easy steps!
Step 1: Get A TunnelBear VPN Subscription
The first thing you have to do is get a subscription package for TunnerlBearVPN.
Step 2: Download TunnelBer VPN App From App Store
Once you have selected the package, now all you have to do is download the TunnelBear app from the App Store.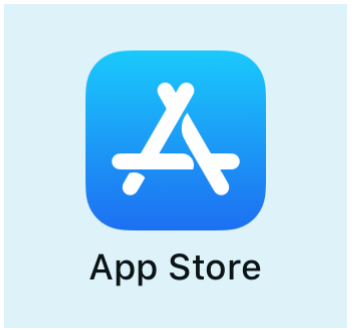 Step 3: Tap App Store Icon
Tap the App Store icon on your iPhone/iPad to open the App Store.

Step 4: Search for TunnelBear
Once you are in the app store now, look for TunnelBear.
Step 5: Install TunnelBer VPN App
Now, download the TunnelBear app by tapping the Install/Download button on the top right.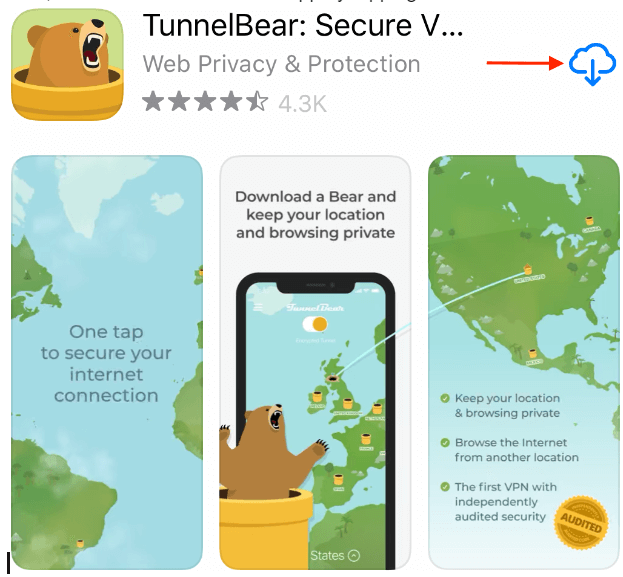 Step 6: Click Open
Once the download is complete, tap the TunnelBear app to open the app.
How To Get A Subscription Of TunnelBear On MacOS
Are you a Mac user? If yes, you must know Installing the TunnelBear on MacBook is easy. If you are a new user of Mac and want to learn how you can get TunnelBear VPN for Mac, follow the steps below: Here is a step-by-step guide on how to download and install TunnelBear VPN on your Mac device.
Step 1: Get a TunnelBearVPN subscription and Download
First, you need to download the TunnelBear app from our website. You can visit their official website, tunnelbear.com/download, and wait for the Download to complete.

Step 2: Open Download Folder and Double Click.
Open the downloads folder and double-click the TunnelBear.zip file to extract the TunnelBear installer files.

Step 3: Double Click to Start Installing.
Once the files are extracted, double-click the TunnelBear installer file to start the installation.
Step 4: Open Installing Window
Click open to open the installation window.

Step 5: Click Move
Click Move to Applications folder to save TunnelBear to your applications folder. For future installations, select the don't show checkbox again.

Step 6: Enter Your Information
Now the last thing you have to do is enter your computer's administrator password to allow the utility to install (Note: This is the same password you use to unlock your computer or install new programs, not your TunnelBear password.) Your username should be entered by default.
Step 7: Install and Click Open
Once you have entered the required information, click install and click open to view the TunnelBear.
Is TunnelBear VPN Work On Apple TV
TunnelBear is not available on Apple TV, but there are some alternatives with similar functionality. The best Apple TV alternative is VIP DNS Club. It's not free, so if you're looking for a free alternative, you can try ReviewsDir.
How To Watch Fire TV Stick With TunnelBear VPN
You can also get a TunnelBear VPN for your Firestick device. To do this, you first need to download a downloader app. If you are looking to download TunnelBer on a FireTv stick, the following steps are detailed on how to get TunnelBear VPN for Fire TV or Stick. Let's start with the process.
Step 1: Go To Setting
Firstly, head over to your Firestick home screen and go to Settings.
Step 2: Click My Fire TV
Click settings and click My Fire TV to move forward.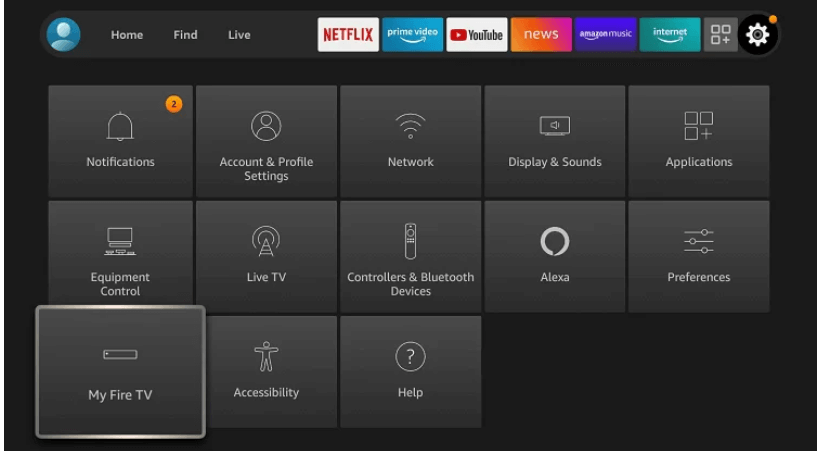 Step 3: Select Developer
Select Developer Options and click on Apps from unknown sources.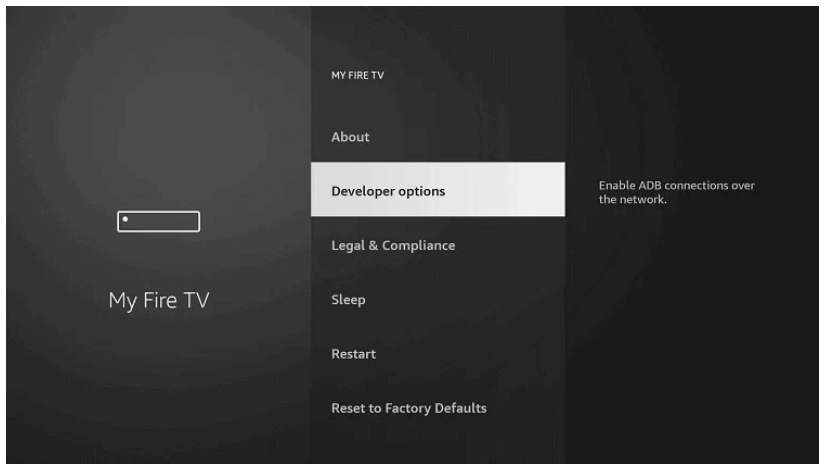 Step 4: Click The On Button
Next, you have to simply tap the power on button.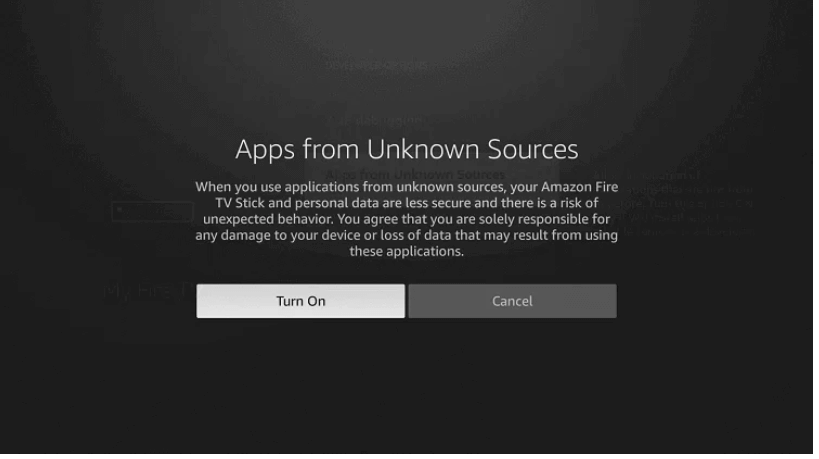 Step 5: Find Downloader App
Go to the home screen. Type Downloader in the search bar and click OK. Find a downloader app. In the Apps & Games section, select the Downloader app.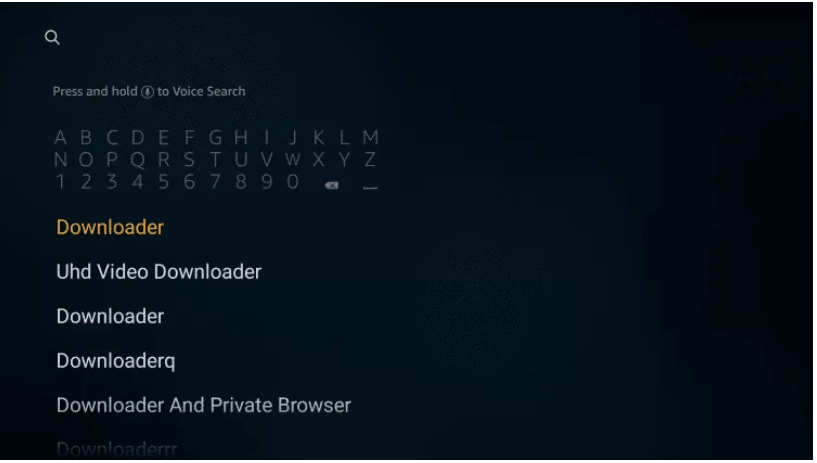 Step 6: Install the App
On the app's information page, click the Download or Install option to download the app.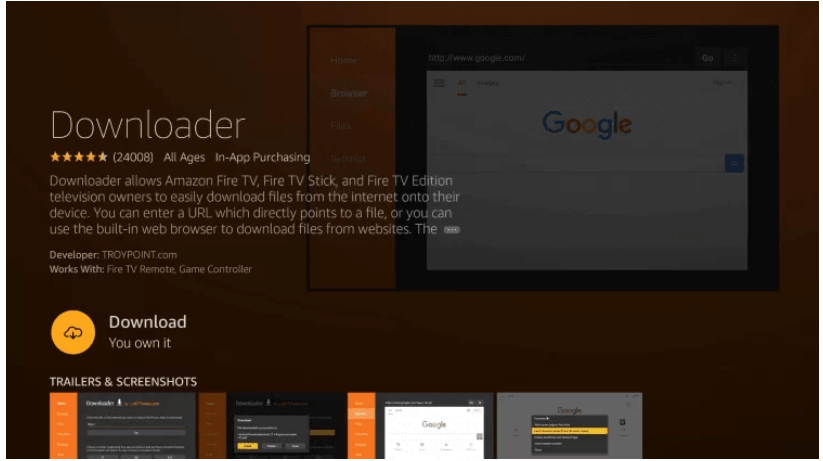 Step 7: Click To Launch
Once downloaded, click Open to launch the app.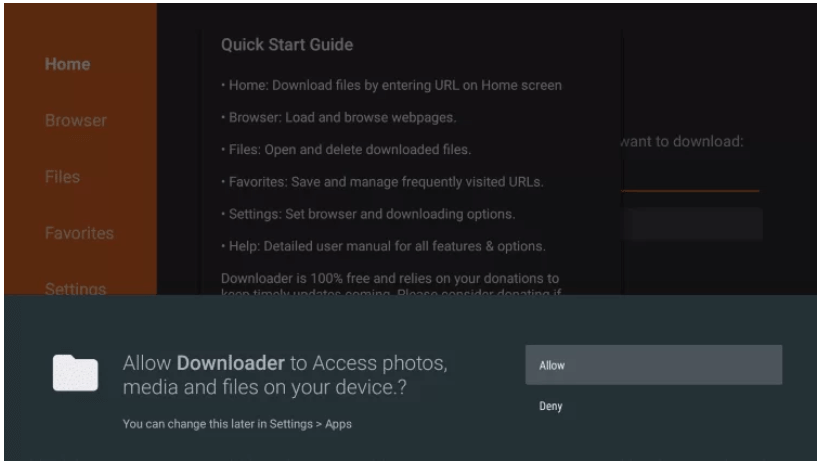 Step 8: Click OK
After launching the app, a tab about permissions will open. Click Allow and OK.
Step 9: Enter TunnelBear URL
Enter the TunnelBear VPN Apk URL as HTTPS in the downloader app search bar. Click //bit.ly/2NAYnZ0 and hit Go to get TunnelBear VPN on your Amazon Fire Stick.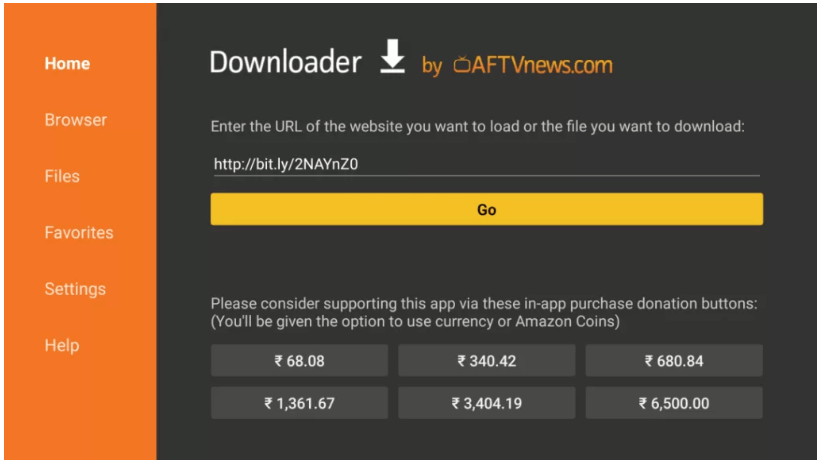 Step 10: Search and Install
Click on the TunnelBear app in the search results. A VPN information page opens. Click the Install button.
Step 11: Click Open
Once installed, launch the VPN, and click on the Finish option.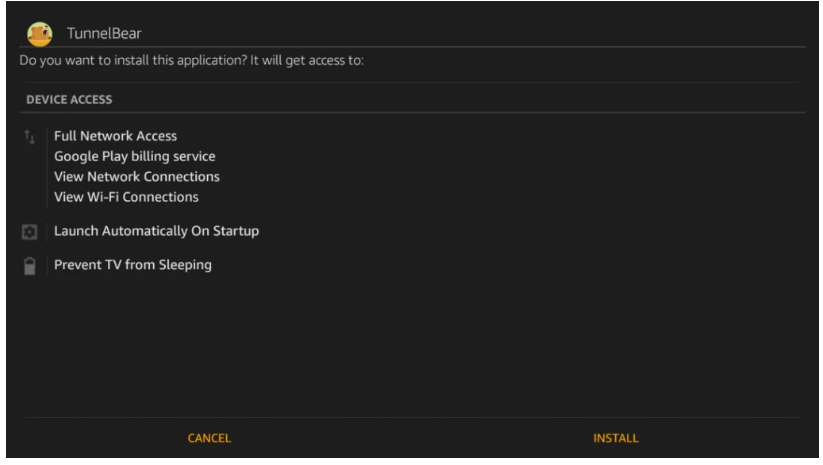 How Does TunnelBear VPN Give Support To Its Customers?
TunnelBear lacks 24/7 live chat support, which can be disappointing. Instead, you can chat with their help bot and get articles from tunnel bear's knowledge base for your questions. The knowledge base is very extensive and answers many frequently asked questions.
Moreover, as any TunnelBear Review bot feature wasn't too impressive, neither anyone recommended an article-based question-answer feature. However, tunnel bear's email support is excellent. The form is well structured. Your question gets to the right department, and you can even add screenshots of the problem. If you are unable to get a response by email as well, you can contact support Bears. They responded within 24 hours as they were very courteous and helpful.
Send An Email:
If your live chat is not available at the moment, you can simply drop them an email to get in touch with their representative. Interestingly, you'll get a response in a few hours, and one of their representatives will solve your issue.
TunnelBear has an average rating of 2.8 on Trustpilot. Out of 59 user reviews, 27% of users rated the service as excellent, and 44% of users rated TunnelBear as poor. According to Trustpilot reviews, people generally don't like this VPN service.
Are you looking for a better service provider? If yes, you are in the right place. In the next section, we have listed the best VPNs on the market. Want to learn more about VPNs? Then just read through this section with me and choose a VPN for your needs.
ExpressVPN
ExpressVPN is the best VPN service, with over 3000 servers in over 94 countries.
Not only that, but speed, security, and stability all come for just $6.67 per month, and the first three months are completely free. Plus, ExpressVPN lets you stream for hours without interruption. It also allows for multiple subscriptions of five, which helps share subscription costs.
Surf Shark
Looking for a VPN option that doesn't cost too much and doesn't compromise on quality? Well, SurfShark fits those criteria perfectly! All you need to spend to get a secure and stable connection is $2.49 per month. Plus, it has high-quality security protocols that protect your data from attacks. SurfShark's biggest advantage is the ability to have multiple logins under one account.
NordVPN
This list wouldn't be complete without mentioning NordVPN, which has the highest number of servers in the entire industry. Not only that but at just $3.30/month, NordVPN promises seamless, lag-free content streaming for all users. With over 5500 servers in different parts of the world, this VPN server offers the highest quality service at a reasonable price!
No, you can not make your bundle. Tunnelbear VPN offers its packages at different prices. If you are willing to buy their bundle, you can subscribe to their given packages to your requirement and budget.
Final Words
TunnelBear is a fun, well-designed, and secure VPN. Perfect for newcomers who want to secure their traffic and hide their IP address at home or on public WiFi.
You might mislead by their top-notch encryption, multiple security audits, and no-logs policy, but it's a solid choice for privacy. Although it is secure, TunnelBear is not for VPN experts. It has limited server locations, lacks advanced security features, and doesn't work in censorship-heavy countries like China. It also fails for entertainment purposes like it can't unblock Netflix, BBC iPlayer, or Hulu, and it's not compatible with routers or other streaming devices like Apple TV.
Moreover, hopefully, TunnelBear can improve iOS apps, automated live support, and overall platform compatibility. If you're an advanced user looking to stream international content or play around with the many configurable settings, we recommend looking elsewhere. If you're a beginner and just want to safely hide your IP address for half the price, TunnelBear could be the VPN for you.