In this publication, you will get to know all about PureVPN Black Friday deals and Cyber Monday discounts! But before bragging this let's have a short review on PureVPN for those who don't know much about this service.
PureVPN has gained an immense reputation over the past few years due to its restricted zero-log policy. This means that while having this service you don't have to worry about your information and confidential data shared with PureVPN.
Moreover, it has a very simple and user-friendly interface that you can operate while having very little knowledge of how a virtual private network works. If PureVPN is the service you have been looking for then here you can grab an ideal bang with its Black Friday Deals and discounts.
Are you ready? Let's get straight into it!
How to Get PureVPN Black Friday Special Deal?
Black Friday is just around the corner, PureVPN's Black Friday special deal presents an excellent opportunity to enhance your online security, access geo-restricted content, and save money. This step-by-step guide will walk you through the process of securing this exclusive offer, ensuring you make the most of your online experience during this festive season.
Go to the PureVPN website and hit "Get PureVPN"
Choose the plan with the Black Friday discount.
Insert your payment and complete the payment.
Download device compatible app on your device
Select a server from the list.
Connect and enjoy top-notch online security.
These discounts provide you with an exceptional VPN service at an advantageous price point. This Black Friday, seize the opportunity to secure your online presence and enjoy the benefits PureVPN has to offer.
What's The Special PureVPN Deals and Discounts?
When it comes to Black Friday Deals you can expect to have heavy discounts on its annual subscription plans! It offers up to 83% discount on its 2-year plan and after deduction that will hardly cost you around $47.79 compared to its actual price which is $262.80. However, having a two-year plan will hardly cost you $3.44/month.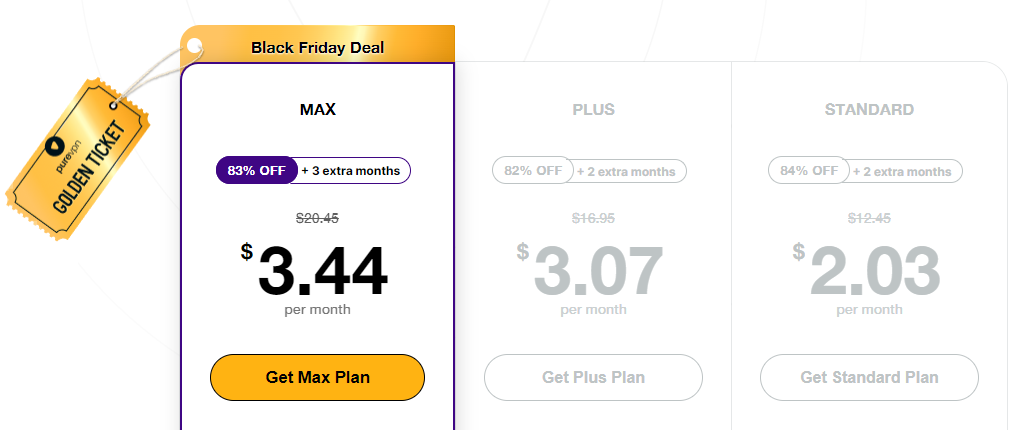 If you are not willing to opt for a two-year plan then there is another option for you! You can get around a 74% discount on the PureVPN 1-year plan which will cost you around $35.88 compared to its actual price which is $131.40.
Why We Should Subscribe To PureVPN This Time?
PureVPN despite being slightly new to the market managed to acquire all the required features that any other VPN service can have. Here we have mentioned some of its stunning features that will surely help you analyze your requirements before making a final decision.
Large Network: Having a huge network of servers is no doubt the most essential thing to consider. PureVPN in this regard offers you a larger network of 6500 covering all the major locations globally. This means that you can access geo-restricted content from anywhere at any time. 
Reliable speeds: PureVPN ensures high-speed connection just like any other premium VPN service. Having PureVPN brings you a fast-paced high and smooth internet connection to browse, download, and surf online without any connection lag. 
Unblocks Website: If streaming is your primary concern then PureVPN with its web of highly optimized servers connects you virtually to IP spoof your actual location. With virtual location, it makes it all possible to stand against censorship.
Device Compatibility: When it comes to device compatibility PureVPN can be connected with Android, iOS, Windows, PlayStation, Nintendo, and more. In short, it has dedicated VPN apps that you can install and set up PureVPN to have a secure internet connection.
Great security toolkit: Boasts top-tier security and privacy tools including a no-logs policy. Users can choose a security mode that takes care of this automatically.
PureVPN Black Friday Alternatives
Is PureVPN Black Friday Deal Worth The Money?
Yes, it is worth the money as you can have premium features while under a very low price range. On the other hand, you can have sufficient time to make your final purchase as the Black Friday sale goes on PureVPN by the end of November. There is another discount that you can avail of during December known as Christmas promotion deals. But you cannot expect to have the same discount given in the Black Friday Deals.
PureVPN creates a secure tunnel between your device and the internet connection that hides your online activities from the ISP and third-party intervention.
PureVPN offers the highest 83% on its 2-year plan and after deduction that will hardly cost you around $47.79 compared to its actual price which is $262.80. However, having a two-year plan will hardly cost you $3.44/month.
The Black Friday deals on PureVPN last up to the end of November. This means that you will have sufficient time to think and make your final purchase.
Conclusion
When it comes to choosing Black Friday deals, PureVPN can prove to be one of the best choices! It offers a substantial discount allowing you to have a vast network of VPN servers, robust encryption system, and digital security that you can never expect to have under this price range. So, what are you waiting for? Go and grab the PureVPN Black Friday deals now!