Are you crazy about streaming? If yes, you might struggle a lot to find the best VPN so that you can easily continue your streaming without any interference. If you love streaming you must come across Amazon Fire TV Stick as well. It is one of the famous and demanding devices through which you can stream your favorite content.
Despite the fact it's an inexpensive device, it can turn a regular TV into a smart TV through an HDMI port. If you don't want to do that you can also install a VPN on your Fire TV Stick to avoid internet throttling and Geo-blocking so that you can watch your favorite content easily. This is because A VPN hides your IP address and gives you a complete streaming experience without worrying about Geo-restrictions.
You must be wondering which VPN you should trust. Well, ExpressVPN firestick is the one you can rely on. If you need to know more about ExpressVPN read the review so that you can easily figure out which VPN is right for you. Read the article below to find out more about ExpressVPN Firestick.
How to Get ExpressVPN on Firestick
Downloading ExpressVPN on Firestick is extremely easy. All you have to do is follow our steps below:
Begging by going on your Firestick home screen. Then click on the search option.
After that type ExpressVPN.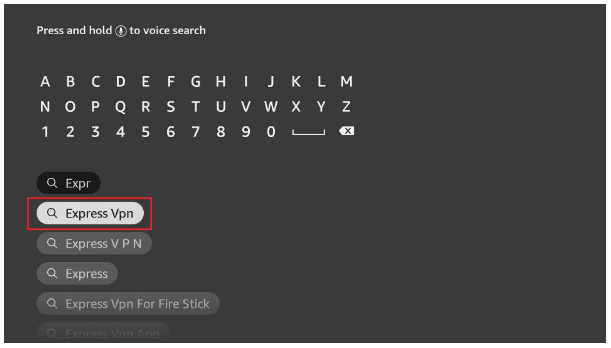 The ExpressVPN app will automatically appear as your first suggestion. After that tab on it.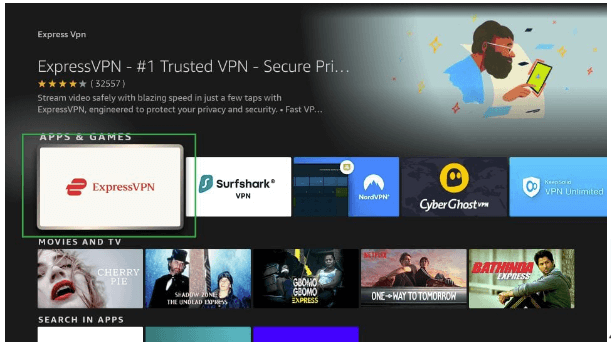 You will see the "Download" or "Get" option. Click on it.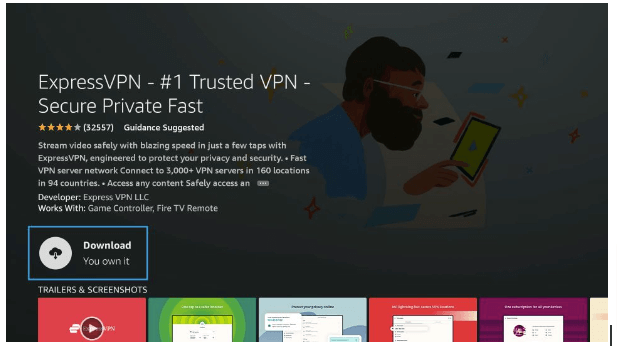 This will start downloading the ExpressVPN.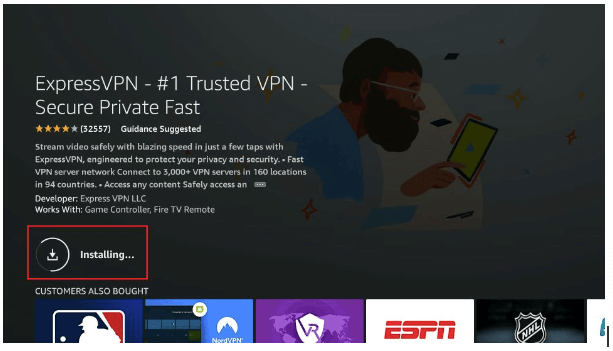 Tab on Open after it has completely downloaded.
How to Install ExpressVPN on Amazon Fire Stick
Once you have downloaded ExpressVPN, now all you need to do is install and set it up. Fortunately, the process to do so is fairly simple. Below is a step by step guideline:
Begin by clicking Sign In.
Then type in your email and password to access your ExpressVPN account. After that click on Sign In again.
In order to assist in making ExpressVPN faster and more dependable, the app will ask you if you would like to share anonymous information. To continue, select your preference Then click OK.
Click on OK when it prompts you to accept a request for ExpressVPN's connection.
Select the power icon to connect to any VPN server location. ExpressVPN will by default recommend a Smart Location, which is the location that gives you the best experience.
Once you are able to view the "Connected" message, you can easily watch anything online without worrying about Geo-restricted filters.
What Happened to ExpressVPN? Not Working on Firestick
If ExpressVPN isn't working on, do not panic. It is easy to solve.
1. Connect to any Different Server: If ExpressVPN doesn't work with a particular server, simply try connecting to another. There are connections to more than one hundred servers. Therefore, join any other servers. If the other servers won't connect either. The next steps are listed below.
2. Change VPN Protocol: ExpressVPN's unique features include the ability to select a VPN protocol. You can use a variety of VPN protocols to safeguard your privacy. Therefore, you can connect to any of the other Protocols that are available if the ExpressVPN fails to work.
Go to the Settings tabs then on Protocols. Now you can pick any protocol you like. After that, save the settings, and try connecting to VPN again.
3.Reinstall ExpressVPN: Reinstalling ExpressVPN is another method for getting it to work. Therefore, you must first uninstall the Express VPN by going into Settings and then Applications. After that click on Manage Installed Applications. Later click on ExpressVPN, and then Uninstall. Since ExpressVPN is available in the Amazon App Store, you can reinstall it from there.
My Personal Experience with using ExpressVPN for Firestick
I have used ExpressVPN for firestick as well, and personally, it was the best decision I ever made. I wanted to watch shows that are not available in my region. However, family time is a huge thing in my household. This is why we wanted to watch it on a big screen. This is when I installed ExpressVPN, and it made my life so much simpler. Usually, VPNs lack or show strange ads. However, this is not the case with this gem. It works extremely fast and provides high-grade security protocols. Now I can watch movies from any region without any lag with my family.
Is ExpressVPN The Best for Other Devices?
If you are quite tech-savvy and a binge watcher, you might be thinking to yourself, other than ExpressVPN TV, what other devices work best with ExpressVPN?
You are in luck because it supports numerous more devices. In fact, more than any other VPN service provider. After doing our research, here are some of the best devices it works with, though the list is much longer.
Windows
iOS
macOS including M1 and M2
Android
Linux
Android TV and Nvidia Shield
Amazon Fire TV
How do I Connect my Phone to my Firestick?
Get a Connection: Get yourself a connection to Fire Stick via your phone's hotspot
Click Firestick Setting: Go to your Fire TV STICK settings. And click "Display & Sounds"
Turn On Mirroring: Once you have clicked the display and sound icon, now select "Turn on display mirroring".
Select WiFi: Go to your setting and turn on your WiFi.
Enjoy Screening: Once you've connected your device with WiFi, click Fire-TV Stick and enjoy your favorite video content.
How to Cast from your Devices to Fire TV?
Download the app: The first thing you have to do is download an app from your app store.
Turn on your TV: Once you have downloaded now turn your TV on with your Fire TV device connected.
Connect with WiFi: Make sure your device and Fire TV are on the same wireless network.
Select Screen Mirroring: Click the Screen Mirroring box on the top left and select your Fire TV device.
Adjust Audio: Once you have selected the Fire TV device, now determine the presence or absence of audio. If you've already cast your device to Fire TV and want to change your audio settings, stop mirroring, turn it on again, and now specify the options you want.
Click Start Mirroring and Enjoy: As you adjust your audio now all you need to click screen mirroring and select your favorite video content and enjoy.
Well, rarely yes your streaming service can detect that you are using VPN. Your ISP can track your VPN's IP address, so they know you're using a VPN. Streaming services can also tell you that you are a user of a VPN as they know that you share the same IP address as other VPN users. This is one reason why you may not be able to access streaming channels even with a VPN. ISP can also track the VPN connection by port number. Therefore all use a good and secure VPN.
Essentially no. You don't have to pay a monthly fee for using Amazon Fire Stick. So after you pay your initial purchase, you won't be charged extra. However, you need to subscribe to access some apps and channels available on Fire Stick.
Yes, you can watch normal TV on Amazon Fire Stick without any hassle.
Yes, you can. One subscription allows you to use it on 5 devices simultaneously. You can install ExpressVPN on as many devices as you like, but you can only connect to five at a time.
Conclusion
Getting ExpressVPN on Firestick may sound difficult, but it actually is quite simple. Hopefully with the help of this article, installing ExpressVPN firestick would be much easier to do. Now you can watch all your favorite shows and movies securely.