One of the hardest comparisons is between two popular (ExpressVPN Vs PureVPN) VPN services, both have been around for years and both are based outside the US, which makes them great for privacy. But as you can see in this PureVPN and ExpressVPN comparison, the similarities end there. These VPNs are known for their services as one has a solid track record, while the other lags behind and is even plagued by data logging scandals.
| | |
| --- | --- |
| 🏆 Winner: | PureVPN |
| ⭐ Rating: | |
| 🥇 Overall Rank: | #3 out of #150 |
| 📖 Logs Policy: | Stringent No activity logs |
| 💵 Price: | $2.29/month |
| 🖥️ Servers: | 6500+ Servers in 71 Countries |
| 🍿 Streaming Services: | Netflix, Amazon Prime, HBO Max, BBC iPlayer, and more |
| 🔥 Special Deal: | Enjoy 79% OFF + 3 Extra Months |
PureVPN Vs ExpressVPN: Which One Is Best To Choose
In this comparison, you'll get to know the comparison between PureVPN Vs ExpressVPN by evaluating privacy, streaming performance, speed, server locations, torrenting, features, and prices.
As per the current stats, the winner of the comparison is PureVPN. As it offers easy-to-use apps, leading privacy and security solutions, and basic VPN features, all at a very low price. Compared to ExpressVPN, PureVPN has very similar speeds, a larger server fleet, 10 connections compared to ExpressVPN, and a low price of just $2.08 per month. , which offers more security options, wider global coverage in 94 countries, and better support for streaming.
Still, PureVPN's affordability beats ExpressVPN and its premium features. Moreover, if you still want to know about PureVPN you can go through the PureVPN review.
PureVPN Vs ExpressVPN: Which VPN Make You Feel Faster
Here we compare the connection speed of PureVPN vs ExpressVPN from internal testing at the same baseline speed, focusing on the fastest protocol.
In this section, you'll get to know the comparison between WireGuard and Lightway, then move on to shared options, OpenVPN and IKEv2.
After combining the average speeds of the 10 locations, comparing the fastest protocols shows that PureVPN is slightly better than ExpressVPN. Lightway has slightly faster download speeds, but PureVPN is the clear winner with a much larger upload gap.
| | | |
| --- | --- | --- |
| WireGuard/Lightway | PureVPN | ExpressVPN |
| Download average | 200 Mbps | 203.5 Mbps |
| Upload average | 210 Mbps | 146.4 Mbps |
As for OpenVPN, ExpressVPN shows better speeds on both TCP and UDP protocols. For uploads, the gap is smaller, but download speeds are better with this provider.
| | | |
| --- | --- | --- |
| OpenVPN (TCP/UDP) | PureVPN | ExpressVPN |
| Download average | 88 Mbps | 138.9 Mbps |
| Upload average | 77.5 Mbps | 91 Mbps |
For IKEv2, ExpressVPN has fast download speeds, but uploads are slightly delayed. It is a great lightweight alternative to WireGuard for mobile, and ExpressVPN's average download speeds for that protocol surpassed Lightway
| | | |
| --- | --- | --- |
| IKEv2 | PureVPN | ExpressVPN |
| Download average | 167 Mbps | 211.2 Mbps |
| Upload average | 12 Mbps | 91 Mbps |
Even after evaluating all the options and test results, it's hard to choose a better provider. Other options point to ExpressVPN as a faster choice, but its connection suffers from unexpected drops and is inconsistent in some locations.
PureVPN Vs ExpressVPN: Get Your Online Subscription Packages
Now let's see what it costs to use these services. Comparing both pricing and refund policies of PureVPN vs ExpressVPN.
PureVPN offers a very low monthly fee. $1.33 per month! But you can buy it for that price only if you sign up for a 5-year subscription. It also offers a cheap 7-day trial for around $1, but then jumps to $6.49 per month. Seeing this as a standard price, PureVPN doesn't even qualify in the cheap VPN category at less than $4/month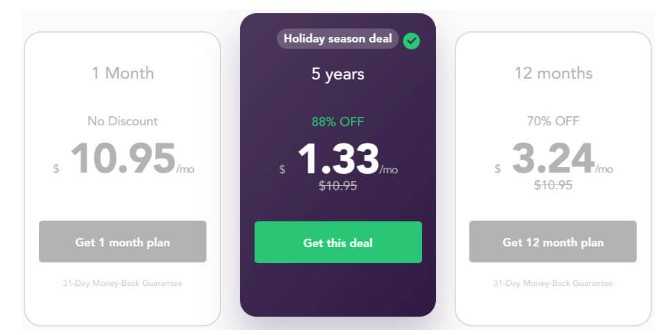 PureVPN offers a 31-day money-back guarantee on any plan you choose.
ExpressVPN is more expensive than PureVPN. Its one-year subscription to standard ExpressVPN costs $8.32 per month. However, they offer a discount coupon for 3 months which might drop the price down to $6.67 per month.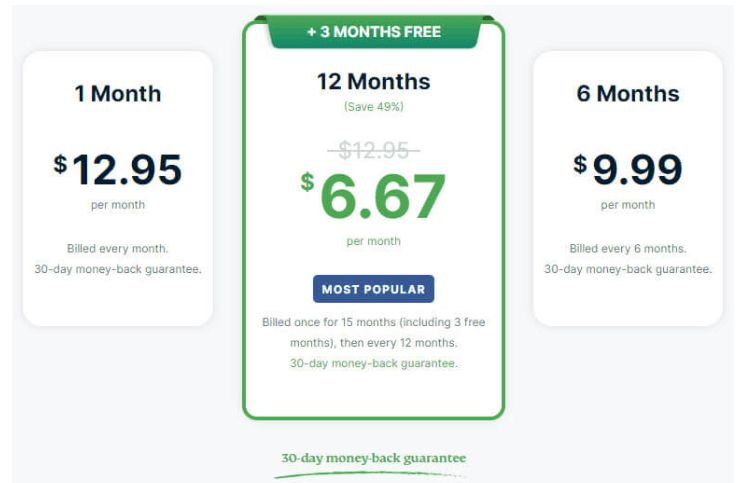 ExpressVPN offers a 30-day money-back guarantee. They have a money-back policy with a no questions asked policy with no hidden exceptions or clauses.
Considering PureVPN's standard price of $6.49 per month, it's slightly cheaper than ExpressVPN and has almost the same refund policy. So the price and refund winners are PureVPN
The One-Click Solution for All Your Privacy Needs
Privacy is one of the best features when looking for a VPN. If you compare PureVPN vs ExpressVPN in terms of privacy, both won the battle. This is because ExpressVPN does not store personally identifiable information or traffic logs. They store some aggregated data for statistical and diagnostic purposes. However, you cannot use it to track your activity. Plus, being located in the British Virgin Islands, this VPN is legally not required to keep any logs so while using ExpressVPN you should be carefree from being tracked down.
On the other hand, PureVPN was once headquartered in Hong Kong, but will also move to the British Virgin Islands in late 2021. Furthermore, not only does it keep no activity logs, but it also doesn't keep connection logs as many other VPNs do. It also has one of the clearest privacy policies compared with the other VPNs.
Neither VPN requires you to provide a lot of personal information, just your email address. Additionally, both ExpressVPN and PureVPN offer the option to pay with Bitcoin. You can sign up for the service if you have these bitcoins mixed in before payment and you use a burner email account, you can sign up for both services anonymously.
Which VPN Provides Security Features You Can Trust
You must be aware of the fact that features greatly improve the use of the VPN and increase the privacy of your connection. ExpressVPN has more features, which is no surprise given its premium price. PureVPN offers a basic suite of VPN tools with some additional options that require additional payment.
Here are some features which will help you to figure out which VPN won the battle.
Split Tunneling
As you can see, both PureVPN and ExpressVPN feature split-tunneling solutions that isolate connections for better control and use the VPN only when necessary.
PureVPN supports split tunneling for apps on Windows and Android devices. It offers a simple whitelist option that lets you choose which apps work with your VPN connection. Unfortunately, the lack of support for Mac and iOS devices means that many users can't take advantage of this feature which might be implemented in a future update.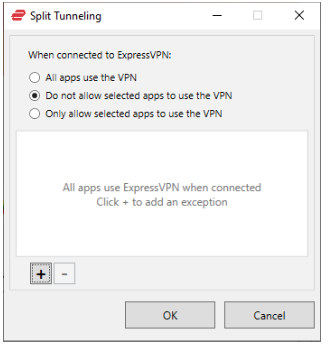 However, ExpressVPN has the same problem. Split tunneling is not available on macOS 11 and later versions. It is also available for Windows and Android, the same as PureVPN and the ExpressVPN router app. ExpressVPN's split tunneling is more flexible than its PureVPN counterpart. ExpressVPN in the window has three options which are all apps use VPN (default option), disallow selected apps, or whitelist selected processes.
Smart DNS
Smart DNS is another important feature but unfortunately, PureVPN lacks for the average user. ExpressVPN has filled the demand with its MediaStreamer tool that allows you to access your remote streaming library on devices that don't support VPN apps.
A smart DNS feature like MediaStreamer isn't as secure or private as a VPN, but it can help you get the best streaming experience. Many smart TVs and other streaming devices can't connect through a VPN, so this tool is recommended by ExpressVPN.
Obfuscation
Server obfuscation has become a worthy addition while comparing the features of PureVPN vs ExpressVPN if we talk about encountering networks that attempt to identify and block VPN connections.
PureVPN offers automatic server obfuscation once you log into the app and start using the service. These stealth VPN connections don't even let your ISP know you're using a VPN.
Other Feature
Another feature that makes PureVPN the winner is that it has a web and social media protection tool called PurePrivacy which is for $1.66/month, you can adjust your account settings to minimize your digital footprint and stop ad tracking. Plus, you get protected cloud storage called PureEncrypt, and your purchased subscription includes a free password manager called PureKeep it also includes DDoS attack protection and Wi-Fi security tools.
Like PurePrivacy, ExpressVPN has a threat manager to block trackers and malware, but this tool doesn't block ads, so you should also be careful with powerful ad blockers. The provider also has ExpressVPN keys for managing RAM-only servers and a proprietary password manager called Trusted Server technology.
Torrenting And P2P
Torrenting is also known as peer-to-peer or P2P file sharing. The two most important factors in ranking the best VPNs for torrenting are:
Fast (no slow VPN needed for torrenting)
Secure VPN app with no leaks (so your IP address and identity are always protected)
Well, while comparing PureVPN vs ExpressVPN for torrenting, ExpressVPN seems to be the better choice due to its fast speeds and more locations available for P2P traffic.
Still, PureVPN is a solid option, though it does block P2P on servers in countries that forbid file sharing, such as the US, UK, and Canada. It's still a solid choice for downloads.
PureVPN vs ExpressVPN: Which VPN Helps To Unblock Netflix
One of the most important uses of VPNs these days is to unblock websites for streaming media content. If you are a streamer then you should know which VPN is best at streaming. Well, both providers are solid options for unblocking streaming platforms, but ExpressVPN outperforms PureVPN. It is the more versatile option in this comparison and also in the list of the best VPNs for streaming.
With Netflix at the center of this battle, PureVPN successfully unblocked streaming libraries in Japan and the US. ExpressVPN, on the other hand, showed strong results, accessing localized Netflix in all major countries like the USA, UK, Japan, etc.
Comparing PureVPN and ExpressVPN tells a similar story about other streaming platforms. Both VPNs can unblock YouTube and BBC iPlayer, but PureVPN had issues with HBO Max, Disney+, and Amazon Prime Video.
However, when it comes to unblocking websites, PureVPN and ExpressVPN do a good job delivering streaming movies, TV shows, and videos in full HD. In addition, PureVPN's WireGuard and ExpressVPN's Lightway have similar speeds which make both options fast enough so you can enjoy your favorite shows from a distance without buffering.
Now let's talk about streaming. Here, we will focus on streaming Netflix, which is the biggest streaming destination for most people
PureVPN Netflix Streaming
If we talk about PureVPN it can connect to American Netflix servers at least occasionally. But despite the fact it is not the best streaming VPN. This is because you might face some issues while using PureVPN for streaming Netflix like bad video quality which might be due to the slow PureVPN servers. Aside from pixelated images, the stream randomly freezes and buffers for a while before displaying another chunk of video. These issues can be problematic in viewing Netflix streams with PureVPN. This concludes that dPureVPN is not the best VPN for streaming due to playback errors and buffering.
ExpressVPN Netflix Streaming
On the other hand, ExpressVPN offers a much better Netflix experience. You can unblock Netflix libraries from different parts of the world without any hassle. Even better, the media stream quality is excellent.
Additionally, ExpressVPN can access Netflix libraries in over 10 regions, which is pretty impressive considering most of its competitors are content to just access the US and UK catalogs.
To its credit, PureVPN does a great job. It works with a good range of streaming platforms, including BBC iPlayer, which ExpressVPN has struggled with lately.
PureVPN vs ExpressVPN: Which VPN Works For China
If you are living in China and looking for a VPN you might have to choose a VPN which will help you to unblock all the restrictions in China. Despite the fact due to strict censorship laws in China, much of the internet is inaccessible. It has access control tools, collectively known as the Great Firewall, which are constantly being improved and updated. Most VPNs are completely blocked and unreliable in China due to this censorship. but when it comes to PureVPN and ExpressVPN luckily, both ExpressVPN and PureVPN work perfectly, allowing you to access the wider internet from the mainland.
Choose A VPN Servers Location In Different Countries
Choosing a better provider is no easy task when you look at ExpressVPN and PureVPN server locations, ExpressVPN has 3000+ servers in 94 countries. PureVPN's server fleet is larger with over 6500 servers, but its global coverage is less extensive in 78 countries.
Despite the fact both VPNs have virtual locations which help to hide the physical location of their servers, PureVPN also sells dedicated IPs. This is your server that only you can access for $0.99 per month.
PureVPN vs ExpressVPN Reddit
If you are looking for more reviews and how people think about VPNs you can look into the PureVPN us ExpressVPN Reddit. Here you can figure out which VPN to choose after looking at the feedback from people using VPNs.
sadPudding203
"I use PureVPN and have no complaints. It is a great choice here. I chose it because it fits my budget, it has lots of servers in every country, and a bunch of people on other Reddit subs recommended it. I used this LINK to get almost 82 percent off."
soreLard4956
I currently have a subscription for both. If you are planning to use the VPN on your computer or a phone, Purevpn has a better app – you can easily toggle on a Kill Switch and select your server. ExpressVPN has a subpar app, with no support for a Kill Switch on Android. I was disappointed by them.
Conclusion
While ExpressVPN has its strengths, we believe PureVPN does small things better at a much lower price. Competitors have extra features like MediaStreamer and TrustedServer, but PureVPN is the winner for its excellent value for money. However, if the price isn't an issue, ExpressVPN is a premium VPN with plenty of features and worldwide coverage. If you want to test both the VPNs and find out their features and decide for yourself, PureVPN and ExpressVPN offer a 7-day free trial and a 30-day money-back guarantee.