Mullvad Vs ExpressVPN, both are two extremely great VPNs, each possessing unique features that could give them an edge depending on how they are utilized. Both service providers offer access to multiple countries, a kill switch, compatibility with major operating systems, and the ability to access the US Netflix from various locations.
However, Mullvad has an advantage over ExpressVPN as it allows users to pay using Bitcoin and cash, which is more convenient and enables anonymous payments. Additionally, both VPNs enable users to connect to up to three devices simultaneously and access them via tablets and smartphones. Another advantage they share is their availability in China. While choosing between the two VPNs may be challenging, Mullvad VPN makes up for any shortcomings of ExpressVPN in an impressive way.
Which is Better Mullvad OR ExpressVPN?
When it comes to the battle between Mullvad and ExpressVPN, it's clear that Mullvad takes the lead in terms of privacy and security. With its home base in Sweden, Mullvad operates under some of the world's strictest privacy laws, giving users peace of mind that their online activities won't be snooped on by prying eyes. On the other hand, while ExpressVPN claims to have a no-logs policy, it has yet to undergo an independent audit to prove its claims.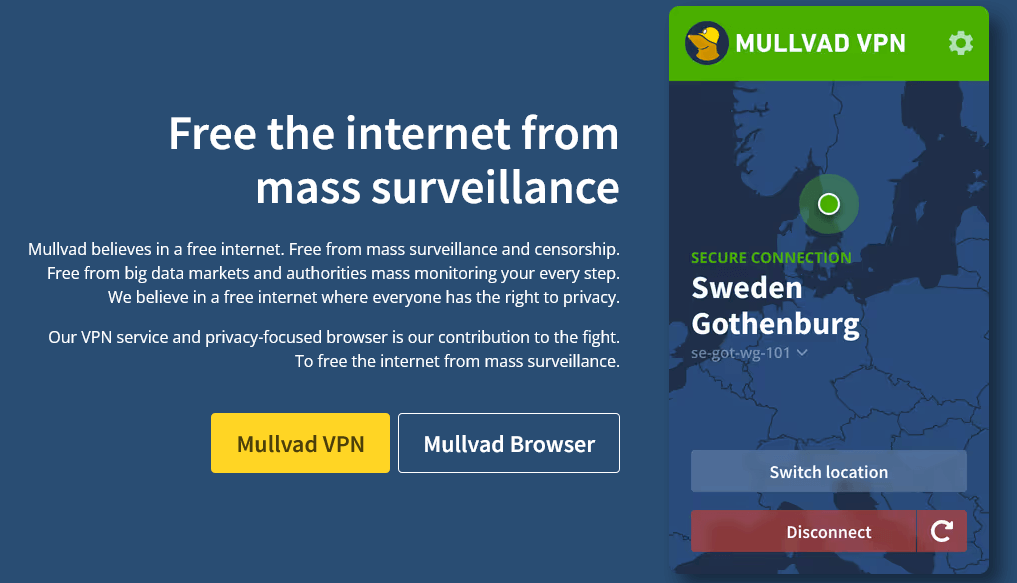 Thus if you ask us which is better out of the two we will suggest you to go for Mullvad as it feels much more promising than ExpressVPN.
Mullvad vs ExpressVPN: Connection Speed
When it comes to connection speed, both Mullvad, and ExpressVPN offer reliable and fast speeds that can handle most online activities without a hitch. However, Mullvad's use of the WireGuard protocol gives it an edge over ExpressVPN in terms of raw speed. WireGuard is a lightweight protocol that offers low-latency connections, making it ideal for gamers and other users who require lightning-fast speeds. ExpressVPN, on the other hand, uses the OpenVPN protocol, which is known for its reliability but may not offer the same speeds as WireGuard.
That being said, connection speed can vary based on a number of factors, including your location, internet service provider, and the server you connect to. In our testing, we found that both Mullvad and ExpressVPN were able to maintain consistent speeds across multiple servers, but Mullvad tended to be slightly faster overall. Of course, your mileage may vary depending on your specific circumstances.
Ultimately, if you're looking for the fastest possible speeds, Mullvad may be the better choice thanks to its use of the WireGuard protocol. However, ExpressVPN is still a great option for and not that far behind.
Mullvad vs ExpressVPN: Pricing Plan and Deals
| Plan | Mullvad | ExpressVPN |
| --- | --- | --- |
| 1-month plan | $6.00/month | $12.95/month |
| 6-month plan | $9.99/month | $6.00/month |
| 1-year plan | $6.00/month | $8.32/month |
ExpressVPN operates on a traditional pricing model that's common in the industry. If you sign up for longer periods, you can save more each month. Their one-month subscription costs $12.95/month, the six-month plan costs $9.99/month, and the 12-month plan costs $8.32/month. However, Mullvad VPN offers a different pricing strategy that's quite appealing. No matter how long you sign up for – one month, six months, or a year – you'll always pay a flat rate of $6.00/month. This approach saves you a considerable amount of cash, making it a more budget-friendly option than ExpressVPN.
While Mullvad VPN offers a lower monthly cost, both VPN providers offer similar simultaneous connections. They both allow up to five devices to connect to the VPN simultaneously. Additionally, neither VPN offers a free trial, but both offer a 30-day money-back guarantee, so you can try out the service risk-free.
When it comes to payment options, ExpressVPN accepts several methods, including credit cards, Bitcoin, UnionPay, and PayPal. On the other hand, Mullvad VPN offers payment options such as credit cards, Bitcoin, and PayPal, but also allows you to pay through cash sent through the post. This unique payment option could be especially appealing to those who value their privacy and want to remain as anonymous as possible.
Overall, while Mullvad VPN may offer a lower monthly cost and unique payment options, both VPN providers offer similar features and options when it comes to simultaneous connections and money-back guarantees. It ultimately comes down to personal preference and which provider aligns better with your specific needs and requirements.
Mullvad vs ExpressVPN: Security and Privacy
Mullvad and ExpressVPN are both known for their strong commitment to user privacy, but there are some notable differences between the two.
Mullvad is based in Sweden, a country with strict privacy laws that protect users from data retention and surveillance. Mullvad's privacy policy states that they do not collect any personally identifiable information and only require an account number to access their VPN service. Additionally, Mullvad supports anonymous payment methods such as Bitcoin and cash, allowing users to further protect their identities.
ExpressVPN, on the other hand, is based in the British Virgin Islands, a jurisdiction known for its privacy-friendly laws. ExpressVPN's privacy policy states that they do not collect any logs of user activity, including IP addresses, browsing history, or DNS queries. They also offer a "Network Lock" feature that blocks all internet traffic if the VPN connection is lost, ensuring that user data is never exposed.
While both Mullvad and ExpressVPN have strong privacy policies, Mullvad's emphasis on anonymity and their support for anonymous payment methods may appeal more to users who are particularly concerned with privacy. ExpressVPN's location in the British Virgin Islands and its Network Lock feature may be attractive to users who want additional protection against data leaks. However, ExpressVPN still needs to prove its claim.
Keeping everything in account we will give this round to Mullvad for its top-notch privacy.
ExpressVPN Vs Mullvad: Features
When it comes to features, Mullvad and ExpressVPN both offer a range of tools and functionalities to enhance their users' online experience. Mullvad, for instance, prides itself on its no-logging policy and anonymous payment methods. Its WireGuard VPN protocol ensures fast and secure connections, while its kill switch feature protects users in case of a VPN disconnection. In addition, Mullvad also provides access to its own DNS servers to prevent third-party DNS requests and potential data leaks.
On the other hand, ExpressVPN has a diverse set of features that cater to all types of users. Its TrustedServer technology ensures that user data is wiped with every reboot, making it virtually impossible for any data to be compromised. Additionally, ExpressVPN has a split tunneling feature that allows users to choose which apps and websites use the VPN, as well as a network lock that prevents internet traffic when the VPN connection is lost. Furthermore, it offers a variety of protocol options, including OpenVPN, IKEv2, and L2TP/IPSec.
One area where Mullvad excels is in its commitment to open-source software. The company believes in transparency and has made its source code publicly available for anyone to scrutinize. This means that anyone can verify the security and reliability of Mullvad's software. In addition, Mullvad has a unique feature called the "Bridge" that enables users to bypass censorship and restrictions by using the Tor network. This is particularly useful for users living in countries with strict internet censorship laws.
ExpressVPN, on the other hand, offers a wider variety of server locations, with servers in over 90 countries. It also has a split tunneling feature that allows users to choose which apps and websites use the VPN, as well as a network lock that prevents internet traffic when the VPN connection is lost. Additionally, it has a built-in speed test feature that enables users to test the connection speed of each server before connecting.
Ultimately, while both Mullvad and ExpressVPN offer a range of impressive features, Mullvad's commitment to open-source software and its unique Bridge feature make it the winner in this category.
Mullvad vs ExpressVPN: Torrenting and P2P
When it comes to Torrenting and P2P activities, Mullvad and ExpressVPN have a lot in common. Both VPNs have no restrictions on P2P traffic and provide robust security features that ensure users' safety and anonymity.
However, Mullvad takes it a step further by providing users with the ability to generate a random account number to use as a username. This feature adds an extra layer of anonymity to users, making it difficult for anyone to trace their online activities.
Mullvad also allows port forwarding, which is essential for peer-to-peer file sharing. This feature enables users to connect directly to each other, thus speeding up the connection and enhancing the overall experience. Additionally, Mullvad has a kill switch that ensures users' activities are not exposed even when the VPN connection drops.
On the other hand, ExpressVPN has a vast server network that covers more than 90 countries worldwide, making it an excellent choice for users who want to access content from different regions. The VPN also has a split tunneling feature that allows users to choose which apps use the VPN connection and which ones don't.
Overall, both VPNs are excellent choices for Torrenting and P2P activities, but Mullvad's random account numbers and port forwarding capabilities make it a better option for users who prioritize anonymity and faster connection speeds.
Mullvad vs ExpressVPN: Netflix and China
If you're searching for a VPN that's optimized for streaming, ExpressVPN is a superior choice compared to Mullvad VPN. ExpressVPN has a proven track record of unblocking a wide range of Netflix regions, including the notoriously difficult Japan library, whereas Mullvad VPN failed to access any Netflix library at all. Moreover, we experienced smooth and uninterrupted streaming on various platforms such as Amazon Prime, HBO Max, BBC iPlayer, and Disney+, with ExpressVPN.
If we look at Netflix alone, both did a good job and we were able to access Netflix. However, in terms of streaming ExpressVPN was slightly better because it has some features that are specifically designed for streaming.
In summary, while both are excellent for streaming Netflix, if we had to pick one over the other we will go with ExpressVPN. It is because it is without a doubt an excellent choice for streaming enthusiasts, thanks to its ability to unblock most major streaming sites and offer useful features.
If you are searching for a VPN that can easily function reliably in China, both ExpressVPN and Mullvad can be good choices. China's Great Firewall has made it challenging for VPNs to operate in the country, with nearly 10,000 sites and VPN services now being blocked. Unfortunately, their system keeps getting harder and harder to unblock. However, these two VPNs do whatever it takes to get you access. They give each other a fierce competition but ExpressVPN is a little better. ExpressVPN works without requiring any special protocols or settings, and even the automatic protocol selection works well, allowing you to easily slip past the Great Firewall.
However, Mullvad VPN isn't that far behind. It uses its WireGuard and obfuscation feature to effectively unblock the Great Firewall. Though there were times when it didn't work. This is when we switched to OpenVPN and used Bridge Mode, and we were able to access all the Chinese platforms easily.
Overall, both VPNs do a good job when it comes to working reliably in China. However, ExpressVPN is just slightly better than Mullvad VPN. Thus we will give this round to it!
Conclusion
While both VPNS give tough battles to each other, it all boils down to which one is overall a better deal when it comes to investing. After testing them out in every aspect possible, it is safe to say that the winner is Mullvad VPN this is because it not only provides better speed, privacy, features, and torrenting capabilities, but it is also much lesser in terms of pricing. This is what makes it the winner in our opinion. It is doing everything one expects from a VPN, but also at much more affordable rates.