If you want to use BitTorrent, NordVPN is as simple as counting 1 2 3. Once NordVPN is enabled, you may download torrents without worrying that malicious internet users are keeping an eye on you. You may use NordVPN with BitTorrent in two different ways, one of which can be enabled with only a few clicks and the other of which outlines how to install a proxy within BitTorrent. You may read about the best VPN around you. If you want to enjoy uninterrupted torrenting, you can save a lot by getting a NordVPN membership right now!
Begin Using NordVPN and BitTorrent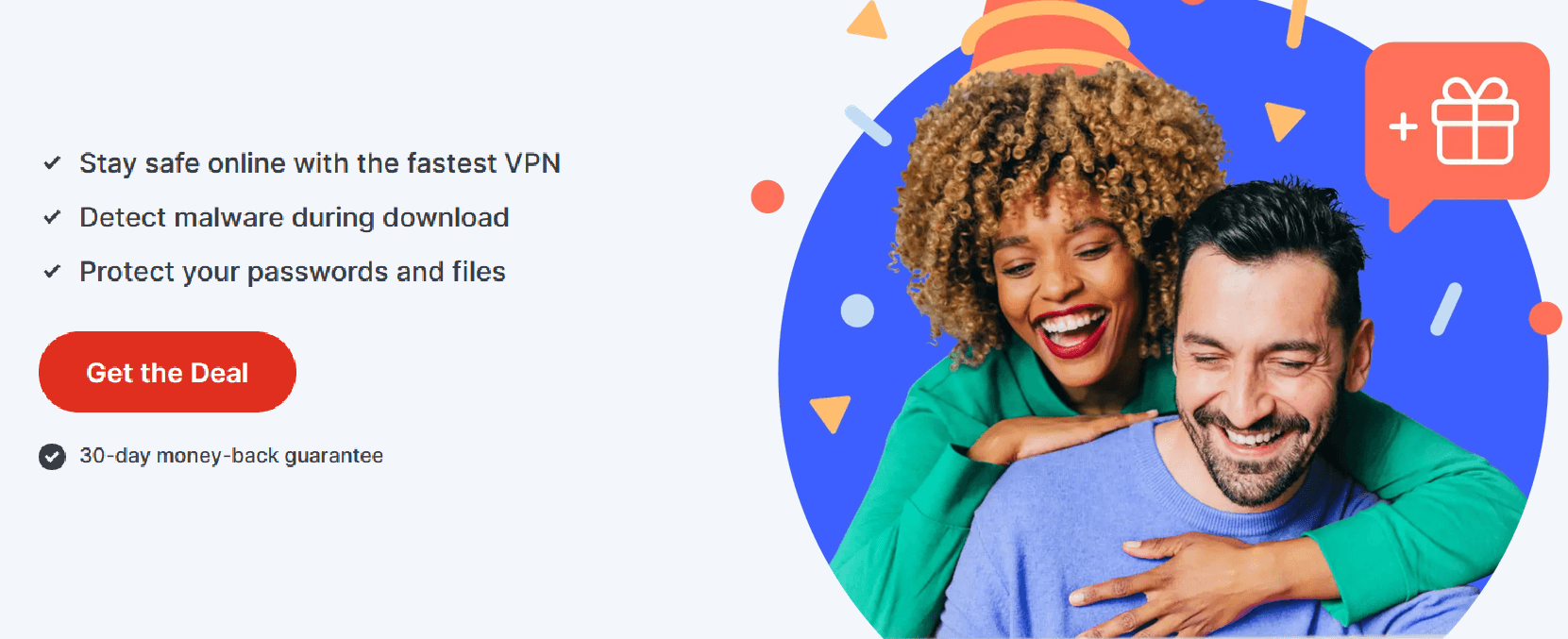 We've got your back if you want to set up NordVPN with your BitTorrent. Sometimes huge long steps can get overwhelming. Without going into excessive detail, the methods listed below can help you get started quickly.
Begin by opening NordVPN and then connect to a P2P server.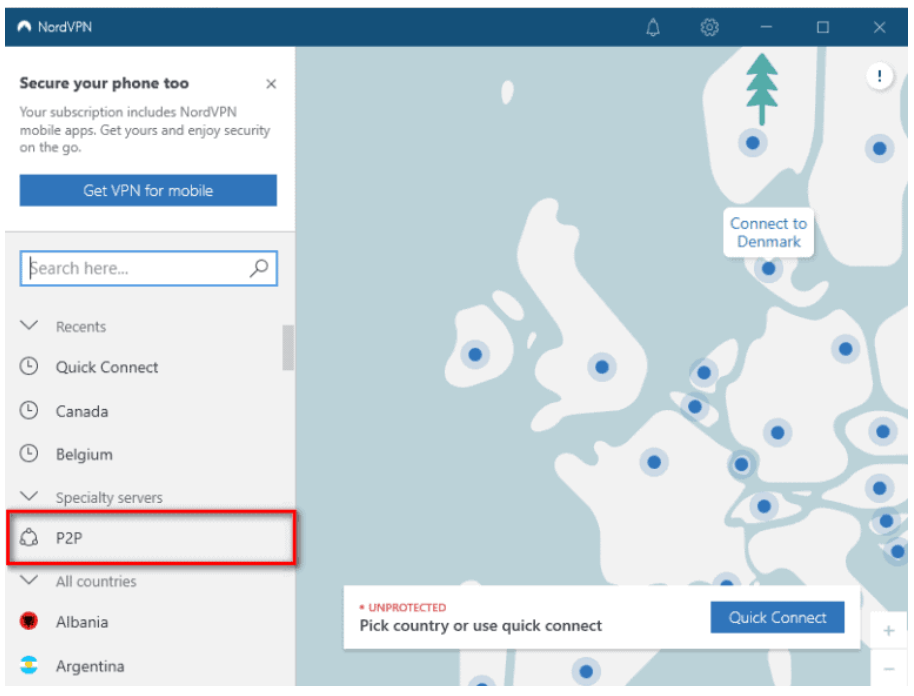 Make sure to check your torrent IP is matching the IP address which is displayed within the connection window of NordVPN.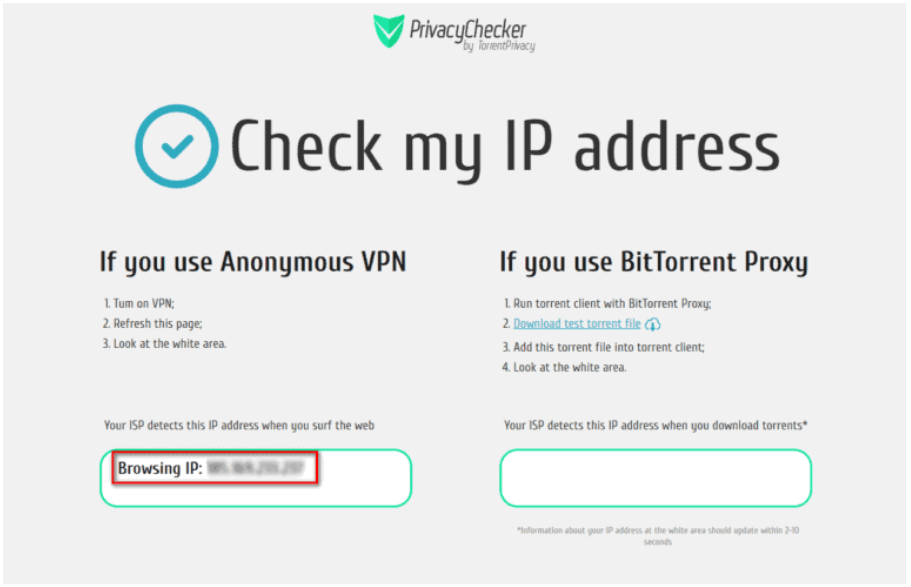 Now open any magnet link or a torrent file in BitTorrent.
With the help of NordVPN's Socks5 proxy and Double VPN functionality, you can now use BitTorrent to download torrents in absolute privacy. Continue reading if you require additional assistance with the setup procedure, and we'll give you all the information you require.
Guide To Setup NordVPN for BitTorrent
Are you still searching? You've come to the right place if you're looking for a more detailed explanation of how to set up NordVPN with BitTorrent. All you require to begin torrenting anonymously and using NordVPN to download the best material is provided below.
Begin by creating a NordVPN account.
Then download and set up the BitTorrent client.
Go to BitTorrent, and open Options. After that click on Preferences.

Choose Connection which is present on the left-hand panel. After that choose Socks5 present under the Proxy Server Type dropdown.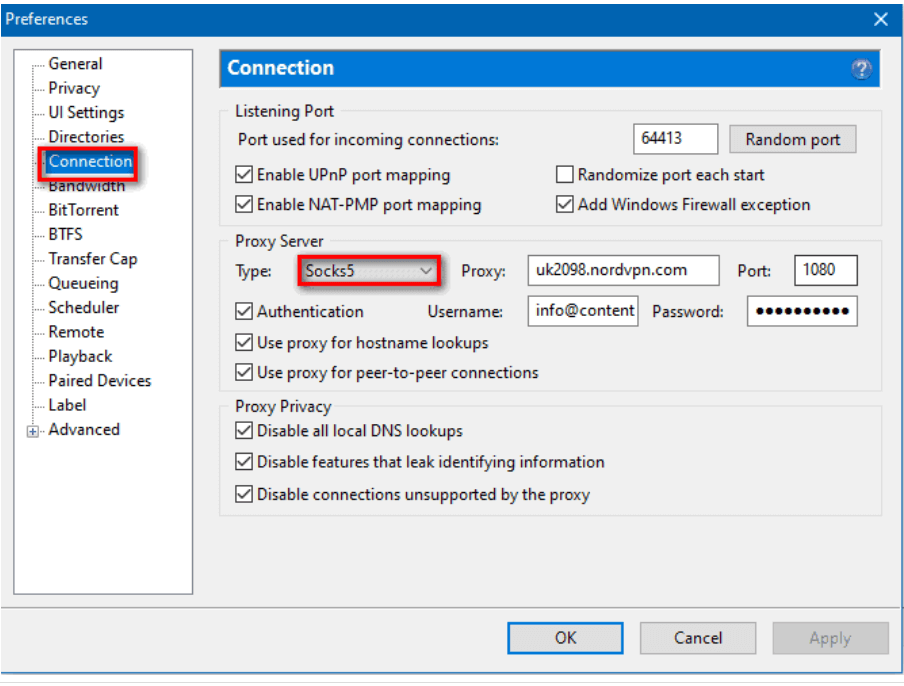 Go to NordVPN's server address page, then select your country and P2P from the type of server. The ideal server for your area and server type will be offered as a result. Copy the name of the address.

Return to BitTorrent and enter the Server Address in the Proxy box.
The Port must always be 1080; if it isn't already that, adjust it to 1080.
Turn on the following settings:
Authentication.
For hostname lookups, use a proxy.
For peer-to-peer connections, use a proxy.
Turn off all local DNS queries.
Disable any elements that may reveal your identity.
Disable connections that the proxy does not support.
Next to Authentication, enter your NordVPN Username (usually your email address) and Password.
Click Apply, then OK.
Go to IpMagnet and take note of the IP address displayed there. Select the following link (but leave the page open).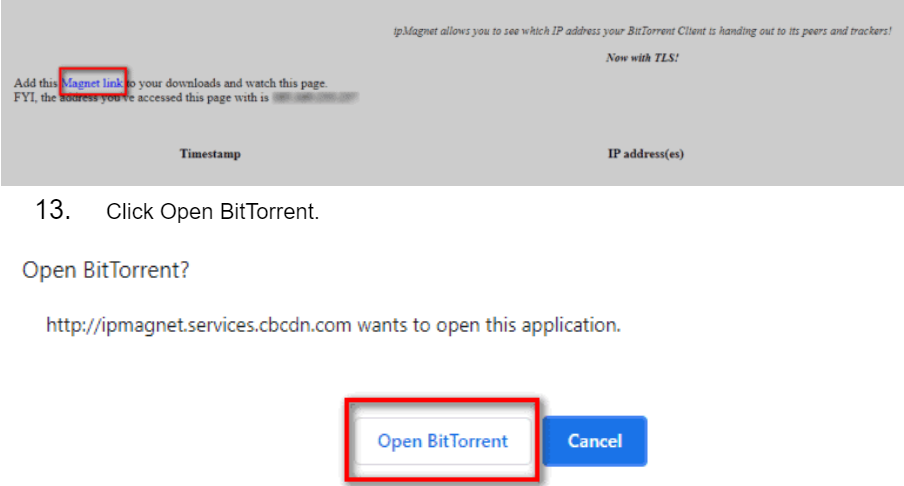 Click Open BitTorrent.
A download will begin connecting to peers in BitTorrent.
Head over to the IPMagnet page which is there on your browser, then press Update, and your NordVPN IP address must be different compared to the one you previously saw.

BitTorrent is now allowing connections through the proxy settings you've chosen, using a NordVPN-managed IP address.
Slow BitTorrent connection with NordVPN? What You'll Need to Do Is:
There was no guarantee that utilizing NordVPN with BitTorrent would've been fault-free, and a slow connection is arguably the most annoying one you'll encounter.
The good news is that you have a few ways that you can try and check in case there is a slow speed in your connection.
Are You Already Connected to NordVPN?
Even though it seems obvious, not using NordVPN when downloading torrents is not only extremely risky, but it will also dramatically slow down your download speed.
Check your IP address if downloads are taking too long.
If the IP address differs from what NordVPN displays, there might be a problem with your settings
Check The Speed Of Your Internet Connection
Try a speed test if you are certain your NordVPN connection is stable but you are still seeing sluggish download speeds. Low download speeds could indicate a problem with your broadband connection.
Connect Via Wired Network
A wireless connection is much less dependable than a wired (ethernet) one. If downloading torrents is difficult for you, try connecting a cable wire between your device and router to see if it helps.
Disconnect Any Unused Equipment
The amount of bandwidth used increases with the number of devices on your network. Disconnect any additional devices that are plugged into your router so you have more bandwidth to investigate the issue.
Pick Another Server
Fortunately, NordVPN has many P2P servers. Therefore, it's worth switching to a new server to see if it improves your download speeds if you are low on ways to improve your speed.
Are BitTorrent and NordVPN Not Working?
Instead of "downloading," you can see the "connecting to peers" status if BitTorrent and NordVPN are not working. As a consequence, downloads might never be complete. However, there are a number of potential causes. Here are some things you might try to see if they fix your download problems.
Check Settings Of BitTorrent Connection
Kindly check that all settings are right if you are using the proxy method to connect to BitTorrent. Your connection can be cut off by anything as simple as a typo inside the server address field.
Try A New Magnet Or Torrent Link
Since torrents are uploaded by shady sources, they can never be completely trusted. If a torrent is unable to find peers in order to download the necessary files for a complete torrent, try a new version of the torrent from a different source to see if it finds more peers.
Incorporate A Firewall Exception
BitTorrent might fall victim to Windows Firewall's automatic blocking of connections that it identifies as harmful. To use BitTorrent on Windows, add a firewall exception for the application and its connections.
If everything else fails, try contacting NordVPN support. They are accessible around the clock and might have an answer to the issue.
Alternatives to NordVPN That Perform Well With BitTorrent:
Well for those who are unaware, NordVPN is not the only VPN provider which works perfectly with BitTorrent.There are many different VPNs to pick from. The services listed below have undergone comprehensive testing to guarantee that they offer excellent P2P support and dependable connectivity. Most significantly, they keep your torrenting history and internet identity private. Here is the list of 5 great alternatives:
The majority of torrent clients, including uTorrent and Vuze, as well as BitTorrent that supports the Socks5 proxy are all supported by NordVPN. Although many VPN services permit torrenting, NordVPN goes a step further by offering P2P-focused servers. By using NordVPN's P2P servers, you can hide your P2P traffic and prevent your ISP from discovering what you're doing.
Yes, utilizing NordVPN makes torrenting faster. Due to the fact that millions of users share NordVPN's servers, their specialized P2P servers offer outstanding speeds that would otherwise be slowed down over a direct connection.