Instead of diving in headfirst, let's take a closer look at this Betternet VPN Review. If you look into the majority of online evaluations of Betternet VPN will caution you to stay away from it, and they do it for a good reason.
Betternet has erratic speeds and the limited bandwidth consumption of the free version makes it only suitable for some very casual or just infrequent browsing. Only Windows users may access several premium features, and customer service is only offered through email, which isn't particularly effective.

Discuss The Latest Features And Controversy Of Betternet
Betternet VPN is essentially a US-based VPN service that provides the following features:
Split tunneling.
Quite a user-friendly interface.
The Catapult Hydra encryption algorithm.
Fast speeds.
A streaming mode that is there to unblock YouTube and Netflix.
Another reason being Betternet VPN faced controversy in 2016 when a data analysis study revealed that it exposed its clients to third-party tracking software, which is a big red flag when it comes to having a VPN. It promises to have changed significantly since then, enhancing the general functionality and security. In order to put it to the test, we did a series of tests to make sure it does what it truly claims.
In order to evaluate Betternet VPN's features, such as its server network, security, and speed, we tested its premium subscription. It had excellent speeds. However, as a VPN whose security has come under fire, We still found some aspects to be quite deficient.
This is why we will get into everything in this article. So, if you are someone who is curious to know more about Betternet VPN, then make sure to read this article.
| | |
| --- | --- |
| Data Cap | 500 MB |
| Jurisdiction | US (Five-Eyes Member) |
| Countries | 22 Virtual Locations (US) |
| US Netflix | No |
| Torrenting | Unlimited |
| Simultaneous Connections | Unlimited |
| Works In China | No |
| Support | Online Resources Only |
The Most Recommended Alternatives To Betternet VPN
How To Download, Install and Use Betternet VPN
If you are someone who wants to get Betternet VPN but is feeling unsecured + how to install it, you are here at the right place. Fortunately, the process is extremely easy to follow, follow the steps below:
Create your account first by going to the website.
Subscribe to the package that matches your needs.
Now you should choose the appropriate version for your device.
After downloading, run the installer file on your device.
Launch Betternet VPN and sign in with your account credentials.
That's it! Betternet VPN is now installed and ready to use on your device. Remember to always use a secure VPN connection when browsing the internet, especially when accessing sensitive information or using public Wi-Fi networks.
Subscription Plans That Betternet VPN Offering
Betternet VPN comes in two types of versions one is free, and the other is premium.
Free Version: As the phrase goes, if the thing is free, then the client is the actual product. Before, Betternet VPN used to make their free users watch adverts. While it is not usually the case, free users are still only allowed 500MB each day. Overall, we don't think their free version is very good, and we wouldn't suggest using it.
Premium Version: The premium version includes extra features like a larger range of potential locations and faster speeds, and you can connect five connections at the same time. However, when compared to other best inexpensive VPNs on the market, it is, nonetheless, more expensive.
| Premium Subscription | Subscription Plans |
| --- | --- |
| 1 Week | Free trial |
| 1 Month | $12.99 |
| 1 Year | $7.99/month |
The payment choices for Betternet VPN are completely inadequate. As PayPal, Bitcoin, and other cryptocurrencies weren't accepted, we were only able to pay with our credit cards.
Users of macOS and iOS can purchase a membership through the iTunes Store. You can buy a membership via the Google Play Store if you download it on any Android device.
Considering that it didn't particularly amaze us in many ways, it's quite costly. Its somewhat complex money-back guarantee is yet another issue. Within 45 days, you may ask for a refund. However, the VPN asks for a great deal of information before it will even consider giving you a refund. If you join up and later discover it doesn't work for you, it appears time-consuming.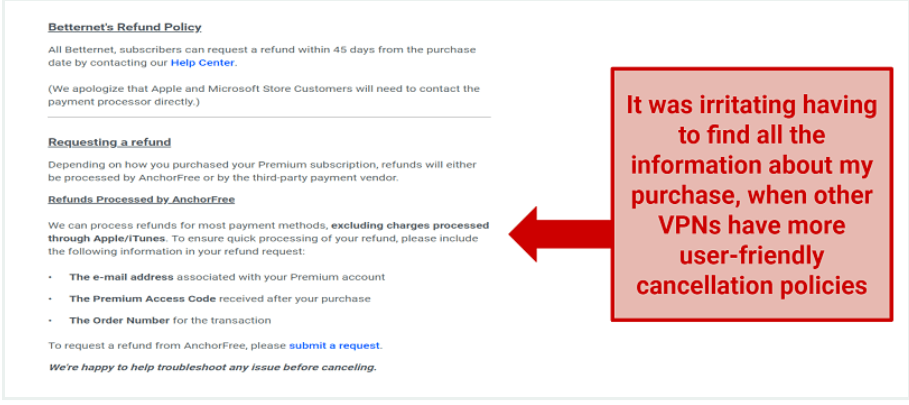 The only good part is that if you use services like Apple Store or Google Play to subscribe, only then you can request a refund directly through these apps.
How To Connect Betternet VPN To Watch American Netflix
One of the biggest reasons why anyone gets a VPN is to watch their favorite shows. After all, Netflix is where everyone heads over to in order to watch the latest movies and shows. Unfortunately, if you are a movie buff and want to watch movies that are trending or available in different countries, we have bad news for you. Betternet VPN might not be the one for you. When we tried to use its servers, none helped us get past the Geo-restricting filters.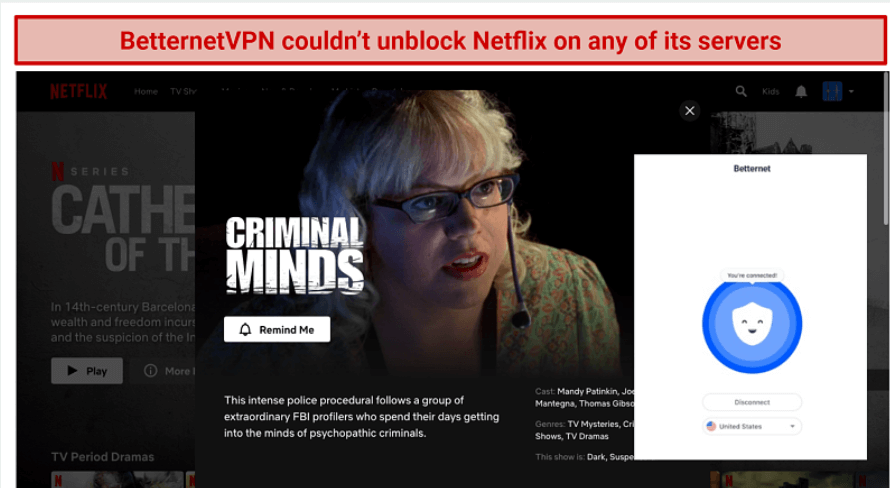 It's crucial to remember that Netflix updated its VPN detection technologies, and many VPNs can no longer unblock it. Therefore, this could just be that Netflix's new filters are just that strong. However, there are many VPN services that are still able to unblock it.
Therefore, Betternet VPN might not be sufficient for you if, like us, you choose Netflix above other streaming services for movies and television shows. Instead, try one of those VPNs which have been able to consistently unblock Netflix if you're looking for a dependable VPN that works.
Whenever we tried to watch American Netflix with Betternet, we always got a dead end, and it showed the proxy error message on our screen: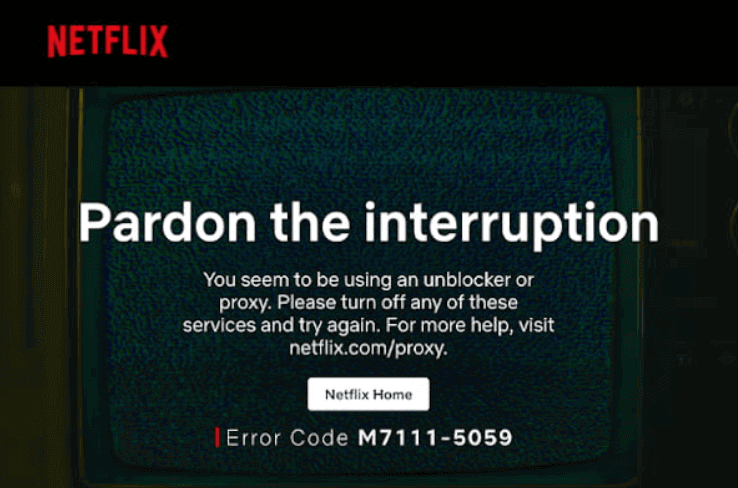 Most free VPNs don't make investments in finding ways to overcome the limits placed by Netflix and some other streaming services, which actively block VPN connections. It is impossible to stream BBC iPlayer as well, which needs a British IP address. Unfortunately, since there is any free UK server, this wasn't possible.
How To Use Betternet VPN for (Chrome and Firefox) Extensions
Since there isn't a browser extension for Edge or Firefox, you're out of luck if you don't use Google Chrome. This is because they only offer browser extensions for it. Betternet's overall compatibility is somewhat limited, and you cannot use it with gaming consoles or routers.
Follow these instructions to add the Betternet VPN add-on to Google Chrome:
Opening the Google Chrome browser.
Go to the Chrome Web Shop, or you can get it directly from Betternet's official website.
Look up "Betternet VPN" in the search field at (https://chrome.google.com/webstore/category/extensions).
Pick the "Betternet Unlimited Free VPN Proxy" extension.
Then press the button that says "Add to Chrome."
To confirm, click "Add extension."
The Betternet VPN icon will show up on your browser after the installation is done.
Log in using your account information, Click the Betternet VPN icon.
Choose the server location and press the "Connect" button.
You've successfully added the Betternet VPN plugin to Google Chrome.
How To Get Betternet For Windows Today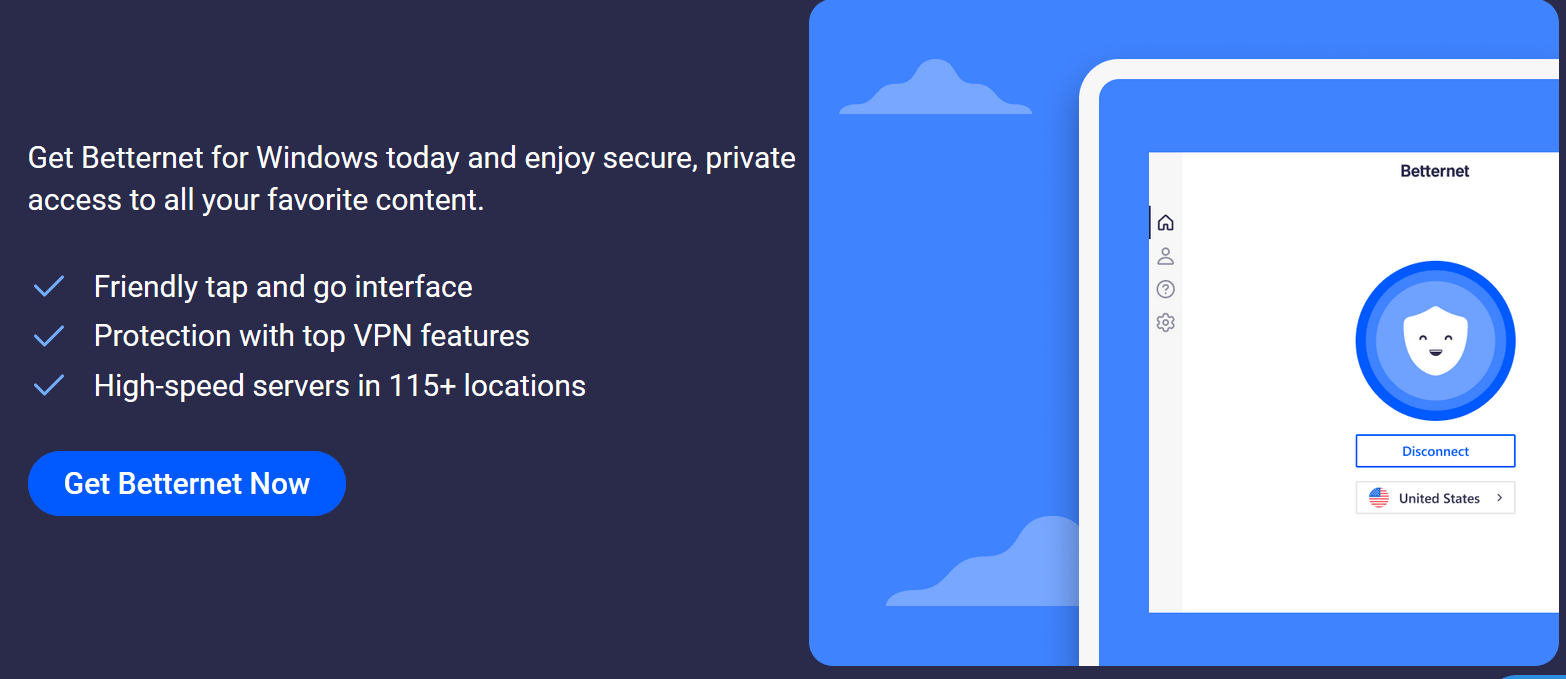 How to download and use Betternet VPN for Windows, follow the steps mentioned below:
Begin by going to the Betternet VPN website and clicking Download Now.
Run the installer file and follow the on-screen instructions.
Open the app, and you will be directed to their Privacy Policy
After reading it, kindly press "accept and continue."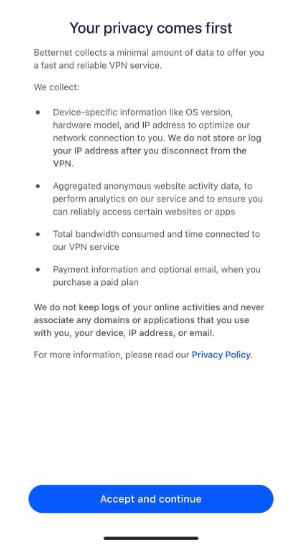 5. Kindly select Sign in, then.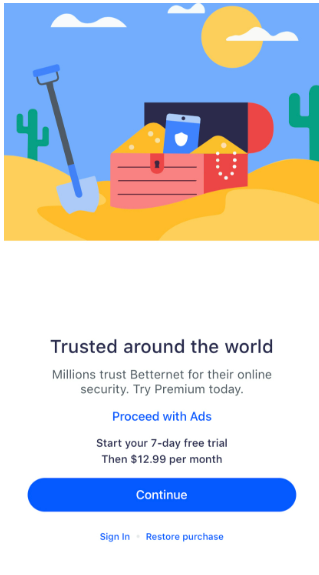 6. Activate your account by simply going to your email.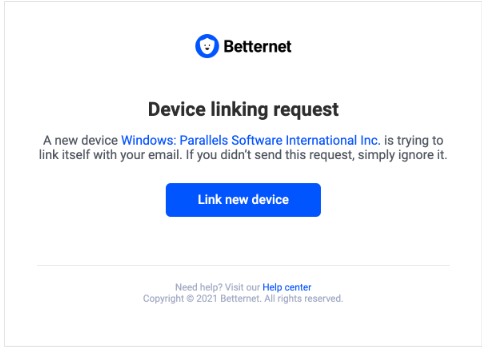 7. Choose "link device" from your email.
8. From this point on, your account will be activated.
9. Choose the server location of your preference and press the "Connect" button.
How To Set Up Betternet VPN On MacOS Device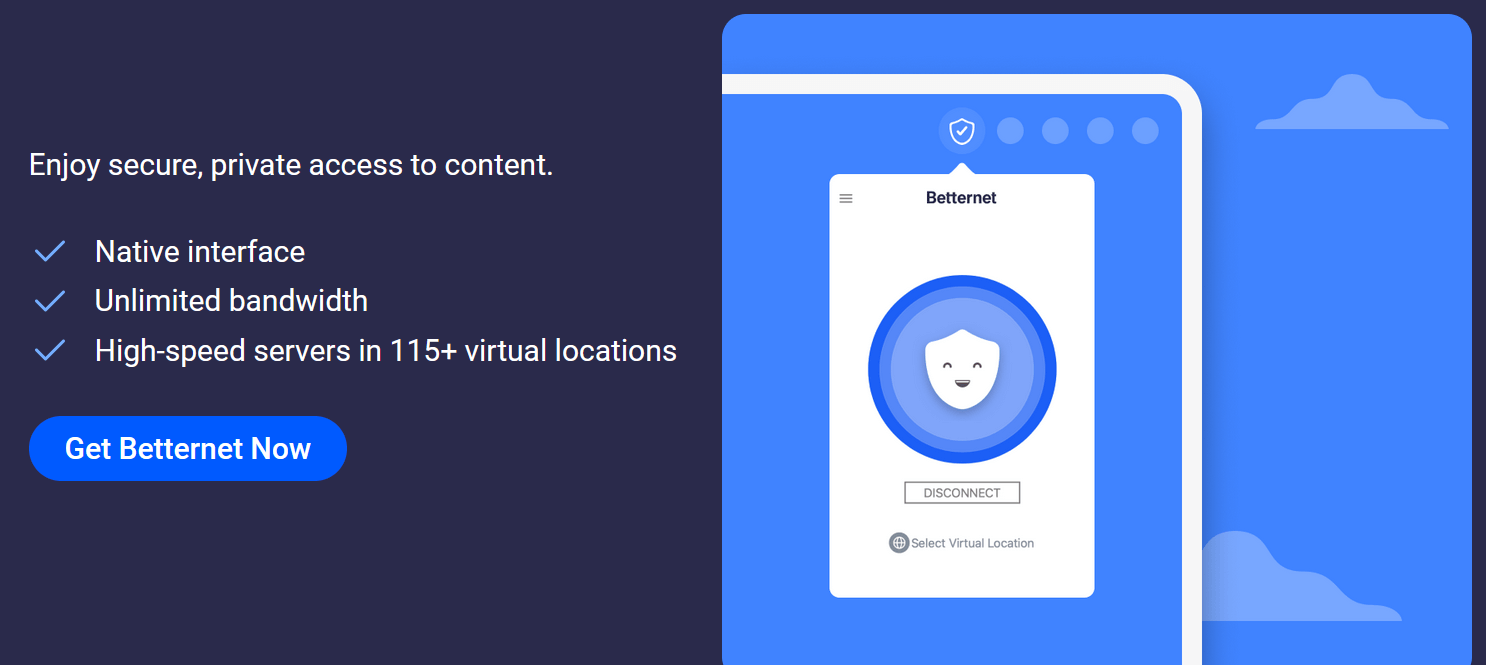 In order to make your account and use Betternet on macOS, follow the instructions below:
Downloading the Betternet VPN app on a Mac device with the help of the Mac App Store.
2. Tap on accept to move forward.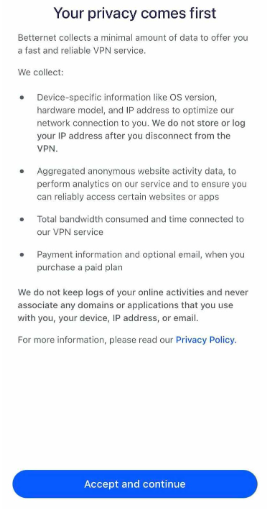 3. Kindly press the sign-in button.
4. A box asking for your email address will appear, then select Sign in once again.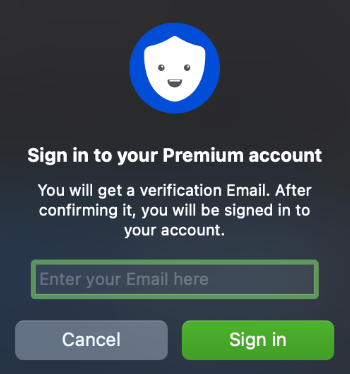 5. After you have entered your email, one link will be emailed to you.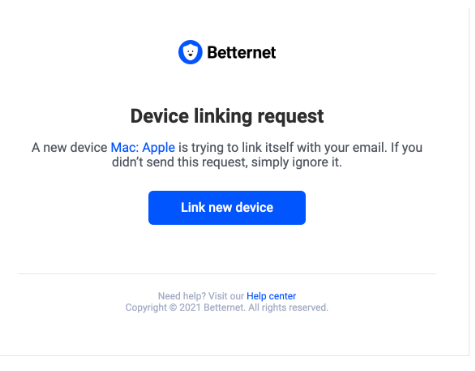 6. You choose "link device" from your email.
7. You can use it to connect to Betternet VPN.
8. Begin by selecting a server and then pressing connect.
Simple Steps To Download Betternet For iOS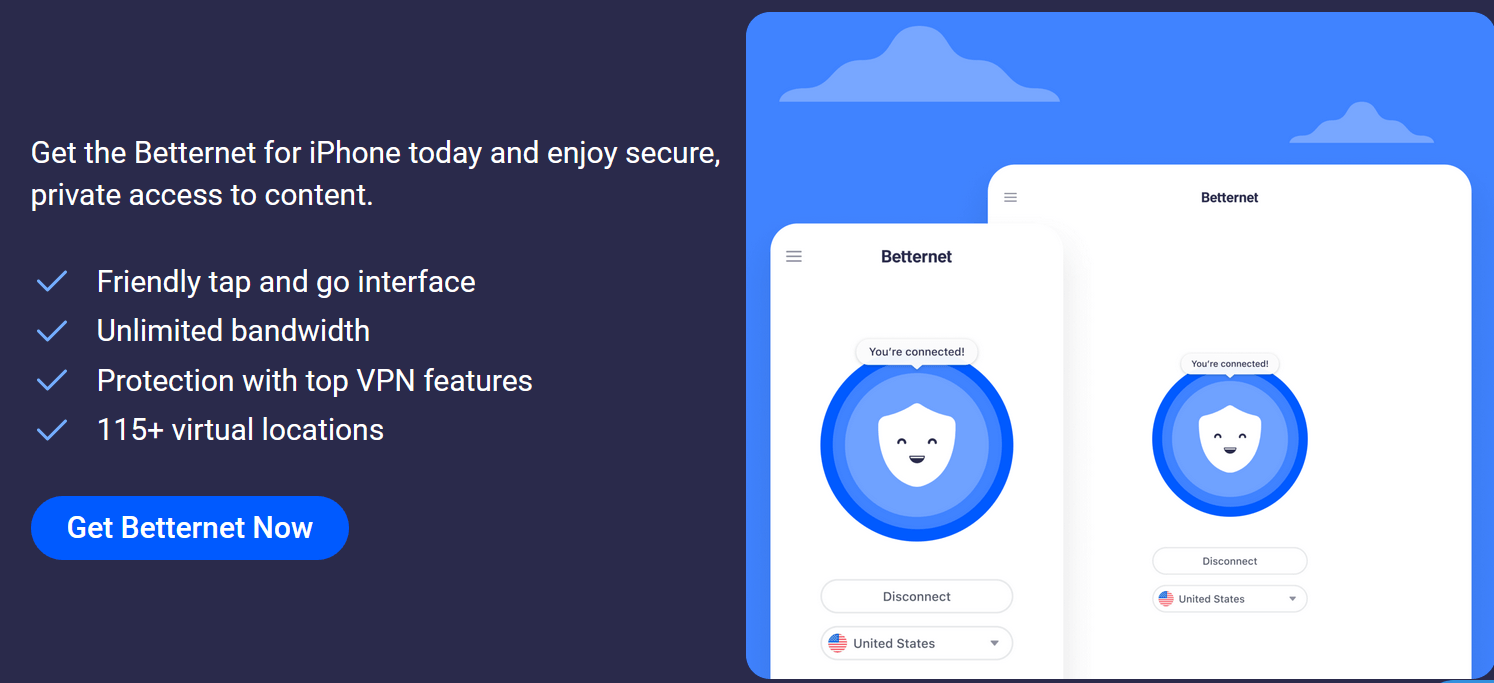 If you have an iOS device, fret no more. Simply follow the instructions below:
The very first step is to download the app. Go to App Store and search Betternet VPN.
After that, press Get in order to download and install the app.
Hit on accept to move ahead.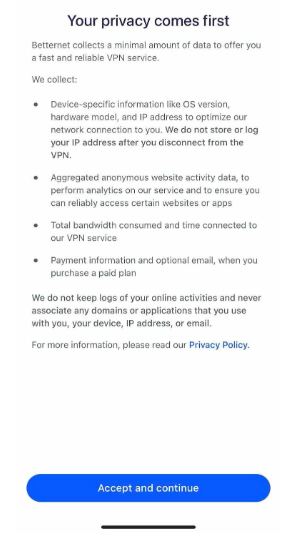 4. Press the sign-in button.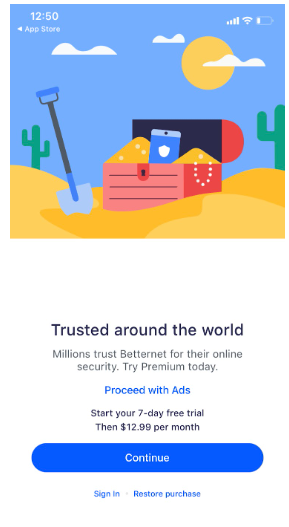 5. Now since you press "sign-in," a box asking for your email address will appear.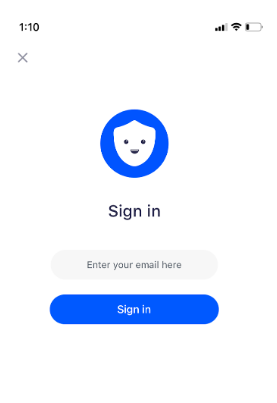 6. After this, Betternet will send you a magic link.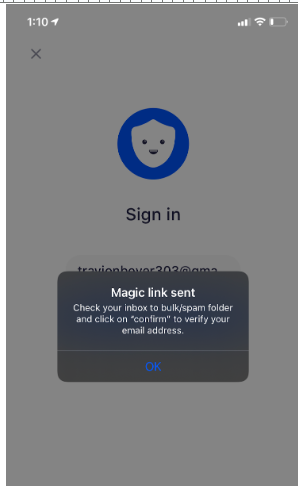 7. After you opt for the link device. This means you were successful in creating your account.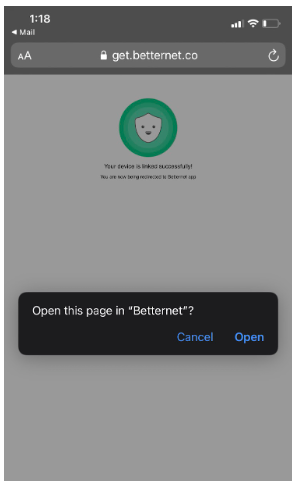 8. Now you can connect to any server.
9. Start by choosing the desired server and hitting the "Connect" button.
How To Download Betternet For Android With A Single Tap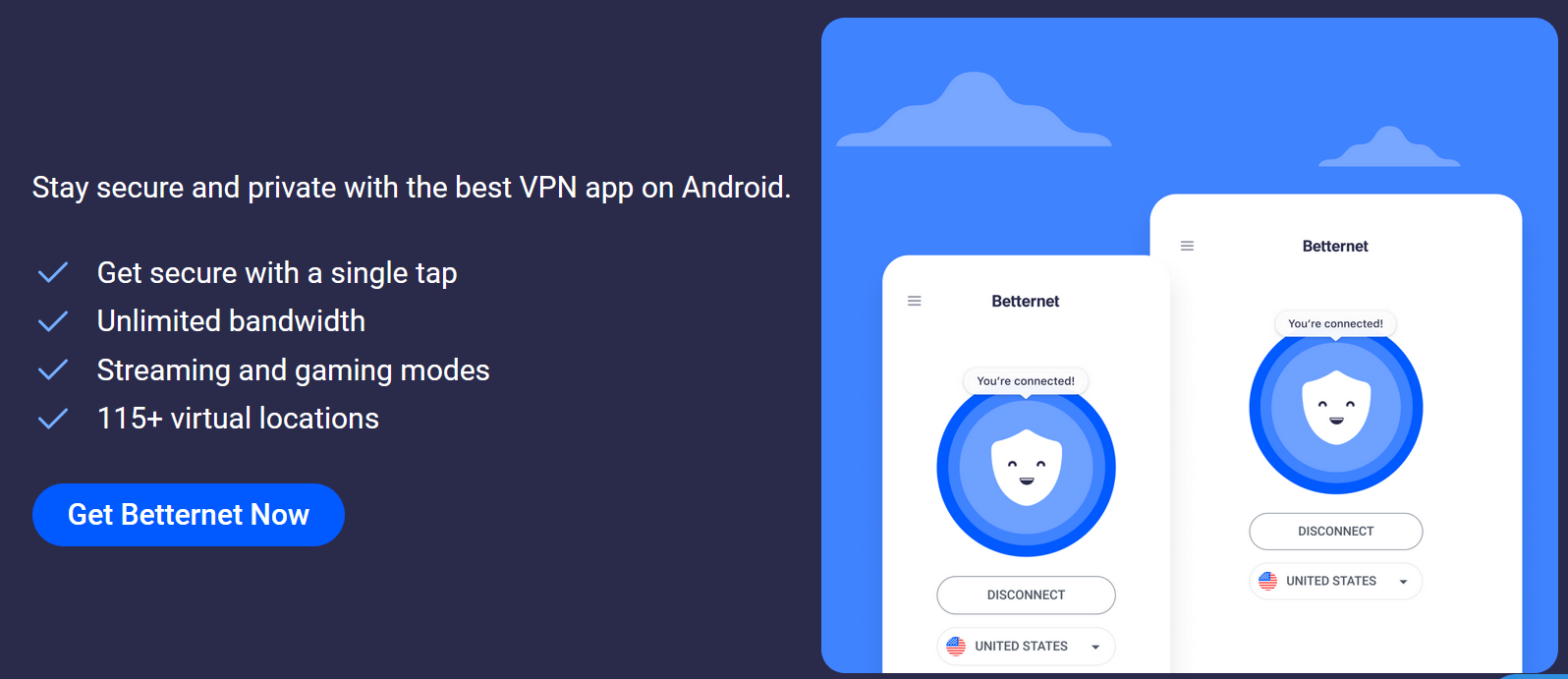 If you have an Android device, you have nothing to worry about. Simply follow the steps below:
Begin by heading towards Google Play and searching Betternet VPN.
Select the Betternet app and then choose the "Install" option to download the app.
Now, wait till the installation is complete to Open the app.
After that, Accept the Terms and Conditions and then can launch Betternet.
Then hit next and choose the checkbox that says "I trust this application".
After that, choose OK.
Now you can log in and connect to any server of your choice to use Betternet VPN.
How Betternet VPN Give Support To Their Customers?
On the website, there is an informative FAQ section. The FAQs are actually divided into categories for every supported device and are generally quite well organized, but some of them contain pretty outdated and inaccurate information.
| | |
| --- | --- |
| 24/7 Live Chat Support | No |
| 24/7 Email Support | No |
| Chatbot | No |
| Live Chat Support | No |
| Email | No |
| Email Support via Online Form | No |
| Tutorial Videos | No |
| Online Resources | Yes |
If you have any questions, you may contact customer care by email. Through the website, you may also submit a ticket.
Without a paid subscription, if you attempt to email their customer service, you will only get a brief response that states, "Sorry, but we can't respond personally"
What this means is that you're largely on your own if you're having any problems, which is a huge negative in our opinion.
We sent a question to support via email, and we received a response within a couple of hours, though there was some ambiguity.

While their customer support is not that bad, we would prefer having a live chat so that I can talk to a person if someone runs into a much more serious issue. This is the time people like talking to a real human being rather than an AI that has only automated responses.
While there is a free version, it has a daily bandwidth cap of 500 MB. As well, you can only connect to a US server, but it is decided randomly, which is awful if you want to utilize the VPN to stream video or access other geo-restricted websites.
The premium subscription, which offers limitless bandwidth and 80 servers in countries in order to connect, is also advertised, as is typical with free VPNs.
Given that it is governed by the US government and is also owned by a US corporation, Betternet VPN is largely viewed as a reliable VPN. Also, it makes use of technologies from the famous Hotspot Shield, which isn't the worst in terms of security.
Some VPNs are faster, feature-rich, and overall better than Hide.me VPN. If you want a VPN but think iPro VPN isn't for you, check out the other VPN products below.
ExpressVPN
ExpressVPN is the ideal choice for literally anyone who needs a VPN that is leading its entire market. After all, ExpressVPN has fast internet speed and safe and secure online browsing. One of its remarkable characteristics is that it has a significant portion of the server network, with well over 3000 servers scattered throughout more than 94 major countries of the world. Those who travel frequently and just want to access different region-restricted content will appreciate this vast network to be a great option. This is because it enables customers to browse the web from practically anywhere in the world.
ExpressVPN's user-friendly design, which makes it simple to use even for beginners, is another outstanding feature. In addition, it has some amazing features which are worth the price, such as DNS leak protection and a kill switch.
Final Words
If we have to be completely transparent, we believe there are many better choices than Betternet VPN. Unfortunately, the service's underlying shortcomings are not made up for by their actually quite adorable user interface.
Considering all of its promises of fast data speeds and the ability to unblock popular streaming platforms, Betternet VPN blatantly falls short of expectations.
Their system for OS is also quite confusing. It offers different features for different Systems.
If you're using any other System other than Windows, you're out of luck because only the Windows app ver contains extra capabilities like split tunneling and a kill switch.
In conclusion, both Betternet VPN's free and premium versions offer nothing that its competitor VPN services don't offer. In fact, their competitors do it even better. While casually browsing, encrypting your data is acceptable, but not for much else. This is why it isn't a VPN we will recommend.