HMA VPN is a reasonably much reliable VPN with good features. It has military-grade encryption, supports torrenting, and has a good number of servers.
Additionally, it has a no-logs policy which has undergone a third-party assessment. Regretfully, HMA doesn't support WireGuard tunneling, has some erratic speeds, and has trouble with the majority of streaming services.
Previously branded as Hidemyass, HMA VPN quickly established itself as one of the most renowned brands in the VPN sector, and it just didn't do that because of its cheeky name. The top VPNs, such as NordVPN, guarantee far higher bandwidth retention rates, integrate secure tunneling technologies, and permit you to stream Geo-restricted content, so keep that in mind when selecting a VPN.

However, if we look at HMA, they offer more than 1000 servers in over 290 different locations. In actuality, practically every country is covered by the VPN service and if you want to know more about HMA VPN and how it works, keep on reading to find out if it is a good investment. In our HMA VPN review, we'll examine everything from its streaming capability to how many OS it is compatible with. All done to answer the question of whether HMA is deserving of a spot on our list of the top VPNs in the near future.
| | |
| --- | --- |
| Does VPN keep logs? | No |
| Country of Origin | United Kingdom |
| Amount of servers | 1040+ |
| Simultaneously Connection | 5 |
| Money Back Guarantee | 30 Days |
| Customer Support | Via email |
| Cost | 2.99 USD/month |
The Most Recommended Alternatives To HMA VPN
Pick The HMA Plan That Works For You
HMA VPN's $2.99 per month price ranks amongst one of the lowest in the market, but you'll easily only get to pay this when you are preparing to sign up for three whole years.
We don't think many people are ready to commit to a single VPN for as long as that—longer that's than some marriages last.
| | |
| --- | --- |
| Subscription | Price |
| 1-month plan | $11.99/month |
| 6-month plan | $8.99/month |
| 12-month plan | $4.99/month |
| 24-month plan | $3.99/month |
| 36-month plan | $2.99/month |
HMA VPN is also available as a monthly subscription for just $3.99 per month if you purchase the 24-month plan or $4.99 if you purchase the 12-month plan. Other plans cost at least $8.99 per month for their six-month long subscription and a whopping $11.99 for one month, which is noticeably more expensive.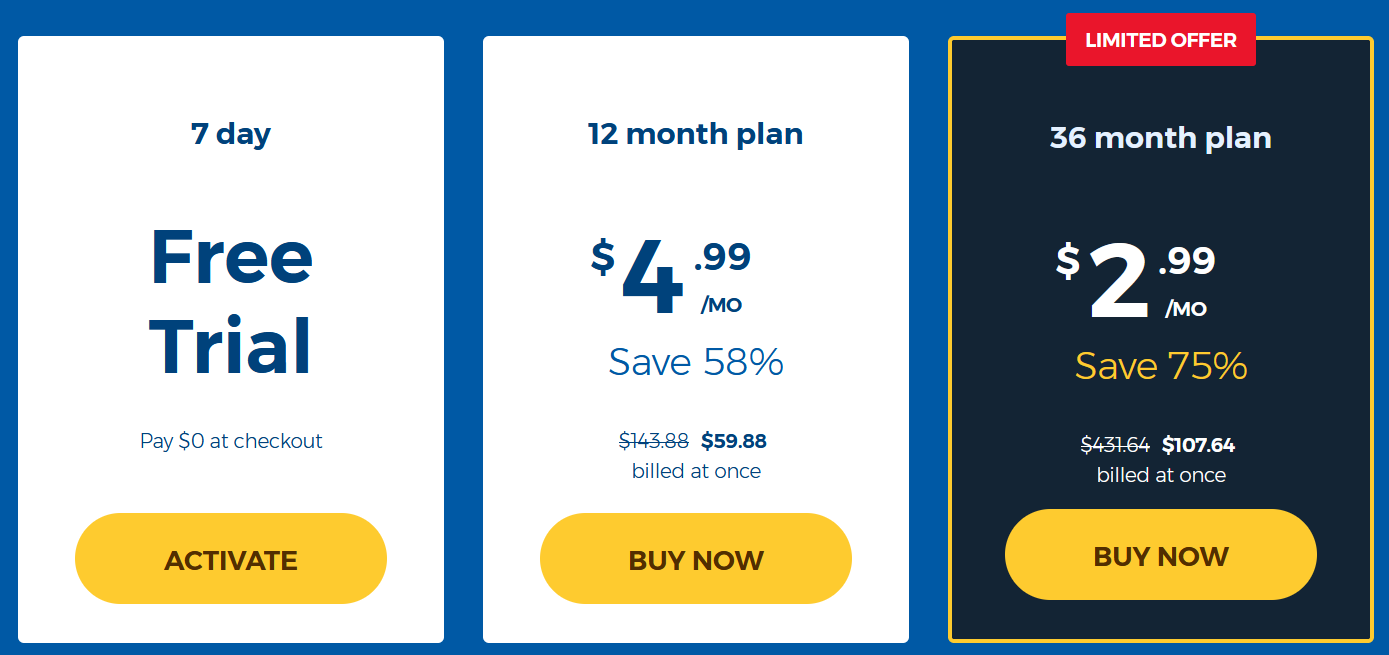 The fact that HMA VPN customers in the United States are not eligible for their free 7-day trial version, which is offered to their users in the UK and some other nations, is something very intriguing. The trial version isn't offered haphazardly, though; you must still provide your payment information and act quickly to end your membership before the VPN costs you for a full year after the trial time.
Speaking of canceling, the HMA VPN gives all customers a 30-day money-back guarantee, giving you more than enough time to choose whether the service meets your demands. It's also important to note that HMA VPN offers a variety of payment options and supports up to five simultaneous connections. This means now, whether you have credit cards, debit cards, PayPal wire transfers, or any other option, you are good to go with HMA.
The Number Of Servers and Locations Across The World
When we compare HMA with various other renowned VPNs, its collection of locations is quite remarkable. Currently, they provide 210 territories and have up to 1080 servers.
| Regions | Amount of Countries |
| --- | --- |
| Europe | 50 |
| Asia Pacific | 54 |
| Middle East | 15 |
| Africa | 43 |
| North America | 27 |
| South America | 29 |
The majority of HMA's servers are virtual. In simple words, the server's actual location differs from its Geo-location data. That is inevitable in some circumstances; for instance, having a VPN server is just not viable in some nations without jeopardizing user privacy, such as North Korea or Russia. HMA presents a list of the servers sorted by world region so that you can choose the location of the server of your choice.
This makes it very easy to either choose one according to the ones near you and also if there is a particular region whose platform you want to unblock. A server that is primarily focused on P2P document sharing or streaming is another option, albeit the variety of these servers might be a little greater.
How Can I Watch Netflix by Using HMA VPN Service
One thing you need to note is that not all of the platforms can be unblocked by HMA. Even when it could unblock, we had to wait quite a while for the streaming quality to get better and the buffering to end.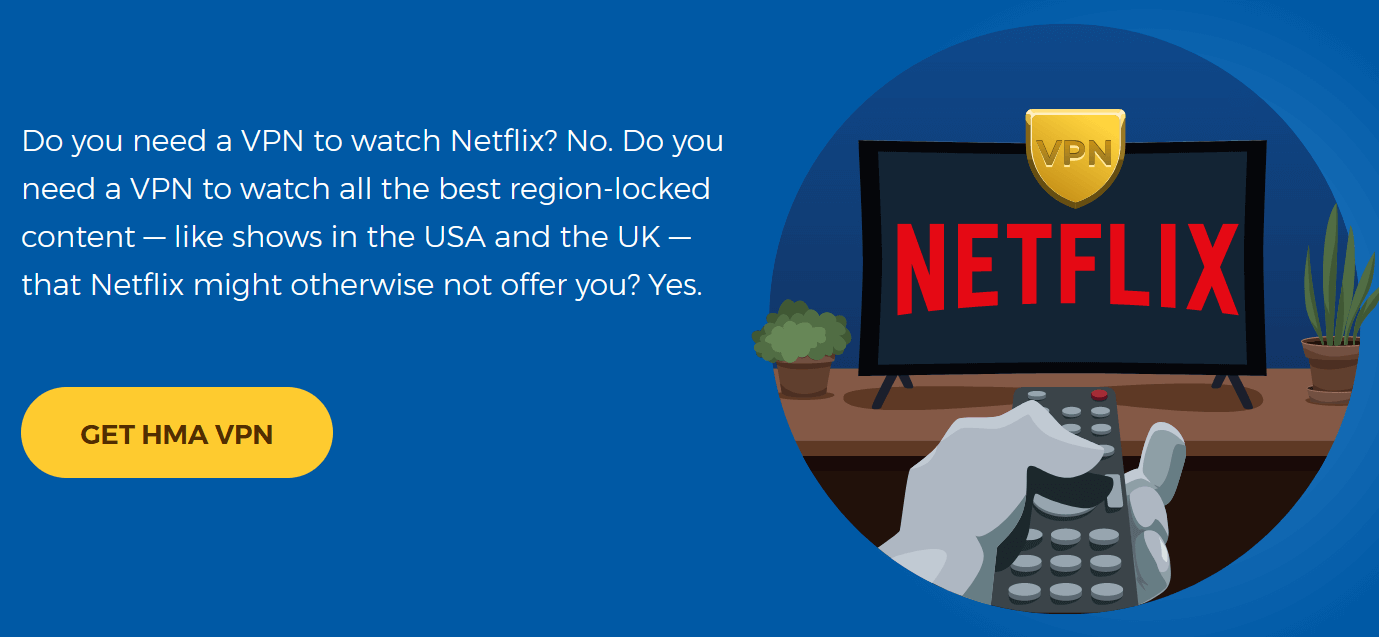 When it comes to streaming Netflix, there are six streaming-friendly server locations that you can use with HMA VPN. There are about four in the US, one in the UK—Donkey Town, which is an actual place—and one in Germany (Frankfurt). These servers are specially made in order to successfully get around VPN restrictions on streaming websites.
They propose that you will not need to go through various servers before finding the perfect one to stream. However, while using these six streaming servers, we were not that happy with their effectiveness. These servers can only unblock the three most popular streaming services.
ESPN, Netflix, and YouTube were Unblocked by HMA.
Now let's get into American Netflix. At the same time, trying to watch a TV series on Netflix after unblocking it with ease using HMA's streamlined streaming servers in Miami, Liberty Island, and New York. The series took about ten to fifteen seconds to load, and initially, it appeared a little grainy, but after a while, the clarity improved. Since these servers are located far from where we reside, so having a longer loading time is something we anticipated already.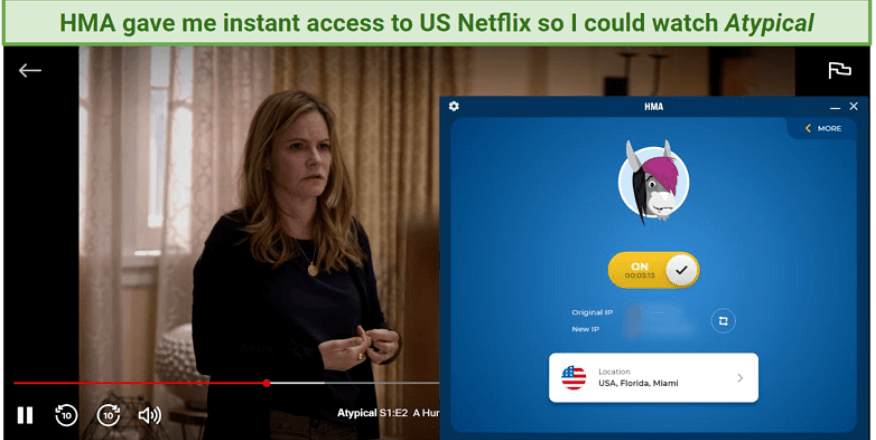 Additionally, we tried watching Netflix on the Donkey Town and Frankfurt servers and were instantly able to access their libraries. In general, HMA did an excellent job of unblocking various Netflix libraries.
The UI And Ease Of Use
With the possible exception of Linux, all of the HMA VPN apps share a lot of similarities when it comes to design and functionality and design. HMA offers a mascot that, depending on whether you have the VPN on, changes its look.

Given that HMA stands for HideMyAss, it is fairly evident why the animal donkey was chosen, which makes the app a bit humorous.
How To Install and Use HMA For Chrome and Firefox Extensions
Chrome and Firefox extensions are also available on HMA VPN. These are pretty standard and provide you with a choice of five different servers. Additionally, they provide keyboard shortcuts, WebRTC blocking, and the option to connect instantly to a particular proxy while visiting a particular website.
These web extensions of HMA VPN dependably unblock US Netflix, offer unlimited bandwidth, and, the best part of it, all cost nothing.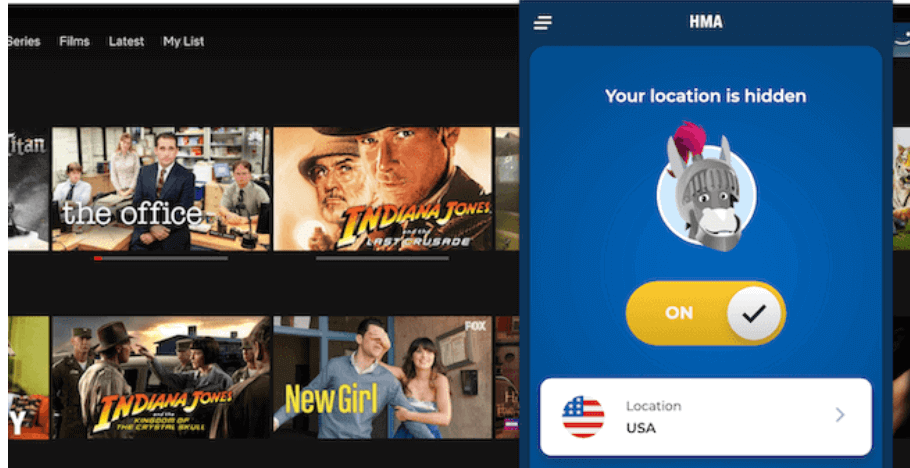 The free web proxy from HMA unblocks US Netflix. However, the browser plugin is only compatible with the following five VPN server locations:
Paris, France
Frankfurt, Germany
Amsterdam, Netherlands
London, UK
New York, US
It is important to note that the HMA VPN browser extensions are merely web proxies, not VPNs, so be aware of that. This means that they will only help in the browser, not for any other activity.
Similarly, using the HMA web proxy simply involves Geo-spoofing your location. Your browser activity is not concealed by web proxies because they do not encrypt your web traffic. The web proxy used by HideMyAss also logs an excessive amount of data, which can be a big issue.
Your IP address of origin
Websites you visited, their encoded URLs
Files accessed on such websites that you visited
This is something we do not like about it, and we object to HMA's extremely intrusive data collecting. Use just HMA's VPN extensions to unblock geo-restricted streaming websites, as this is what we strongly advise.
How to Download and Use HMA VPN For iPhone/iPad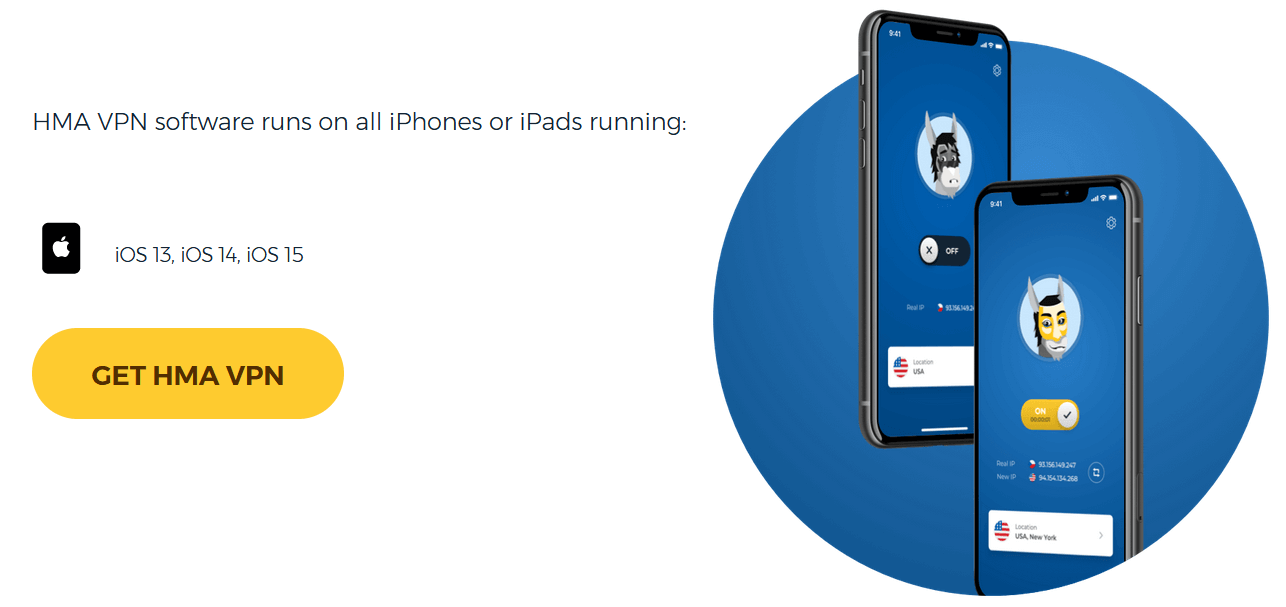 If you own an iPhone or an Ipad and want to install and know more about HMA VPN on this device, read the guide below.
Begin by picking a completely risk-free HMA plan. Then go to the App Store.
Search for HMA VPN in the search bar.
Click on the download button in order to install HMA.
After it finishes installing, Open the app.
Now log in with the credentials you used to get a plan.
Once you are in, connect to the server of your choice.
This is it! Now browsing freely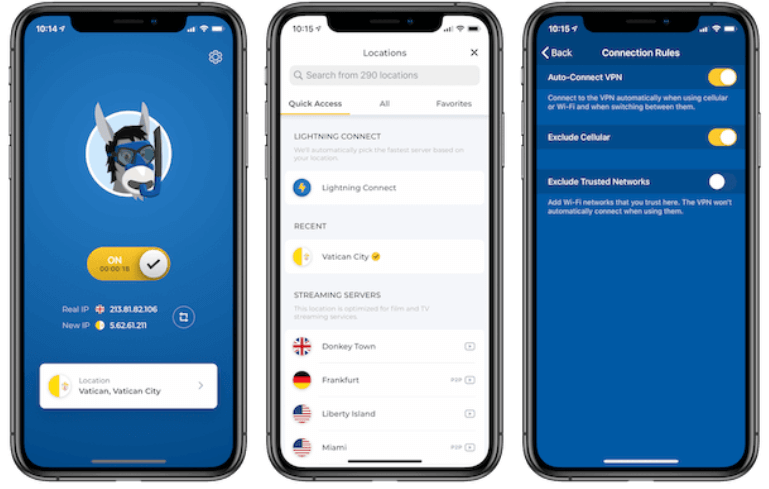 While retaining the friendly design, HideMyAss' app for iPhone and iPad is the least functional of all its VPN apps — providing almost no configuration and options. In fact, 'connection rules' is the only setting and is limited to basic toggles relating to cellular data and trusted WiFi networks.
The HideMyAss iOS app has the following major limitations:
Cannot use OpenVPN
No kill switch
No split tunneling
The HideMyAss app for iPhone and iPad has quite a nice look but is one of the least functionals of all its VPN apps, with almost minimal configuration and choices. Unfortunately, the only setting available is "connection rules" containing only the most fundamental toggles for cellular data and reliable WiFi networks.
The iOS app for HideMyAss has the following significant drawbacks:
OpenVPN cannot be used
No kill switch
doesn't have split tunneling
Because iOS lacks a kill switch, when the HMA VPN connection drops, it also reveals your actual IP address, which is a big problem.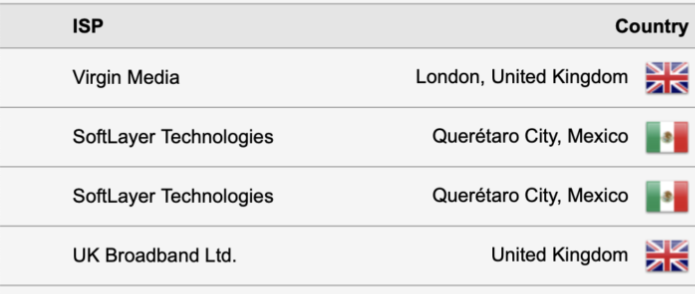 We are also dissatisfied that the sole VPN protocol provided is IKEv2. IKEV2 is quite outdated and less secure than OpenVPN, which is still our top choice. However, the HideMyAss iOS app is adequate if you're new to using VPNs or just need a VPN to access US Netflix. There are way better iPhone VPNs available with more settings and security.
How To Set Up HMA VPN For macOS
If you own macOS and want to install and know more about HMA VPN on this device, read the guide below:
Start by picking a completely risk-free HMA plan.
Then go to your App Store.
Search for HMA VPN in the search bar.
Choose the first option you see.
Then, Click on the download button to install HMA.
Double-click on the HMA app when located in the Downloads folder.
Now log in with the credentials you used to get a plan.
Once you are in, connect to the server of your choice,
This is it! Now browsing freely.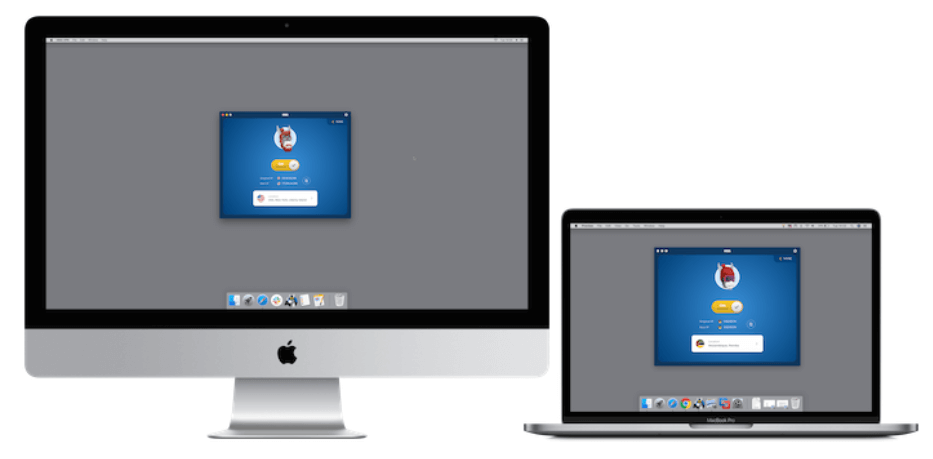 This has to be one of the best-designed and most user-friendly VPN apps we've tested on Macbooks. In our tests, the macOS app was also highly stable and operated without crashing.
However, the following areas are where the Mac application falls short of the Windows client:
Only works with the obsolete VPN protocol IKEv2
Split tunneling is absent
Has no kill switch that is specific to an app.
The kill switch on macOS is not working.
Particularly disappointing is the absence of the kill switch and absence of the OpenVPN protocol. As mentioned previously, compared to OpenVPN, IKEv2 is older and less secure, and we always recommend OpenVPN.
How To Install HMA For Any Windows, Desktop, and PC

If you own a Windows PC or laptop and want to install and know more about HMA VPN on this device, read the guide below.
Begin by picking a completely risk-free HMA plan.
Now download the HMA VPN App for Windows.
Click on the up arrow and Open to launch their .exe file in order to extract it.
Please Select Yes to proceed with the approval.
Your OS will begin installing the HMA VPN app.
Now log in with the credentials you used to get a plan.
Once you are in, connect to the server of your choice,
This is it! Now browsing freely.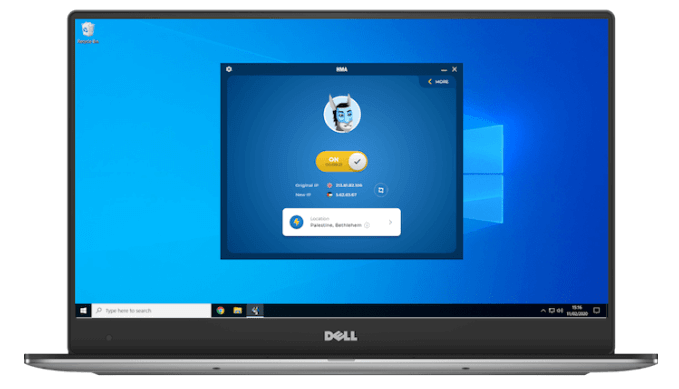 The HMA software for Windows is feature-rich, simple to use, and beautifully designed. A number of security settings are quite advantageous for the Windows app. Our favorites are the system-wide and app-specific kill switches, as well as IP Shuffle, which periodically changes your IP.
OpenVPN, which best combines speed and security, is only available for Windows clients. While UDP is typically quicker, we advise sticking with TCP because it is much more secure than UDP.
Our second choice for protocol, WireGuard, is not supported by the HMA app. The Windows application for HideMyAss makes it simple to view the server locations and is very user-friendly. VPN servers are divided into groups, with servers designated for torrenting and streaming being plainly marked. Interestingly, split tunneling is not available on the Windows client, while it is something only there for Android users.
Download HMA For Android 6.0 (Marshmallow, API 23) Or Later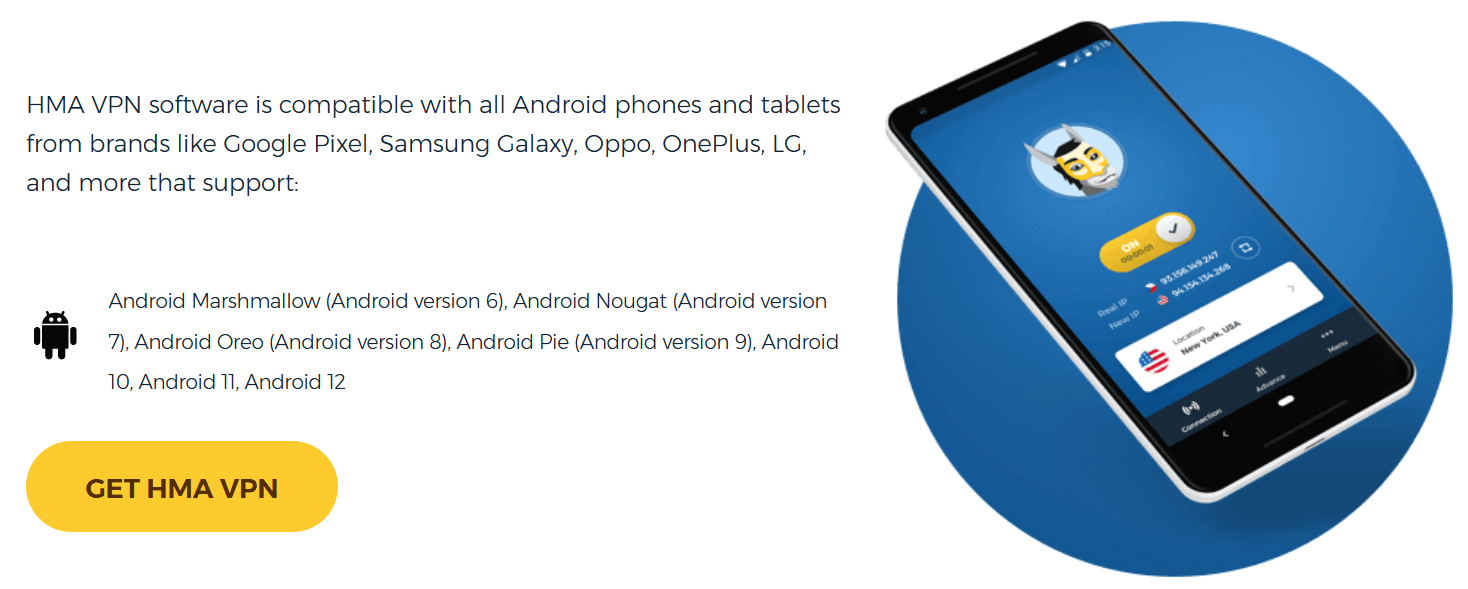 Please follow the full instructions below if you are unaware of how to install HMA VPN on your Android devices.
Start by opening your Google Play Store.
Then look for the HMA app. and choose install.
Give access to the HMA app to work completely. Kindly allow it.
Click on the HMA icon, or select Open in the Google Play store.
Now log in with the credentials you used to get a plan.
Once you are in, connect to the server of your choice,
This is it! Now browsing freely.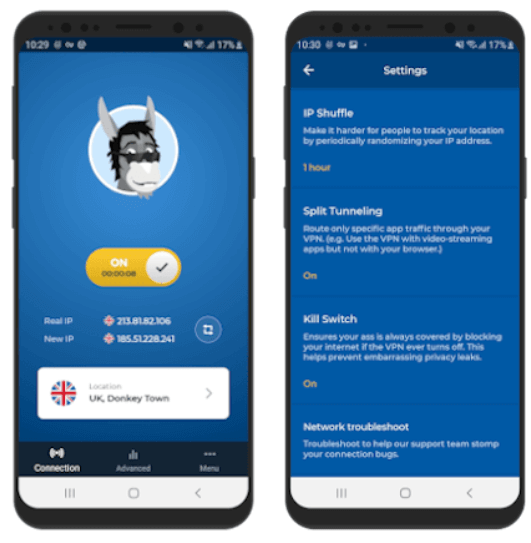 The Android version of the HideMyAss app is, without a doubt, much superior to the iOS version. The app provides much more sophisticated features and configuration options.
The Android app for HMA has the following settings:
It uses OpenVPN
Split Tunneling
IP Shuffle
Network Troubleshooting
Kill switch
These are fantastic sophisticated VPN features, and we appreciate the addition of the IP Shuffle setting to the Android app. Also, Android is the only platform that supports the VPN split tunneling feature. This setting disallows apps of your preference from using the encrypted VPN tunnel and instead using the normal internet connection.
How to Install and Download HMA VPN On FireStick
Unfortunately, HideMyAss does have an app for Fire TV gadgets. Additionally, there is no Android.apk file, making it quite impossible to side-load it on your Firestick devices.
The only method to utilize the VPN on your Apple TV or any gaming console is by installing the VPN on your home router because HMA doesn't provide a Smart DNS solution.
Setting up a VPN router is more complicated than setting up a full-fledged native application and takes some technical know-how. This is why we would recommend opting for another VPN if you have appleTV or Firestick devices.
How Does HMA Give Support To Its Customers?
| Customer Support | Availability |
| --- | --- |
| 24/7 Live Chat Support | No |
| 24/7 Email Support | No |
| Chat-bot | No |
| Live Chat Support | Yes |
| Email | No |
| Email Support via Online Form | Yes |
| Tutorial Videos | Yes |
| Online Resources | Yes |
Although HideMyAss is quite simple to install and use across all platforms, you might still come across a few problems.
Fortunately, HMA is supported by a sizable online knowledge base that features thorough explanations, frequently asked questions, and even some video walkthroughs. You can use them to solve your queries as they can be quite helpful.
Unfortunately, if you want to get in touch with humans, their customer assistance is not among the finest, and we do not recommend going for it. HMA's lately reduced their live chat feature's availability from 24/7 to just 9 am to 11 pm CET.
HideMyAss' limited 24/7 accessibility is particularly disappointing for a VPN service provider that takes pride in its extensive global server network.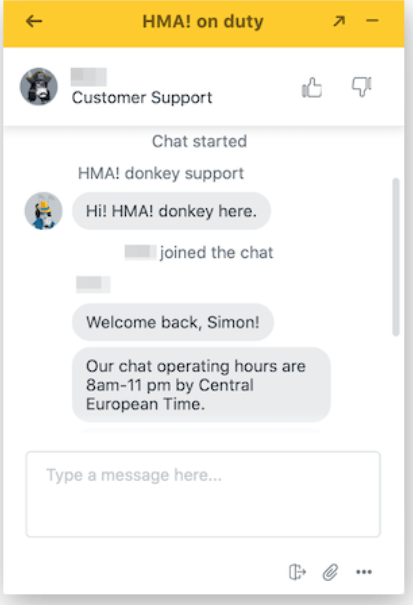 For people residing in Los Angeles, for instance, live chat is only accessible from 11 pm to 2 pm, Whereas, for Australia, it is available from 6 pm to 9 am. However, if you manage to talk to them, the live chat support staff at HMA is incredibly responsive and frequently very useful.
If you're still having trouble, you may email HideMyAss customer care or get in touch with their social media team. You can also post on the HMA community forum and get a response.
Final Words
HMA VPN is a useful tool if you are very new to the VPN game. It is great for basic needs such as masking your true IP address and maintaining your online anonymity. It fails to, however, have all the functions that a VPN should really have.
Because of this, despite its tremendous fame, HMA VPN does not deem to be on the top VPN list. For instance, its designers ought to, without a doubt, include more tunneling protocols, such as the truly missed WireGuard. Also, to have cohesiveness on each platform. For example, they have one thing on one OS app and different on another. It would really be nice if they all do the same activities as the prices are not different for each OS. Additionally, the Linux version has to be improved a lot because it is currently almost worthless.
On the plus side, one can see how HideMyAss became so well-known. It is very user-friendly, offers a huge variety of locations and servers, and is moderately priced. That being said, in today's intensely competitive Virtual private network industry, though, that is insufficient, and HMA VPN needs to significantly improve if it wants people to actually use it and not make fun of its name.
HMA VPN is quite a secure VPN because, in April 2020, it passed an independent audit and was certified as a no-logs VPN. However, it's important to note that the VPN's service is situated in the UK, which is regrettably a Five-Eyes nation when it comes to the VPN's jurisdiction. Therefore, it is in a place that is known for being the least privacy friendly.
No. Due to the lack of any unique qualities that would allow it to get past China's Great Firewall, HMA VPN is currently restricted in China.
Using a VPN is always advised for torrenting. As a result, HMA VPN offers you eight locations that are P2P-friendly. These servers are the Czech Republic, Germany, France, Netherlands, United Kingdom, USA New York, USA Washington, and USA Florida. During our tests, the initial pace of the file download was very slow, but it quickly increased to 6–9 MB/s and then stayed largely consistent.