In the cloud of VPN service providers, you must be confused to select the right one for you. Well, a newly launched Obscured VPN, has gained trust in a few days just like SurfShark VPN and others. ObscuredVPN is design to protect your online privacy, secure your internet connection, and allow you to access Geo-restricted content from anywhere in the world.
Obscured VPN uses state-of-the-art encryption technology to keep your online activities private and secure. Whether you're using public Wi-Fi or your home network, the VPN encrypts your internet traffic and routes it through our secure servers. Easy to download, install and use Apps for all devices including Android, iPhone/iPad, macOS and Windows. It has 7000+ Servers in 90+ Countries so that you can access content that may be restricted in your region.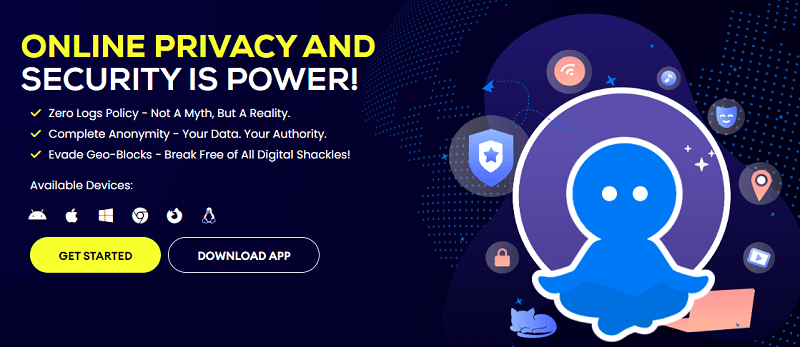 If you don't know much about Obscured VPN, Read the ObscuredVPN review till the end so you can find a VPN which allows users to bypass internet censorship and Geo-restrictions and help to access relevant content just like other best VPNs. Despite the fact it's a new VPN, it aims to provide a service that will help you to unblock all your favorite sites, you can even connect 7 devices at the same time with 1 account, like other VPN services providers Obscured VPN is also subscription-based, with different pricing options depending on the usage of your subscription and the number of devices.
How to Download, Install and Use ObscuredVPN
Are you worried about getting an Obscured VPN? If yes, don't be. This is because installing ObscuredVPN is a hassle-free process, It will only take about 1 minute to set everything up according to your device.
To get Obscured VPN, follow these simple steps:
The first thing you have to download and install the ObscuredVPN App.
Secondly, Subscribe the best plan that fits best as per your needs and budget.
Launch the app and connect to the fastest server location.
You are now connected to ObscuredVPN, enjoy a secure and private internet experience!
ObscuredVPN Advance Features Review
Access to the global content can be difficult due to the restrictions and content licensing agreements. However, Obscured VPN is providing a solution by bypassing these restrictions and making your content accessible from anywhere in the world.
ObscuredVPN has a strong privacy setup or not? Well, Obscured VPN uses the best encryption technology to secure your internet traffic and prevent anyone from intercepting it.
All electronic devices you own, such as smartphones, TVs, and PCs, are safe because you can use ObscuredVPN app with up to 7 devices under one account. This allows you to protect your entire home with minimal effort.
Your information is always safe thanks to the kill switch. Worrying about amputations is a thing of the past. If your VPN connection drops, Kill Switch also blocks access to the internet, protecting your personal data from exposure.
ObscuredVPN Best Pricing Deal Review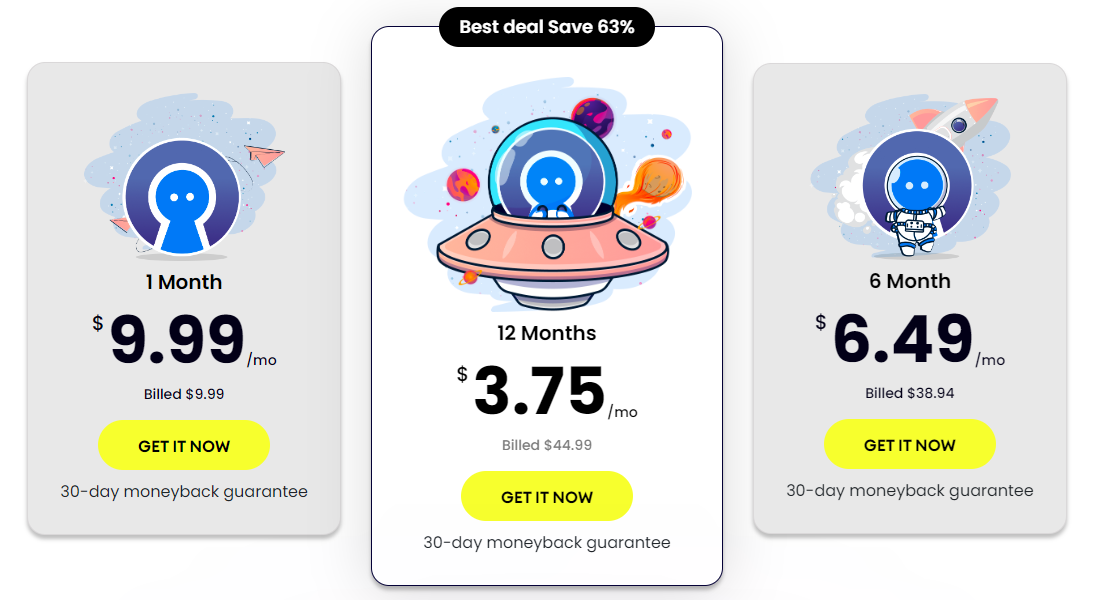 If you are looking for a VPN which offers economical packages, ObscuredVPN is the best option after SurfShark VPN. Apart from SurfShark, ObscuredVPN is also in the list which promises to provide all the advanced features along with budget-friendly subscription packages.
It's a new VPN Service but offers the same features as the trending VPNs. If you are looking for subscription packages here is the list:
| Packages | Pricing | Billed |
| --- | --- | --- |
| 1-Month | $9.99/month | $9.99/monthly |
| 6-Month | $6.49/month | $38.94/annually |
| 12-Month (Yearly) | $3.75/month | $44.99/annually |
ObscuredVPN Browser (Chrome and Firefox) Extension Review
If you are looking for the best VPN for your browser, you get ObscuredVPN at this time. This is because it has recently been introduced and works with your web browser by providing a browser extension that allows you to easily connect to a VPN server and encrypt your internet traffic.
With the ObscuredVPN proxy add-on for Chrome and Firefox, you can do more than just protect your anonymity on the web. It also offers complete digital freedom. Just like NordVPN, it also makes no difference whether the restrictions come from your government, ISP, institution, or employer. The Obscured VPN lets Firefox and Chrome bypass these restrictions.
How to Get an ObscuredVPN Firefox Extension?
To get Obscured VPN in Firefox, follow these simple steps:
Firstly, Go to the Firefox Add-ons section.
Then, type ObscuredVPN in the search bar.
Click on "Add to Firefox" button for installing the extension.
Confirm the installation of the extension.
Now you will see a small ObscuredVPN icon in your Firefox toolbar.
Select the server location and click Connect to start browsing.
How to install Obscured VPN for Chrome?
Obscured VPN has a Chrome extension that allows you to use the VPN directly from your Google Chrome browser. To get the Obscured VPN Chrome follow the steps below:
Open Chrome web store and search for "ObscuredVPN".
Click "Add to Chrome" next to the ObscuredVPN extension.
Click the ObscuredVPN icon in your browser's toolbar and Sign-in.
Now, select the server location and enjoy your browsing.
ObscuredVPN Apps Review by our Experts
Get step-by-step tutorials for every device which will help you to set up ObscuredVPN on your devices and enjoy its great features.
1. ObscuredVPN Windows App Review

Firstly, go to the ObscuredVPN website and sign up for an account.
Now you need to download and install the window app.
Once installed, launch the Obscured VPN app.
Sign in to your account with your credentials.
Once logged in, Now select a server location from a list of available servers.
Connect to establish a VPN connection, now you can browse the web safely and privately.
2. ObscuredVPN Android App Review
For android users installing ObscuredVPN is not a big challenge. If you want to know how? To install ObscuredVPN on your Android device, follow these steps: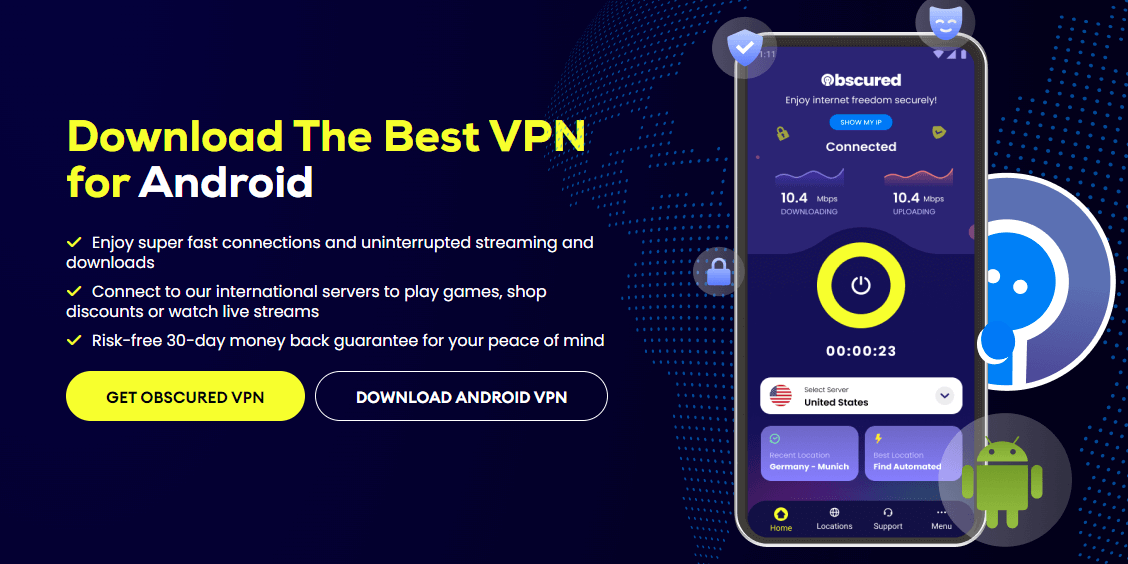 Search and download "ObscuredVPN" App from Google Play Store.
Tap "Install" to start the installation process, launch the ObscuredVPN App.
Sign-in with your account or create a new one if you don't already have one.
Connect to the fastest server location from the list of servers. Once connected, Obscured VPN allows you to access the internet securely and privately.
3. ObscuredVPN iPhone App Review
If you are an iPhone user and want to download Obscured VPN, follow the steps below:
Go to the Apple Store and search for "ObscuredVPN".
Download and install the App.
Sign in to your account and select a server location from a list of available servers.
Tap the "Connect" button to establish a VPN connection.
Browse the web safely and securely with ObscuredVPN on your iPhone.
4. ObscuredVPN macOS App Review
To install ObscuredVPN on on your Mac, follow these steps:
Register an account on ObscuredVPN if you have not done so already.
Now, download the Obscured VPN app for Mac from website or Mac App Store.
Follow the instructions to complete the installation process, you may need to enter your Mac password to authorize the installation.
Open the App and sign-in with your credentials.
Connect to the selected server location. Once connected, you can use Obscured VPN to access the internet safely and privately.
How Does ObscuredVPN Give Support to Users?
Obscured VPN strives to provide excellent support and assistance to its customers when needed and tries to beat the famous and old VPN service. The newly launched VPN aims to offer multiple support channels including a live chat, email support, and help center just to solve all your issues of yours.
| Customer Support | Availability |
| --- | --- |
| 24/7 Live Chat Support | YES |
| Email Support | YES |
| Help Center | YES |
24/7 Live Chat: Obscured VPN offers its customers 24/7 live chat support just like NordVPN or ExpressVPN. If you have any questions or problems with your VPN service, you can chat with our support agents in real time for assistance.
Email support: Customers can also contact Obscured VPN support via email. You can submit a support request on the Obscured VPN website. A support agent will contact you as soon as possible.
Is There Any Better Alternative to ObscuredVPN?
Some VPNs are faster, feature-rich, and overall better than ObscuredVPN. Check out the alternatives below:
No, you can't make your own bundle for now. ObscuredVPN offers its packages at different prices.
Yes, it's a trust-able VPN, based in Singapore. It aims to break new ground in the cybersecurity industry by creating products you can trust. ObscuredVPN offers various features such as unlimited bandwidth, multiple server locations, and multiple device support which make it a trust-able VPN.
Final Words
If you are looking for an ObscuredVPN review, you should know that it's an affordable and safe VPN just like SurfShark. Obscured has one of the best plans which are very pocket friendly. Despite the fact, it is a bit slow VPN but as it is a brand-new VPN it still has room for improvement and they are working on the loopholes. As their mission is to enable everyone to live in a world where their online presence is fully autonomous. That's why they want to make digital security more accessible and inclusive as the cause depends on a world where everyone has access to a secure, open, and unrestricted internet.