There are a lots of best VPNs introducing every day but the few are reliable, fast and secure like we have "PrivadoVPN", so If you are really concern about your online security then PrivadoVPN is the answer. PrivadoVPN is relatively a new entrant to the commercial VPN space, founded in 2019 and is based in Switzerland. It's clear from its marketing that it focuses on privacy and security and makes sure it offers the best service to its customers.
If you don't know much about PrivadoVPN, Read a detailed PrivadoVPN review so you can find a service that will help you to unblock all your favorite sites. This is because it provides online privacy and security by encrypting your internet traffic and masking your IP address. This service also allows you to browse the web anonymously and access content restricted in your region.
Let's Discuss The Advance Features Of PrivadoVPN
PrivadoVPN offers a bunch of multiple features to ensure your privacy and security on the Internet. The main features of PrivadoVPN are: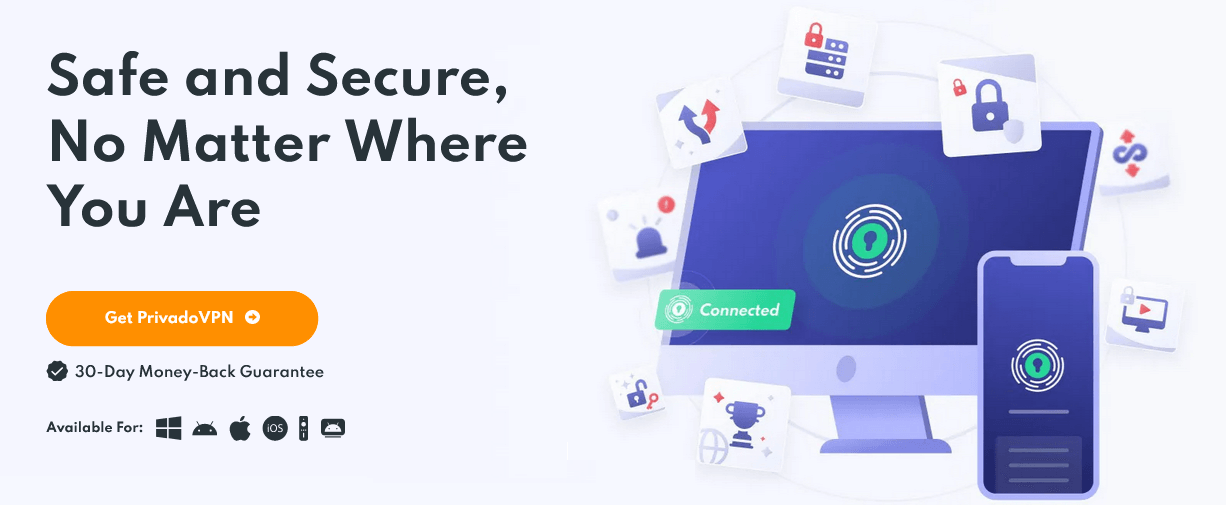 No Logs Policy: PrivadoVPN keeps no-logs of any user's activity or connection data to ensure user's privacy.
Strong Encryption: Uses AES-256 encryption to secure your online traffic, this is said to be one of the strongest encryption standards available.
Multiple Protocols: Supports multiple VPN protocols, such as OpenVPN and IKEv2, providing users with flexibility across different devices and operating systems.
DNS Leak Protection: It includes DNS leak protection, which prevents your DNS requests from being passed on to your Internet Service Provider (ISP) or other third parties.
How To Get and Connect PrivadoVPN
Are you worried about getting a PrivadoVPN? If yes, don't be. This is because installing PrivadoVPN is a hassle-free process. It will only take about 2-3 minutes to setup everything up as per your device, all you'll need to do is create an account and download it. After installation, log into your premium account and start using it. Follow these five easy steps to set up your VPN today.
Subscribe a PrivadoVPN, Choose the plan that best fits your needs and budget.
Create an Account and enter the required payment details.
Now, Download, Install The PrivadoVPN App.
Launch the App, select the server location and Connect it.
You are now connected to PrivadoVPN and enjoy a secure and private internet experience!
Get The Best PrivadoVPN Deals All The Time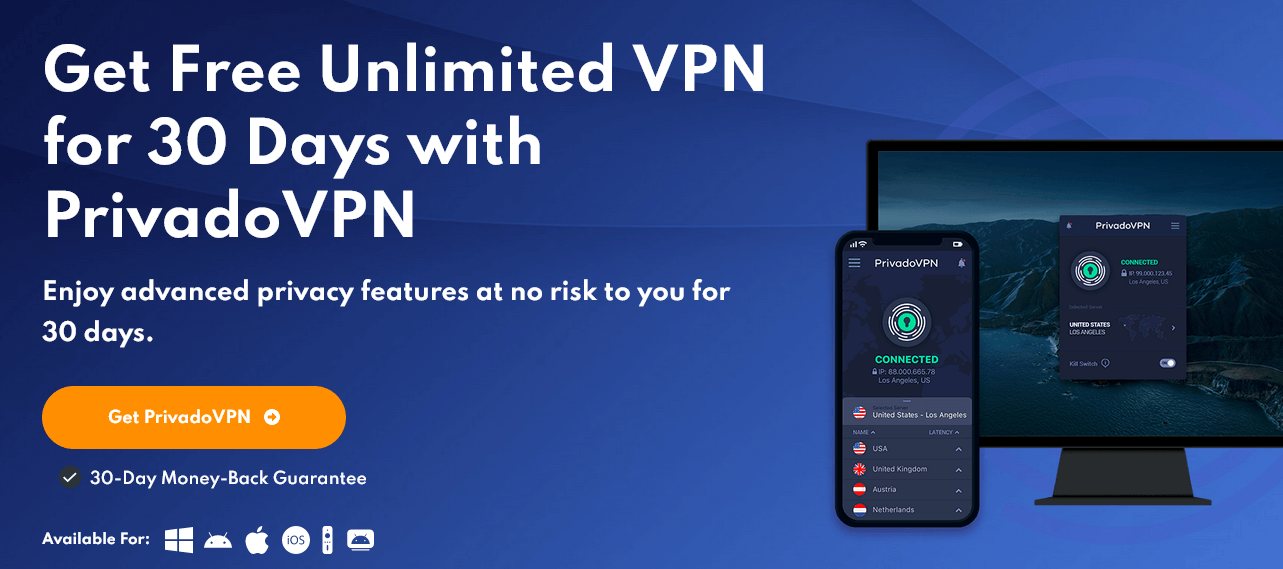 PrivadoVPN is known for its best price subscription plans and one free tier.
Free accounts offer 10GB every 30 days. Access 12 servers from PrivadoVPN on a single device. That's not a bad thing at all if you want to try out the service without any obligations. Using up to 10GB via VPN will give you a good idea of ​​whether to switch to a paid plan.
Monthly Plan: $7.99
Annually Plan: $2.50/month
2-Years Plan: $1.99/month (Save 82%)
Some Features are: Access to all servers, up to 10 concurrent connections, and SOCKS5 proxies. Both paid plans come with a 30-day money-back guarantee. As is often the case with smaller VPN providers, PrivadoVPN overcharges for its service. You can sign up with a premium VPN provider for less.
List Of Best Servers To Connect PrivadoVPN
If you are looking to know how many servers does PrivadoVPN offer? PrivadoVPN has several servers in different countries.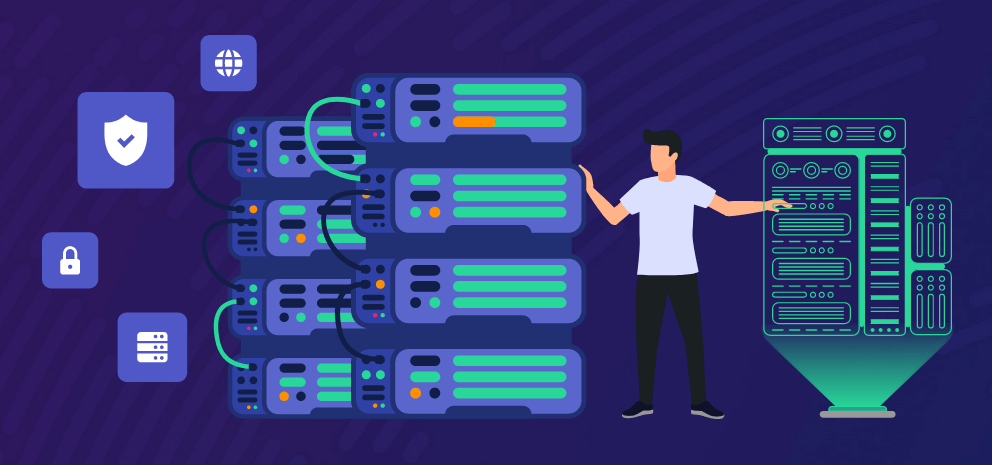 Below are the countries where we have PrivadoVPN servers.
America: Argentina, Brazil, Canada, Mexico, USA.
Europe: Albania, Austria, Belgium, Bulgaria, Czech Republic, Denmark, Germany, Finland, France, Greece, Hungary, Ireland, Italy, Latvia, Netherlands, Norway, Poland, Portugal, Romania, Serbia, Slovakia, Slovenia, Spain, Switzerland, and England.
Asia Pacific: Australia, Hong Kong SAR, India, Indonesia, Japan, Malaysia, New Zealand, Philippines, Singapore, Thailand, Taiwan.
Middle East and Africa: Israel, Turkey, South Africa.
With so many locations, it's easy to find a server that supports streaming or P2P file sharing when you need it.
How To Use PrivadoVPN To Access Netflix US
If you are searching a Speedy VPN to access US Netflix from anywhere in the world, then PrivadoVPN is only the option for you to unblock Netflix content that may be restricted in your region. In streaming tests, PrivadoVPN streamed video content from US and UK libraries very instantly. By following the simple steps you can easily install and use a VPN to access Netflix.
Signup for a PrivadoVPN, work for Up to 10 Devices.
Download and Install The PrivadoVPN (Android, iOS, Windows etc) App.
Launch the App and log-into the account.
Select a US server from the list of available servers.
Open Netflix on the website or app and enjoy streaming your video content.
PrivadoVPN Windows App Review

Subscribe for a PrivadoVPN Account and Download the Windows App.
Run the installer file and follow the instructions to install the App.
Sign-in to your account and select a server location from a list.
Once the VPN connection is established, you can browse the web safely and privately.
PrivadoVPN Android App Review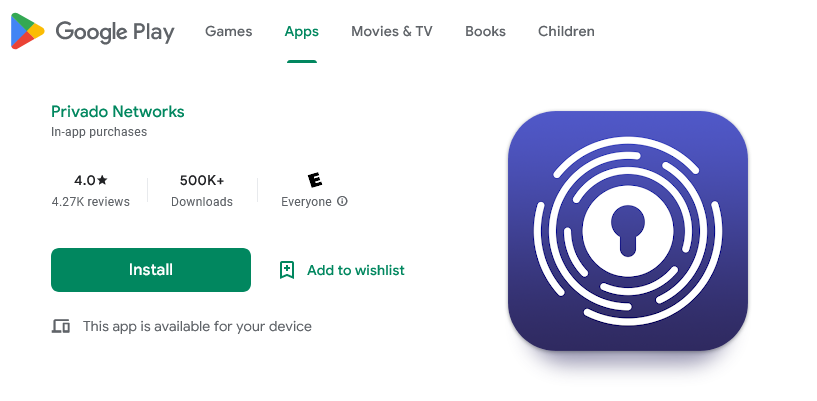 For Android users installing PrivadoVPN is not a big challenge. If you want to know how? To install PrivadoVPN on your Android device, follow these steps:
First, Subscribe to a PrivadoVPN plan that fits to you.
Now, Open the Google Play Store and search for a VPN.
Tap "Install" to start the installation process.
Once installed, tap Open to launch the PrivadoVPN app.
Sign-in with your PrivadoVPN account.
Connect to the selected server location from the list. Once connected, PrivadoVPN allows you to access the Internet securely and privately.
PrivadoVPN iPhone (iOS Devices) App Review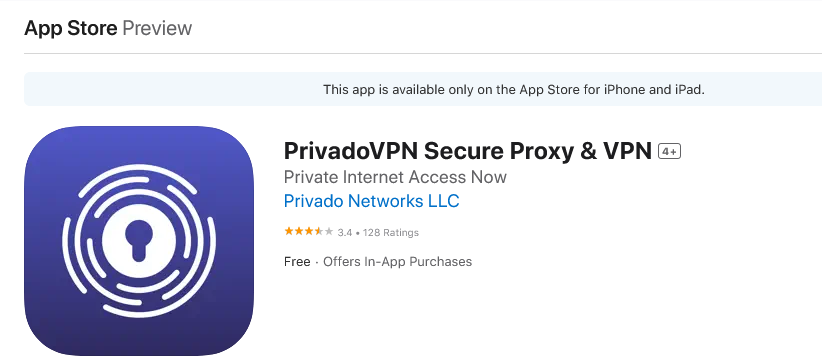 If you are an iPhone (iOS) user and want to download PrivadoVPN, follow the steps below:
Subscribe to the plan as per your need.
The first step is to go to the App Store and search for "PrivadoVPN".
Download and install the app. Once installed, tap Open to launch the PrivadoVPN App.
Sign-in to your account with your email address and password.
Select a server location from a list, Tap the "Connect" button to establish a VPN connection.
PrivadoVPN macOS App Review

To install PrivadoVPN on your Mac, follow these simple steps:
Subscribe to the best PrivadoVPN plan.
Download the macOS version.
Start the installation process and follow the instructions to complete the process.
Open the PrivadoVPN App, Sign-in with your account.
Connect to the selected server location.
Once connected, you can use PrivadoVPN to access the Internet safely and privately.
PrivadoVPN Fire TV Stick App Review

You can download and install PrivadoVPN on your Fire TV Stick by following these steps:
First, on your Fire TV, go to the search icon and Type "PrivadoVPN" in the search bar.
Now download and install the PrivadoVPN app on your Firestick TV.
Once installed, launch the App.
Open the PrivadoVPN App and sign in with your credentials.
Select the server location and the connection is established.
That's it! You can now browse the Internet securely and privately with PrivadoVPN on your Fire TV Stick. You can also use a Bluetooth mouse or the Fire TV Remote app on your smartphone to operate the PrivadoVPN App.
How Does PrivadoVPN Give Support To Its Customers?
PrivadoVPN gives a proper customer support with the best solution to many frequently asked questions. If your question is not listed there, you can always use email customer service. You can test their customer support and get a clear answer to our question within an hour. Unfortunately, PrivadoVPN does not have a live chat feature. However, despite the lack of live chat, email responses were very quick.
| Customer Support | Available in PrivadoVPN |
| --- | --- |
| 24/7 Live Chat Support | YES |
| Email Support | YES |
| Email Support via Online Form | YES |
| Tutorial Videos | YES |
| Online Resources | YES |
Yes, it is a very trustable VPN. This is because it is a highly secure VPN service. This VPN uses the strongest AES 256-bit encryption available and has a strict no-logs policy. Additionally, they are based in Switzerland, known for being a privacy-friendly region. As such, it is a very reliable VPN.
No, you can not make your bundle; Privado VPN offers its packages at different prices. If you are willing to buy their bundle, you can subscribe to their given packages to your requirement and budget.
Unfortunately, PrivadoVPN does not currently offer a dedicated app for Apple TV. However, you can still use PrivadoVPN on your Apple TV by setting up a VPN connection on your router.
Final Words
Overall, PrivadoVPN performed well. It has many features as some of the other leading VPNs, including freemium VPN service. Looking at its competitors, PrivadoVPN is probably the best VPN currently available. Moreover, some Apps needs more improvement as compare to the other VPN service provider.
The speed test was also great, with download speeds over 200Mbps on all US servers. To conclude this PrivadoVPN review, we recommend taking a look at the service. If you don't choose a paid plan, you can easily sign-up for the free plan here. This gives you plenty of time to test the service thoroughly before committing to a long-term subscription. Plus, all paid plans come with a 30-day money-back guarantee.