Having a VPN that can solve all of your issues is crucial, especially when it comes to unblocking Geo-restricting filters of many countries or streaming platforms.
As per our deep analysis and Turbo VPN Review, a Singaporean VPN provider is offering a safe and confidential online browsing experience including you can easily connect to the internet with the help of an encrypted tunnel. This will hide their IP address and actual location from prying eyes.

This incredible VPN service is available for mobile and desktop devices and contains servers in over 50 countries worldwide. In order to make sure it does what it claims to be doing, one needs to test it out and make sure it can deliver whatever promises it makes.
While it also has a free version, it unleashes its full potential in the paid version, where you can access everything. If you are planning to buy this VPN, we would suggest going through our article so that you know if it is worth your purchase.
How To Download, Install and Use Turbo VPN
Are you hesitant or worried about how to download and install the Turbo VPN Apps? If so, then fret no more! Everything can be set up in just about 5 minutes. All you have to do is register for an account and download it to get started.
Once it has been installed, sign into your paid subscription and begin using it. Yes, this is literally that simple to get started with Turbo VPN! You can do so as well by following the steps below: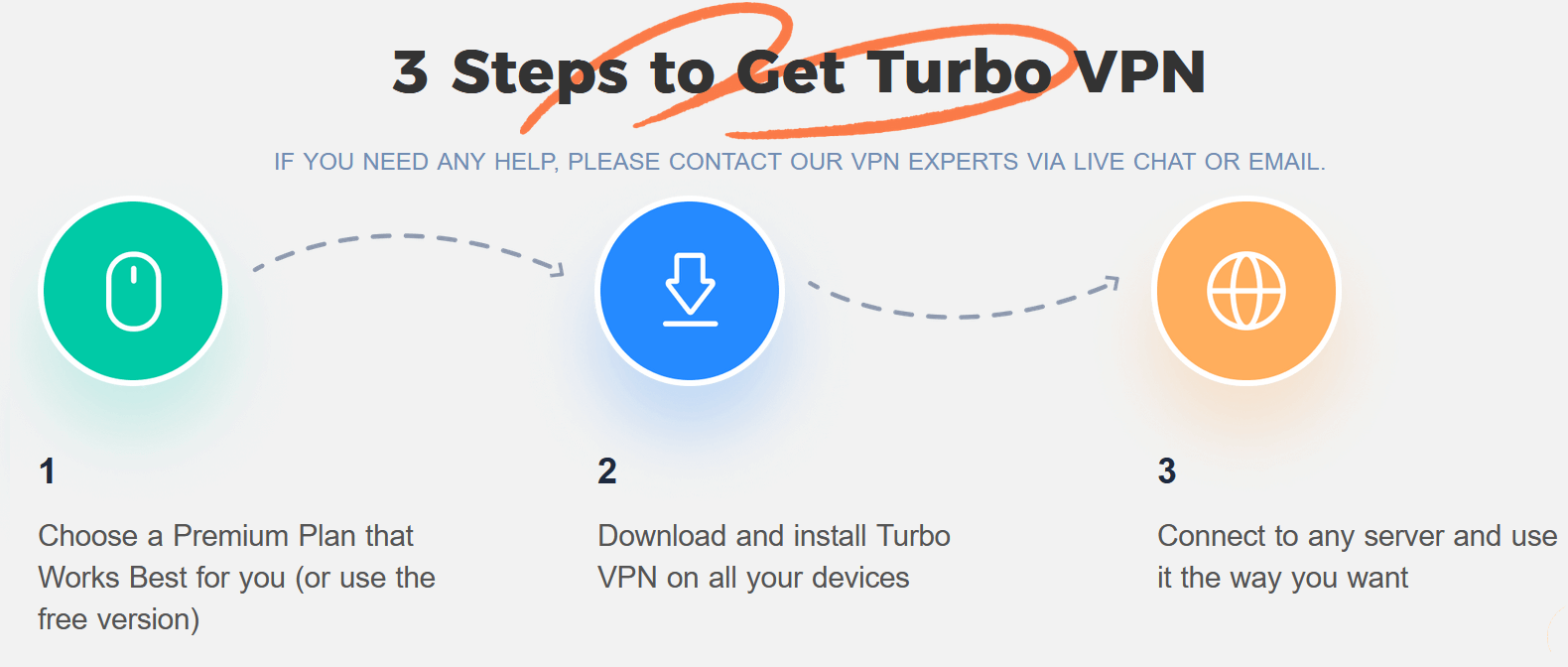 Start by creating an account from Turbo VPN's official website.
Now select a plan that works best for you according to your financial situation.
Download and install Turbo VPN App (Windows, iOS, macOS, Android, and others).
Launch the application after installation is complete.
Sign in with your Turbo VPN account and click the Connect button.
Choosing the desired server location from the list of accessible servers.
This is it! You are now connected to Turbo VPN, and you can use the internet safely and privately!
Choose Your Plans For Turbo VPN in 2023
Turbo VPN comes with a 100% free version and a paid tier. The biggest difference between both versions is actually the number of servers available. The paid version has, of course, more servers available, and the speed is much better.

Turbo VPN comes with four VIP subscription deals: They are divided into one month, six months, one year, and two years. If you are considering subscribing, here is a rundown.
Monthly subscription: you will have to pay $11.99 per month with 0% off.
Six months subscription: You will have to pay $39.99 after every six months, which is about $6.67 per month. This has about 44% off.
1-year subscription: You will have to pay $59.99 every 12 months, which is about $5.00 per month. In this, you get about a 58% discount.
2-year subscription: You need to pay $99.99 every 24 months. This is about $4.17 per month with a 65% discount deal.
The value of Turbo VPN increases with the length of the subscription. So you could save a good amount of money by doing this. But, before you upgrade to its Premium or VIP subscription plan, we would strongly advise using the trial first.
There is a 30-day money-back guarantee included with Turbo VPN VIP. However, because of their poor customer experience, we were unable to verify whether they actually gave back the money or not. Therefore, we won't suggest depending on it. The VIP package can be purchased with a credit card, Bitcoin, PayPal, or another payment method.
To be entirely frank, we don't suggest purchasing Turbo VPN because it doesn't appear to be very safe and because it is incompatible with Netflix and Amazon Prime Video.
Connect To The Turbo VPN Servers Automatically
Turbo VPN has an interesting approach to servers that is unlike ever seen before in any other VPN service provider.
Their list of servers available actually changes with the type of device and platform you use. It also changes depending on what kind of protocol you use. If you are curious about how this works, here is a detailed breakdown:
| | | | | | | | |
| --- | --- | --- | --- | --- | --- | --- | --- |
| Device | Nearby Server | UK | US | Canada | Germany | India | Singapore |
| Windows | Yes | No | Yes | No | No | Yes | Yes |
| MacOS | Yes | No | No | No | No | No | No |
| Android | Yes | Yes | Yes | Yes | Yes | No | No |
| iOS | Yes | No | No | No | No | No | No |
Without a doubt, this is an unnecessarily confusing manner of having your servers, and we can't seem to find any good reasoning behind this. You get much better options if you have an Android device. However, servers for Windows have some potential too.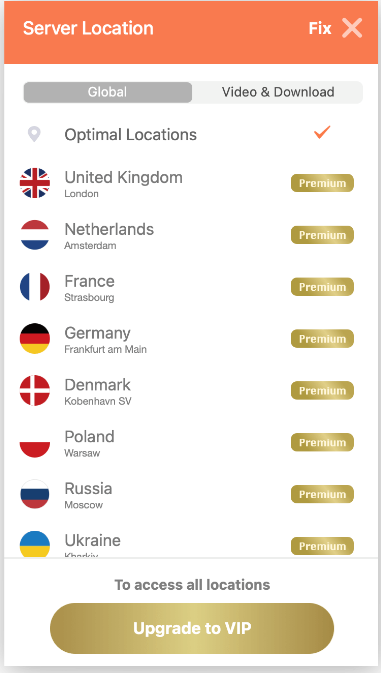 The macOS software for Turbo VPN installs a paywall around its whole server network.
Unfortunately, their poor server distribution affects all devices, with no servers at all in Africa or South America and only one server each in Singapore and India for Asia.
In larger countries like the US, where a server on the East or West Coast might affect your connection speeds, we would also have wanted to see city-level alternatives.
How To Watch American Netflix On Turbo VPN
Netflix has some sophisticated technology that is there to detect and also block VPN connections. This is why many VPN services are not able to bypass these strict Geo-restricting filters. This is because accessing Netflix through means of VPN is actually against Netflix's terms of service.

While there were some reports of certain users that were successfully able to access American Netflix by using Turbo VPN when we tested Turbo VPN with Netflix, it did not work, and the entire test was unsuccessful. Our Netflix only had just content from the local region.
Although Turbo VPN VIP makes the claim that by using them, you can unblock American Netflix, however, it is not advised because there are many other superior internet solutions available that can unblock a few additional services, though.
If your main goal with getting a VPN is to unblock streaming sites like Netflix, it would be ideal for you to choose a VPN service that is created especially to work with streaming services like ExpressVPN, CyberGhost, or NordVPN. Some VPN services offer specialized servers for this purpose and have a history of effectively unblocking Netflix as well as other streaming services.
How To Use Turbo VPN For Chrome & Firefox Extensions
Do you want to get Turbo VPN on an extension rather than installing the entire app? Well, fret no more, as you can easily do so with the help of an extension. Most VPNs provide extensions for Chrome and Firefox, which is the quickest way to browse through your internet and do it safely from prying eyes.
However, when it comes to TurboVPN does not offer an extension for Firefox. This means you will either have to install the Turbo VPN if you use Firefox or download Google Chrome so that you can use the plug-in.
The best part of having an extension is that you can easily turn it on and on with the simple touch of a button. However, it is important to note this will only encrypt your data on the browser, not anywhere else.
So, if you want to protect your data, you must install the app. Moreover, let's get into how you can get Turbo VPN on Chrome so that you can go back to enjoying browsing safely.
How To Install Turbo VPN For Chrome?
If you are searching for ways to install Turbo VPN on the Chrome extension, then follow the steps below.
Begin by going to the Chrome Web Store at https://chrome.google.com/webstore/category/extensions.
Write down "Turbo VPN" and then hit Enter.
Choose the "Turbo VPN – Free VPN Proxy Server & Secure Service" extension.
Then press the "Add to Chrome" button.
Now press on the button which says "Add Extension" in order to proceed.
Press on the Turbo VPN icon in order to launch the extension.
Now you can sign up for your Turbo VPN account.
Select any desired server location and connect to Turbo VPN.
You are now successfully connected with Turbo VPN on the Chrome extension.
Apps Review For Turbo VPN By Experts
Learn how you can install Turbo VPN on your device! Follow our step-by-step guide in order to set up Turbo VPN on your respective device.
Step 1: Choose Your Device
Turbo VPN is readily available for both mobile and desktop devices. Before you start the installation process, you will need to decide which device you want to install it on. You can download and install Turbo VPN on any device running on Android, iOS, Windows, or MacOS. As mentioned earlier, the location of the server and Turbo VPN service differs on each device.
Step 2: Download And Install Turbo VPN
Once you have chosen which device you will install Turbo VPN on, you can now download it from the Turbo VPN website or app store. The installation process might vary slightly depending on what device you are using, but it is normally straightforward.
Download the Safest VPN for Android Devices:
First, Search Turbo VPN on Google Play Store.
Then select the Install button.
Wait till the entire installation process is completed.
Once the installation is finished, press the Open button.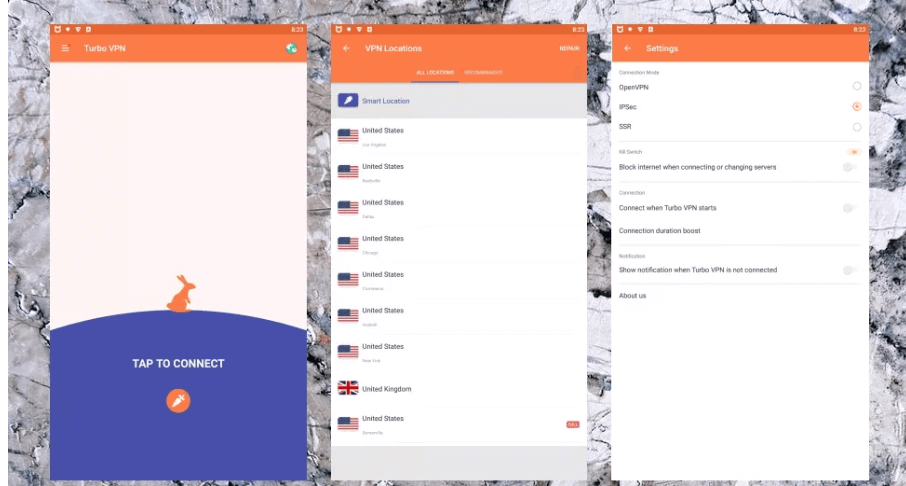 How To Download Turbo VPN On iOS Devices: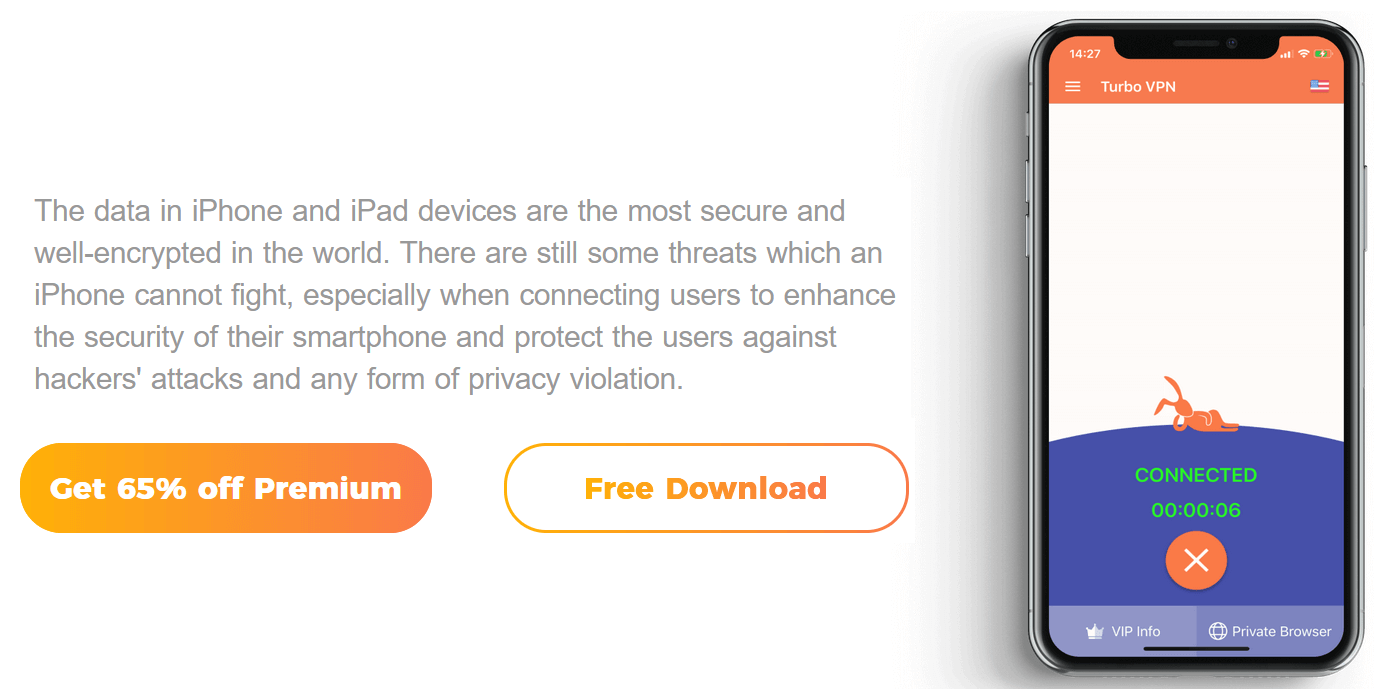 Begin by opening the App Store and searching for Turbo VPN.
Then hit the Get button.
Wait till the installation process is completed.
Once the installation is finished, press the Open button.
How To Install Turbo VPN For Windows:

Head over to the Turbo VPN website and press the Download button.
Wait till the download completes entirely.
Then, double-click on the file that was downloaded in order to begin the installation process.
Follow along with the on-screen instructions so that you can complete the installation process.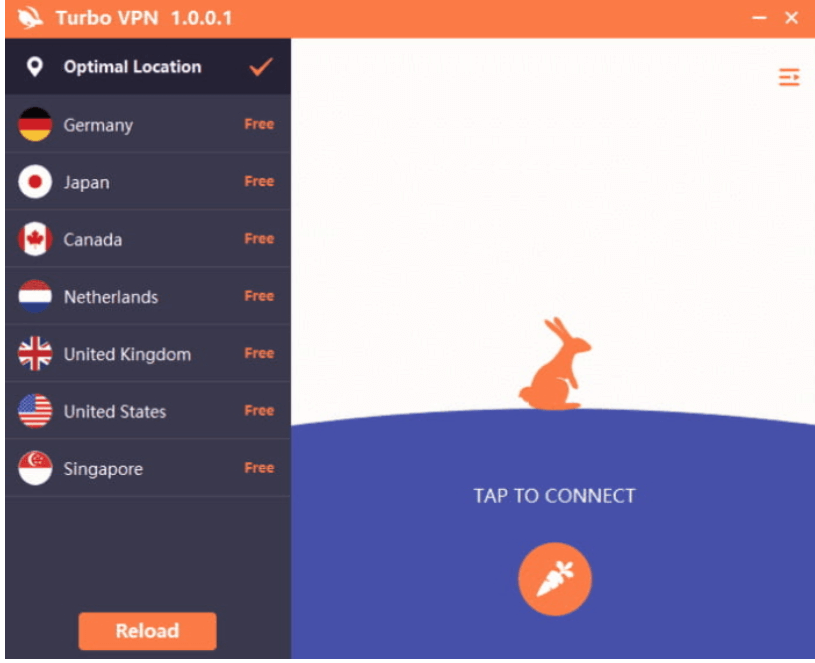 How To Get It For MacOS Devices:

Begin by heading over to the Turbo VPN website and clicking on the Download button.
Wait till the download completes.
Now double-click on the file that was downloaded in order to begin the installation process.
Follow along with the on-screen instructions to complete the installation process.
Step 3: Connect To Turbo VPN
Once you have the Turbo VPN app installed on your respective device, you can easily connect to it by opening the app and following the steps below:
Start by opening the Turbo VPN app.
Press on the Connect button.
Wait till the app connect you to the desired VPN server.
Once your connection is established, there will be a green tick mark displaying that you are now connected to Turbo VPN.
Step 4: Enjoy Your Secure Browsing Experience
Now that you are finally connected to Turbo VPN, you can easily enjoy a safe and secure browsing experience. With the help of Turbo VPN, you can now browse the internet anonymously, access restricted content, and protect your personal data from hackers and cybercriminals.
How Does Turbo VPN Give Support To Their Customers?
Turbo VPN has newly performed an entire overhaul for their customer support. After getting some harsh criticism, it just gave its customer assistance a thorough facelift. It has improved from being nearly nonexistent to competing with a number of prominent VPNs.
| | |
| --- | --- |
| Turbo VPN for Windows | Available in Turbo VPN |
| 24/7 Live Chat Support | No |
| 24/7 Email Support | No |
| Chatbot | No |
| Live Chat Support | No |
| Email | Yes |
| Email Support via Online Form | No |
| Tutorial Videos | No |
| Online Resources | Yes |
Live Chat:
The 24/7 live chat is the main factor in this. It truly changed the game. You can easily access it by going to the chat window on the available support page.
It processes your question through a chatbot that looks for an answer in its limited FAQs section. If you can't find what you're looking for there, you can contact a live support person right away.
The representative provided a prompt response and was truly helpful in resolving our problem.
Email:
Their email support has been quite improved as well. All you have to do is fill out an online form, and you will get their response in an email within some hours.
Turbo VPN also has a dedicated FAQ and help section available on their website in order to provide users with answers to their most asked questions related to their service.
Yet, it appears as though their customer service was an afterthought.
Although it has email customer support, we were unable to use it. But the FAQ area is quite helpful. Furthermore, we also observed individuals obtaining assistance in the review areas of their Google Play Store and the App Store, although this is unreliable.
Also, it says that live chat is available around-the-clock, but when we tried to ask a query, we only received a response from a bot.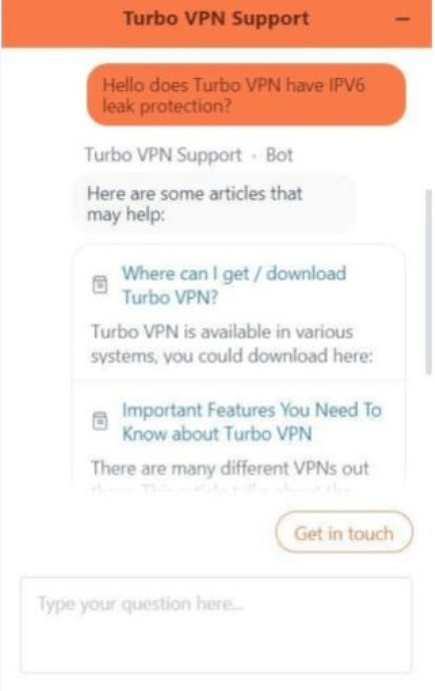 When we attempted to use "Get in touch" by pressing this button, a new window opened up, which asked us to send an email to Turbo VPN. However, we are waiting for a response which we never got.
Yes, using Turbo VPN is generally safe. After much testing, We discovered that it effectively concealed our IP address and didn't leak a lot of data. Although the privacy policy permits it to keep log data and also keep track of your personal information, which can be a little unsettling, it did cause some Windows Defender errors.
Yes, unfortunately, Turbo VPN will actually slow down your Wi-fi speeds. While doing our in-depth test on its effect on internet connectivity and its speeds, we discovered that it drastically slowed the speed. About a 70% loss was found in data download speeds which is huge for someone trying to browse through content smoothly.
Some VPNs are faster, feature-rich, and overall better than Hide. Me VPN. If you want a VPN but think iPro VPN isn't for you, check out the other VPN products below.
ExpressVPN
If you need a VPN leading the market with its fast and private online browsing experience, ExpressVPN is the one for you. One of its most notable features is that it has quite a large server network, with 3000 plus servers in over 94 countries worldwide. This extensive network permits users to connect to the internet from almost any part of the world, earning it an excellent choice for people who travel a lot or need to access any region-restricted content.
ExpressVPN also offers extremely strong encryption and a range of security protocols, including IKEv2, OpenVPN, and L2TP/IPSec. This level of security guarantees that personal user data remains protected from prying eyes and cyber threats.
Another noteworthy feature of ExpressVPN is its user-friendly interface, making it easy for beginners to use. The service also offers 24/7 customer support and a range of useful features, such as a kill switch, split tunneling, and DNS leak protection.
It comes with an annual package of $6.67 per month, which is worth the purchase.
Surf Shark
SurfShark is yet another fantastic VPN alternative. Those who are on a tight budget will absolutely love this. With more than 3200+ servers spread across 100 nations, SurfShark makes it extremely simple to stream your preferred channel. You get this all just for 2.30 per month for their two-year subscription. This implies that stable and quick streaming is possible on a tight budget.
One of the key features of Surfshark VPN is its strong encryption techniques and safe servers throughout the world, making it a dependable choice for online protection and anonymity. The service also offers a number of cutting-edge features, like MultiHop, which enables users to connect to numerous VPN servers simultaneously for increased protection, and CleanWeb, which disables malware, trackers, and advertisements on websites.
Moreover, Surfshark VPN offers unlimited simultaneous connections, allowing users to connect numerous devices simultaneously, making it the perfect choice for families or organizations. For anyone wishing to increase their online security and privacy, Surfshark VPN is a great option thanks to its user-friendly design and first-rate customer assistance.
NordVPN
You might consider NordVPN if you wish to watch all unblocked websites. It's, without a doubt, the VPN for unblocking all geo-restricted websites, with more than 5000 servers spread over 60 nations. It not only provides AES 256-bit encryption-secured connections to servers, but it's also economically priced. A two-year subscription costs $3.49 per month.
One of NordVPN's distinguishing characteristics is its stringent no-logs policy, which forbids the company from tracking or storing any user data. This makes it an excellent option for individuals who value their internet privacy. The service also provides robust encryption mechanisms, such as double VPN, fortifying security by routing traffic through two servers. Moreover, NordVPN offers users quick and dependable connections thanks to its extensive global network of servers. Additionally, it allows you to connect six devices at the same time.
Final Words
Since there are many better VPNs available and as we found out that Turbo VPN has spyware, we will not advise it to desktop users. Nonetheless, Turbo VPN is a pretty decent option if you're seeking a free VPN for your smartphone. Undoubtedly, there are a lot of issues with using the software, but in my opinion, it's ok if you need a quick, trustworthy VPN to complete some chores and then uninstall
However, for a long-term commitment, we would not suggest it as it has limited servers and has a hard time unblocking some of the leading streaming sites.