VPNArea started its journey pretty new in 2012, they have already proven to be one of the promising contenders out there. VPNArea, which is run by Offshore Security EOOD, boasts 100 server sites dispersed over 55 nations. Surprisingly, Switzerland, which seems to have strict privacy rules to safeguard user data, is where their daily servers are housed.
After finalizing the VPNArea Review, I found that customers can at the same time benefit from a reasonable cost, private allocated IP address, which for many can be an excellent service provided by only a few industry providers. Not only this, but VPNArea comes with dedicated hubs that are open around the clock and is an outstanding VPN for streaming Netflix.

Perhaps one of VPNArea's key selling points is its security measures. VPNArea features a secure signup process, doesn't keep any logs, and adds 256-bit encryption just to have an extra degree of security. The platform also includes features like virus guards, stealth VPN, double VPN, killswitch system, and advert blockers to further strengthen security.
If you are wondering whether or not you should invest in this VPN, our team of expert have provided an in-depth analysis. Hence, hold on tight while our thorough testing determines whether paying for this VPN provider is worthwhile.
| | |
| --- | --- |
| Logging Policy | No Logs |
| Jurisdiction | Bulgaria (EU Member) |
| Servers | 130 |
| US Netflix | Yes |
| Simultaneous Connections | 6 |
| Works In China | Yes |
| Support | 24/7 Live Chat |
| Cheapest Price | $3.21/mo over 24 Months |
| Money-Back Guarantee | 14-day Money-Back Guarantee |
The Most Recommended Alternatives To VPNArea VPN
How To Download, Install and Use VPNArea
Are you considering getting VPNArea, don't know what is the process. Well, this is just like making a cup of tea. In this section, we will get into how you can easily get VPNArea. Fortunately, the process to do so is relatively simple and you will just require a few minutes of your time to get this VPN running on any device that you use. Below is a step-by-step guide, which will make it even easier for you to follow along:
Goto VPNAreas, create an account.
Subscribe for a package that fits your needs.
Download VPNArea's App (Windows, MacOS, iOS, Android, and Linux).
Once the installation finishes, open the app and then sign into your account
Choose your preferred server from the list.
Congratulations, this is it! Now you can use your internet easily without worrying about anyone spying on your activities.
Access and Watch Netflix With VPNArea
We all love watching our favorite shows on Netflix. No one can deny that it is leading the market. However, there are certain shows and movies that are only available in certain regions. This is why many people prefer exploring other regions' Netflix as well. However, Netflix has quite strict geo-restricting filters that can easily figure out if you are lying about your location. This is why you need a good VPN that can mask your IP address so that you can easily access Netflix. One of the most popular Netflix libraries is in America.
Fortunately, VPNArea takes this into consideration and thus comes with five servers that are specifically dedicated to unblocking Netflix. Not only this but to make it much easier for its users to find them, they have all these servers labeled with "NFLX." For instance, in order to watch US Netflix, you can easily connect to their "USA-0-NFLX." Similarly, if you want to access UK Netflix or iPlayer, you can connect to "UnitedKingdom-0-NFLX."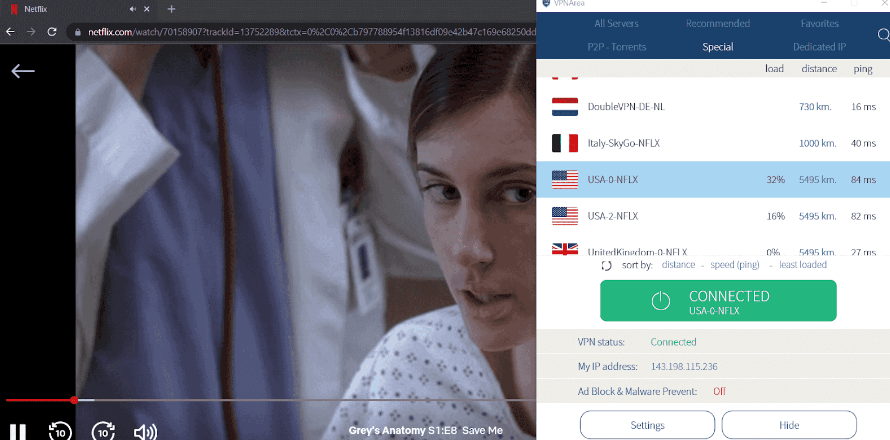 When it comes to streaming with VPNArea, we had some mixed results which changes our viewpoint. One of the biggest issues we faced was while connecting to their UK streaming server.
Ideally, it would have been nice to see more servers for locations. This is because if everyone is on one server, it slows down the speed which results in lagging. Furthermore, having backup servers really helps when some of them are not working. However, we tested this VPN in order to see which servers were unblocking Netflix, as promised. Below is the result.
As mentioned earlier, we would have really appreciated had there been more servers for different regions.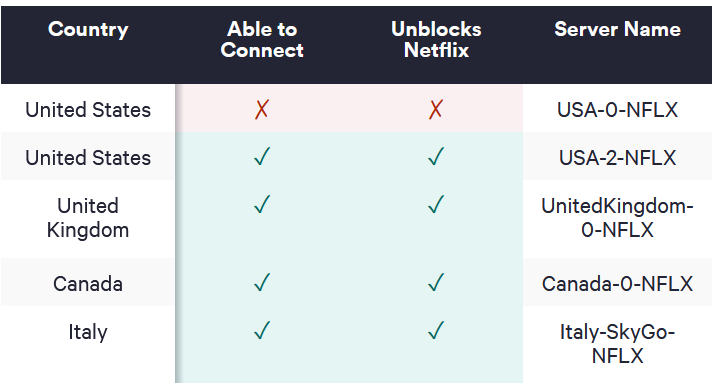 In order to get more help, we also contacted the customer support of VPNArea. We did so to ask what Netflix libraries are easily available on their servers. They told us that their server works perfectly with UK, Canadian, Italy, and American Netflix libraries.
To give credit where it is due, their customer support was really helpful and replied pretty fast.
Choose A Subscription Plan That Works For You
VPNArea is considered one of the cheapest services out there with a simple monthly membership price of $9.90. This also comes with a 14-day guarantee as well as a 12-month pricing bundle at $4.13 and an annual price of $49.56 with a 30-day money-back guarantee. It also has a fantastic deal for a 24-month subscription that is $3.21 per month and requires only a one-time payment of $77 with a 30-day money-back guarantee if you decide to cancel.

Their website does not provide a free trial considering that you must confirm your payment method. we also tested their money-back guarantee and it was quite simple.
While contacting their round-the-clock customer service to get the refund we had a pleasant experienced. We explained to them why we thought VPNArea was just not what we were seeking. They immediately accepted our refund, and we received our money a few days later.
PayPal, Mastercard, Visa, Maestro, Cryptocurrency (Bitcoin and Bitcoin Cash), Union Pay, American Express, and Discover are the payment options available at VPNArea. We used PayPal as our payment method, and the transaction was completed quickly.

How To Download VPNArea For Chrome And Firefox Extensions
Sometimes people prefer to use extensions over the proper app to use VPN services. This is a way they can have a lesser load on their laptops and still manage to do a lot. Having an extension of your VPN makes it much faster to get a secure connection.
However, one thing people need to keep in an account is that it only provides security for the browser you used it on not the entire device. Many VPNs offer extensions for Chrome and Firefox, as they are the fastest way to surf the internet while staying hidden from unwanted eyes.
Another great thing about having an extension is that all you need to do is hit the button to turn it on.
While it makes it easier to encrypt your traffic, VPNArea does not offer extensions for Chrome and Firefox at the moment.
Detailed Reviews Of VPNArea Apps
If you want to install the VPNArea on your devices but are unsure how to do so, follow the steps below. This is a detailed way how you can easily set up VPNArea on any device.
Step 1: Select Your Device
VPNArea has it app for various devices. Thus, before you begin the process, you need to decide what device you want to install VPNArea on. Once you figure that part out we can move ahead. This is an important step as each device has a different app.
Step 2: Download and Get VPNArea
After you have decided on that device, we can now install the VPNArea. For this, you can either head over to the website or if you are using a mobile phone can go to the app store or play store. The process of their installation is quite simple, but it may be a little different depending on what operating system you are downloading it on.
Step 3: Follow the Instruction for Each App
How To Get Access and Stream On Android Devices:

Start by going to the Google Play Store and typing VPNArea.
As soon as you see the right one, click on it.
Now press the install button.
Wait till it gets installed.
After it finishes installing, you can either press the option that says open or go to apps and click on the icon to open VPNArea's app.
Once the app opens, you will be directed to the login page.
Enter your user ID and password.
Now select your preferred VPN or let the app do it for you.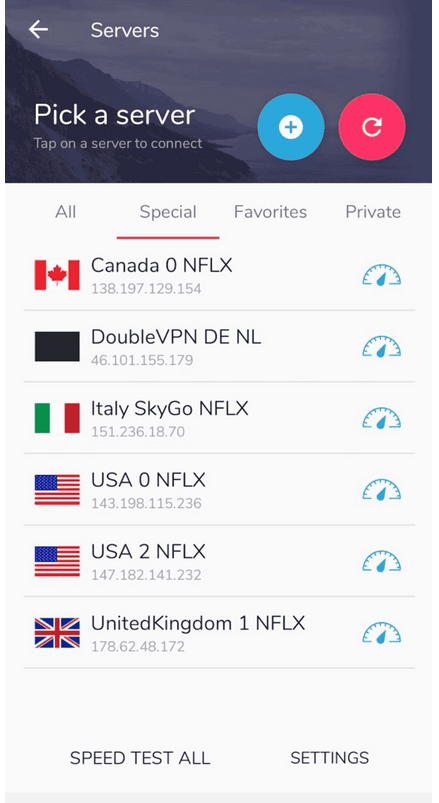 9. Hit Connect.
10. Wait till VPNArea establishes a connection. The button will turn green and will say connected.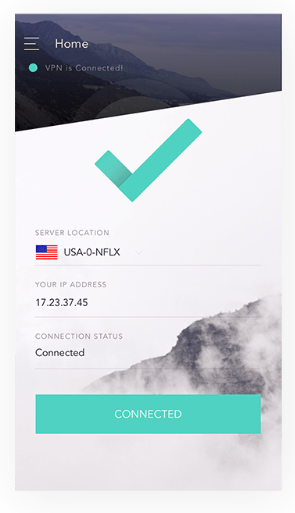 11. Now you can use the Internet freely.
How To Download VPNArea For iOS Devices: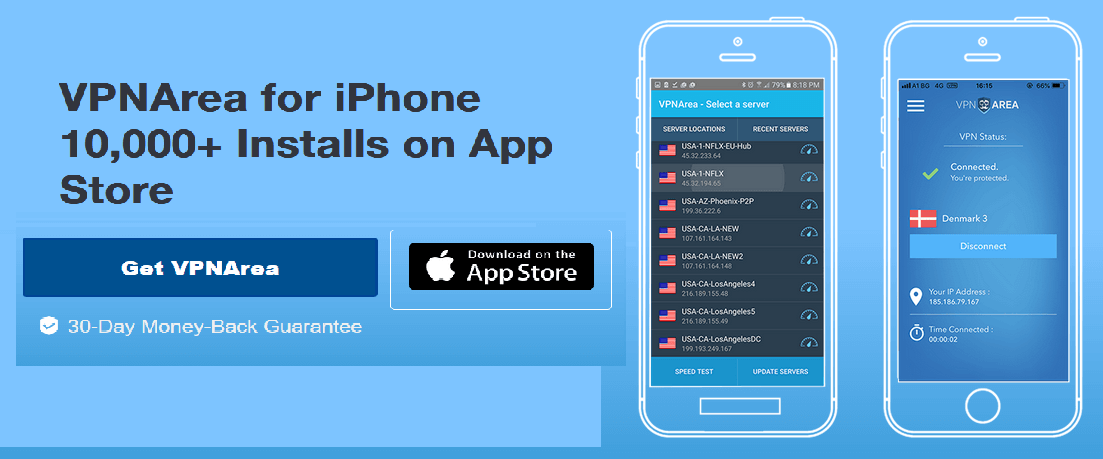 Start by going to the App Store and typing VPNArea in the search bar.
As soon as you see the right one, click on it.
Now hit the Get button.
Wait till it gets installed completely.
After installing it, you can either press the option that says open or go to your home screen and click on the icon to open VPNArea's app.
Once the app opens, you will be directed to the login page.
Enter your user ID and password.
Now select your preferred VPN or let the app do it for you.
Hit Connect.
Wait till VPNArea establishes a connection.
Now you can use the Internet freely.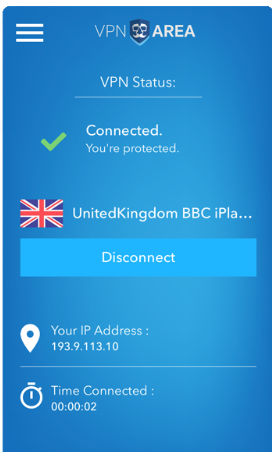 Easy Steps To Download VPNArea For Windows:
Go to the official website of VPNArea and click VPN apps.
From there, select Windows and then choose to Get VPNArea.
Now, wait until the entire file downloads.
Once the download is complete, double-click on the file to set it up.
You can also follow along with all the on-screen instructions to complete the entire process.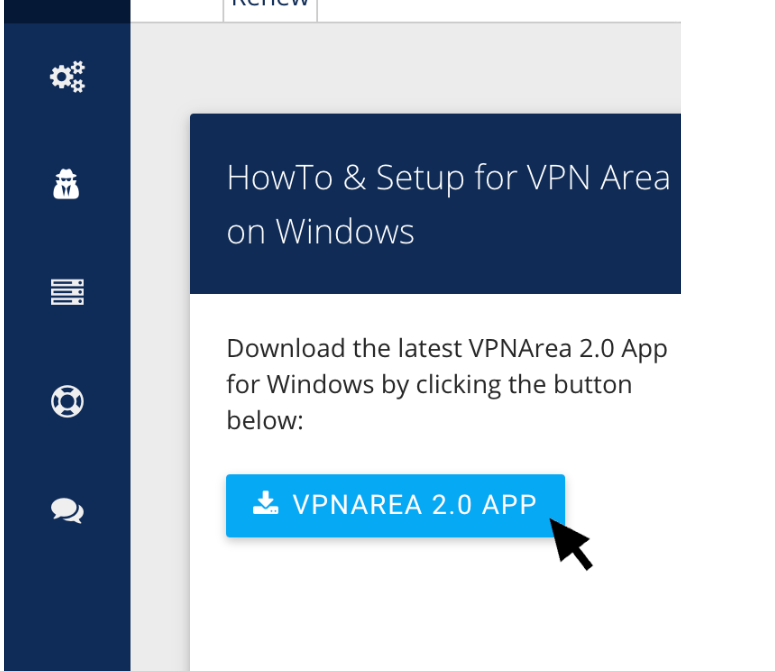 6. Once the app opens, you will be directed to the login page.
7. Enter your user ID and password.
8. Now select your preferred VPN or let the app do it for you.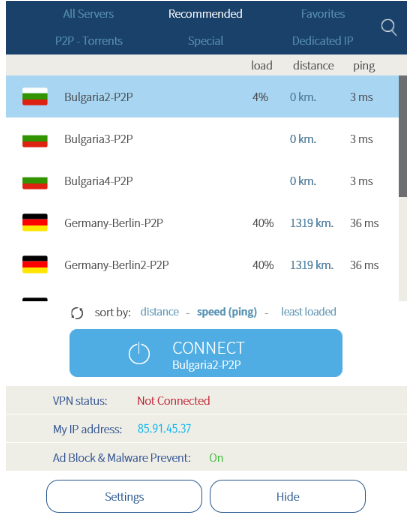 9. Hit Connect.
10. Wait till VPNArea establishes a connection. The button will turn green and will say connected.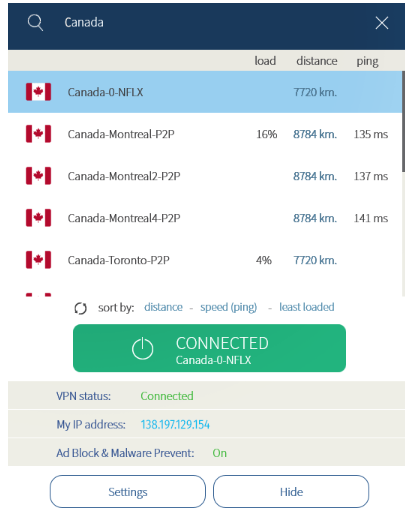 11. Now you can use the Internet freely.
How To Get Connection For MacOS In Seconds: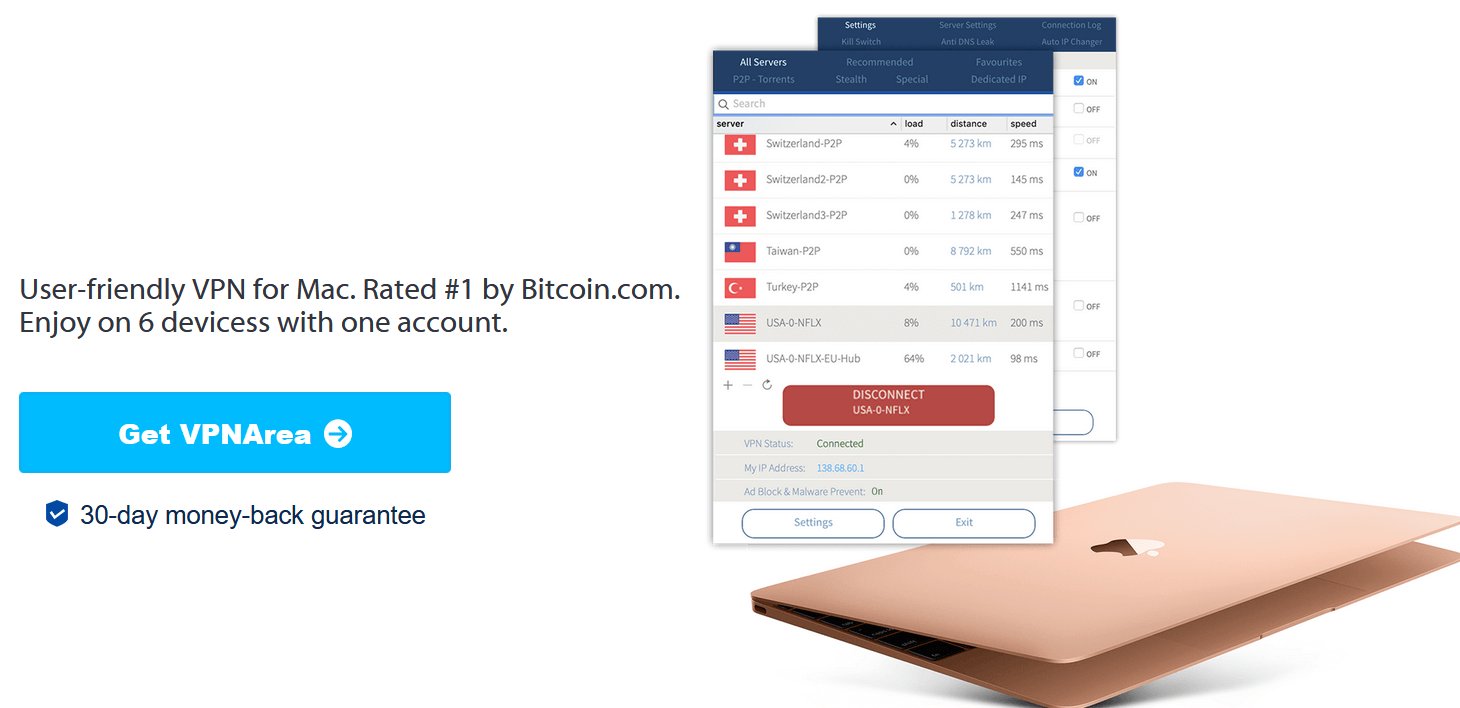 Start by going to the official website of VPNArea and then clicking on VPN Apps.
After that, select Mac and then choose to Get VPNArea.
Wait till the file downloads.
Now double-click on your downloaded file in order to begin the installation process.
Follow along with the on-screen instructions to complete the installation process.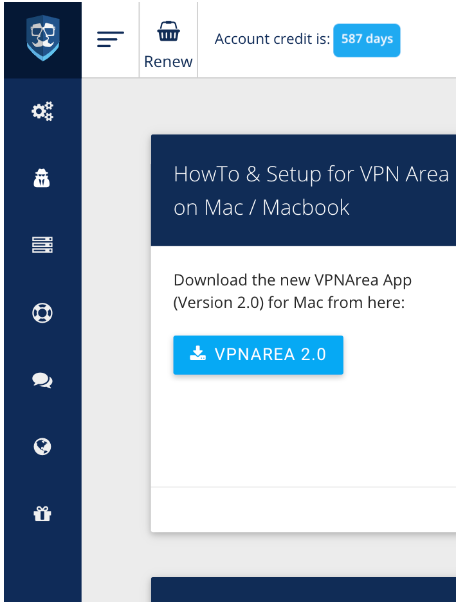 6. Once the app opens, you will be directed to the login page.
7. Enter your user ID and password.
8. Now select your preferred VPN or let the app do it for you.
9. Hit Connect.
10. Wait till VPNArea establishes a connection.
11. Now you can use the Internet freely.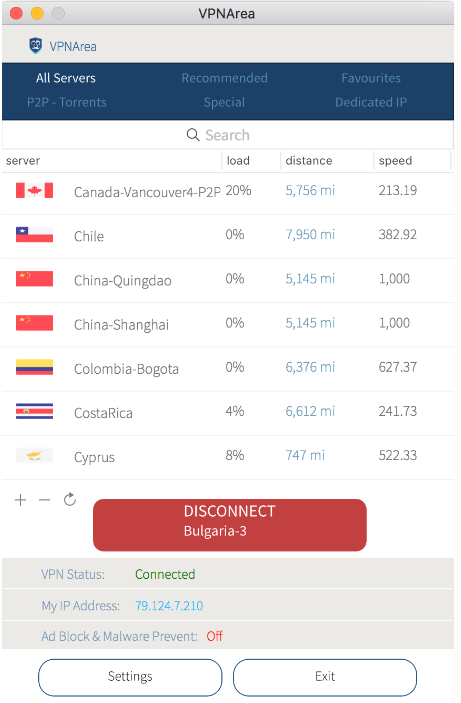 How Does VPNArea Give Support To Its Customers?
| | |
| --- | --- |
| Customer Support | Available in VPNArea |
| 24/7 Live Chat Support | Yes |
| 24/7 Email Support | No |
| Chatbot | No |
| Email | No |
| Email Support via Online Form | No |
| Tutorial Videos | No |
| Online Resources | Yes |
Their website has various FAQs that go into quite depth and cover various topics. Whether you want to know about encryption or protocols On the website, there are loads of in-depth FAQs covering a variety of topics from encryption to the security of different VPN protocols.
Unfortunately, their resources, for instance how you can set up VPNArea in various devices are limited to their paying customers only.
That being said, we were really happy with their live chat feature which works 24/7 as they claimed. Whenever we reached out to them despite any time, we always got a response back in just a few minutes. Their agents were really helpful. However, they didn't know about things if we went into questions n detail. In order to tackle this, VPNArea would send us a detailed follow-up email that contained more information.
Users of VPNArea have access to many different methods for communication and customer service. These include a live chat feature that is available 24/7, a page with frequently asked issues, and an email-based ticketing system.
While we were registering on the platform, we experienced a delay in our processing of PayPal purchases. Using the live chat option in the bottom right corner of their website, we made the decision to speak with customer service about the issue. The attendant provided a prompt response and was friendly and knowledgeable. Our account was authorized soon once the issue was rectified.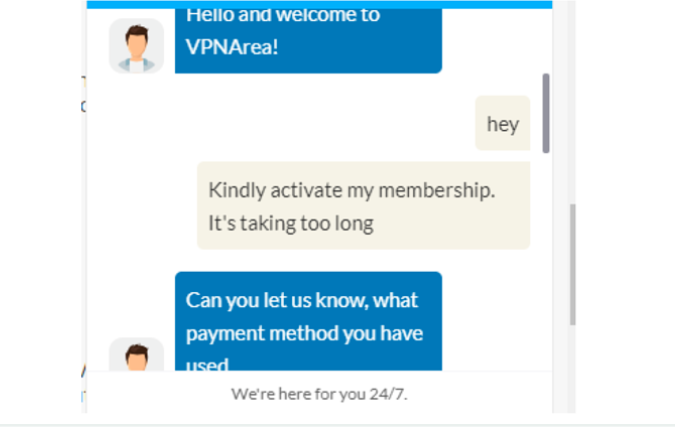 Their customer service feels quite consistent and claim to do what they offer. We faced some connectivity problems during our testing, especially on servers that were located thousands of miles away from us.
Final Words
It has come cutting-edge security features like 256-bit encryption and a double VPN that protects your security when you use their service. Not only this, but it also has a good no-logs policy which will help in keeping your data confidential. The kill switch prevents IP address leaks even if the connection is lost.
It comes with a decent number of servers so you have a variety to choose from. Though some servers work much faster than others. Another great benefit is that you can stream on Netflix and other services without any lag.
Having said that, VPNArea is a dependable network that is protected, reasonably priced, and equipped with cutting-edge capabilities.
VPNArea offers top-notch security features, including 256-bit encryption, Stunnel servers, double VPN, malware/ad blocker, and a kill switch. All of this proves that VPNArea is quite a safe and reliable vPN despite being new in the market.
Unfortunately, it does slow your speed down. However, the good thing is that it is only a little which is pretty common in most VPNs. While doing our research we experienced a drop. An interesting feature was that when you connect to servers that are located quite far from your location, in those you can see a considerable amount of drop.
Some VPNs are faster, feature-rich, and overall better than Hide. Me VPN. If you want a VPN but think iPro VPN isn't for you, check out the other VPN products below.
ExpressVPN
Anybody who wishes to maintain their online internet privacy and security should consider getting their hands on the world's leading VPN service, ExpressVPN. It has to be the most dependable and secure VPN service out there. ExpressVPN provides an anonymous and encrypted connection that secures your online activity from all unwarranted eyes and enables you to stream platforms that could be blocked in your country. ExpressVPN is additionally extremely user-friendly, with simple apps accessible for a range of gadgets and platforms. It is the best available option for anyone searching for a reliable and efficient VPN service because of its no-logging policy and round-the-clock customer assistance.
Surfshark
SurfShark has to be one of the best VPNs for anyone who wants similar features to ExpressVPN but is on a tight budget. It has a myriad number of servers that are quite beautifully spread across 100 nations. With SurfShark you can easily stream anywhere from any part of the world. This may come as a surprise to you, but you get to access all of its features for simply 2.30 dollars per month on their two-year subscription. Surf Shark changed the market of VPNs by providing top-notch service at affordable rates.
Importantly, Surfshark VPN allows its user to have an unlimited number of connections at the same time which is something no other VPN offers. These features make it a perfect choice for organizations and families.
Thanks to its user-friendly layout and superb customer service, Surfshark VPN is a perfect option for anyone who wants to boost their digital security and privacy.
NordVPN
If you really want a VPN through which you can easily watch various streaming platforms without experiencing much lag, you should get your hands on NordVPN. Without the need of a doubt, NordVPN comes with more than 5000 servers distributed over 60 countries. Because of this reason, it is considered one of the ideal VPNs to unblock all geo-restricted websites. In addition to offering connections to various servers that are secured with AES 256-bit encryption, the service is also reasonably priced. Yes, you read that right! Its monthly cost is about $3.49 for its two-year subscription.
NordVPN also understands the need for privacy and thus comes with quite strict policies of keeping no log. Furthermore, it does not allow the company to store or track its user's data.
This makes NordVPN ideal as privacy is quite important, especially with so many unwarranted eyes spying on you. The platform includes robust security measures as well, which enhances security by splitting communication between two servers. Besides that, NordVPN provides customers with accelerated and dependable connections because it has a vast global server network.