You should protect every device in your home or in the office, from your phone to the gaming console, by enabling a VPN on your router. By doing this, you can not only avoid the hassle of connecting every device individually, but you can also protect your devices that don't natively support the installation of the VPN such as Apple TV, Samsung Smart TV, Roku, and so on.
It's important to keep in mind that setting up a best Router VPNs can be slightly more difficult than simply installing a VPN App, though some of the top VPN providers are providing specialized software and an extensive knowledge base that greatly simplifies the process. For instance, NordVPN provides a dedicated App to control the Router VPN through your Smartphones.

Taking everything into account, we tried more than a dozen VPNs and chose the apex ones that work with routers and are the best in terms of security, performance, best pricing deals, and other useful features.
User-Friendly VPNs that Works In 2023
How to Set up a VPN on a Router (General Method)
Setting up a VPN on a router allows you to protect all the devices connected to that router with a VPN connection. The exact steps may vary depending on the router model and the VPN service you are using, but here is a general guide on how to set up a VPN on a router:
Choose a compatible router, Go for routers that have VPN or OpenVPN support.
Sign up for a VPN service, you may also need additional details like the encryption protocol and port number.
Access your router's administration panel and configure the VPN settings, and select the desired encryption protocol and port number.
After configuring the VPN settings, the router will likely restart or apply the settings automatically.
Connect a device to your router and check if the VPN connection is working properly.
It's worth noting that the specific steps and options may differ based on your router's firmware and VPN service provider. Therefore, it's always recommended to consult your router's manual or the VPN provider's documentation for detailed instructions specific to your setup.
Best Routers That Support VPNs
Following are some pre-installed VPN and VPN-compatible routers that are recommended to be used with all the popular VPN services like PureVPN and NordVPN but can also be used for other VPN providers.
Netgear R7000
Netgear R6400v2/R6700v3
Roqos Core Router + Protect 1YR
Wireguard NordLynx WiFi 6 Router – Privacy Hero (NordVPN Pre-installed).
You can find more about VPN-enabled and pre-install VPN routers from the Flash Routers website which is the top provider for VPN Routers.
NordVPN: Security for the Whole Household
NordVPN is an excellent VPN for routers, the only reason it comes second is due to the fact that it doesn't offer a dedicated router app like ExpressVPN. However, you'll still be able to configure it on your router by following its huge knowledge base available on the NordVPN website.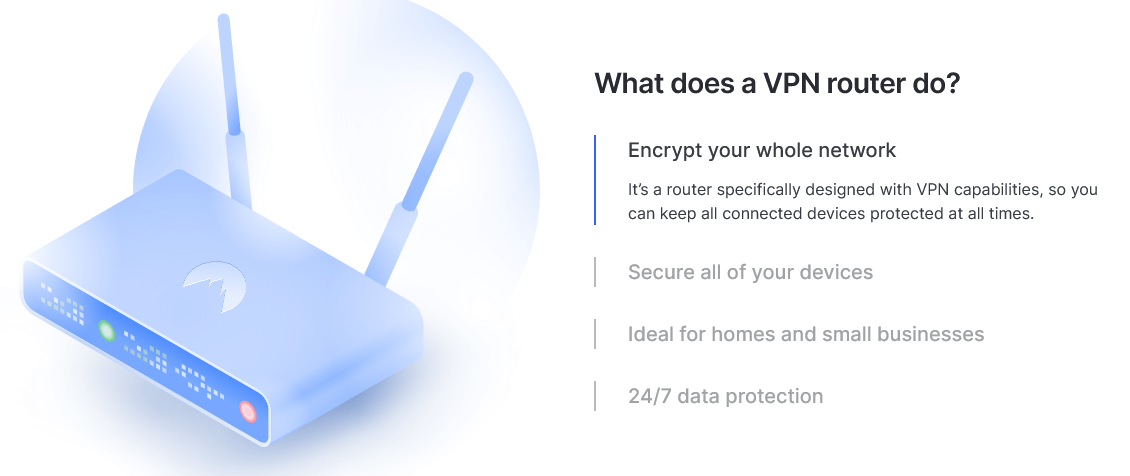 There are no security gaps left behind by NordVPN. Your data is encrypted using AES-256, which has been shown to be the most effective encryption available. The audited no-logs policy, on the other hand, makes sure that no one on the internet can collect your logs.
Since NordVPN doesn't provide a dedicated router app, it offers a detailed tutorial on how to set up VPN on DD-WRT firmware that can be installed on many supported routers like AsusWRT and GL.iNet. Furthermore, FlashRouters and NordVPN have collaborated, so you can purchase a router with NordVPN already installed to avoid all the hassle of changing the firmware of your router.
SurfShark: Pocket-Friendly Router Service
Surfshark might be a decent choice if you're trying to save money while still getting a high-quality VPN. Similar to NordVPN, Surfshark does not offer a router VPN app, but for some, the trade-off between its low cost and superior functionality may be worthwhile.
Talking about security, Surfshark employs cutting-edge AES-256 encryption to prevent others from reading your data. Furthermore, an audited no-logs policy that makes sure no activity records are collected from your device is another great offering of Surfshark.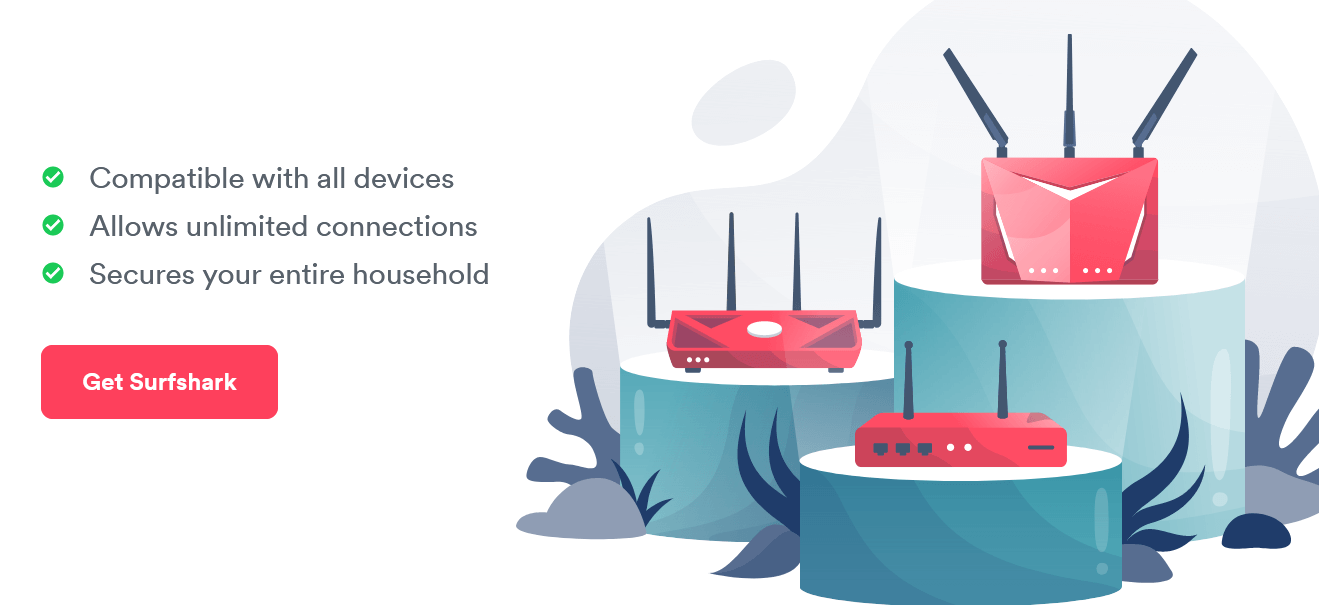 The lack of a dedicated router app is also made up by Surfshark by collaborating with FlashRouters and offering their application to manage the VPN connection on your router. The Open VPN protocol of Surfshark allows it to configure its VPN service on DD-WRT-based routers including AsusWRT and GLi.net. Additionally, you can jump to its user-friendly support if you are stuck in setting up VPN on any of the supported routers.
If you have made up your mind for using Surfshark VPN, you can select from OpenVPN, IKEv2, and even WireGuard to fulfill the need of any device alongside routers. Additionally, we're happy to report that the connection speeds remain outstanding while using this VPN through your router, enabling uninterrupted browsing and seamless streaming.
PureVPN: The Undisputed King of Router VPNs
PureVPN is the best choice for Router because it is one of the few VPNs that has developed a dedicated app for routers. It also offers to connect up to 5 different servers at a time to provide you foolproof privacy along with excellent speed, thanks to its proprietary Lightway protocol, for more details just read the full detailed review.

If you've been looking for a VPN service that is extremely secure, PureVPN might be your best bet. In addition to offering the kill switch function, which protects your IP when a VPN connection fails, it employs industry-leading encryption.
PureVPN is incredibly simple to install and use. You can view the devices linked to your secure network using its router application. Additionally, you can optimize your VPN link and switch server locations. Along with the app, you get a tonne of useful instructions for configuring this VPN on routers like the PureVPN router that was made in-house, the Asus RT-AC56(U/R/S), Linksys EA6200, Netgear R6300v2, and many more. You can even purchase a router that comes pre-installed with ExpressVPN thanks to this VPN's partnership with FlashRouters.
IPVanish: The Most Favorite Router VPN
For those who like to get technical and in-depth with their VPN, IPVanish has been around for a while and is a favorite among advanced users. Due to the highly customized settings option, your connection will be as secure as it can possibly be.
When it comes to security, IPVanish provides industry-leading AES-256 encryption. The encryption can be changed from 256-bit to 128-bit if you would rather have a faster network link than a safer one.

It should come as no surprise that IPVanish also works with FlashRouters and gives you complete access to the router applet to manage your router VPN settings. You can also get per-configured routers through this collaboration that are linked to IPVanish's services.
However, if you prefer setting up your router manually, you'll appreciate that IPVanish has setup instructions for every router model, including high-end RT series ASUS routers, customized ASUS-Merlin firmware, DD-WRT, and routers with Tomato firmware.
Why Should I Use Router VPN?
If you're here, we presume you've already decided to get into the ocean of Router VPNs. Perhaps you want to stream Geo-restricted content on your smart TV, gaming console, or Roku devices or possibly you just want to have comprehensive security for your whole network.
But wait, there are some prerequisites before getting a Router VPN which can also be taken as the biggest drawback that a router VPN has. To use a VPN on your router, you need a router that supports the installation or configuration of the VPN on the router's admin panel.
While there are some routers that give you the option to configure the VPN without flashing an open firmware like DD-WRT or Tomato, the other way around is to get a per-configured VPN router, but they are a bit expensive. So, make sure that you have a VPN-compatible router by contacting the customer service of the VPN provider you are considering purchasing.
Also, you can opt for a VPN provider that has made the process far simpler than expected – one of which is NordVPN. It has an exclusive website for configuring your router VPN as well as apps made just for quickly protecting your router. There are a few other choices that you'll discover below, but NordVPN is undoubtedly our top pick for router VPNs.
No, using a free VPN with a router or any of your devices is not secure enough. This is because free VPNs make money by selling the personal information of their users to third-party businesses. Additionally, your internet safety may be poor because you only receive a few security features.
You can give it a try to ProtonVPN which doesn't compromise security and bandwidth on its free version. The only drawback is the limited speed with a shared IP address which is easily detected by top streaming services.