After US Netflix, Amazon Prime Video is one of the user's favorite "Video-On-Demand" platform that offers a huge library of movies and TV shows from all over the world, including lots of original content like Tom Clancy's Jack Ryan, Riches, Mirzapur, The Expanse, Tandav and much more. However, a large number of content is Geo-restricted to certain locations due to the license agreements with the production which means if one piece of content is available in the UK, it won't show up when you log in to the same account from India.
Therefore, to get unlimited access to all of the content, you need a premium Amazon Prime Video VPN subscription that can easily bypass the Geo-restrictions, so you can binge-watch all the popular series away from your home.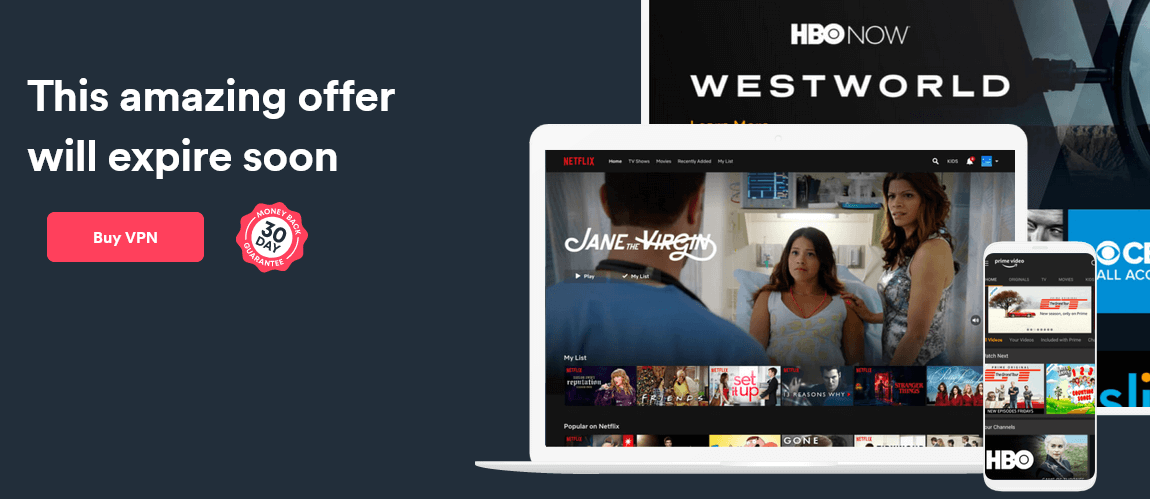 Unfortunately, Many VPNs claim to unblock Prime Video merely fail to work effectively or are unreliable. You'll need a speedy VPN that has been shown to be effective if you wish to access the APV library while traveling abroad in order to get around those annoying VPN blocks.
In this article, we'll discuss the VPNs that can easily unblock Prime Video including the steps on how to do it. So, let's start with the key highlights of the Best VPNs for Amazon Prime Video including their lowest monthly subscriptions.
Best VPNs For Amazon Prime Video That Works in 2023
If you are short on time, go through this table to make your choice. Otherwise, we recommend you read our in-depth review to know all the features, security protocols, and performance of each of the best Prime Video VPN.
| VPNs | Servers | Speed | Connections | Smart DNS | Best Deals |
| --- | --- | --- | --- | --- | --- |
| SurfShark | 3,000+ in 100 countries | Excellent | Unlimited | Yes | $2.69/month |
| NordVPN | 5,500+ in 60 countries | Very Fast | 6 | Yes | $3.99/month |
| CyberGhost | 9,000+ in 91 countries | Fast | 7 | Yes | $2.19/month |
| PureVPN | 3,000+ in 100 countries | Good | 10 | Yes | $3.99/month |
| Private Internet Access | 30,000 in 80 countries | Average | Unlimited | Yes | $2.03/month |
Quick Steps To Unblock Amazon Prime Video With VPN
To unblock the Prime Video collection, simply follow these easy steps after choosing and subscribing to one of the VPNs listed above.
Subscribe for a VPN, we recommend SurfShark VPN.
Download and install the respective app on your device.
Log in with your credentials and Hit the "Connect" button.
After the connection has been made, launch the Amazon Prime Video App or website and enjoy the content from the location of the server you have chosen for the VPN connection.
Note: You might need to change your account location in order to access the regional content. To do this, follow this guide.
SurfShark VPN: Experience The Best Streaming Time

Surfshark's unlimited number of simultaneous connections make it the perfect VPN to stream Amazon Prime Video, particularly for families (because the family that streams together, stays together). It works great with Prime Video outside the USA, but it's just as good with other streaming services including Disney plus, Hotstar, Hulu, BBC iPlayer (UK) and more. If you'd rather download your content, though, Surfshark has you covered there too, with torrenting support and multi-hop technology to make sure that your connection is fast and secure.
Surfshark interfaces well with Prime Video and allowed us to access Prime (U.S, U.K, Japan, and Spain) libraries. We love Prime, but no single streaming service has all our TV and movie fixes, so it's nice to know that we have a broad range of choices with Surfshark.
Surfshark maintains over 3,200 servers in 65 different countries that means wherever we may go in the world, we can count on getting a speedy connection from a nearby location. Obviously, that helps tremendously when we're trying to stream our favorite TV series and movies.
NordVPN: Still The Best VPN Service in 2023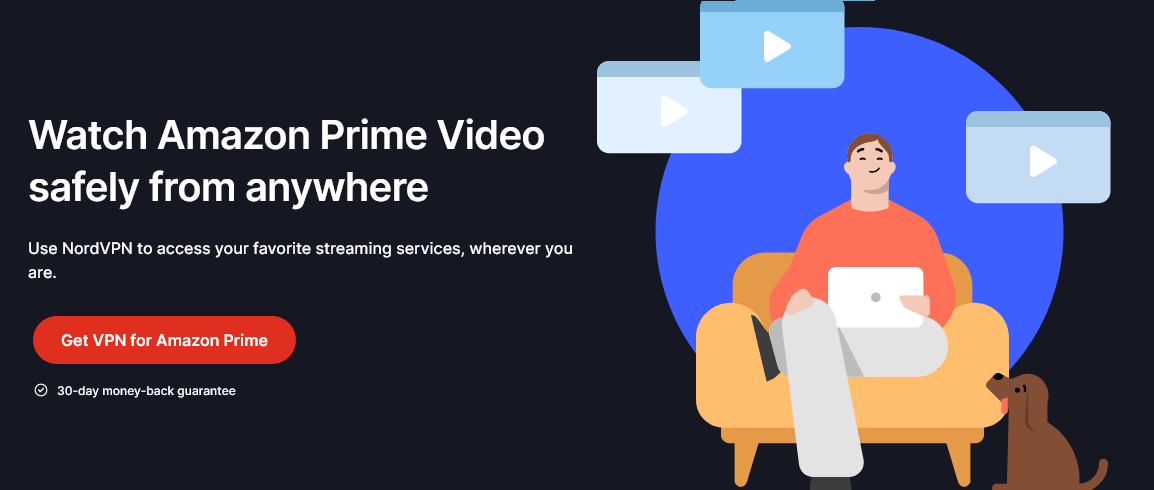 NordVPN comes very close to SurfShark in terms of speeds, thanks to its proprietary NordLynx protocol. I tested 5 servers (3 USA, 2 UK and 1 Australian), no matter which location I tried, the speed drop was never more than 15%. Since I have a fast baseline connection (145 Mbps on average), I was able to watch Black-light in full HD on Prime Video US with zero buffering.
It has a reliable server network of 5,603 servers in 60 countries. During my tests, I could access Prime Video US, UK, Japan, and Germany right away. I actually found NordVPN's 24/7 live chat useful for determining which servers to use. The chat-bot is set up to tell you all the APV libraries NordVPN can currently access (but you can always connect to a real person).
NordVPN's subscriptions are all backed by a 30-day money-back guarantee, as well. So, if you find you're not really impressed, then you can get a full refund.
CyberGhost: Keep Up with Amazon Prime Video Shows

If you're looking for an Amazon Prime VPN that offers dedicated streaming features, CyberGhost is a solid choice. Boasting almost 8,000 servers in 91 countries, you'll have a huge choice to pick from, meaning wherever you are you should be able to unblock Amazon Prime – something we tested in our CyberGhost VPN review.
CyberGhost's real party piece, though, its ability to deliver incredible speeds. In our testing, when using WireGuard, CyberGhost hit upwards of 850Mbps on a 1Gbps line. That's faster than almost every other provider we've tried, and certainly won't be slowing you down when streaming.
For the price ($2.11/month), CyberGhost is excellent value. Plus, you'll also be treated to a 45-day money-back guarantee should you not be happy with the service, so all in all, CyberGhost offers a pretty complete package for a bargain price.
Private Internet Access: Get Full Access Watch Amazon Prime Video

PIA has one of the largest networks of any VPN, they have hundreds fastest servers. For example, Las Vegas server work smoothly to unblock Prime Video US. However, I switched to its US East Streaming server and got immediate access as well. The streaming servers in Japan and the UK also worked seamlessly with the platform. That said, I couldn't get it to unblock Prime Video Germany.
Its speeds are good for streaming, too. I tested 8 locations, including the US, the UK, Australia, and Canada, and even the servers located more than 10,000 km away let me stream in HD without choppiness or lag.
The main issue with PIA is that it occasionally is unable to connect to streaming services. Users who are tech-savvy and security-conscious would clearly benefit more
It's also really reasonably priced with subscriptions starting at $2.03/month. And, if you want to try it out, all subscriptions are backed by a 30-day money-back guarantee, so you can easily get a refund if you find it's not for you.
How We Test VPNs That Unblock Amazon Prime Video
As a part of our product research, we put VPNs through a number of tests. We had to choose the benchmarks by which they would be evaluated in order to determine which is the best VPN for watching Amazon Prime. All of the streamers demand a strong VPN connection that is fast, reliable, offers many servers, and is user-friendly. In light of this, we have considered the following parameters to assess each VPN:
Unblock Amazon Prime Video: The most important feature of any VPN in this list is its unblocking capability for Amazon Prime Video and bypassing its tough VPN detection algorithms. Only the VPN that does this job is qualified in our list of Best Prime Video VPNs.
Lag-Free Experience: Before including a name on the list of Best VPNs for Amazon Prime, we put each VPN through a field test to make sure they can stream an entire movie in the highest resolution without any lag or buffering.
Servers In The US: Because Amazon Prime has the greatest library for US members, US servers are essential for Americans traveling overseas to access their content from home. Our VPNs include a generous amount of servers in the US.
Cross-platform Apps: All of the VPNs on our list are compatible with a variety of devices because many Amazon customers watch content on their Amazon Fire Stick, Kindle Fire tablets, and Fire TV in addition to Windows, Mac, Android, and iOS devices.
Value for Money: Affordable doesn't always equal the worst, and neither does being expensive. We made sure to include only VPNs in our list that are valued for money and charge fairly for the features they offer.
What If My VPN Stops Working With Amazon Prime Video?
First of all, only a handful of VPNs truly allow access to Amazon Prime Video. Many of the VPNs we tested were unable to unblock Amazon Prime for any reason, and this was confirmed by their customer service as well.
So, if you are using a VPN that is not from our list of Best VPNs for Amazon Prime, you need to be sure that it is suitable for unblocking this platform. On the other hand, if you are certain or using one of the VPNs from our list, then follow these steps to troubleshoot the issue.
Restart your Device: The first thing you can do to resolve any software problem is to restart your device.
Try a Different Server: You might occasionally need to change servers, even if your VPN has powerful unblocking capabilities.
Use a Different Browser: If you are using Prime Video on your PC, then try a different browser. On Mobile phones, you need to turn off the location services (GPS).
Clear Cache: Your browser's cookies may be used by websites like Amazon to determine your actual location. However, you may quickly solve it by clearing the cache and cookies from your browser.
Switch VPN Protocol: Different VPN protocols achieve Geo-blocking more effectively than others. To find a protocol that works, keep experimenting with the protocols as provided by your VPN Service.
Disable IPv6: Some VPNs are ineffective at preventing IPv6 leaks. But if you turn off IPv6 on your device, you can stop that from happening.
Reinstall or update your Prime Video App: If you're having trouble establishing a connection with Prime Video, your VPN app may be malfunctioning or a file may be corrupted. Reinstalling the most recent version of the app will quickly fix the issue.
Although the US and UK have the largest Amazon Prime Video collections, access to them requires a local IP address. Bypassing these Geo-restrictions is made possible by VPNs, which provide you with an IP address in a country of your choice. To safeguard those licensing and broadcasting rights, streaming services like Amazon Prime Video undergo immense efforts to restrict VPN connections.
The terms of service for Amazon make no specific mention of using a VPN. Furthermore, we are not aware of any instances in which users of Prime Video have been blocked solely for using a VPN. After all, VPNs are only a tool for protecting your online privacy, therefore it wouldn't be fair to bar users for simply wishing to protect themselves.
There aren't many free VPNs that support Prime Video due to Amazon's strict Geo-blocks. Additionally, the majority of free VPNs have rigorous data limitations, sluggish speeds, and invasive adverts. Some dodgy free VPNs even track your actions and expose or sell your data. It is therefore advised to consider budget-friendly VPNs from our list in which most of which cost less than $3 a month.