Hulu is another video streaming platform owned by the Walt Disney Company provides content primarily for youngsters and adults. Unlike Disney+ which is also owned by the same company that mainly focuses on kid-friendly content, Hulu offers more mature content that is suitable for a wide age group audience. If you are looking for more than Pixel, Marvel, and Star Wars then Hulu will more likely justify your bucks than Disney+ as it includes premium movies and Hulu+ Live TV (with an additional subscription) including video-on-demand features. For example, Disney+ will be more suitable for Captain Marvel lovers, but Hulu is where you can find Marvel's Runaways.
Hulu also provides access to recently aired episodes of many TV shows. Some of the most famous movies and TV shows aired on Hulu include but are not limited to Under the Banner of Heaven (2022), Extraordinary (2023-present), The 1619 Project (2023), Superstore (2015-2021), and much more.
Till now you should have been tempted to watch the content on Hulu before you finally decide to buy the subscription. The good news is, you can get a Hulu trial provided that you live in the US and have a valid credit card. Below are the steps which can grant you access to Hulu premium free trial and thousands of irresistible content without paying a penny.
Note: Hulu no longer offers a Hulu live TV free trial with Disney+ and ESPN+.
Requirements To Get Hulu Sign Up Free Trial
To stream and fully enjoy the content on Hulu, you will be requiring a fast and stable internet connection (>10 Mbps) with a Full HD or 4K supported display along with a valid credit/debit card.
To start, open the web browser on your PC or Mobile Phone, then,
Click on TRY UP TO ONE MONTH FREE
Select any package which suits you the best (if you are willing to continue) or selects the cheapest one.
Fill in the required information with a correct email address
If you see a "We can't verify your email now" message, try with a different email address or use a Premium VPN (see here).
5. Press CONTINUE and enter your billing information. (You will need a valid credit card, preferably issued in the US)
6. Verify your email address and you are good to go for watching thousands of movies and shows on Hulu for completely free for the next 30 days.
Don't worry you won't be charged for Hulu premium free trial yet till 30 days. Be sure to cancel your subscription if you don't want to continue.
The only two things you will miss in Free Trial are that you can't continue watching after 30 days without paying the subscription fees for the plan you have selected and won't get a Hulu live TV free trial. All the other features included in the selected plan will be available in the free trial as well.
You can choose between Ad-free and Ad-supported plans on Hulu for $14.99/mo. or $7.99/mo. respectively.
What to Do after My Free Trial End?
If you are enjoying watching content on Hulu during the trial period, then you have to do simply nothing to continue watching tons of movies and popular shows on Hulu as it will automatically deduct the monthly charges from your credit/debit card which you have used during signing up for the trial, once the 30 days are completed. However, if you like to change the current plan or credit card details then you have to cancel the trial or change the details accordingly in the account settings.
Currently, Hulu offers the following individual plans and bundles which users can choose from.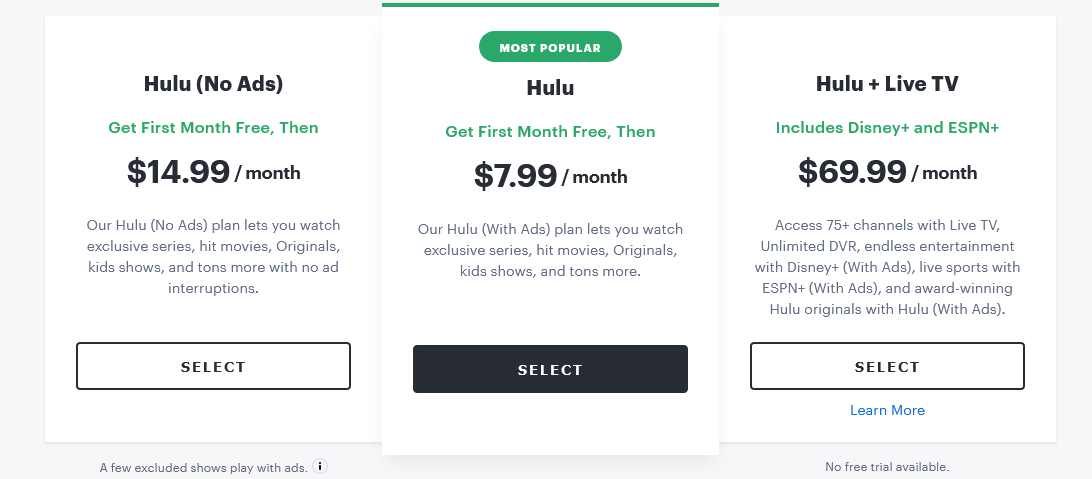 If you have a family that contains members from different age groups from kids to youngsters and adults then consider investing in the bundle that includes both Disney+ and ESPN where you can enjoy famous Disney shows including Pixar, Marvel, and Star Wars series, and also a variety of sports shows from all over the world on ESPN.
How to Cancel Hulu Free Trial?
If you are not overwhelmed with the content on Hulu then you're free to cancel the trial during the 30 days period to avoid getting charged. Follow these simple steps to cancel your subscription through PC or mobile web browser.
Go to your Account page here after logging to Hulu.com
Select Cancel under the Your Account section and follow the on-screen instructions. See Screenshot below.
Once you're done, you'll receive a confirmation email from Hulu.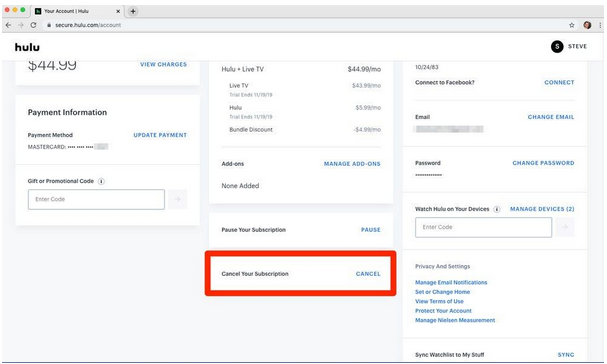 Note: You will immediately lose access to all of the Hulu content once you cancel your subscription within the free trial period. If some days are left, it's a good idea to finish them and enjoy the trial to the fullest.
How Can I Use Hulu Free Trial Outside The US?
Unfortunately, Hulu is not accessible from outside the US and currently, no free VPN service provider supports streaming videos on Hulu as they use the highest security to detect and block the connections over VPNs. This implies that you need to buy a premium VPN service that is able to bypass the strong security that Hulu has set to detect the VPNs.
Following are the premium VPNs that can unblock Hulu from anywhere.
Hulu offers a 30-day free trial on one account, but you can always make another account to get another trial. You may want to use another valid credit card to get the new trial.
Like any other streaming platform, Hulu premium free trial is completely safe as long as you remember to cancel the free trial within 30 days if you are not planning to continue, otherwise, there is nothing to worry about.
Like any other online streaming platform, Hulu also requires users to enter valid credit card details to avoid the misuse of the trial service. Some of the banks support the Virtual Debit Card feature, which you can use to sign up for a trial to avoid getting charged in case you forgot to cancel the subscription in time.