Daily encounters with high ping, constant lagging, and potential DoS attacks can be frustrating for gamers. Fortunately, there's a simple solution to avoid these problems – a reliable free VPN for gaming, which can effectively address these issues while enhancing online safety.
However, it's essential to manage expectations. Free VPNs often come with certain limitations, such as slow connectivity, data caps, and the inability to bypass Geo-restrictions. To offer a more comprehensive solution, we have also included some premium VPN providers in our selection. These premium options provide free trial versions and generous 30-day money-back guarantees, ensuring users have the opportunity to experience their full capabilities without limitations.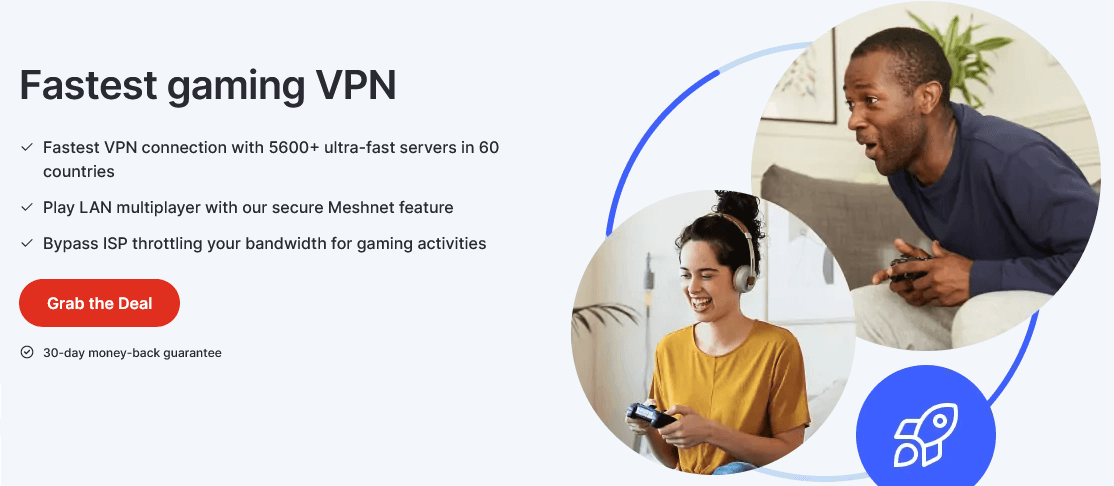 Now, you can discover the best free gaming VPNs and indulge in the smoothest gaming experience possible, free from the common hindrances that may have previously impacted your gameplay.
Verified Best (Free Trials) VPNs For Gaming
How to Download, Install Free VPN for Gaming
If you want to avoid limitations and restrictions while enjoying a free gaming VPN experience, opting for a free trial VPN is a better alternative. Among the top-tier free trial VPNs for gaming, NordVPN stands out, and we'll provide you with a step-by-step guide to get the best out of it.
Follow these simple steps:
Head to the Google Play Store and install the NordVPN App.
Create a new account and choose a plan with a 7-day free trial.
Select your preferred payment method.
Download the NordVPN app on any device and log in to your account.
Remember to cancel the subscription before the 7-day free trial or 30-day money-back guarantee period ends to avoid any charges.
Other Top Free VPNs For Playing a Secure Games
Proton VPN: Unleash your gaming potential with Proton VPN, the top free gaming VPN that offers unlimited data usage, ensuring uninterrupted gameplay. With its robust security features and no data limits, Proton VPN keeps you protected and focused solely on dominating your virtual battles.
Atlas VPN: Versatility is key, and Atlas VPN delivers just that with its free service, making it an ideal choice for gamers seeking flexible and reliable performance. Enjoy relatively fast speeds and access to gaming servers in multiple countries, empowering you to explore new gaming horizons without compromising on privacy.
Windscribe: With free servers in 11 countries, Windscribe is the go-to gaming VPN for global accessibility and smooth online gaming sessions. Its generous 10 GB/month data allowance ensures that you can indulge in lengthy gaming sessions without worrying about running out of data.
Hide.me VPN: Prioritize your privacy with Hide.me VPN, a free gaming VPN focused on safeguarding your gaming activities from prying eyes. With its solid security protocols and no-logs policy, Hide.me VPN ensures your gaming adventures remain anonymous and shielded from potential threats.
Hotspot Shield: Experience secure gaming without spending a dime, as Hotspot Shield offers a free VPN service designed to protect your gaming adventures. With reliable speeds and robust encryption, Hotspot Shield empowers you to game with confidence, knowing that your data is secure.
Are Free VPNs Secure and Reliable for Gaming?
Before delving into the realm of the best free VPNs for gaming, it's crucial to address the potential dangers associated with such services. While the idea of a free VPN might initially seem appealing, there's often a catch with no-pay VPNs that users should be aware of:
Privacy Violations: Free VPNs need to sustain their operations, and this can lead to drastic measures, such as selling user data to third parties. Such practices raise significant privacy concerns. On the other hand, the best premium VPNs prioritize user privacy and are less likely to engage in data selling.
Security Breaches: Some free gaming VPNs may actually be malicious applications designed to infect devices and exploit user data. This could result in financial losses and even identity theft. In contrast, reputable paid VPNs invest heavily in security measures to safeguard user information.
Shoddy Safety Features: Free VPNs often lack the robust security features found in industry-leading paid VPNs. This can leave users vulnerable to various threats as these services may not employ the latest security protocols and technologies.
In short, users must exercise extreme caution when considering a free VPN for gaming. Thorough research should be conducted before downloading and using any no-pay service. While free VPNs can offer some benefits, it's essential to recognize that paid VPNs generally provide a higher level of security, reliability, and user support, making them a preferable option for those seeking an optimal gaming experience.
Comparison Between Free and Paid VPNs for Gaming
After reviewing all the information about the top free VPNs for gaming, it's time to conduct a comparison to assist you in selecting the ideal free gaming VPN that aligns with your requirements.
| | | | | | |
| --- | --- | --- | --- | --- | --- |
| VPN Provider | Proton VPN | Atlas VPN | Windscribe | Hide.me VPN | Hotspot Shield |
| Data Allowance | Unlimited | 5 GB/month | 10 GB/month | 10 GB/month | 500 MB/month |
| Coverage | 3 countries | 2 countries | 11 countries | 4 countries | 1 country |
| Simultaneous Connections | 10 devices | Unlimited | Unlimited | 10 devices | Up to 5 devices |
| Router Compatibility | Yes (paid-only) | No | Yes (paid-only) | Yes (paid-only) | Yes (paid-only) |
| Minimal Premium Price | $4.99/month | $1.82/month | $5.75/month | $2.43/month | $7.99/month |
Please note that while these free VPNs offer various features and data allowances, they may also come with limitations and potential risks. When choosing a free gaming VPN, it's essential to consider factors like data caps, server coverage, device compatibility, and overall security. Additionally, keep in mind that premium VPN services often provide more comprehensive features and enhanced performance, making them a better option for a premium gaming experience.
How We Tested The Reliable Free VPNs for Gaming
The process of selecting and testing these VPNs for gaming was not an easy task. Choosing the right free gaming VPN is crucial, as an ill-suited one can potentially cause more harm than good. To identify the best free VPNs for gaming, we conducted comprehensive tests and evaluations based on the following criteria:
Connectivity: Our primary goal was to reduce lag and high ping during gaming sessions. Hence, we focused on selecting free gaming VPNs equipped with fast tunneling protocols such as WireGuard and NordLynx.
Global Coverage: To ensure optimal performance, we sought VPNs with extensive hardware and server locations. This approach helps avoid overcrowded servers, leading to slower speeds. Additionally, a broad network provides access to a wider range of games and global content.
Security & Privacy: The selected VPNs had to incorporate essential safety features, including AES-256 encryption, a reliable kill switch, and protection against DNS & IP leaks. By using a VPN, gamers can also steer clear of potential DoS attacks. Furthermore, a strict zero-logs policy was a prerequisite, and we prioritized VPNs based outside of Fourteen Eyes Alliance countries to ensure user privacy.
Data Allowance: For hardcore gamers planning on extended gameplay, VPNs with no data caps were preferred. Alternatively, we considered services offering a substantial data allowance of at least 5GB per month.
Compatibility: User-friendly apps for various gaming devices were a significant aspect. Additionally, we ensured that the selected VPNs could be easily set up on routers to accommodate gaming consoles like PlayStation and Xbox.
Free Trial Period: Recognizing that many no-pay VPNs come with numerous limitations that may hinder the gaming experience, we recommended VPNs with free trial periods. This allowed gamers to use the VPN without constraints for an extended period, typically over a month.
By meticulously evaluating the VPNs based on these criteria, we aimed to provide gamers with reliable and performance-oriented free VPN options, enhancing their gaming experiences while prioritizing their security and privacy.
Conclusion
In conclusion, if you're looking for a cost-effective solution, a free gaming VPN like Proton VPN can be a good option. Despite some limitations, Proton VPN's free version provides unlimited bandwidth, access to three locations, and robust security features, protecting you from lags and cyberattacks.
However, for a truly unrestricted and seamless gaming experience, consider a premium free trial VPN like NordVPN. With NordVPN, you'll have access to a vast global server network, blazing-fast speeds, and excellent Geo-bypassing capabilities for a limited time. Moreover, advanced security and privacy features will keep you safe and secure while gaming.