You've come to the right place if you've signed up for NordVPN and you're now thinking about how to cancel your subscription. This post will help you of all the reasons for and instructions for canceling NordVPN.
Easy Steps to Cancel NordVPN (Automatic Renewal of your Subscription)
Now to get into the question you might have been waiting for regarding how to cancel NordVPN subscription via Website, here's how. There are actually two ways to do this: one is through the website, and the other is through chat.
1. Cancel NordVPN via Official Website
This has to be one of the most convenient ways you can cancel a NordVPN subscription. All you need to do is:
Begin by going to the website, and entering your ID and password in order to log in.
Then, select Billing which is usually present at the bottom of your SERVICES sidebar.
After that, select the tab named Subscriptions which is present in the middle of your screen.
After that tap on cancel auto-renewal which is present on the drop-down menu.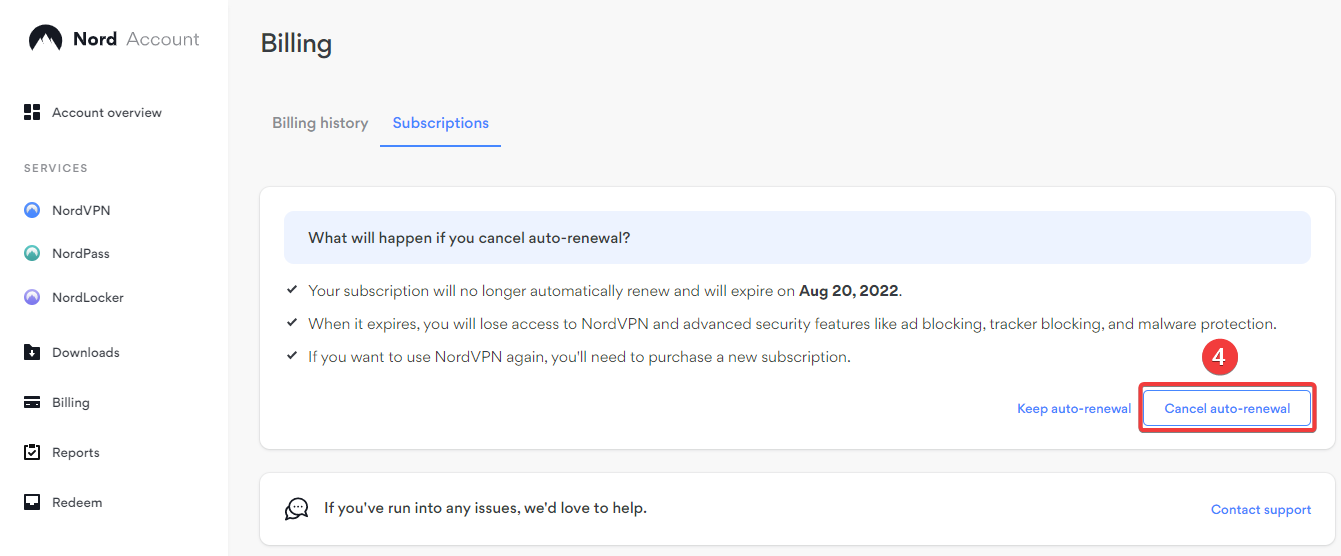 This is it! You have now successfully canceled your subscription.
2. Cancel NordVPN Subscription via Live Chat
First, Log in to your account.
And, then click on the chat icon which is present at the bottom right.
You will have to type in your email address, then you'll be connected to the agent.
The representative will carry out your request and officially cancel it after the confirmation and also they'll let you know when your refund will be processed as well.
Why Do We Need to Cancel the NordVPN Subscription?
There is no denying that NordVPN ranks among the top VPN providers available. It has more than 5500+ servers and up to 80 locations. The fact that one person can utilize it on SIC separate devices is its best feature.
Although it has many wonderful advantages, it is not universal. After all, not every VPN is compatible with everyone. Everybody expects something different from the VPN and can afford it at different price ranges. Due to this, a lot of individuals decide to cancel their memberships and try a different VPN.
Similar to this, you might experience problems with it as well, leading you to look out for how to cancel your NordVPN subscription. The following list includes some of the explanations for subscription cancellations:
When using NordVPN, many users reported experiencing significant connection issues and numerous breakdowns.
When connected to NordVPN, some users experienced sluggish Wi-Fi connectivity, which caused lag when streaming and watching movies and TV shows.
Unfortunately, Torrenting is only accessible on some servers, which can be a problem for many.
How to Get a Refund after Canceling?
Getting a refund on NordVPN is extremely easy. If you are not happy with NordVPN's security, and speed, all you need to do is contact the Support team through live chat. This is because they offer a 30-day money-back guarantee which makes it easier to get a full refund.
Here is how you can do so:
Begin by going to NordVPN's website.
Login by using your credentials.
Click on the chat button which is present at the bottom right.
A live chat will begin. Now after telling the agent you want to cancel your NordVPN subscription and want a refund.
Then wait until they confirm and complete your refund request.
An agent ought to email you within the next day or two in order to confirm your cancellation. Within seven days of confirmation, you should expect to receive your money returned to your bank account.
I Canceled my NordVPN Subscription. Whats now?
In light of this, if you are currently reading, NordVPN might not have been the ideal choice for you. Trying any new VPN service would not be advised. This is due to the fact that free trials often offer very few features and generally don't give a good impression of the way the VPN actually operates.
So, we've put up a list of the top NordVPN alternatives. This allows you to look into all special features prior to subscribing. Decide right away what is more important for you in order to protect your privacy and continue unrestricted surfing, gaming, and streaming of movies.
The Only NordVPN Alternatives
You need not worry if NordVPN didn't work out for you. There are many other VPNs available that provide excellent functionality at surprisingly low prices. Some of them consist of:
SurfShark
PureVPN
CyberGhost
IPVanish.
SurfShark
We have concluded that SurfShark ranks among the finest VPNs on the market after evaluating every VPN that is presently available. It is amazingly fast. Therefore, this VPN would never cause your connection speed to slow down when you're browsing a movie or enjoying your favorite game.
While streaming, gaming, and downloading, we tested this gem as well. And, we never experienced lag even after trying everything. This is undoubtedly the finest method for anyone to view their favorite movies and television episodes without experiencing any buffering. In more than 94 countries, it operates over 3000 servers. You may now take advantage of it all with ExpressVPN!
Additionally, it offers incredible privacy capabilities, so you will not have to fret about someone watching what you do online.
The fact that somehow this VPN provider works with a variety of devices is the nicest part of everything. Additionally, using it is quite easy.
You can modify your NordVPN paid subscription at any moment, All you only need to do is select the "Change Plan" button after logging into your NordVPN account. Then choose the new subscription plan you desire.
If you paid with cryptocurrency, you can still claim a NordVPN refund (such as Bitcoin). The amount of your refund will be in the same cryptocurrency you used to make your original payment, converted at the current USD rate. Refunds can take up to five business days to reach you.