Struggling with NordVPN? If yes? You are not alone, some users may experience connection issues or face slow speeds while using NordVPN. However, it is considered to be one of the best VPNs and has millions of users. As every side has two pictures, so does NordVPN has some pros and cons and while it's amazing, it's not perfect service. If you are new to the low-cost VPN service and you have selected NordVPN but now you need to switch to another VPN service don't worry you can cancel the subscription and through the NordVPN refund policy, you can get your money back.
Either way, if you're not satisfied with this service, you probably want a refund. In this case, you must be wondering how to cancel NordVPN and get a full refund. Can I get a full refund? Is the procedure complicated? There are many questions, but things are much simpler than they seem. The guide below will help you find out the answers and get a full refund without losing any money.
NordVPN Refund (30-Day Money-Back Guarantee)
If you are a user of NordVPN and want to cancel its subscription make sure that when canceling NordVPN, it's important to pay attention to their 30-day money-back guarantee or refund policy. Thanks to NordVPN's refund policy which stated that, if you cancel your subscription within the first 30 days, you will get an unconditional full refund.
In simple words, if you don't like NordVPN's service for any reason, the provider will issue a full refund and refund you within a few working days. However, as per NordVPN, you can get your refund once. If you repeat the process multiple times, the VPN will no longer allow refunds for obvious reasons. However, you should know that while NordVPN can be canceled at any time, it is not always refundable. If you are enrolling in this service for the first time and cancel within the first 30 days, you are eligible for a refund. If not, you should know how to unsubscribe from NordVPN.
How to Cancel NordVPN and Eligible for a Full Refund
If you are not happy with NordVPN service and want to cancel your subscription you can get a NordVPN refund back. All you have to do is follow these step-by-step processes to cancel your NordVPN account:
1. Sign in to NordVPN account: The first thing you have to do is get yourself signed to your NordVPN account by using your credentials.

2. Go to your Account Page: Once you have signed in now, go to your account page and click the three dots icon next to the Change Plan button. Select Cancel automatic payment.
3. Click the icon next to Change Plan to confirm the cancellation: Click the button to display another screen. You will be asked if you would like to proceed with the cancellation process. Clicking this button does not immediately terminate your account. Just stop all automatic payments. This means you can continue using the service until the next payment cycle.
4. Start a conversation with a live chat agent: Once you have confirmed the cancellation, you might have assumed that the refund was in progress. But it's not.NordVPN Refund must be requested via live chat or email request form. Choosing the live chat option gives you the opportunity to speak with a real human agent faster and you can ask for your canceling and refund process.
5. Confirm your cancellation and request a refund: Once you get in touch with the agent naturally, the support representative will try to keep you as a customer. After all, no company wants to lose customers. No doubt, NordVPN has friendly customer support and will help to guide you.
6. Wait for the money to be credited to your bank account: Now that your refund request has been confirmed, all you have to do is wait to complete your process of refunding.Moreover, it will not take more than 10 business days. If you paid with PayPal, please log into your account and make sure the automatic payment has been canceled.
How Do I Unsubscribe From NordVPN via Email?
If you don't like long procedures and you're not in a hurry, you can even cancel your subscription by email. On the website, you can find the NordVPN contact email address support[@]nordvpn.com. All you have to do is just contact their 24×7 support team by sending an email to their email address. The process is just like you have to email them that you need to cancel your subscription and get a refund if you are eligible.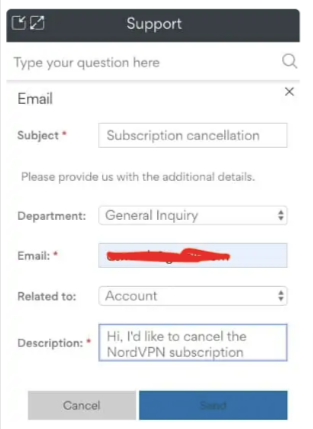 Want to Disable Automatic Updates? Know How
Another way to avoid being charged again is to turn off auto-renewal. To do this you need to follow these steps:
1. Login: The first thing you have to do is log into your account by clicking "Login" at the top of the website.
2. Subscribed: Once you log in now look at the left menu which has a Billing option. Click on it and select "Subscriptions".
3. Turn off Updates: Once you have clicked here you can see that automatic updates are turned on, but you can turn it off by clicking Manage next to it. In this way, NordVPN won't charge you for the next month or year in this case, but you can continue to use it until your subscription expires.
We recommend using this option if you are not eligible for a refund. This is because canceling NordVPN will prevent you from using it once you cancel it.
Yes, you can get subscribed to NordVPN when you need it. To log back in, log into your existing NordVPN account and purchase a new subscription.
Which VPN Should You Try After Cancelling NordVPN?
Surfshark: The Next One Who Take the Lead
Are you on a low budget or have a tight budget but still want to enjoy streaming? Don't worry, SurfShark is the right option for you. This is because it is a very low-cost VPN and offers great value for money. With over 3,200 servers in 65 countries, it's perfect for international travel and home content access.
Additionally, Surfshark makes sure to protect your data with all the high-security features you want in a VPN, through multi-hop technology VPN makes user detection even more difficult. You can even have unlimited simultaneous connections at a low price with a 30-day money-back guarantee.so, if you are looking for the best budget alternative VPN, Surfshark is the one that is affordable yet very powerful through which you can access home content with worldwide servers and premium security.
CyberGhost VPN: 3rd Choice Who Want Security First
If you are in search of speed and good customer service? CyberGhost is the right VPN for you. Despite this fact, it is another strong VPN, especially if you're looking for cheap deals. With over 7,000 servers, you'll never be left behind with a stable and private internet connection. Additionally, the speeds offered by CyberGhost VPN are very fast, with low server performance and long uptime. Either if you are a beginner it has a suitable provider and is very easy to connect. You can also unblock multiple streaming services like Netflix with one click.
Moreover, your data is protected by 256-bit AES encryption, and additional security measures like anti-malware protection and ad blockers keep you safe and secure online.
Final Wordings
While there may be a ton contradictory information available online, simply know that cancelling your subscription for NordVPN and getting refund is quite simple. You won't have any trouble in getting your money back as long as you do so in the 30 days as they have a 30-day money-back guarantee time frame.