Roku is a popular streaming service founded in 2002 by Anthony Woods that welcomes its subscribers to watch tons of TV shows, movies and live TV channels through the internet by using their proprietary Roku TV and various other supported Smart TVs and smart phones through Roku Streaming Player and Roku App.
Initially Roku focused on providing hardware devices that would be able to stream the content from different streaming platforms such as Netflix, Amazon and several others. Later on, they launched their first device in 2008 known as Roku DVP N1000. It was developed in collaboration with Netflix to work as a standalone set-top box to support Netflix's newly introduced "Watch Instantly" service.
At the moment, Roku is producing its own original content along with live streaming channels and exclusive movies that have become top favorites of many people around the globe. Some of the famous titles include but are not limited to Mayfair Witches, The Cupcake Guys, Kaleidoscope and so on.
OK VPNs to Stream Any Channel on Roku From Anywhere
We are providing you with a tested list of VPNs that work with Roku without getting detected by any firewall.
How to Install and Use VPN on Roku
As we have told you that you can't directly install VPN on a Roku TV or streaming player, here are some alternative methods that can be used to setup VPN for a Roku TV or streaming player. For setting up a VPN on router or using your PC, Laptop, Smartphones for creating a hotspot or using a Smart DNS feature through your router.
1. Setting up a Roku VPN App on Router
To set up a VPN on a router, first you need to check if your router supports installation of the VPN through firmware flashing. If it does, it's time to find a VPN service provider that is compatible with your router's model. To do this, it's best to contact the customer support to avoid the inconvenience after paying for the subscription.
Some famous router brands that allow installation of top VPN at router level are:
Since every router and VPN provider has different methods for installing VPN in the router, we are discussing some general steps that need to be followed in order to enable the VPN from your router for unblocking the content on Roku TV and streaming devices.
Use a PC or Laptop and browse to the admin page of your router.
Find the correct firmware or use the one which is provided by your VPN provider.
Download and flash the firmware on your router by following the steps as mentioned in the router's guidebook.
Configure the VPN as instructed by your VPN Provider.
Use the dedicated router app or admin panel to turn on the VPN.
Connect to a Server where Roku is officially available.
Connect your Roku device to the Wi-Fi network of a VPN-enabled router.
Enjoy the unlimited access on Roku on your favorite devices.
WARNING: Incorrect flashing of the firmware may lead to permanent damage of your router. Only perform the flashing, if you know what you are doing.
2. Sharing a VPN Connection Using Mobile Hotspot
If you don't have a VPN supported router or your VPN provider doesn't have firmware for your router, then you can use your PC or Laptop to configure a virtual router or a hotspot which can be used to unblock the content on Roku through the VPN software installed in your PC or Laptop. This method is also safe and simple for the users who do not wish to take risk of flashing the firmware on their router.
To set up a hotspot from your laptop or PC using Windows 10 or above, follow these steps.
From start button, Go to Settings > Network & Internet > Mobile hotspot
Toggle Mobile hotspot to On.
Now again Go to Settings > Network & Internet > Change adapter options.
Right-click on "VPN server provider name" and Tap Adapter and select Properties.
Under the "Sharing" tab check the box that says, "Allow other network users to connect through this computer's Internet connection".
Now select the hotspot you created from the drop-down menu labeled as "Home networking connection" and click OK. See screenshot below.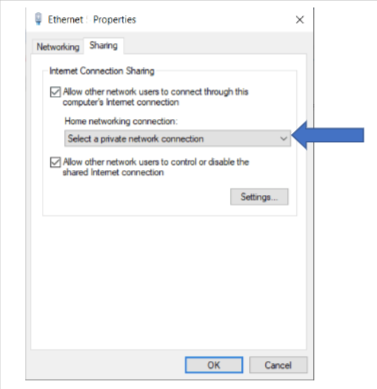 Connect to the VPN server location of your choice. (For better compatibility, choose OpenVPN protocol, if your VPN app allow).
Finally connect your Roku TV to your new mobile hotspot and enjoy encrypted streaming without any restrictions.
VPNs that Works for Roku From Anywhere
Like many other streaming services, Roku has also restricted its content to limited countries in the world such as the US, Canada, UK and some others. It means if you want to watch Roku from outside of these countries then you have to use a VPN service to unblock the Roku service at its fullest potential.
Usually, VPN is installed on your streaming devices but in the case of Roku TV or Roku streaming device, you just cannot directly install the VPN app in your Roku TV or streaming device as they don't support VPNs natively. Therefore, you have to look for alternatives such as installation of VPN on the router, using mobile hotspot or a Smart DNS which is exclusively offered by some of the top VPN providers only.
Here are the top 5 Roku TV VPN with their features and pricing that fully supports Roku from anywhere in the world.
1. Surfshark: Fully-Featured VPN App for Roku

Surfshark, Most favorite VPN amongst the streamers who are living in a region where different streaming services are blocked to US/Canada only. Roku is our personal favorite just because of to many reasons including the price in comparison to the offered features such as SmartDNS, WireGuard Tunneling protocol and provision of setup on router level.
The Surfshark doesn't only unblock Roku but all other streaming platforms as well without crippling your internet speed backed by its super-fast WireGuard tunnel.
With so many features, the Surfshark only costs $2.69/month with unlimited number of simultaneous connections and an industry standard 30-day money back guarantee if you are still not certain about purchase.
2. NordVPN: 2nd But Secure and Reliable Roku VPN App

NordVPN is usually the smartest choice due to its price, advance features and ability to unblock the streaming platforms including Hulu, SonyLiv and ViuTV from anywhere in world but as Roku TV does not natively support installation of the VPN and requires advance setup on router for optimum performance.
If you are not looking for router level installation, then NordVPN is an excellent choice for many reasons as it offers tons of useful features such as SmartDNS which is marketed as SmartPlay that allows to stream content on the device which doesn't support installation of the VPN like Roku and Apple TV.
You can get NordVPN for as low as $3.99/month which allows up to 6 simultaneous connections with a 30-day money-back guarantee or you can opt for a trial by entering your credit card details to be double sure about your purchase.
3. PureVPN: The Best Option for Roku lovers
If you are looking for something more than a free VPN at a cheap price that fulfills the basic VPN needs such as protecting your privacy and unblocking streaming service in standard video quality then you can try PureVPN which is even cheaper than the ExpressVPN and able to unblock various streaming platforms.
PureVPN App isn't very well optimized which won't make your experience smooth as compared to other VPNs, but the offered price has incredible value if you are very tight on the budget and most of the streaming services are blocked in your region.
4. IPVanish: Preferred Choice to Enjoy Roku
IPVanish is also a preferred choice for Roku VPN as it offers fast speeds with a wide selection of tunneling protocols including WireGuard and OpenVPN to make sure it is widely compatible with all devices and platforms to give you a lag-free experience.
In only $3.33/month you can enjoy unlimited simultaneous VPN connections that are able to unblock not just Roku but all other streaming platforms including the BBC iPlayer.
The only downside of IPVanish is that it does not provide any free trial but gives you a 30-day money back warranty, so you can opt out within this period if you are not satisfied with the service.
The All Time Best Roku Alternatives for 2023
It is very unlikely that one get bored from the huge variety of content available on the Roku but as human being we are always looking for alternatives in unfortunate times such as Roku server is down or your VPN is having issue in connecting to its server, then it is always a good option to have an alternative in your library. The best thing about Roku devices is that it supports installation of all the popular streaming platforms without any additional requirements.
Some of the great alternatives for Roku are listed below.
Netflix: Netflix doesn't need any introduction and the good news is that you can install Netflix on your Roku TV or streaming player and enjoy the ocean of most popular content without requiring any additional setup.
Amazon Prime Video: A great alternative to the Roku on which you can enjoy tons of original content and movies from all over the world in different language. The best thing about Amazon Prime Video is that it can be installed on your existing Roku TV or streaming player without spending a penny.
Hulu: Streaming platform that is owned by Walt Disney company which is a mature version of Disney+ where both teens and adults can enjoy original and on-demand content such as Under the banner of Heaven and Extraordinary. With a basic subscription of Hulu, you can also access Hotstar where lots of Asian content is available. To make Hulu accessible from anywhere in the world, use your already purchased VPN for Roku and enjoy Hulu on the same Roku TV and streaming players when you need a break from Roku content.
How to Find a Roku IP Address?
You might need the IP Address of your Roku if you are trying to make rules for VPN traffic on your router, so that the VPN installed on your router will be used only for the Roku while all the other connected devices are able to access the internet directly. To find the IP Address on Roku TV, you just need to follow these simple steps.
From the Roku main menu, move down to the settings.
Navigate to the networking option.
Go to About where you can see all the related network information including the IP Address assigned to your Roku device.
Why is Hulu not Working on Roku?
One of the most common reasons for Hulu not working on Roku is due to the fact that you're trying to access Hulu from a region where Hulu is restricted. To solve this problem, you need to use the VPN on Roku by following the steps as listed in this article.
If you are still unable to access Hulu on your Roku device then it might be due to the outdated app, device incompatibility, network problem or the Hulu application is corrupted. To solve these issues, the first thing you must do is to restart your TV. If problems persist, try following one by one.
Check for app updates on Roku store.
Device compatibility with customer service.
Network status through another device.
Reinstall your Hulu App on Roku Device.
Reconfigure your VPN and check SmartDNS settings.
How to Connect Roku to TV?
You can watch your favorite movies, TV shows and Live TV channels by various methods, one of them is to connect a Roku streaming player to your TV. Roku streaming player is available in many options with different features and pricing which directly connects to the HDMI port of any compatible TV after which you can stream the content as if you are using a Roku TV. It also comes with a remote similar to a Roku TV to make your experience superior. To find more about Roku devices, visit here.
Roku devices for TV are available in two form factors i.e. stick and box, in which stick directly connects to the HDMI port of your TV while to connect the Roku box you need to use an HDMI cable. For a step-by-step guide on how to Connect Roku to your existing TV, visit here.